We may earn money or products from the companies mentioned in this post.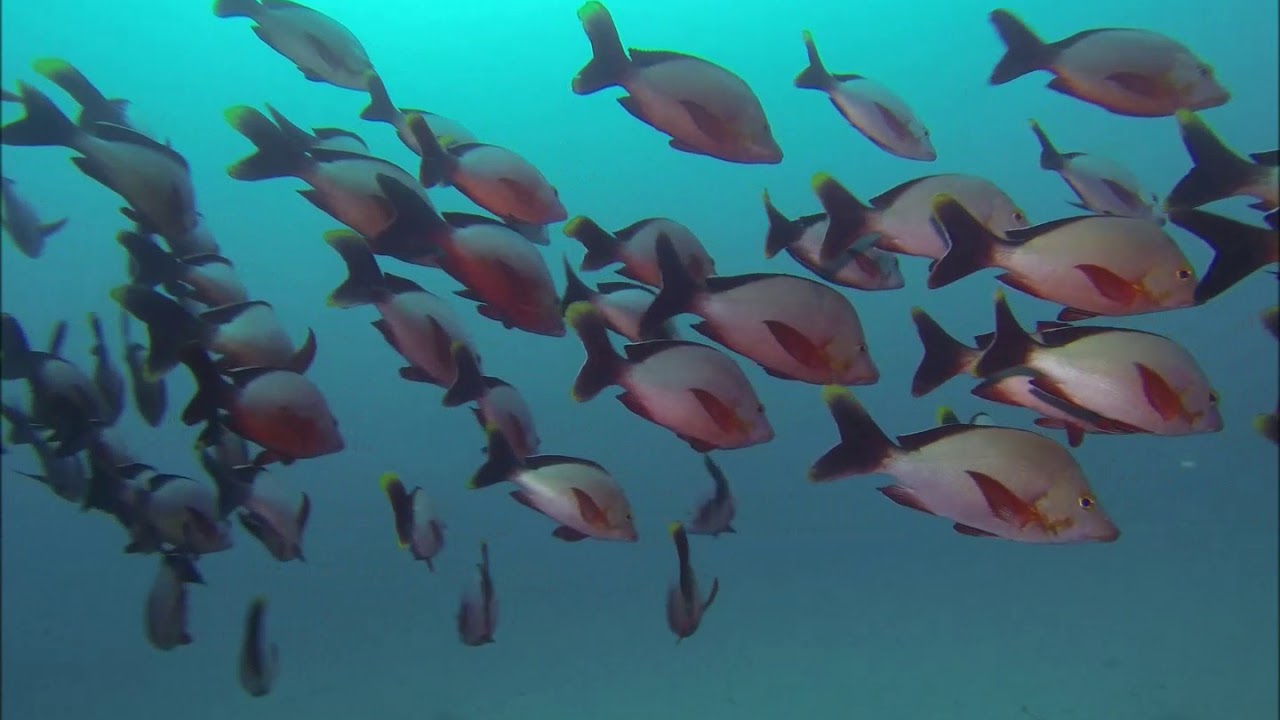 This is the sixty-ninth in a series of reviews of the best diving destinations around the world.  In this post, the focus is on Sodwana Bay, South Africa.
In addition to this series on diving destinations, the best worldwide liveaboard diving locations and services are reviewed in their own series.  To check them out, or others in this series, click on Liveaboards/Resorts on the menu at the top and choose a title from the list.
Have you ever been diving in Sodwana Bay before?  If so, I'd love to know about your experience.  What dive shop or liveaboard did you use?  Which dive spots are the best and what are the conditions there regarding the visibility, current, water temperature, sealife attractions, etc.?  Please post your response in the comments section at the bottom and we'll all learn something we can use.
Scuba Diving Sodwana Bay South Africa
Background – Sodwana Bay is situated between St. Lucia and Lake Sibhaya in the far northeast of South Africa in KwaZulu-Natal Province.  It is part of the iSimangaliso Wetland Park, a UNESCO World Heritage Site, and the Maputaland Marine Reserve.  This is the home region of the Zulu people who have been there for centuries, however, only a few dozen people live in Sodwana Bay all related to hotels and lodges, restaurants, fishing charters, scuba diving, and guided tours.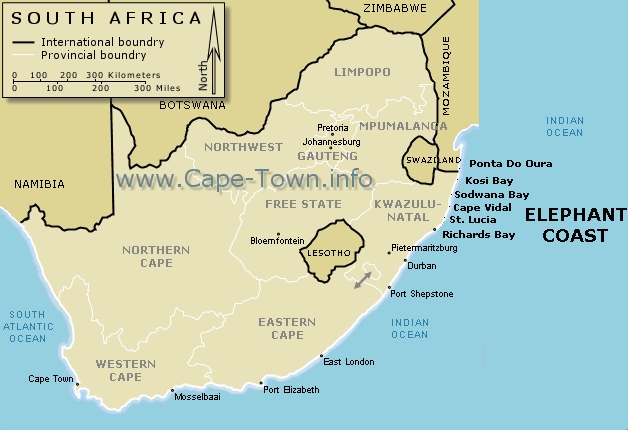 Undersea World – Just down the coastline from the excellent diving in southern Mozambique waters, Sodwana Bay is recognized by many as being the top dive destination in South Africa.  There are over 1,200 species of fish and 100 species of hard and soft coral that is in pristine condition in many locations.  Sites are as close as 500 meters offshore or further at distances described by their names, e.g. Two Mile, Five Mile, Seven Mile, Eight Mile, and Nine Mile Reefs.  There is often a sizable surf that is the delight of board sports participants and the source of exciting boat trips out to and coming back from the dive sites.  Generally, currents run from north to south so that diving is usually run with the drift.  Macro photographers have excellent targets at many of the sites with critters that include seahorses, ghost pipefish, scorpionfish, paperfish, lobster, nudibranchs, anemones, giant clams, and morays.  Some sites swarm with reef tropicals like many species of butterflyfish, angelfish, sergeant majors, sea goldies, fusiliers, surgeonfish, trumpetfish, hawkfish, and numerous varieties of snapper and sweetlips.  There are giant potato cod, stingrays, reef sharks, barracuda, jacks and pelagics, and seasonal migrations of whale sharks, ragged-tooth sharks, nesting turtles, right and humpback whales, dolphins and manta rays.  Mantas, ragged-tooth sharks, and leatherback and loggerhead turtles all migrate to the area from December through February with humpback whales coming from June through October.  In addition, extreme technical divers have located coelacanths at 100 meters (350 feet) in Jesser Canyon.
None of the major liveaboard yachts travel to Sodwana Bay.  However, there are quite a few that cruise the relatively nearby Madagascar and Seychelles dive sites.  Please click here for my reviews: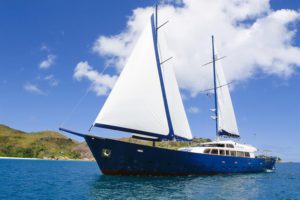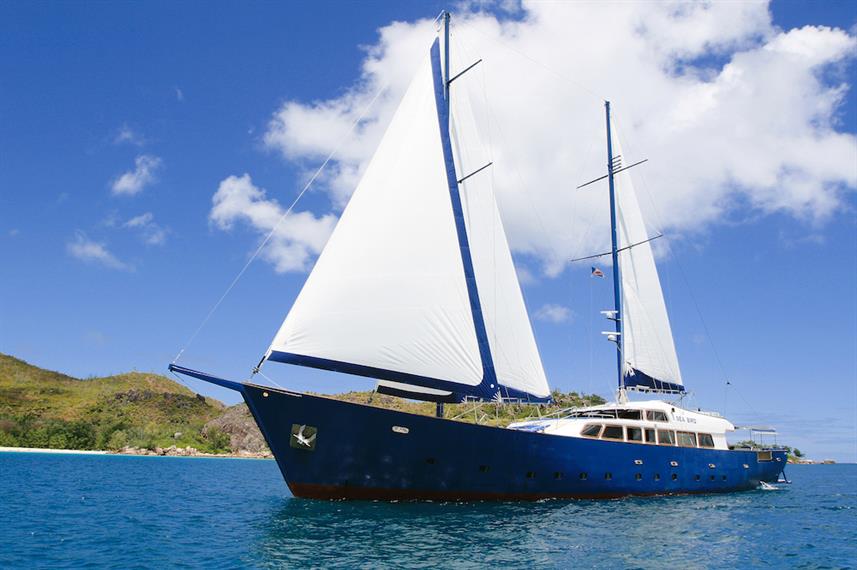 SY Sea Bird, Seychelles Liveaboard Diving – Check the Price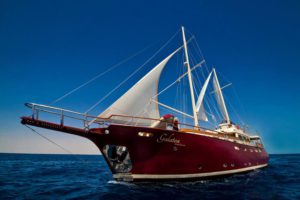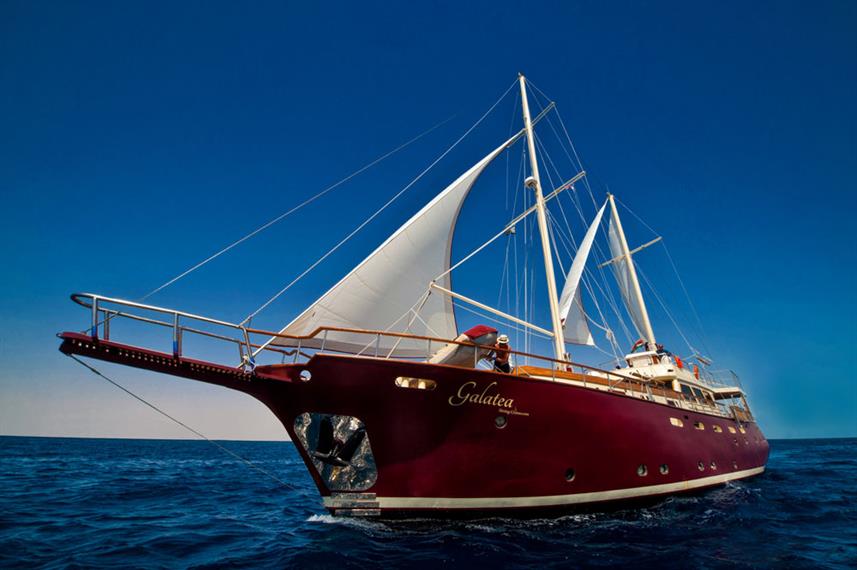 MV Galatea, Madagascar Liveaboard Diving – Check the Price
For my reviews of some other southwest Indian Ocean resort diving areas, please check these posts:
Seasons and Conditions – It's fairly warm with good diving conditions all year.  Air temperatures have a range of average daily highs from 25-30°C (77-86°F).  The water temperature gets as low as 21°C (70°F) in August and as high as 29°C (84°F)  in January through March.  3-5mm wetsuits are in order for the cooler temps.  It is rainier from October through March with the driest months being June and July.  Rain doesn't often interfere with the diving for long. With the dive sites spread out with some close to shore just outside the surf zone and others further out, there is variation in visibility and amount of current.  In the sandier areas, vis can be a little lower when there is more water movement due to tides or surface chop.  On average it will be about 15 meters (50 feet) or better.  Currents run from north to south and can be strong at times on some sites.  Generally, there are sites suitable for all levels of diver.  The dive shops are fully equipped to provide a range of training, equipment rental, guiding and boat tours.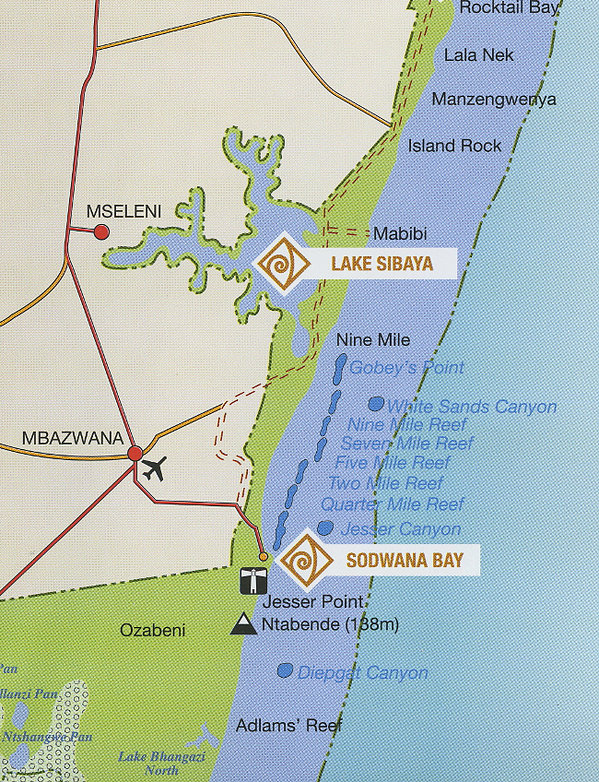 Selected Sodwana Bay Dive Sites
Quarter Mile Reef: 15 meters (50 feet), rocky terrain, morays, big stingrays, schools of jacks, kingfish and barracuda, turtles, ragged-tooth sharks in season, all levels
Big Stringer and Small Stringer: 15 meters (50 feet), two rocky areas separated by sand, big schools of goatfish and snappers, potato cod, emperor angelfish, sergeant majors, sea goldies, dancing shrimps, moray eels, frogfish, ghost pipefish, paperfish, big stingrays, 3 species of turtle, manta rays, all levels
Bikini Reef System: 22 meters (73 meters) maximum depth, 3 connecting reefs, great macro life with frogfish, scorpionfish, paperfish, several shrimp species, garden eels, dragon and starry morays, ghost and scribbled pipefish, reef sharks, turtles, manta rays, all levels
Two Mile Reef: 12-30 meters (40-100 feet), huge reef subdivided into several sub-sites, gullies, caves, ledges teaming with schooling tropicals, trumpetfish, snappers, angelfish, reef sharks, ragged-tooth sharks, coral crabs, tomato scorpionfish, lobster, grouper being cleaned by cleaner wrasse and shrimp, manta rays, dolphins and whales possible, all levels
Five Mile Reef: 9-40 meters (30-130 feet), 4 individual reefs (Ribbon, Pothole, Zombie, Gotham), good variety in hard corals, many nooks and crannies for macro life, honeycomb and dragon moray eels, longnose hawkfish, pipefish, boxer shrimp, squat shrimp, flounders, schools of goatfish and snappers, whitetip reef and nurse sharks, dolphins, manta rays, whale sharks, experienced level
Seven Mile Reef: 15-24 meters (50-80 feet), fantastic coral formations, steep drop-offs, great macro life and lots of schooling fish, big moray eels, lots of turtles, schooling pelagics including black marlin, blacktip reef sharks, bottlenose and spinner dolphins, whale sharks and humpback whales all possible, strong current on occasion, experienced level
Nine Mile Reef: 4-21 meters (12-70 feet), swim-throughs, overhangs and caves, huge green tree coral with huge school of sea goldies, extensive fishlife, tube anemones, stonefish, nudibranchs, frogfish, potato cod, reef sharks, pelagics including kingfish, king mackerel and wahoo, manta rays, dolphins, turtles, whale sharks, experienced level
Sodwana Bay Photos
With the pristine coral reefs, rich macro life and ragged-tooth sharks, dolphins, manta rays, whale sharks, whales and turtles, endemic shoreside wildlife like hippos, and scenic beach scenes, as well, there are many excellent photo opportunities.  For information and reviews of dive cameras, click here:
The fastest way to Sodwana Bay is to book a connection from the airport in Johannesburg, Durban or Cape Town to Richard's Bay Airport to the south.  From there the cheapest and safest bet is to hire a car from the airport for a two-hour journey to Sodwana Bay.  Sodwana itself has taxis which are not very reliable.  The lodging in Sodwana can organize transfers from the airports, but that will tend to be more expensive.
There are several dive shops right on Sodwana Bay which are affiliated with the accommodation there.  They offer a full range of services including equipment rental, dive courses, guiding and boat dive cruises.  There are at least 11 accommodations at different levels available from $25 to $248 per night.  The website linked below is a good source for the available options and can arrange a booking for diving and lodging.  You can easily find the locations on the map provided on this site.  Their rates are the lowest and it is free to cancel or change dates.
Things to do at Sodwana Bay (aside from scuba diving)
In the area surrounding Sodwana Bay, the primary activities relate to wildlife and the seaside.  Here are a few places and activities to consider:  iSimangaliso Wetland Park, False Bay Nature Reserve, Lake Sibaya (birds, orchids, hippos, crocs, freshwater gobies), the Drunken Tree Bar, local restaurants, kite surfing, surfing, camping.  Check the video below for what it looks like around Sodwana Bay.
A cushion for emergencies provides peace of mind when on vacation.  I recommend this diving insurance as they have worldwide coverage and provide scuba divers a quality insurance and medical assistance service.
Feedback and Comments
I hope you found this post on Sodwana Bay scuba diving interesting and useful. If you have any questions or ideas, please feel free to share them in the comments section.  I'd love to know of any experience you have diving in Sodwana Bay.  If there is no comments section directly below, click here:  >>comments<<