We may earn money or products from the companies mentioned in this post.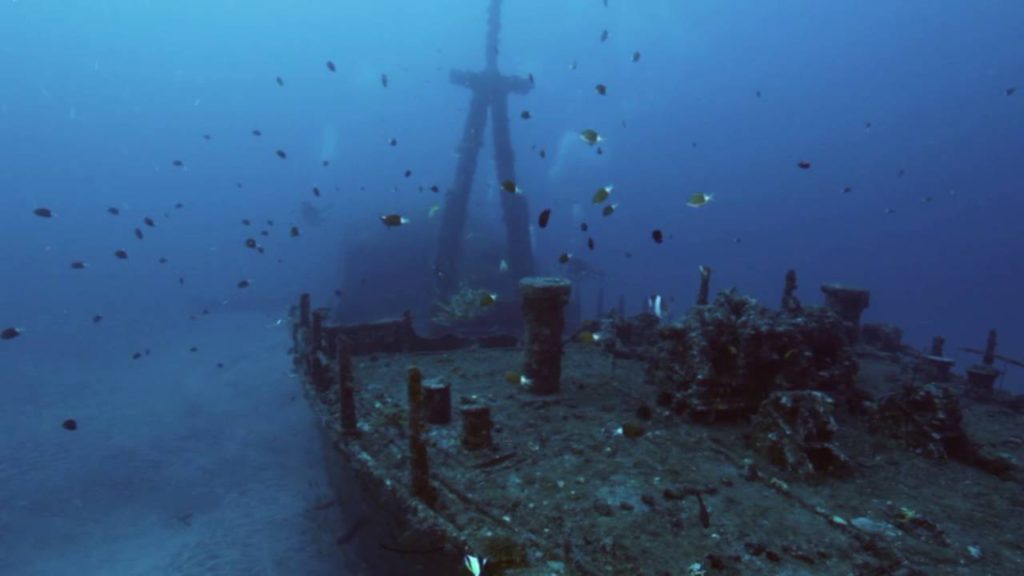 This is the sixty-fifth in a series of reviews of the best diving destinations around the world.  In this post, the focus is La Reunion.
In addition to this series on diving destinations, the best worldwide liveaboard diving locations and services are reviewed in their own series.  To check them out, or others in this series, click on Liveaboards/Resorts on the menu at the top and choose a title from the list.
Have you ever been diving on Reunion Island before?  If so, I'd love to know about your experience.  What dive shop or liveaboard did you use?  Which dive spots are the best and what are the conditions there regarding the visibility, current, water temperature, sealife attractions, etc.?  Please post your response in the comments section at the bottom and we'll all learn something we can use.
Reunion Island Scuba Diving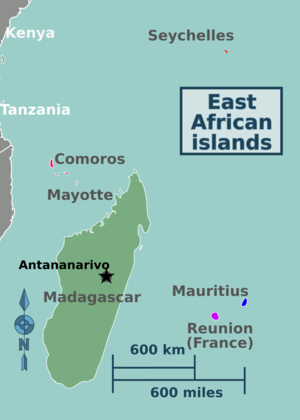 Background – Reunion (La Reunion in French) is an overseas department of France situated east of Madagascar and 175 kilometers (109 miles) southwest of Mauritius.  Uninhabited in modern history until French and Malagasy people settled there in the 16th century, this island is 63 kilometers (39 miles) long and 45 kilometers (28 miles) wide with a population of 867,000.  It sits on a hot spot in the earth's crust and has an active shield volcano, Piton de la Fournaise, at 2,631 meters (8,632 feet) in height, which last erupted in March of 2018.  That isn't the tallest mountain, though.  Piton des Neige (Snow) stands at 3,070 meters (10,070 feet) and is an extinct volcano that rarely gets any snow.  The island is known for its beaches and water sports and has a coral reef system on the west coast.  There are a number of endemic species like the white-tailed tropic bird and the largest animal on the island, the panther chameleon.  In spite of 20% unemployment and high poverty level, Reunion has a relatively elevated per capita GDP at $24,800.  Historically sugar was a major driver of the economy.  Today it has been largely displaced by tourism and market services.  Most citizens are of mixed race ancestry that includes African, Indian, European, Malagasy and Chinese.  There also a very few of Vietnamese origin.  Christianity is the predominant religion with about 7% Hindu and 3% Muslim.  French is the national language with Reunion Creole (based primarily on French) the language of the street for most.  Some enclaves of recent immigrants still speak Chinese and Malagasy dialects.
Undersea World – Reunion is characterized by a volcanic seabed and rich reef with over 150 species of coral and 500 fish species with a number of larger highlights including dolphins, 5 species of turtle and humpback whales, in season.  Manta rays, whale sharks and sperm whales are also occasionally spotted.  The west more protected side has richer sloping coral reefs with volcanic arches, rifts and drop-offs and a good variety of reef life including macro critters like crabs, shrimp, lobster, mollusks, starfish, nudibranchs, frogfish, scorpion fish, several moray eel species, pipefish and seahorses, and trumpet fish, triggerfish, surgeonfish, snappers, sweetlips, grouper, fusiliers, stingrays, schooling jacks and pelagics, and eagle rays.  There are colorful sea fans and a variety of hard and soft corals and sponges.  The east side generally takes the brunt of the year-round trade winds so there is more surface chop and the reef there is not very rich in coral.  There is still interesting volcanic terrain with steep drop-offs and lava flows and a fair amount of sea life like that you see on the west side including snappers, surgeonfish, and batfish to name a few.  There are also a number of interesting shipwrecks on the west side including the Hai Siang, resting at 55 meters (180 feet), and the Antonio Lorenzo, at 40 meters (136 feet).  Reunion suffered from shark attacks on surfers from 2010-2017 with a number of fatalities.  Bull and tiger sharks have received the blame.  Divers don't see these sharks and have not been attacked.  The authorities have intervened to try to eliminate this problem.  For a detailed discussion of the situation, please read this article:  Reunion: An In-Depth Look at the Island's Shark Attacks
None of the major liveaboard yachts travel to Reunion.  However there a quite a few that cruise the relatively nearby Madagascar and Seychelles dive sites.  Please click here for my reviews: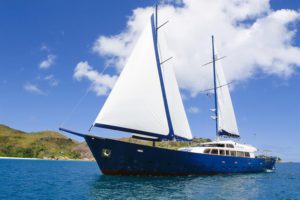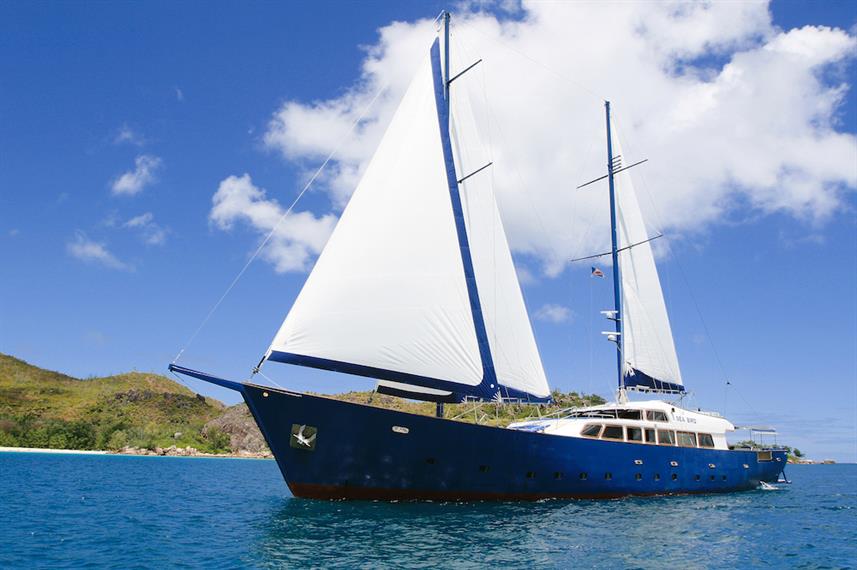 SY Sea Bird, Seychelles Liveaboard Diving – Check the Price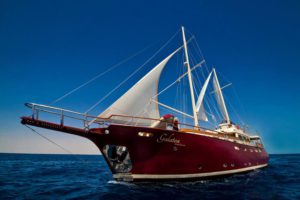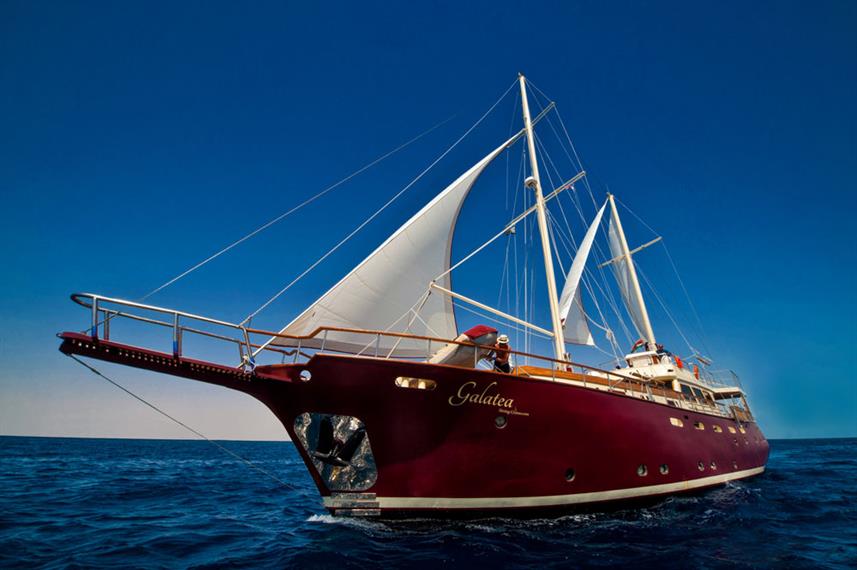 MV Galatea, Madagascar Liveaboard Diving – Check the Price
For my reviews of a couple of other southwest Indian Ocean resort diving areas, please check these posts:
Seasons and Conditions – Diving is possible year-round, but it is useful to keep in mind the seasonal weather situation.  There are two seasons in Reunion.  The cool and dry season runs from May to November.  The coolest months, July and August, have an average daily high of 25°C (77°F).  The hot and rainy season starts in November and ends in April.  The average daily high in the warmest months of January through March is 30°C (86°F).  Water temperature remains in a range from 24-30°C (75- 86°F) year-round.  Most divers will be satisfied with a 3 mm wetsuit when the water is at its coolest.  Visibility is excellent running from 18 to 50 meters (60 to 160 feet).  Many of the sites have the potential for strong currents, but there are sites suitable for all levels.  At least 19 dive shops are in operation, mostly on the west side of the island, that can provide training, equipment rental, guiding and boat tours.

Selected Reunion Island Dive Sites
L'Ecole (Le Port): 35-45 meters (115-150 feet), flat sandy area and slope with rocks, moray eels, scorpionfish, macro critters in the nooks and crannies, possible jacks and tuna, experienced level
Le Grand Tombant de la Possession (Le Port): 38-60 meters (125-200 feet), deep V-shaped shoal with a steep drop-off, macro life in the cracks and crevices, big grouper, large pelagics like jacks, wahoo, tuna and possible sailfish and swordfish, advanced and technical level
Cap La Houssaye (St. Paul's Bay): 4-18 meters (13-60 feet), in a Marine Nature Reserve, reef with sections of sandy bottom, crevices, drop-offs, small cavern, small cannon at 5 meters (16 feet), nudibranchs, mantis shrimp, ghost pipefish, scorpionfish, lobsters, mollusks, variety of reef fish, turtles, beginner level
The Barge (Saint Paul's Bay): 25 meters (83 feet), 10-meter (35-foot) barge, in black basaltic sand, stonefish, leaf fish, reef tropicals, schools of yellow snappers, torpedo rays, possible dolphins, experienced level (check the video below)
Hai Siang (Saint Gilles les Bains); 54 meters (180 feet), 50 meter (170 foot) long Taiwan lobster boat scuttled in the 1980s to become an artificial reef, schools of snappers, stingrays, macro critters, scorpionfish, trevallies, tuna, barracuda, and an occasional manta ray or whale shark, strong current possible, advanced and technical level (check the video below)
The Chimney (Saint Gilles les Bains): 15-30 meters (50-100 feet), big basaltic rock chimney to 22 meters (73 feet), filled with lobsters, arch at the bottom of the chimney, crevices and small canyons ending in a white sandy area, gorgonians, moray eels, snappers, groupers, parrotfish, barracuda, tuna, strong current possible, experienced level
Passe de l'Ermitage (The Hermitage Passe) (Saint Gilles les Bains): 25 meters (83 feet), a ravine in the reef, cave, rich in nutrients and plankton, lots of fish and invertebrates, turtles and large eagle rays, strong current possible, experienced level
Le Grand Tombant de la Pointe au Sel (The Salt Head Big Drop-off) (Saint Leu): 20-80 meters (68-280 feet), steep, deep drop off from a shoal, moray eels, schools of bannerfish and fusiliers, possible manta rays, dolphins, tuna, marlin and whale sharks, strong current possible, experienced and technical levels
Antonio Lorenzo (Saint Leu): 40 meters (136 feet), Chilean longliner scuttled to become an artificial reef, sandy bottom, leopard rays, stingrays, lionfish, experienced level
Reunion Island Photos
With the interesting coral gardens and shipwrecks, colorful anemones, sponges and encrusting invertebrates, nudibranchs, crabs, scorpionfish, frogfish and other macro critters, reef fish, schools of yellow snapper and pelagics, turtles, rays and dolphins, and forests, volcanoes, endemic animals and historical sites on land, as well, there are many excellent photo opportunities.  For information and reviews of dive cameras, click here:
Reunion is served by two airports.  Roland Garros Airport in Saint Denis handles international flights from Europe and regional countries.   The airport in St. Pierre only connects to Mauritius.  Several times weekly ferries travel to and from Madagascar and Mauritius.  Taxis are available but expensive.  Cars, scooters, and bicycles are for rent and reasonably priced.  A bus network runs from 6 am to 7 pm between major towns.  Mini-vans are available to link to smaller towns.
There are at least 19 dive shops, a number of which are affiliated with resorts, that operate on Reunion.  They are in operation year-round and offer a full range of services including equipment rental, dive courses, guiding and boat dive cruises.  There are at least 172 accommodations of every level available around the island from $19 to $1,379 per night.  The website linked below is a good source for the available options and can arrange a booking.  You can easily find the locations on the map provided on this site.  Their rates are the lowest and it is free to cancel or change dates.
Reunion Island Things to Do (aside from scuba diving)
The culture and history of La Reunion combined with beautiful volcanoes, forests, waterfalls, and water-related activities make for a full package to satisfy the active tourist.  Here are some things to do and attractions to visit:  music museum, forest tours, city markets, restaurants and shops, hiking, mountain biking, rum distillery tour, mountain climbing, botanical gardens, aquarium, waterfalls, historic landmarks, parasailing, air tours, water sports and relaxing on the beach, to name a few.  Check the video below for a look.
A cushion for emergencies provides peace of mind when on vacation.  I recommend this diving insurance as they have worldwide coverage and provide scuba divers a quality insurance and medical assistance service.
Feedback and Comments
I hope you found this post on Reunion scuba diving interesting and useful. If you have any questions or ideas, please feel free to share them in the comments section.  I'd love to know of any experience you have diving on Reunion Island.  If there is no comments section directly below, click here:  >>comments<<