Updated January 6, 2021
This is the sixty-seventh in a series of reviews of the best diving destinations around the world.  In this post, the focus is Mozambique.
In addition to this series on diving destinations, the best worldwide liveaboard diving locations and services are reviewed in their own series.  To check them out, or others in this series, click on Liveaboards/Resorts on the menu at the top and choose a title from the list.
Have you ever been diving in Mozambique before?  If so, I'd love to know about your experience.  What dive shop or liveaboard did you use?  Which dive spots are the best and what are the conditions there regarding the visibility, current, water temperature, sealife attractions, etc.?  Please post your response in the comments section at the bottom and we'll all learn something we can use.
Best Scuba Diving Mozambique
Background – With twice the area of California and a coastline of 2,470 kilometers (1,535 miles), Mozambique is bordered on the north by Tanzania, the west by Malawi, Zambia, and Zimbabwe, and South Africa and Swaziland on the south.  It has several mountain chains, 25 rivers including the Zambezi, and a population of 29 million.
The Portuguese settled there in 1500 with spices and slaves as primary economic motivation over the years.  Independence was achieved in 1975, but that was followed by civil war and flirtations with the Soviets.  The war ended in 1992 and by 1995 Mozambique was a multiparty state and the only country never a part of the British Empire to become a member of the Commonwealth of Nations.
Although there is a rich countryside and coastline, and natural gas reserves recently discovered, the economy is poorly developed and in 2012 major government corruption was revealed.  The infrastructure is poor and transportation around the country is often slow and inconvenient.  However, there is quite a lot of tourism and with the natural beauty on land and at sea and increasing societal stability it will continue to grow.
Maputo in the south, with the second-largest population among Mozambique's cities at 1.1 million, is the capital and major international port of entry.
97.8% of the population is from tribal groups making up the Bantu peoples with the rest Europeans, mostly Portuguese, mixed-race, and Indians with a small cadre of Chinese, as well.
Portuguese is the national language that people in cities speak as their #1 language.  Overall more than 50% of the population can speak Portuguese.
56% are Christian, 18% Muslim, and the rest have another religion, mostly animism, or no religion.
Undersea World – With its long coastline, offshore reefs, and islands, Mozambique offers a great number of dive sites on many near-pristine reefs with perhaps the world's top list of big creatures to behold.
Seasonal whale sharks and manta rays appear from November through April with humpback whales coming from June through October.  There are several species of turtle including leatherbacks and schooling trevally, barracuda, tuna, and other pelagics.  The list of commonly seen sharks is astounding: silvertips, hammerheads, tiger, bull, black and whitetip reef sharks, leopard, and guitar sharks.  In addition, marble stingrays, eagle rays, dolphins, and even dugongs can be observed.
There are fringing reefs and a full array of rocks, pinnacles, walls, and arches making up the undersea terrain.  The rich coral reef with a large array of hard and soft corals, sea fans, and sponges provides excellent habitat for lionfish, snappers, sweetlips, grouper, fusiliers, moray eels, crocodile fish, leaf fish, peacock flounders, frogfish, nudibranchs, and many other of macro critters.
Seasons and Conditions – Because the Mozambique coastal diving areas cover a fairly large geographic area, conditions have some variation from place to place.
As you would expect, it is warm year-round with average daily high temperatures reaching 30°C (86°F) in December through March and getting down to 25°C (77°F) in June and July.
The rainy season runs from November through March with the driest months of the year in July and August.
Water temperature is in a range from 23-29°C (73.4- 84.2°F) but usually does not dip below 26°C (78.8°F).  A 3-5mm wetsuit will handle thermal protection when the water is at its coolest.
In some locations, the current can be strong and the visibility is excellent at 24-40 meters (80-130 feet).
Conditions are available for every level of diver.
There are at least 42 dive shops in operation in Mozambique.  Many are very sophisticated providing a range of training, equipment rental, guiding, and boat tours.
None of the major liveaboard yachts travel to Mozambique.  However, there are quite a few that cruise the relatively nearby Madagascar and Seychelles dive sites.  Please click here for my reviews: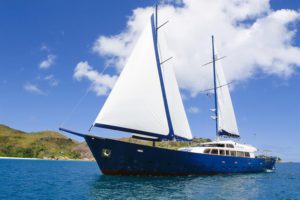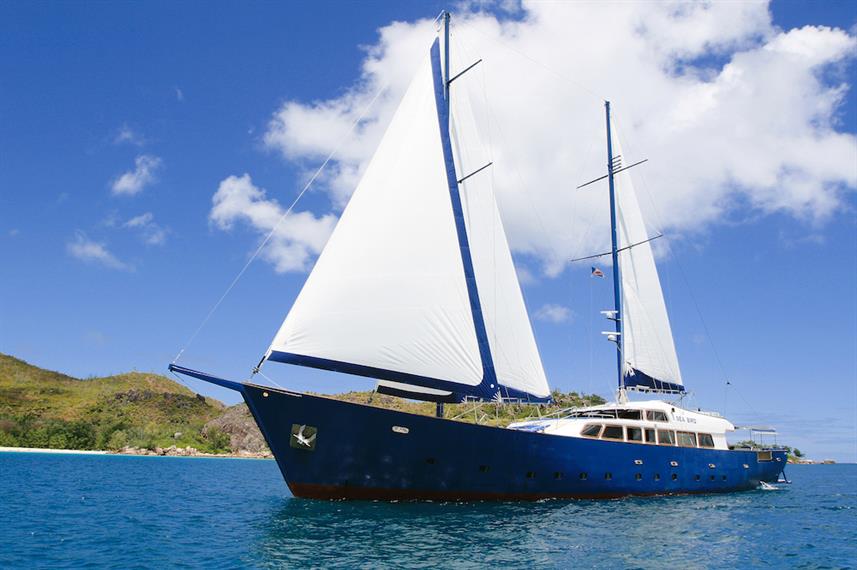 SY Sea Bird, Seychelles Liveaboard Diving – Check the Price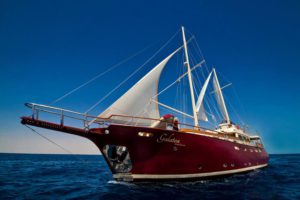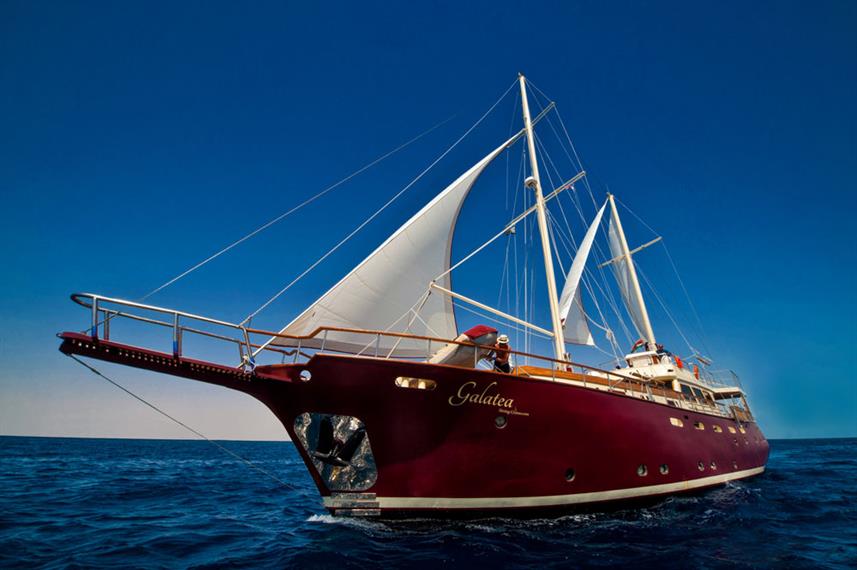 MV Galatea, Madagascar Liveaboard Diving – Check the Price
For my reviews of some other Southwest Indian Ocean resort diving areas, please check these posts: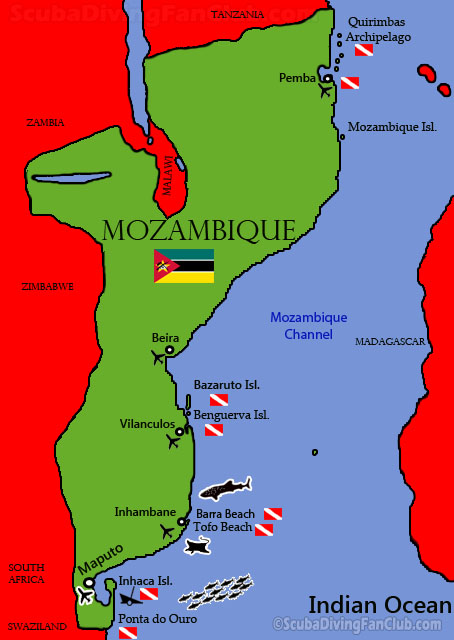 Selected Mozambique Dive Sites
Ponta do Ouro
Location: near the South African border at Kosi Bay
Highlights: good variety of reef tropicals, macro critters, and big stuff including paper fish, frogfish, nudibranchs, red toothed triggerfish schools, potato cod, reef, bull, hammerhead and whale sharks, dolphins, barracuda, eagle rays, around 20 reefs in the area, shallow and deep, some with substantial drift, all levels
Access: 3-5 hour drive from Maputo
Inhaca Island
Location:  35 kilometers (22 miles) offshore from Maputo
Highlights: 150 types of  healthy coral, diverse reef life, big schools of kingfish and barracuda, dolphins, whale sharks, and manta rays from November through April, humpback whales in September and October, reefs from 18-30 meters (60-100 feet), several wrecks, all levels
Access: 2-hour ferry once a day between Maputo to Inhaca
Pemba (not the Pemba in Zanzibar)
Location: bay in the far north of the country (see map)
Highlights: beautiful beaches, continental shelf drop off starts at 15 meters (50 feet), descends to 120 meters (400 feet), lots of sites at 30 meters (100 feet) and shallower, pristine corals, rich diverse marine life, good variety of corals and reef tropicals, Napoleon wrasse, reef sharks, mobula rays, mola mola, rays, black marlin, all levels
Access: 34-37 hour drive from Maputo, flights from Maputo once per week
Quirimbas Archipelago
Location: 60 kilometers (37 miles) north of Pemba
Highlights: marine protected area in 11 of the 32 islands (biggest in Africa), much unexplored, pristine coral reef, rich marine life, manta rays, and whale sharks in summer, 8 species of shark, kingfish, barracuda, dolphins, humpback whales, 5 turtle species and nesting areas (nesting November through March), sites from 14-80 meters (46-260 feet), all levels
Access: your hotel can help you arrange transport from Pemba
Mozambique Photos
With the pristine coral reefs, rich macro life and spectacular whales, sharks, dolphins, rays, turtles, pelagics, and shipwrecks, and the world-famous African land-based wildlife and historical and cultural sites, as well, there are many excellent photo opportunities.  For information and reviews of dive cameras, click here:
Transportation – The airport near Maputo has frequent flights from South Africa, Portugal, and several other African countries.  Less frequent domestic flights can be made to Inhambane, Vilanculos, Beira, and Pemba from Maputo.   The infrastructure in Mozambique is very poor.  Taxis, if you can find them, require a negotiated price.  There is not a public bus or rail service.  Private buses (machibombo), smaller transport vehicles (chapa), or trucks (camiao) can be found, but are not necessarily reliable or comfortable.  There is one main paved road that stretches from Maputo, at the southern end, to Lilongwe in the north.  Car rental is possible, but depots are only in Maputo and Beira on the central coast.
Dive Shops & Lodging – There are at least 42 dive shops, a number of which are affiliated with resorts, that operate in Mozambique.  They are in operation year-round and offer a full range of services including equipment rental, dive courses, guiding, and boat dive cruises.  In Maputo, the major entry point to Mozambique, there are at least 55 accommodations of every level available from $16 to $292 per night.  The website linked below is a good source for the available options and can arrange a booking.  You can easily find the locations on the map provided on this site.  Their rates are the lowest and it is free to cancel or change dates.
Things to do in Mozambique (aside from scuba diving)
There is a lot of scenic beauty at the seaside and inland and interesting culture to get acquainted with.  Here are some of the places to go:  Gorongosa National Park, Bazaruto Archipelago, Island of Mozambique, Iglesia de San Antonio de la Polona, Governor's Palace Museum, Vamizi Island, Bilene, Portuguese Island, Feira De Artesanato, Praia do Tofo, Cahora Bassa Dam, Lake Malawi, Benguerra Island. Check the videos below for some of these and for a city tour of Maputo.
A cushion for emergencies provides peace of mind when on vacation.  I recommend this diving insurance as they have worldwide coverage and provide scuba divers a quality insurance and medical assistance service.
Feedback and Comments
I hope you found this post on Mozambique scuba diving interesting and useful. If you have any questions or ideas, please feel free to share them in the comments section.  I'd love to know of any experience you have diving in Mozambique.  If there is no comments section directly below, click here:  >>comments<<