We may earn money or products from the companies mentioned in this post.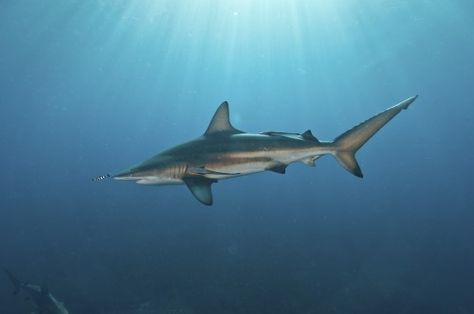 This is the seventieth in a series of reviews of the best diving destinations around the world.  In this post, the focus is Aliwal Shoal, South Africa.
In addition to this series on diving destinations, the best worldwide liveaboard diving locations and services are reviewed in their own series.  To check them out, or others in this series, click on Liveaboards/Resorts on the menu at the top and choose a title from the list.
Have you ever been diving in Aliwal Shoal before?  If so, I'd love to know about your experience.  What dive shop or liveaboard did you use?  Which dive spots are the best and what are the conditions there regarding the visibility, current, water temperature, sealife attractions, etc.?  Please post your response in the comments section at the bottom and we'll all learn something we can use.
Aliwal Shoal Diving
Background – Aliwal Shoal is a Marine Protected Area (MPA) that is the remains of a fossilized sand dune 5 kilometers (3.1 miles) off the coastline of Umkomaas in the KwaZulu-Natal Province of South Africa.  Umkomaas is 48 kilometers (30 miles) south of Durban at the mouth of the Umkomaas (Umkomazi) River, the largest on the southeast coast.  Founded in 1861 as a port for the export of sugar, today cellulose products, sugar, eucalyptus, and a few other agricultural products are the foundation of the economy along with tourism.  The population sits at just over 2,700 with English the first language of 64%, Afrikaans of 23%, and Zulu of 10%.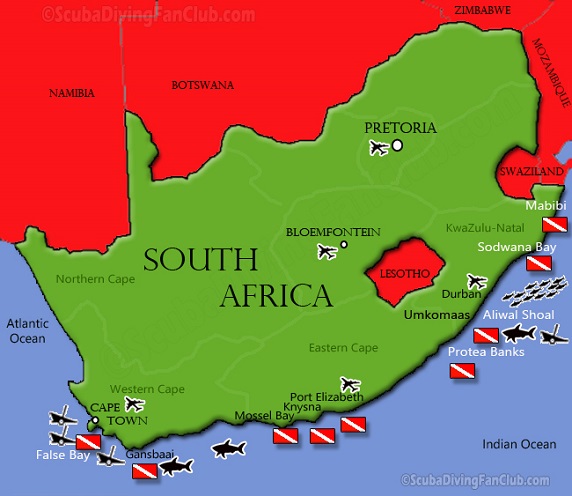 Undersea World – The foundation of Aliwal Shoal is a fossilized dune upon which corals and other encrusting invertebrates have become established.  At the shallowest point, it is 6 meters (20 feet) below the surface and at its widest, it is 380 meters (1250 feet) across.  It is relatively southerly for a reef with hard corals, but benefits from currents traveling south from Mozambique that bring warmer water and lots of nutrients and plankton to enrich life around the shoal.  The reefs are not as rich as they are at Sodwana Bay to the north, but diverse and beautiful, nonetheless, with a variety of hard and soft corals and sponges.  The underwater terrain has a nice mix of rocky areas, caves, and overhangs that provide good habitat for macro critters including mollusks, crustaceans, flatworms, sea spiders, seahorses, anemones, scorpionfish, sea moths, lionfish, octopus, nudibranchs, eels, stonefish, paperfish, frogfish, and many others.  The other fish life is also very rich with highlights including triggerfish, potato cod, cardinalfish, sergeant majors, soldierfish, parrotfish, butterflyfish, angelfish, wrasses, and representatives from most genera. There are several species of large stingrays and turtles, dolphins, humpback whales, eagle, devil and manta rays, pelagics including kingfish, tuna and barracuda, and sharks, which are the attraction Aliwal Shoal is famous for.  From June to November ragged-tooth sharks migrate from the south up the coastline to KwaZulu-Natal for breeding.  At several locations on the shoal, they can be found at that time in their dozens.  Whale sharks also migrate through during the summer months.  In addition, many operations run a baiting program with fish oil and fish in a bucket to attract sharks.  This is not a feeding program, so they avoid a feeding frenzy situation.  What results is often oceanic blacktip sharks in their dozens along with a few tiger sharks.  Other sharks that can be seen at Aliwal Shoal include hammerhead, thresher, Zambezi (bull), dusky, whitetip reef and giant guitar sharks.  Also of interest is the sardine run from May through July when billions of South African pilchards run northward along the coast providing an interesting meal for many reef inhabitants and visitors.  There are also two interesting wrecks, the MV Produce, sunk in 1974, and the SS Nebo that went down in 1884.  Both are very rich in marine life.  The base of the shoal is around 32 meters (105 feet), so advanced technical skills are not necessary to see most of what Aliwal Shoal has to offer.
None of the major liveaboard yachts travel to Aliwal Shoal.  However, there are quite a few that cruise the relatively nearby Madagascar and Seychelles dive sites.  Please click here for my reviews: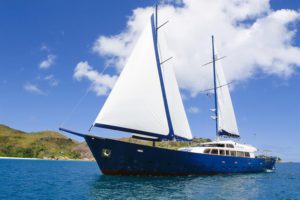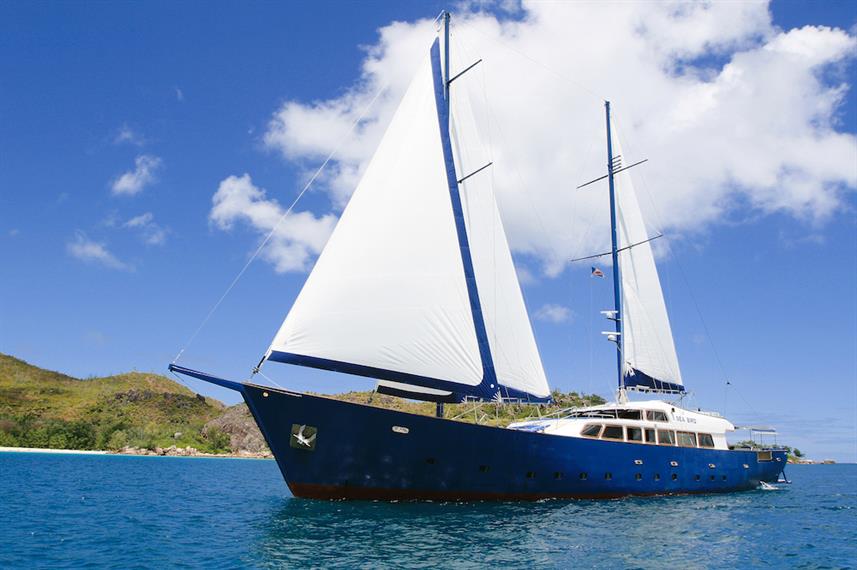 SY Sea Bird, Seychelles Liveaboard Diving – Check the Price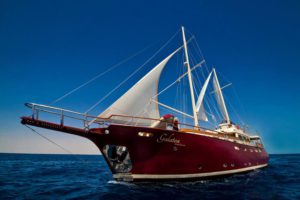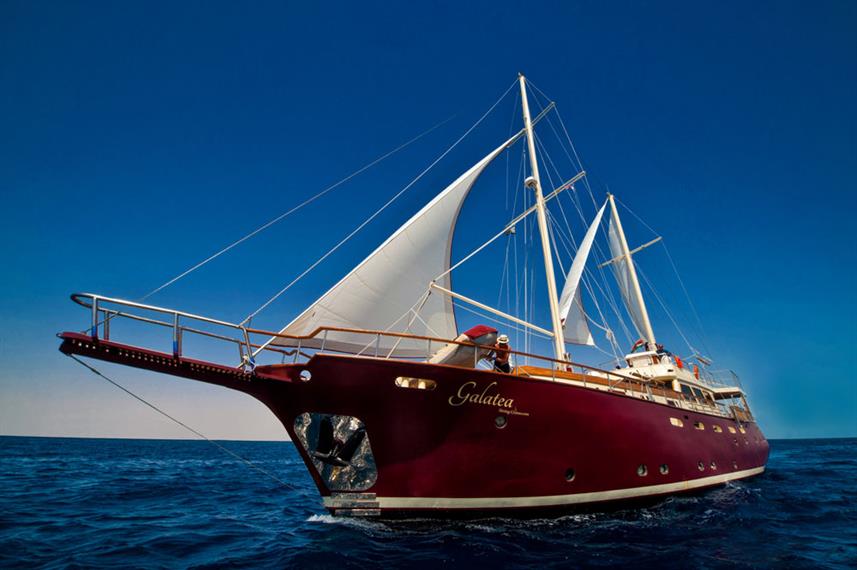 MV Galatea, Madagascar Liveaboard Diving – Check the Price
For my reviews of some other Southwest Indian Ocean resort diving areas, please check these posts:
Seasons and Conditions – Diving is possible year-round at Aliwal Shoal.  Average daily high temperatures reach 28°C (82.4°F) in February and 22.6°C (72.7°F) in July.  Water temperatures have a range of 21-26°C (69.8-78.8°F).  Some divers will use a 7mm wetsuit and hood when it is at its coolest.  Visibility is quite variable from a few meters up to more than 40 meters (130 feet).  The Sappi-SAICCOR paper mill in town releases effluent along a pipe 6 kilometers (3.75 miles) into the sea just north of the shoal and this is an influence on visibility.  North to south current can be strong at times making for interesting drift diving.  The surface chop can be pretty heavy during the windiest times from September through November.  Boat rides to and from shore are often pretty exciting moving through the waves and chop.  Many shops enter the sea from the river.  Generally, there are sites suitable for all levels of diver.  The dive shops are fully equipped to provide a range of training, equipment rental, guiding and boat tours.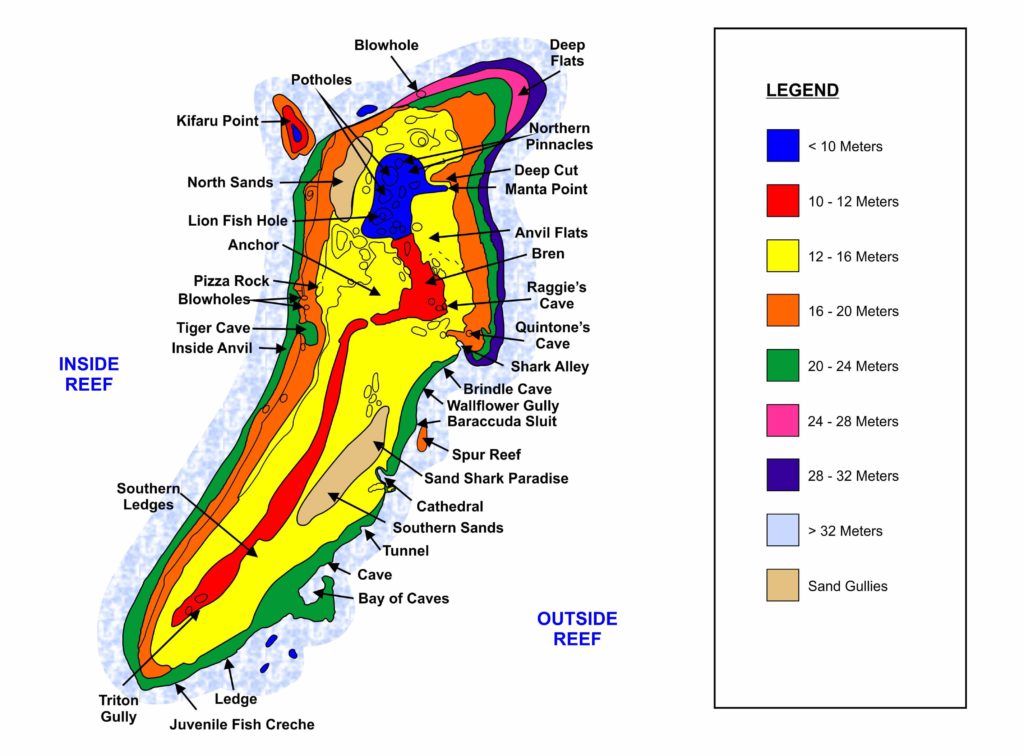 Selected Aliwal Shoal Diving Sites
Raggie Cave: 18 meters (60 feet) maximum depth, cavern and ledge system with a sandy area in front, seasonal ragged-tooth sharks in large numbers, rocks with interesting corals and invertebrate encrustations, good habitat for macro life like moray eels, scorpionfish and cleaner shrimp, schools of baitfish and bannerfish, trumpetfish, green and hawksbill turtles, ribbon-tail and leopard rays in the sand, all levels
Cathedral: 27 meters (90 feet) maximum depth, large open area enclosed on 3 sides by coral and invertebrate encrusted rock in an amphitheater shape with a sandy floor, entrance can be executed through the top or through a front archway, another spot for ragged-tooth sharks in season, cuttlefish, snowflake eels, honeycomb morays, nudibranchs, paperfish, frogfish, pineapple fish, Durban dancing shrimp and other macro critters, torpedo and ribbon-tail rays in the sand, pelagics sometimes sighted include humpback whales and hammerhead and thresher sharks below the drop-off, experienced level
Northern Pinnacles: 18 meters (60 feet) maximum depth, on the northeast edge, rocky formations from the sea bed to less than 10 meters (35 feet), crevices, caves and gullies that house macro critters like leaf fish and paper fish, eels, batfish, manta rays in season, all levels
North Sands: 15 meters (50 feet) maximum depth, sandy patch, pod of resident bottlenose dolphins use the sand  to clean their skin, ragged-tooth sharks come in season and similarly clean, abundance of sand-dwelling creatures including ribbontail rays, giant guitarfish, leopard and reticulate whip rays and sole, visiting pelagics can include scalloped hammerheads, manta and eagle rays, and gamefish during the summer months feeding in the boundary reef, all levels
Southern Sands: 18 meters (60 feet) maximum depth: sandy area with coral patches, stingrays, schooling red-tooth triggerfish, whitetip reef sharks, above look for dolphin pods, manta, and devil rays and passing pelagic gamefish, rocky outer ledges have lobsters and Natal sea catfish, all levels
MV Produce: 32 meters (105 feet) maximum depth, Norwegian bulk carrier that collided with Aliwal Shoal in 1974, in a major effort all crew were saved, midsection is mostly destroyed, bow and stern are intact, starting to break up and penetration is not advised, lots of fish life, harlequin anthias, lionfish, morays, variety of rays including the leopard ray in the sandy collapsed midsection, major highlight is the Giant or Queensland Grouper reaching 400 kg, pelagic sightings have included humpback and minke whales and a great white shark, experienced level
SS Nebo: 27 meters (90 feet) maximum depth, loaded with 4,500 tons of railway materials, this wooden ship from Sunderland, England sailing to Durban, encountered bad weather, struck Aliwal Shoal and sank in May of 1884,  capsized and lying upside down and partly covered in sand, many crevices and caverns rich with marine life, swim through is possible at the propeller, swarming with small fish, kingfish and salmon possible, experienced level
Aliwal Shoal Photos
With the interesting undersea terrain, wrecks, rich macro life and ragged-tooth, tiger and whale sharks, dolphins, manta rays, whales and turtles, endemic shoreside wildlife, and scenic coastal scenes, as well, there are many excellent photo opportunities.  For information and reviews of dive cameras, click here:
The airport in Durban connects to many locations.  Umkomaas is 45 kilometers (28 miles) from Durban.  Reasonably priced busses and taxis can transport you between locations quickly.  Taxis and shuttle services are available in Umkomaas as is car rental.
There are a number of hotels and lodges in Umkomaas from $36-$154 per night.  At least 9 dive shops operate there, some in association with hotels.  They offer a full range of services including equipment rental, dive courses, guiding and boat dive cruises. The website linked below is a good source for the available options and can arrange a booking for diving and lodging.  You can easily find the locations on the map provided on this site.  Their rates are the lowest and it is free to cancel or change dates.
Things to do around Umkomaas (aside from scuba diving)
The Umkomaas River is also a source of recreation with raft races and canoeing.  Tim Clark, a top professional golfer from a few years ago is from Umkomaas and there is a public golf course.  The Green Point Lighthouse is a landmark worth visiting.  Birding and fishing are popular and if you have the time to head down the south coast there are many outdoor activities to pursue there.  For the features of city life, it is not a long drive to Durban.
A cushion for emergencies provides peace of mind when on vacation.  I recommend this diving insurance as they have worldwide coverage and provide scuba divers a quality insurance and medical assistance service.
Feedback and Comments
I hope you found this post on Aliwal Shoal scuba diving interesting and useful. If you have any questions or ideas, please feel free to share them in the comments section.  I'd love to know of any experience you have diving in Aliwal Shoal.  If there is no comments section directly below, click here:  >>comments<<