We may earn money or products from the companies mentioned in this post.
This is the seventy-third in a series of reviews of the best diving destinations around the world.  In this post, the focus is on Cape Town, South Africa.
In addition to this series on diving destinations, the best worldwide liveaboard diving locations and services are reviewed in their own series.  To check them out, or others in this series, click on Liveaboards/Resorts on the menu at the top and choose a title from the list.
Have you ever been diving in Cape Town before?  If so, I'd love to know about your experience.  What dive shop or liveaboard did you use?  Which dive spots are the best and what are the conditions there regarding the visibility, current, water temperature, sealife attractions, etc.?  Please post your response in the comments section at the bottom and we'll all learn something we can use.
Scuba Diving Cape Town
Background – Set in the Western Cape Province with Table Bay on the north and False Bay on the south, Cape Town is the oldest city in South Africa.  As a trading outpost of the Dutch East India Company, Cape Town was born when the Dutch Cape Colony was set up there in 1652.  With a Mediterranean climate, great biodiversity, and a multicultural urban scene, it is perhaps the premier tourist destination on the continent.  A broad-based economy supplemented by this tourism supports a population of 3.7 million, with 36% speaking Afrikaans as their first language, 30% speaking Xhosa and 28% speaking English.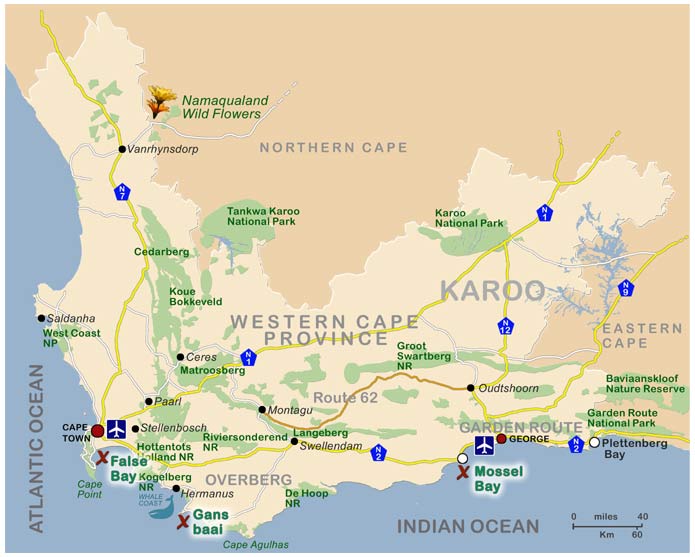 Undersea World – False Bay is pretty sizable and there is some variability in the underwater terrain.  On the west side, the bottom is rockier and there are more steep drop-offs, whereas on the east side generally there are more sandy bottom areas.  The reefs offer very little in the way of hard corals, but it is made up for with the rich variety and bright colors of the soft corals, sponges, sea fans, other encrusting invertebrates, and kelp.  There are crinoids, brittle stars, sea stars, sea pens, anemones, crinoids, lobster, crabs, octopus, cuttlefish and many dozens of species of nudibranch.  Fish species include horsefish, strepies, pufferfish, Roman fish, Hottentot seabream, stumpnoses and a large number of sharks like puffadder shysharks, leopard catsharks, pyjama sharks and gully sharks, all very small, and the much larger seven-gill sharks.  A large colony of African penguins (jack-ass penguins) stays near Simon's Town, and Cape fur seals are abundant, especially at Seal Island where up to 60,000 at a time can be seen and smelled, along with great white sharks who like to eat them.  Some operators run shark cage dives outside of False Bay and quite a few do it inside near Seal Island.  Many dive sites are also accessible from shore.  In addition, several wrecks are in a range mostly for advanced level divers.
None of the major liveaboard yachts travel to Cape Town.  However, there are quite a few that cruise the relatively nearby Madagascar and Seychelles dive sites.  Please click here for my reviews: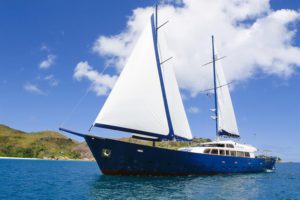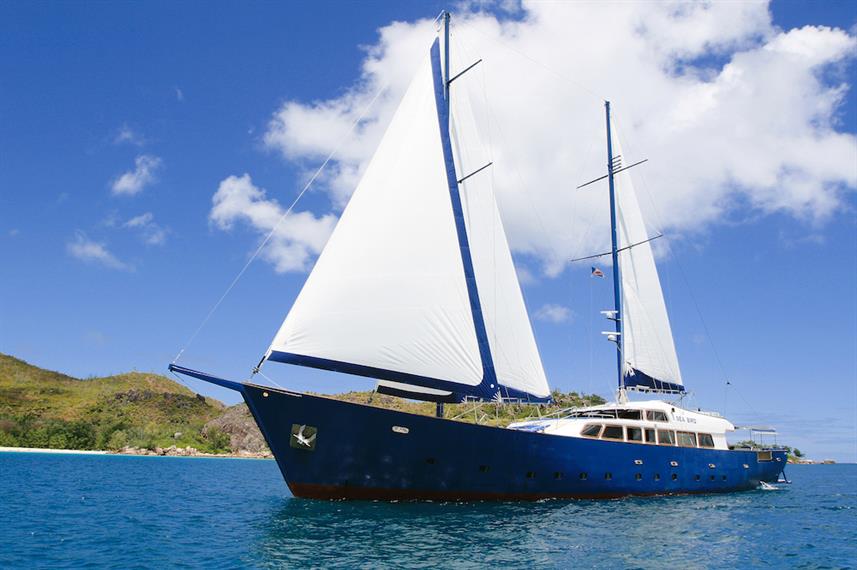 SY Sea Bird, Seychelles Liveaboard Diving – Check the Price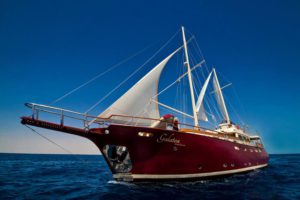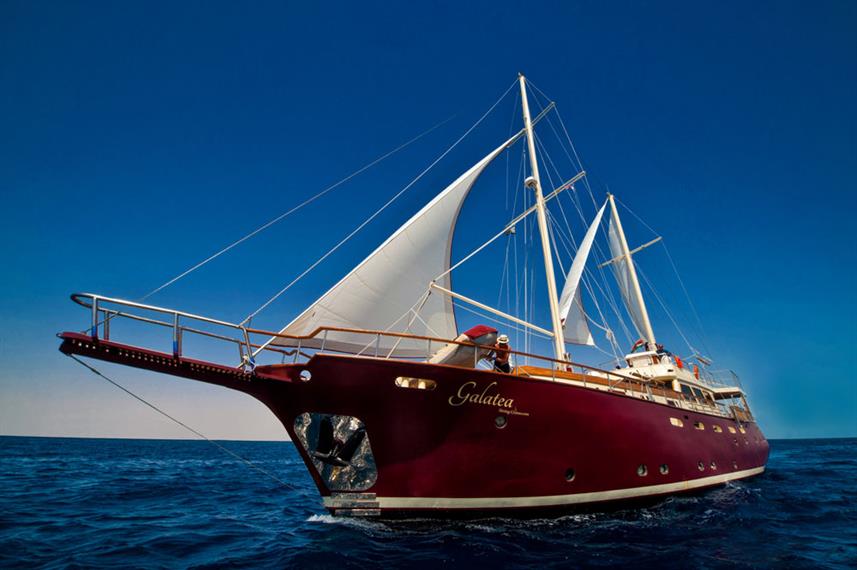 MV Galatea, Madagascar Liveaboard Diving – Check the Price
For my reviews of some other Southwest Indian Ocean resort diving areas, please check these posts:
Seasons and Conditions – Diving is possible year-round in our primary area of interest, False Bay.  Air temperatures are mild with average daily highs peaking in February at 26.5°C (79.7°F) and bottoming out in July with average daily highs then at 17.5°C (63.5°F).  Rain is not a major hindrance with only 20 inches (515 mm) annually, however, the rainiest months are from May to August.  The annual range of water temperature is 12-16°C (53.6-60.8°F) on the surface.  At depth, it can be 1-3°C cooler.  A heavy wetsuit, hood, and gloves may suffice for some, but a drysuit is the best bet.  In the winter with northeasterly winds, visibility is often from 5-10 meters (16-35 feet) but can extend to 20 meters (68 feet) or beyond.  In the summer months, the southeasterly winds can cause some surface chop and influence visibility taking it below 5 meters (16 feet).  At the same time on the east side, the dirty surface water can be blown out actually creating better visibility there.  Current is not much of a factor inside the bay.  Generally, there are dive sites and conditions suitable for all levels of diver.  Of the at least 59 dive shops around metropolitan Cape Town, there are many right on False Bay.  They are fully equipped to provide a range of training, equipment rental, guiding and boat tours with some also doing shark cage diving.
For information on cold water scuba gear, please check my post: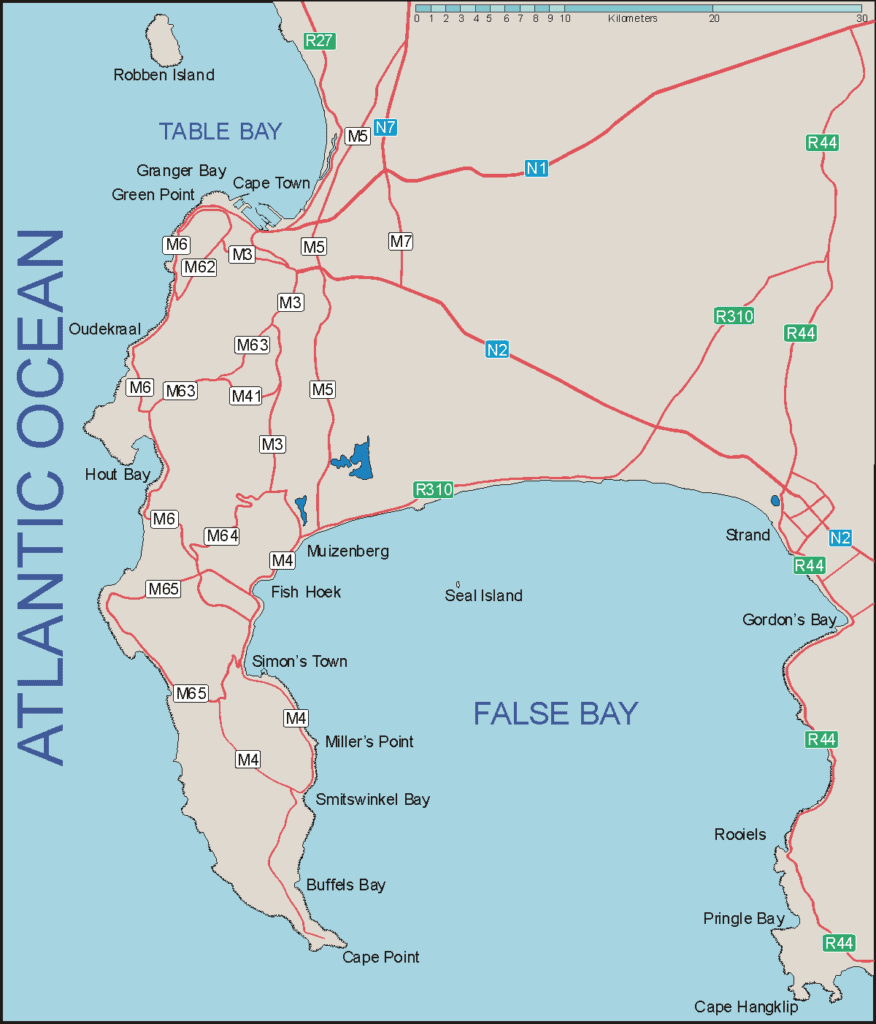 Selected Cape Town False Bay Dive Sites
A-Frame: 12 meters (40 feet), shore entry, 5 kilometers (3 miles) from Simon's Town in the Oatland's area, A-frame tripod visible from the road, entry through flat rocky area, kelp forest and huge boulders, holes, overhangs and swim-throughs, cave, colorful sponges, soft coral, sea anemones, mussels, abalone, all levels
Boat Rock: 21 meters (70 feet), boat dive, rocky area, gullies and overhangs, lots of colorful sponges, gorgonians, sea fans, and other encrusting invertebrates, all levels
Smits Reef: 8-30 meters (25-100 feet), boat dive, big boulders, shysharks, pyjama sharks, nudibranchs, colorful sea fans, all levels
SAS Pietermaritzburg or PMB: 25 meters (82 feet), boat dive, originally an Algerine class minesweeper commissioned in Scotland in 1943, participated in D-Day, scuttled to become an artificial reef in 1994, just north of Miller's point, well encrusted, lots of life, structure has collapsed precluding safe penetration, experienced level
Clan Stuart: 8 meters (25 feet), shore entry, British turret steamer that went down in a storm in 1914, 4 km (2.5 miles) from Fish Hoek traffic circle on Simon's Town Road, dense marine growth, big variety of fish, engine block sticks out of the water, all levels and snorkelers
Lusitania: 42 meters (140 feet), boat dive, a famous Portuguese passenger liner that sank when it hit Bellows Rock in a storm in 1911, strong surge near the surface, big fish, lots of encrusting life and invertebrates, advanced level
Castle Rock: 15 meters (50 feet), shore dive in the marine reserve, rocky area, rich corals and sponges, lots of fish including red Romans, stumpnose and Hottentot sea bream, all levels
Outer Castle: 21 meters (70 feet), boat dive, numerous big boulders, one breaking the surface at low tide, swim-throughs, a highlight is large rays, all levels
Partridge Point: 21 meters (70 feet), boat dive, near a fur seal colony, boulders with swim-throughs and caverns, soft corals and sponges, crinoids, sea urchins, sea cucumbers, pipefish, anemones, large janbruin, and galjoen, all levels
Seal Island: less than 2 meters (6 feet), white shark cage dive conducted by authorized operators, up to 60,000 fur seals may be on the island simultaneously, white sharks lurk for feeding opportunities, bait ball is used to lure sharks, cage is lowered and divers watch sharks from the protection of the cage, often done using a snorkel, all levels
Cape Town Photos
With the interesting undersea terrain, colorful coral reefs and vegetation, a variety of fish, sharks and seals, and scenic coastal landscapes and historic landmarks, as well, there are many excellent photo opportunities.  For information and reviews of dive cameras, click here:
Cape Town International Airport is the second largest in the country with domestic service to most in-country airports and some international destinations.  There are two long-distance passenger rail services with daily trips to Johannesburg and weekly to Durban.  Metrorail is a commuter service with 96 stations around the metropolitan area.  There is also the IRT (Integrated Rapid Transit) which covers about 10% of the metro area.  Metered taxis, which must be called and don't cruise for customers and mini-bus taxis are available.  Rental cars, motorbikes, and bicycles are all available.
There are at least 672 hotels and lodges in Cape Town from $10-$1,796 per night.  59 or more major dive shops operate there.  They offer a full range of services including equipment rental, dive courses, guiding and boat dive cruises with some also doing shark cage diving.  The website linked below is a good source for the available options and can arrange a booking.  You can easily find the locations on the map provided on this site.  Their rates are the lowest and it is free to cancel or change dates.
Things to do in Cape Town (aside from scuba diving)
Cape Town offers a unique history, culture, and scenic beauty.  A vast array of things to do and places to go are available like museums, galleries, historical sites, city tours, restaurants, nightlife, landscapes, and wildlife.  This video is an excellent introduction to the options.
A cushion for emergencies provides peace of mind when on vacation.  I recommend this diving insurance as they have worldwide coverage and provide scuba divers a quality insurance and medical assistance service.
Feedback and Comments
I hope you found this post on Cape Town scuba diving interesting and useful. If you have any questions or ideas, please feel free to share them in the comments section.  I'd love to know of any experience you have diving in Cape Town.  If there is no comments section directly below, click here: >>comments<<