We may earn money or products from the companies mentioned in this post.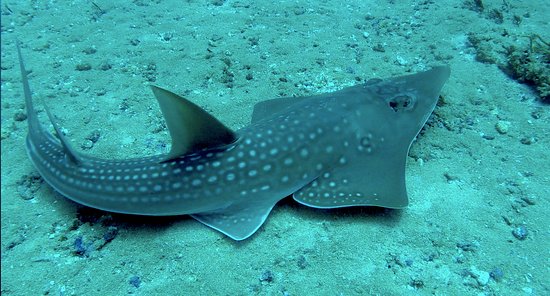 This is the seventy-first in a series of reviews of the best diving destinations around the world.  In this post, the focus is on Protea Banks, South Africa.
In addition to this series on the best diving destinations, the best worldwide liveaboard diving locations and services are reviewed in their own series.  To check them out, or others in this series, click on Liveaboards/Resorts on the menu at the top and choose a title from the list.
Have you ever been diving in Protea Banks before?  If so, I'd love to know about your experience.  What dive shop or liveaboard did you use?  Which dive spots are the best and what are the conditions there regarding the visibility, current, water temperature, sealife attractions, etc.?  Please post your response in the comments section at the bottom and we'll all learn something we can use.
Protea Banks Scuba Diving
Background – The Protea Banks are situated in the South Coast area of KwaZulu-Natal Province of South Africa offshore from Shelly Beach in the Margate metropolitan area 140 kilometers (87.5 miles) south of Durban.  The banks are a fossilized sand dune 7.5 kilometers (4.7 miles) from the beach at a depth of 27-40 meters (90-130 feet).  Margate and the surrounding beach towns are a popular holiday tourist area where the beaches, surfing, snorkeling, and scuba diving are the main attractions.  It is a well developed urban area with dozens of hotels, restaurants, bars, nightclubs, a shopping street, and 4 malls.  The population of 27,000 has a spectrum of residents with English spoken as the first language by 36%, Xhosa by 22%, Afrikaans by 20% and Zulu by 18%.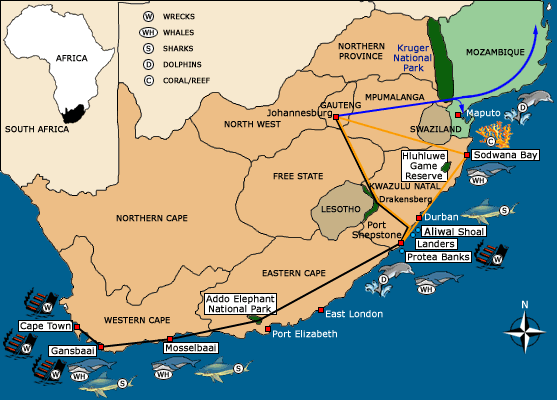 Undersea World – Like Aliwal Shoal to the north, the Protea Banks are a result of a fossilized dune.  In this case, it is 800 meters (half a mile) wide and 6 kilometers (3.75 miles) long at a depth of 27-40 meters (90-130 feet).  The interesting terrain of pinnacles, rocky canyons, overhangs, caves, swim-throughs, and a sandy bottom are not as richly encrusted with corals and invertebrates as Aliwal Shoal or Sodwana Bay to the north, but they do have a fair quantity of macro life and a lot of fish.  The Banks are bathed in nutrients brought in primarily by currents from the north which have encouraged this fish life and perhaps the richest area in the world for diversity and volume of sharks.  The diving is characterized by the often fast current that brings divers into contact with resident reef tropicals and bigger fish like black cod and pelagic gamefish including barracuda, yellowtail, kingfish, tropical amberjacks, and bonito, aside from the sharks.  Most sharks have their specific season, but the Zambezi or bull sharks and oceanic blacktips are there in numbers, particularly the blacktips, year-round.  Ragged-tooth sharks come to breed from April to November and can often be seen in their dozens around the caves and in the overhanging environment.  Others include tiger sharks from March through August, hammerheads from September to January, and giant sand sharks or guitar sharks up to 3 meters and 220 kilograms from November to March.  In addition, humpback whales pass through from June to November and dolphins are encountered year-round.  Other occasionally sighted sharks include whale, dusky, thresher, mako and bronze whaler sharks.  Manta, devil, eagle and several species of large stingray are also available for at least part of the year.  A large number of sharks can regularly be seen diving on the reef.  The operators here also run a shark baiting program with fish oil and fish parts in an enclosed porous bucket to attract sharks.  This is not a feeding program, so they don't provoke a feeding frenzy situation.  What results is often oceanic blacktip sharks in their dozens along with a few tiger sharks.
None of the major liveaboard yachts travel to Protea Banks.  However, there are quite a few that cruise the relatively nearby Madagascar and Seychelles dive sites.  Please click here for my reviews: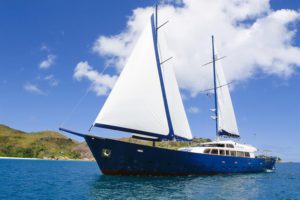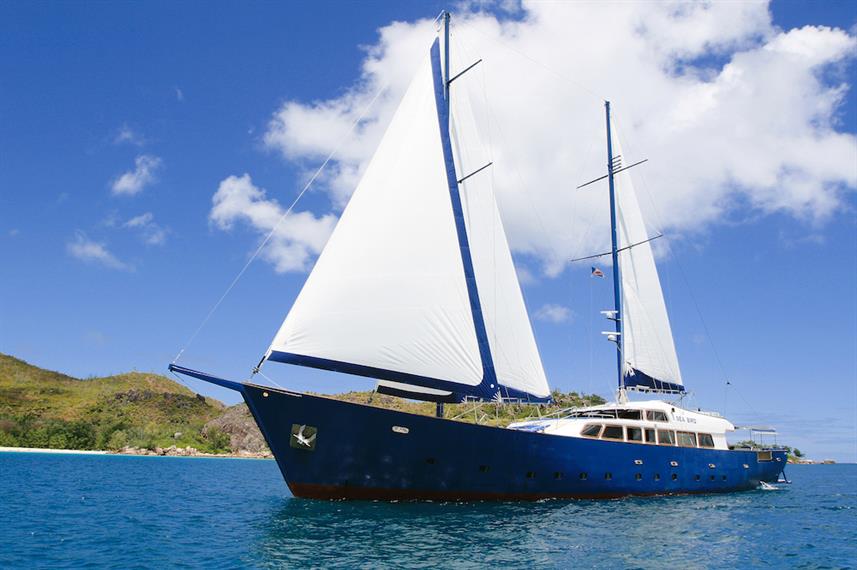 SY Sea Bird, Seychelles Liveaboard Diving – Check the Price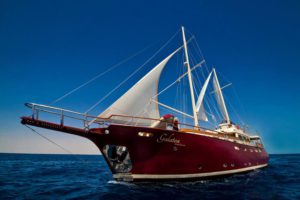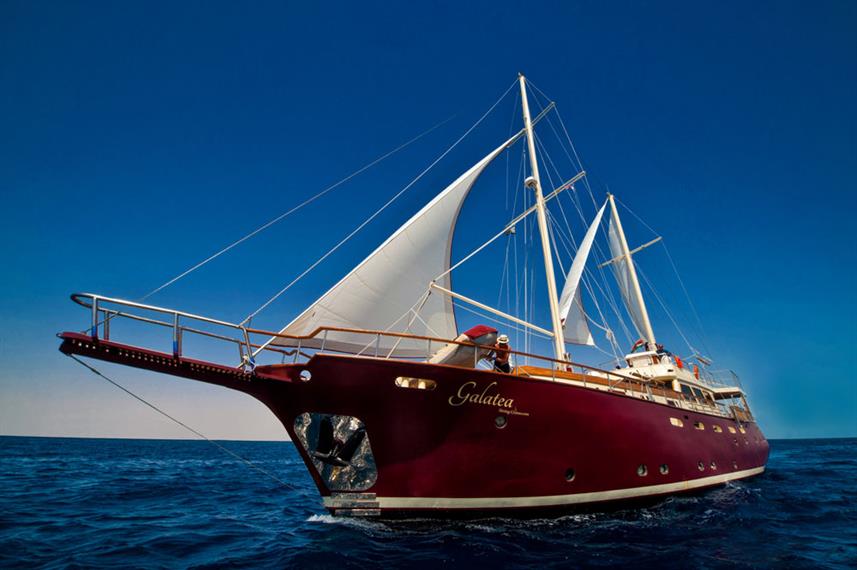 MV Galatea, Madagascar Liveaboard Diving – Check the Price
For my reviews of some other Southwest Indian Ocean resort diving areas, please check these posts:
Seasons and Conditions – Diving is possible year-round at Protea Banks.  Average daily high temperatures reach 28°C (82.4°F) in January through March and 24°C (75°F) in June through August.  Water temperatures have a range of 18-26°C (64-80°F).  Some divers will use a 7mm wetsuit and hood when it is at its coolest.  Visibility is quite variable from a few meters up to more than 40 meters (130 feet).  North to south current can be strong at times making for interesting drift diving.  The surface chop can be pretty heavy during the windiest times from September through November.  Boat rides to and from shore are often pretty exciting moving through the waves and chop.  Generally, the dive sites are suitable for experienced divers due to the depth of the reef at 27-40 meters (90-130 feet).  The dive shops are fully equipped to provide a range of training, equipment rental, guiding and boat tours.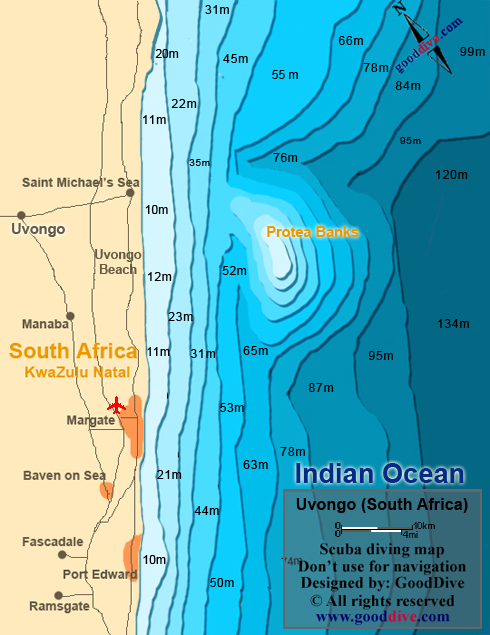 Popular Protea Banks Dive Sites
Northern Pinnacles: 28-38 meters (82-125 feet), great site for ragged-tooth sharks during their mating season in the cooler months from May to November, sighted in the dozens around the cavern and overhang network there, Zambezi (bull), oceanic blacktip, tiger, dusky and hammerhead sharks also frequent the area with hammerheads in shoals up above, other intriguing inhabitants include huge potato bass, big stingrays and gamefish, an attractive coral reef with reef tropicals and macro critters to be found, as well, strong current is possible, experienced level
Southern Pinnacles: 26-40 meters (85-130 feet), in the warmer months from October to May this site is the most popular, Zambezi (bull) sharks are often sighted, oceanic blacktips are here year-round with scalloped and giant hammerheads from September through January, tiger and dusky sharks are possible, giant sand sharks (guitar sharks) are often seen in the dozens in a section called sand shark alley, several species of stingray and potato bass are residents and pelagic gamefish pass through, strong current is possible, experienced level
Baited Shark Dives: a baited porous drum with fish oil and fish parts is suspended at around 12 meters (40 feet),  a scent slick is created that is attractive without actually allowing for a feeding opportunity, after a period of time sharks start arriving and the divers descend into the blue water and maintain position in mid-water as the sharks come very close without being aggressive creating an excellent photo opportunity,  it is also possible for snorkelers to participate, a variety of shark species are possible with oceanic blacktips coming in the dozens, the hope is for tiger sharks, which often appear,  good buoyancy control is necessary, strong current is possible, at this shallow depth suitable for open water diver level or higher
For one diver's accounts of several of his exciting dives at Protea Banks, please check this blog:
Protea Banks Photos
With the interesting undersea terrain, a variety of sharks, rays, cetaceans and pelagics, endemic shoreside wildlife, and scenic coastal scenes, as well, there are many excellent photo opportunities.  For information and reviews of dive cameras, click here:
Margate Accommodation, Transportation and Dive Shops
The airport in Durban is the biggest relatively local airport that is 140 kilometers (88 miles) away.  Busses, shuttles, taxis, and car rental are available there to make the trip down to Margate.  Margate, however, has its own airport with service from a single airline, CemAir, with flights from Johannesburg.  Taxis and shuttle services are available in Margate as is car, motorbike, and bicycle rental.
There are a number of hotels and lodges in Margate from $19-$351 per night.  At least 4 dive shops operate there, some in association with hotels.  They offer a full range of services including equipment rental, dive courses, guiding and boat dive cruises.  Any hotel can put you in touch with a dive shop.  The website linked below is a good source for the available options and can arrange a booking for diving and lodging.  You can easily find the locations on the map provided on this site.  Their rates are the lowest and it is free to cancel or change dates.
Things to do in Margate (aside from scuba diving)
Margate is a tourist town that is part of the South Coast region with lots of recreational options.  Beaches and seaside activities are the main draws, but there are many more attractions.  Here is a list of some things to do and places to go:  Mbumbazi Nature Reserve, Margate Shopping Street (pubs, restaurants, nightclubs), 4 shopping malls, Riverbend Crocodile Farm, Butterfly Farm, Southbroom Golf Course, Sam Lameer Country Club, Camelot Spa, World of Asia Health and Wellness Spa, Sensasia Day Spa, Margate Art Museum, Surf School, Sea Charters, Pure Venom Reptile Park, Uvongo River Nature Reserve.  This video gives you a feel for the lay of things.
A cushion for emergencies provides peace of mind when on vacation.  I recommend this diving insurance as they have worldwide coverage and provide scuba divers a quality insurance and medical assistance service.
Feedback and Comments
I hope you found this post on Protea Banks scuba diving interesting and useful. If you have any questions or ideas, please feel free to share them in the comments section.  I'd love to know of any experience you have diving in Protea Banks.  If there is no comments section directly below, click here: >>comments<<