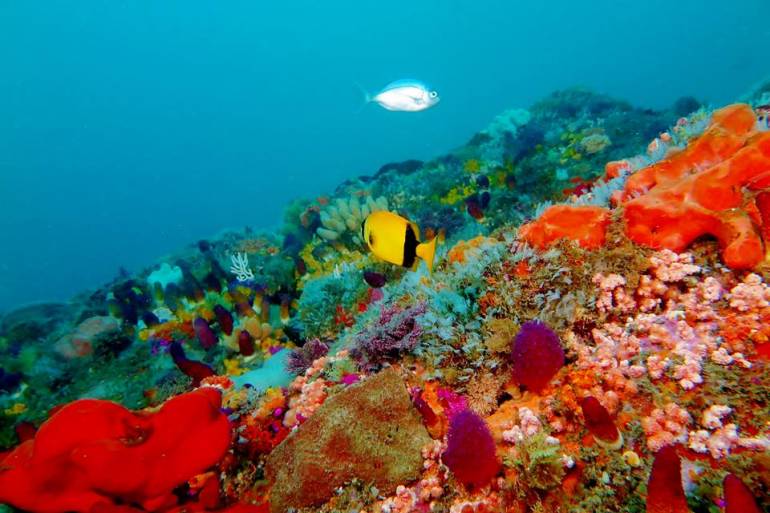 Updated June 4, 2021
This is the seventy-second in a series of reviews of the best dive resort locations around the world.  In this post, the focus is on Port Elizabeth, South Africa.
In addition to this series on dive resort locations, the best worldwide liveaboard diving locations and services are reviewed in their own series.  To check them out, or others in this series, click on Liveaboards/Resorts on the menu at the top and choose a title from the list.
Have you ever been diving in Port Elizabeth before?  If so, I'd love to know about your experience.  What dive shop or liveaboard did you use?  Which dive spots are the best and what are the conditions there regarding the visibility, current, water temperature, sealife attractions, etc.?  Please post your response in the comments section at the bottom and we'll all learn something we can use.
Scuba Diving Port Elizabeth
Background
Situated in the Eastern Cape Province 770 kilometers (478 miles) from Cape Town and occupying 16 kilometers (10 miles) of coastline along Algoa Bay, is Port Elizabeth.
Known as the windy city, it was founded in 1820 by British settlers and has a population of 237,000.
Since the end of apartheid, it has become a part of the Nelson Mandela Bay Metropolitan Municipality which has an overall population of 1.3 million.
Although it rains at least a bit from 5 to 7 days each month it is considered to be in a long-term drought.
The economy is diversified with car manufacturing and food and animal products production and processing leading the way with tourism also a major factor.
Port Elizabeth's diversity of ethnic groups is evident with 40% speaking Afrikaans as their first language, 33% speaking English, and 22% speaking Xhosa.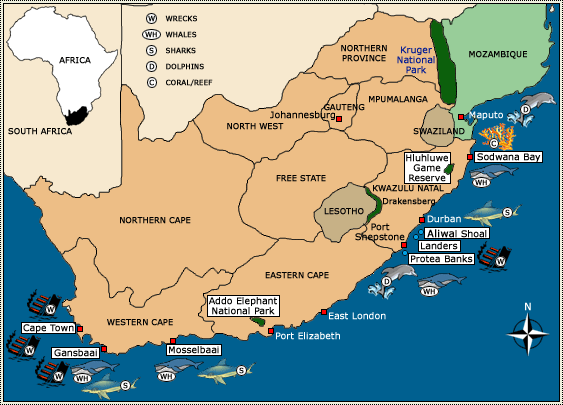 Undersea World
Port Elizabeth diving is on a rich and unusually colorful coral reef of hard and soft corals, sponges, sea fans, and other encrusting invertebrates.
Warm water flowing along the east coast comes together with the cold water from the west providing relatively cold water diving on a reef that still has a lot of the hard coral that is normally only found in warmer water, in addition to the cold water soft corals and sponges.
Excellent life can be found on dives from shore and from boat dives inside and outside Algoa Bay and around nearby islands.  In addition, there are several intriguing wrecks.  In all, there are around 30 dive sites.
Diverse underwater terrain includes sandy stretches and gullies, rock formations, pinnacles, and steep drop-offs.  There is interesting macro life including nudibranchs, anemones, crinoids, sea stars and crustaceans, a variety of reef fish, rays, and ragged-tooth, pyjama, leopard, and shysharks.  Schooling reef fish and game fish are common and in some areas, whales, dolphins, cape fur seals, and jackass penguins can be found.
Liveaboard Diving
None of the major liveaboard yachts travel to Port Elizabeth.  However, there are quite a few that cruise the relatively nearby Madagascar and Seychelles dive sites.  Please click here for my reviews: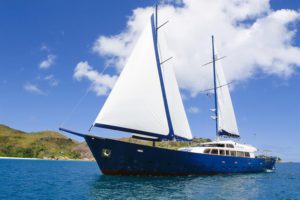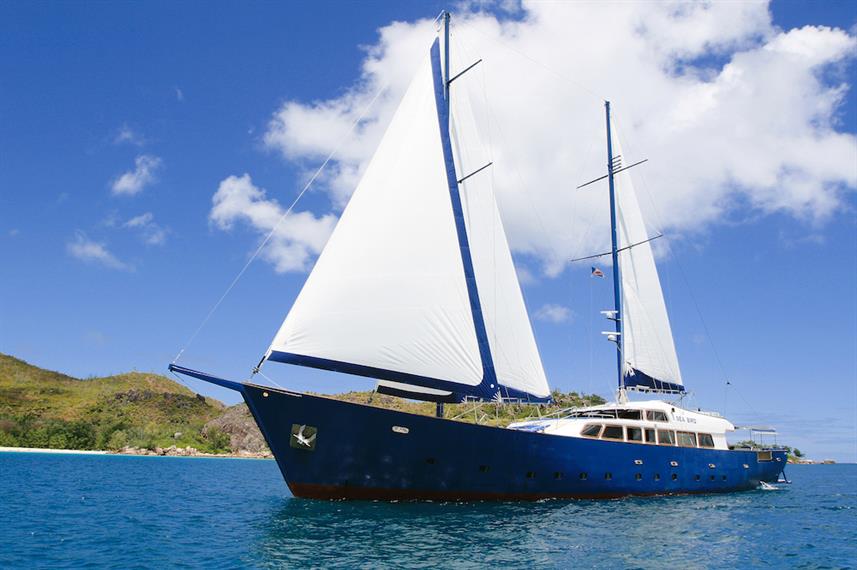 SY Sea Bird, Seychelles Liveaboard Diving – Check the Price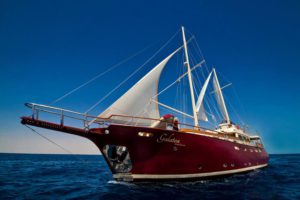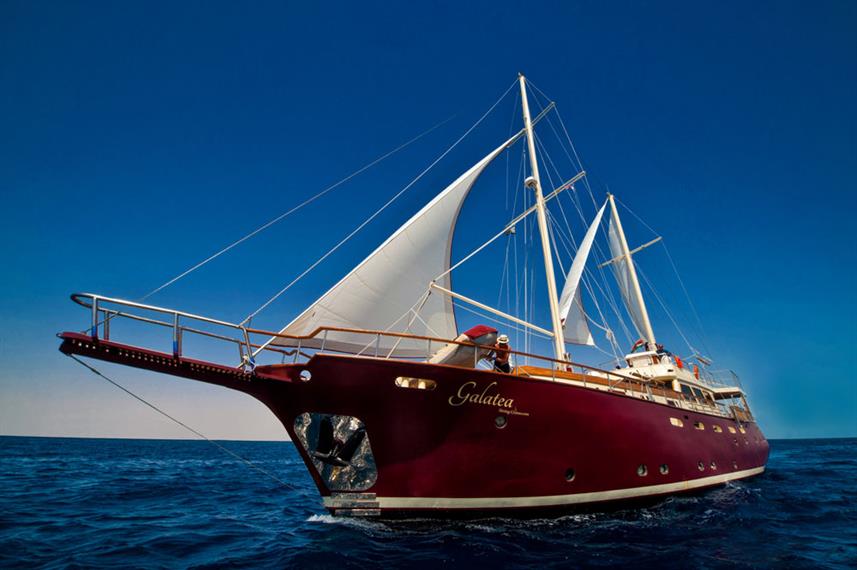 MV Galatea, Madagascar Liveaboard Diving – Check the Price
For my reviews of some other Southwest Indian Ocean resort diving areas, please check these posts:
Seasons and Conditions
Diving is possible year-round near Port Elizabeth.
In summer monthly average high daily temperatures peak at 25.4°C (77.7°F) in January and February and hit lows of 19.6°C (67.3°F) in August.
Rainfall is low all year and rarely a major factor for diving.
The water is cool ranging from 15-19°C (59-66°F).  Divers will want a 7mm wetsuit or drysuit with hood and gloves.  There may also be thermoclines below which it can be several degrees Celsius lower.
The best visibility occurs in the cooler winter months at 5-8 meters (16-25 feet) inside the bay and 10-15 meters (35-50 feet) outside the bay.
In this area, warm water currents travel south along the east coast and come together with cold water currents from the west coast.  The result is that a strong current is possible on some sites outside the bay.
Generally, there are dive sites and conditions suitable for all levels of diver.
The dive shops are fully equipped to provide a range of training, equipment rental, guiding, and boat tours.
For information on cold water scuba gear, please check this popular post:
Selected Port Elizabeth Dive Sites
Shark Rock Pier: 3-8 meters (10-25 feet), shore entry at a small pier at Hobie Beach, reef patches with corals and big sea fans, catfish, sand sharks, rock cod, all levels
Bell Buoy Reef: 5-18 meters (16-50 feet), a short boat ride from Hobie Beach marked by Bell Buoy (a belled buoy), pinnacles, and gullies with lots of fish including red roman fish, nudibranchs, sea fans, anemones, soft corals, crinoids, starfish, ragged-tooth sharks,  all levels
Phillips Reef: 8-15 meters (25-50 feet), in Hobie Beach vicinity, gully formation with rich soft corals, sea fans and sponges, nudibranchs, crustaceans, pyjama, leopard and ragged-tooth sharks, all levels
The Colosseum: 18-21 meters (60-70 feet), at the edge of the bay, reef ribs with gullies in between, huge scattered rocks, overhangs and nooks, rich and colorful soft corals, big sea fans, sponges, other encrusting invertebrates, lots of fish, pajama sharks, experienced level
White Sands: 12-24 meters (40-80 feet), rich in soft corals, sea fans, sponges and other encrusting invertebrates, broad sections of sand with gullies separating them, stingrays, experienced level
Roxy: 12-15 meters (40-60 feet) near White Sands, dispersed patch reefs, lots of sea fans, nudibranchs, small crustaceans, stingrays, all levels
Evans Peak: 15-30+ meters ( 50-100+ feet), near St. Croix Island, pinnacle topping at 15 meters (50 feet), lots of soft corals with orange sea fans at the base, ragged-tooth and other sharks, experienced level
St. Croix Island: 2-30+ meters (6-100+ feet), walls, caves, gullies covered with sponges, fans and soft coral, lots of fish, feeding jackass penguins, experienced level
Suicide Reef: 15-30+ meters (50-100+ feet), overhangs, walls, caves, loads of fish, rich corals, big game fish like cape knifejaws and musselcrackers, experienced level
Brenton Island: 5-27 meters (16-90 feet), 800 meters (.5 miles) from St. Croix Island, caves, walls, gullies, rich soft coral, sponges, and sea fans, ragged-tooth sharks, whales and dolphins possible, experienced level
Crossroads: 15-18 meters (50-60 feet), a vast reef of gullies and pinnacles crisscrossing each other, soft corals, sea fans, sandy bottom with rays, moray eels, cape knifejaws, yellowbelly rock cod, Red Romans, pyjama, shy, leopard and possible ragged-tooth sharks, all levels
Haerlem Wreck: 18-21 meters (60-70 feet), a navy frigate built in 1958 and scuttled in 1987 to make an artificial reef, located between Bell Buoy and Cape Recife, 12 holes were blasted in the sides for sinking, soft corals, nudibranchs, lots of fish, shysharks, experienced level
Baratz Wreck: 15-25 meters (50-82 feet), in November 2015, in 20-knot winds and 5-meter swells, the Baratz, a 29 meter (97 foot) steel crayfish boat took on water and sank, encrusting invertebrates and sea life are gradually appearing, experienced level
Port Elizabeth Photos
With the interesting undersea terrain, colorful coral reefs, a variety of sharks, rays, cetaceans and pelagics, endemic shoreside wildlife, and scenic coastal scenes and historic landmarks, as well, there are many excellent photo opportunities.  For information and reviews of dive cameras, check out these posts:
Port Elizabeth Hotels, Transportation and Dive Shops
Transportation
Port Elizabeth Airport is the 4th busiest in the country.  International flights need to connect through Johannesburg, Cape Town, or Durban.
The Port Elizabeth railway station is part of the large national network of rail lines.
Metrorail provides local commuter service.
Construction of a bus rapid transit system intended for the 2010 FIFA World has still not been implemented due to mismanagement and interference from the taxi association.
Taxi service is readily available.
Cars, quad vehicles, motorbikes, scooters, and bicycles are all popular rentals.
Dive Shops & Lodging
There are at least 194 hotels and lodges in Port Elizabeth from $9-$376 per night.  At least 4 major dive shops operate there.  They offer a full range of services including equipment rental, dive courses, guiding, and boat dive cruises.
The website linked below is a good source for the available options and can arrange a booking.  You can easily find the locations on the map provided on this site.  Their rates are the lowest and it is free to cancel or change dates.
Things to do in Port Elizabeth (aside from scuba diving)
Port Elizabeth and the Nelson Mandela Bay Metropolitan Municipality is a geographically large and populous area that has a well developed cultural, historical, and recreational framework.  Here is a list of some of the highlights of things to do and places to go:  Addo Elephant National Park, sandboarding, Tsitsikamma National Park and Kayak Tour, city walking tour, Kragga Kama Safari, Shamwari Private Game Reserve, Cape Recife Nature Reserve, Boardwalk Casino, Storms River Bridge, many beaches, Route 67 Artworks, Donkin Reserve, South African Marine Rehabilitation and Education Centre, Van Stadens Wildflower Reserve, South End Museum, Horse Memorial, Main Public Library, St. Mary's Cathedral, Nelson Mandela Metropolitan Art Museum, Fort Frederick, Nelson Mandela Bay Stadium, South End Museum, Paul Sauer Bridge, St. George's Park.  This video gives you a feel for some of the options.
Scuba Diving Trip Insurance
A cushion for emergencies provides peace of mind when on vacation.  I recommend this diving insurance as they have worldwide coverage and provide scuba divers quality insurance and medical assistance service.
Feedback and Comments
I hope you found this post on Port Elizabeth scuba diving interesting and useful. If you have any questions or ideas, please feel free to share them in the comments section.  I'd love to know of any experience you have diving in Port Elizabeth.  If there is no comments section directly below, click here:  >>comments<<