We may earn money or products from the companies mentioned in this post.
This photo of White Shark Africa is courtesy of TripAdvisor
This is the one hundred and eighty-fifth in a series of reviews of the best diving destinations around the world.  In this post, the focus is on Mossel Bay, South Africa. In addition to this series on dive resort locations, the best worldwide liveaboard diving locations and services are reviewed in their own series.  To check them out, or others in this series, click on Liveaboards/Resorts on the menu at the top and choose a title from the list.
Have you ever been diving in Mossel Bay before?  If so, I'd love to know about your experience.  What dive shop or liveaboard did you use?  Which dive spots are the best and what are the conditions there regarding the visibility, current, water temperature, sealife attractions, etc.?  Please post your response in the comments section at the bottom and we'll all learn something we can use.
Shark Diving in Mossel Bay
Background – On the Southern Cape, also known as the Garden Route, Mossel Bay is a medium-sized harbor city of 130,000 situated 400 kilometers (250 miles) east of Cape Town and 400 kilometers (250 miles) west of Port Elizabeth.  With a mild climate and sandy beaches, it was the site of the first landing of the Europeans in South Africa when Bartolomeu Dias went ashore there in 1488.  The Portuguese were followed by the Dutch who erected the first permanent structures and later the British.  It has long been a fishing and farming area whose economy had a major boost with the discovery of offshore gas in 1969.  Today there is strong general commerce and developing tourism which is driving the economy along with gas refining and the aforementioned farming, fishing and harbor activities.  It is an ethnically mixed area with Afrikaans the first language of 57%, Xhosa of 31%, and English of 7%.
For further demographic, historic, and cultural information, please check Wikipedia-Mossel Bay.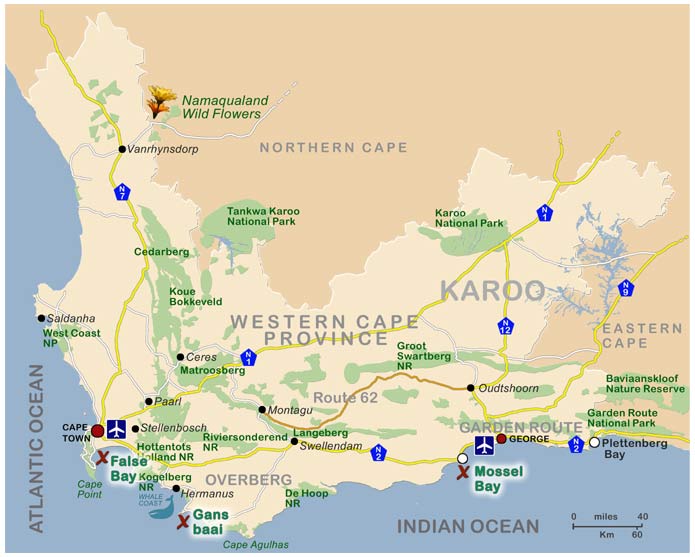 Undersea World – From April through November when great white sharks are more common in the bay is the best time for baited shark cage diving.  At a site only 10 minutes from shore, chumming is used to attract them.  After chumming sharks usually arrive within a few minutes but can take hours with no guarantees.  Then baiting with a line on the surface is used to bring them close so people onboard can get a pretty good view without leaving the deck.  For those that want to get up close and take some photos, they can climb into the cage which is attached to the boat and mounted at the surface.  Check out the video below for a more graphic idea.
The reef dive sites in Mossel Bay are mostly pretty shallow with a nice diversity of terrain including overhangs, gullies, trenches, caverns, swim-throughs, and rocky formations.  On the reef and in the nooks and crannies are a number of attractive macro critters like anemones, crabs, lobster, ghost and long-snouted pipefish, nudibranchs, tunicates, feather worms, and octopus along with sea fans, basket stars, and many species of colorful sponges.  The latitude is such that there are some reef tropicals there with colder water fish.  Look for big schools of zebras and Hottentots, Cape Knifejaws, horsefish, two-tone fingerfins, rockcods, butterflyfish, and small sharks like leopard catsharks, and pyjama and puffadder shysharks.  Other attractions are the possibility of whales and dolphins between June and November, turtles, mantas, and ragged-tooth sharks.  In addition, there are two 19th century wrecks, the Galera and the Santos.
Seasons and Conditions – Diving is possible year-round in Mossel Bay.  The best time for great white shark cage diving is from April through November.
Air temperature average daily highs range from 17°C (63°F) in August and September to 23°C (73°F) in January and February.
The water temperature ranges from 15°C (59°F) in July to highs in January of 22°C (63°F).  Most divers will want a 5-7mm wetsuit when the water is warmest and a drysuit with hood and gloves when it is at its coolest.
Rainfall is low all year and it rarely is a factor influencing diving.
Currents are generally mild on sites inside the bay.  Some of the deeper sites may also experience strong currents.
Visibility can be poor at times and has a range of 4-30 meters (12-100 feet).
Generally, there are dive sites and conditions suitable for all levels of diver.  The dive shops are fully equipped to provide a range of training, equipment rental, guiding and boat tours.  One shop currently is doing the great white shark cage diving near Shark Island about 10 minutes from the dock.
For information on cold water scuba gear, please check my post:
Indian Ocean Liveaboards
None of the major liveaboard yachts travel to Mossel Bay.  However, there are quite a few that cruise the relatively nearby Madagascar and Seychelles dive sites.  Please click here for my reviews: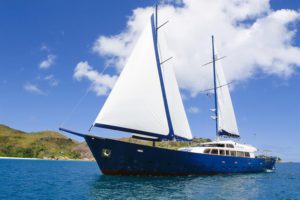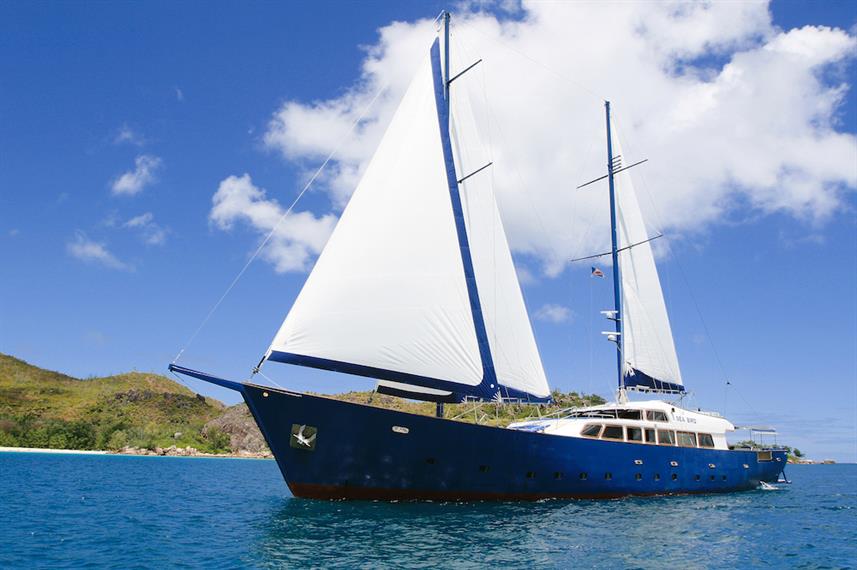 SY Sea Bird, Seychelles Liveaboard Diving – Check the Price & Details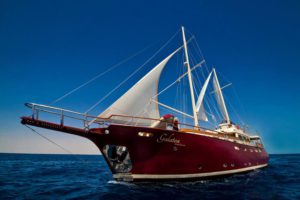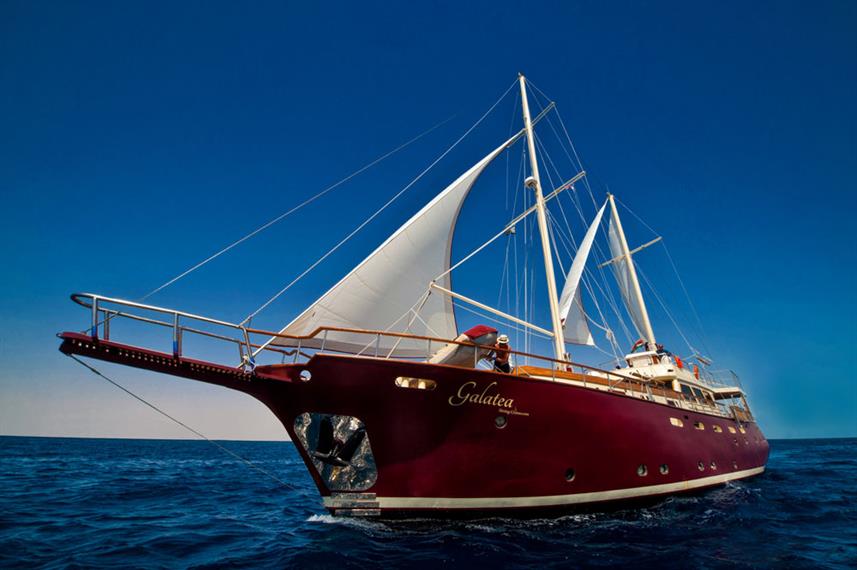 MV Galatea, Madagascar Liveaboard Diving – Check the Price & Details
For my reviews of some other top Southwest Indian Ocean diving destinations, please check these posts:
Selected Mossel Bay Dive Sites
Santos Reef: 2-8 meters (6-25 feet), off the edge of a swimming beach, small walls with sea fans, feather worms, basket stars, sponges, schools of blacktail, Red Romans, octopus, and sand dollars, suitable for all levels
Santos Wreck: shallow site, 1874 ship that ran aground in a storm, mostly broken apart and covered in sand, the chain, mast, and anchor are still visible, suitable for all levels
Mitch's Reef: 2-8 meters (6-25 feet), huge orange sponges, fields of seagrass, and big Red Romans are the main attractions, suitable for all levels
Phluffy Reef: 17 meters (56 feet), known for the nicest corals in the area, look for several species of sea fan, and basket stars, suitable for all levels
Dolosse: shallow shore entry site, coral-encrusted concrete structures supporting the harbor walls, look for crabs, crayfish, octopus, Cape Knifejaws, rockcods, butterflyfish, schools of blacktails and strepies, and long-snouted and ghost pipefish, shark feeding is also done to attract small leopard catsharks, and puffadder and pyjama shysharks, suitable for all levels
Sponge Reef: 22-25 meters (72-82 feet), good site for macro critters, suitable for experienced levels
Windvogel Reef: 33 meters (108 feet), a large colorful reef with a system of overhangs, crevices, canyons, and caverns, look for big schools of Hottentots and zebras, strong currents and surge are possible which can bring in pelagic fish, sharks, and seals, suitable for experienced levels
Mossel Bay Lodging, Transportation, and Dive Shops
Plane – The closest major airport is George Airport (GRJ) 40 kilometers (25 miles) east of downtown Mossel Bay.  It has scheduled connections to Cape Town International Airport, Durban's King Shaka International Airport, and Johannesburg's O.R. Tambo International Airport.  Taxi and transit service is available at the airport.
Minibus taxi service is available to Cape Town and to points along the Garden Route.
Car rental from a variety of name brand agencies is available online, at the airport, and in Mossel Bay.
For further details on transportation and tourist information, please check Wikivoyage-Mossel Bay.
Lodging and Dive Shops – There are a handful of dive centers in operation in Mossel Bay offering full services including equipment rental, dive courses, guiding and boat dive cruises.   Currently, there is one specializing in great white shark cage diving.  The more than 70 lodging options in Mossel Bay run from $23-$122 per night.  The website linked below has the details and can arrange the booking for accommodations.  You can easily find the location on the map provided on this site.  Their rates are guaranteed to be the lowest and it is free to cancel or change dates.
Things to do in Mossel Bay (aside from scuba diving)
With a history of western contact dating to the fifteenth century, the natural scenic beauty, and outdoor sports and adventure activities, there is a lot to take in.  Here is a shortlist of some of the highlights to look into:
Parasailing, Tandem Skydiving, Pinnacle Point Golf Course, Sandboarding, Surfing, Hike St. Blaize Lighthouse and Oystercatcher Trails, Diaz Express Train Ride, Wine Tasting, Diaz Waterpark, Big 5 African Safari, Mountain Biking, Boat Ride to Seal Island, Mossel Bay Beach, Ocean Views from the cliffs in the southern part of town, Market at Hartenbos Beach, Bartholomeu Dias Museum Complex, Café Gannet, Carol Ann's, Kaai 4 Braai Restaurant.
This short video gives a small taste of what awaits you in Mossel Bay.
Photography in Mossel Bay
With the interesting undersea terrain, beautiful corals, sponges, gorgonians, a variety of fish, sharks, and scenic natural and historical sites, as well, there are many excellent photo opportunities.  For information and reviews of dive cameras, click here:
Scuba Diving Trip Insurance
A cushion for emergencies provides peace of mind when on vacation.  I recommend this diving insurance as they have worldwide coverage and provide scuba divers a quality insurance and medical assistance service.
Feedback and Comments
I hope you found this post on Mossel Bay scuba diving interesting and useful. If you have any questions or ideas, please feel free to share them in the comments section.  I'd love to know of any experience you have.  If there is no comments section directly below, click here:   >>comments<<