We may earn money or products from the companies mentioned in this post.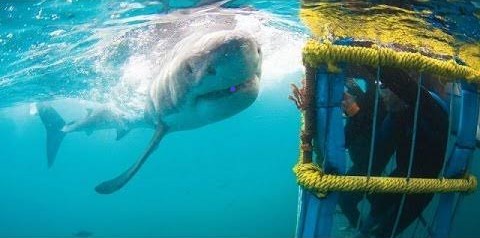 This is the one hundred and eighty-sixth in a series of reviews of the best diving destinations around the world.  In this post, the focus is on Gansbaai, South Africa. In addition to this series on diving destinations, the best worldwide liveaboard diving locations and services are reviewed in their own series.  To check them out, or others in this series, click on Liveaboards/Resorts on the menu at the top and choose a title from the list.
Have you ever been diving in Gansbaai before?  If so, I'd love to know about your experience.  What dive shop or liveaboard did you use?  Which dive spots are the best and what are the conditions there regarding the visibility, current, water temperature, sealife attractions, etc.?  Please post your response in the comments section at the bottom and we'll all learn something we can use.
Shark Cage Diving Gansbaai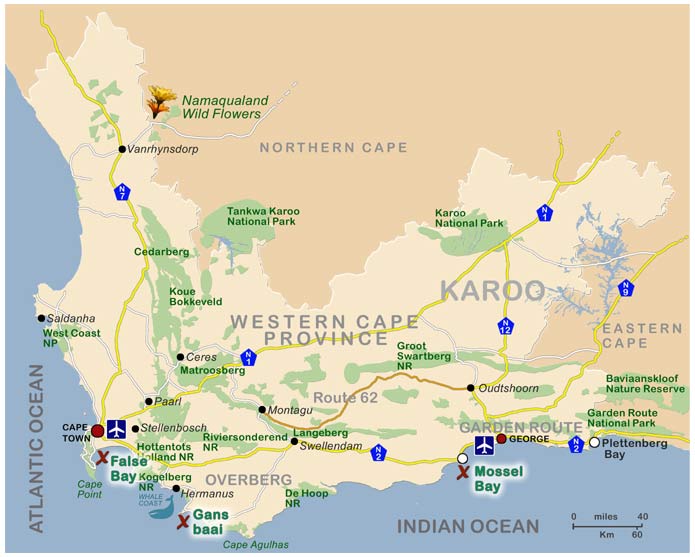 Background – Gansbaai (Bay of Geese, in English) is in South Africa's Western Cape Province 165 kilometers (103 miles) to the southeast of Cape Town on the southern shoreline.  Home to the Khoi people when westerners first arrived in the late 18th century, the settlers followed the Khoi method of nomadic herding and farming initially.  Over time fishing and whaling developed as the main economic factors in the small settlement.  Today the population of over 12,000 is ethnically somewhat diverse with 53% speaking Afrikaans, 40% Xhosa, and 3% English as first languages.  English is taught in schools and widely used.  In 1995 great white shark cage diving started in Gansbaai and it is now often referred to as the "Great White Capital of the World".  In addition, the southern right whale, huge colonies of African penguins and fur seals, and several species of dolphins are major tourist attractions.  Whaling is now outlawed but fishing is still an economic driver, as well as tourism.  Visitors love the variety of habitats on the Danger Point Peninsula for birds and mammals including six antelope species, with indigenous forests, hills, mountain peaks, and small rivers to explore in addition to the marine environment.
For further demographic, historic, and cultural information, please check Wikipedia-Gansbaai.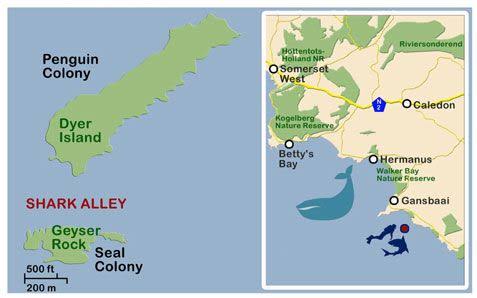 Undersea World – Dyer Island just 8 kilometers (5 miles) offshore from Gansbaai to the southeast, is the home to 5,000 African penguins.  Just a few hundred meters to the south of there, 60,000 fur seals use Geyser Rock as their base.  The channel between the two is known as shark alley for the great whites that frequent the area year-round but are especially numerous between April and September looking for a meal of those two species.  Considered the most reliable location in the world to see great whites, numerous charters are busy taking snorkelers and divers to that area to observe them from surface cages attached to the boat or from the deck.  The area is chummed and usually, the great whites appear within minutes.  Individuals are lured right up to the cage with baited lines such that they literally bump into it on occasion in an attempt to snag the bait.  The operators are known for their eco-awareness and the training and preparation they provide for participants.
Cape gannets and Cape cormorants are also residents of Dyer Island and southern right whales are common in the area from June to December.
Currently one of the operators also runs a mako and blue shark open water safari.  Their 11-meter catamaran makes a 2-hour journey 50-70 kilometers (31-44 miles) out into the open sea from the Dyer Island area.  The water is chummed and divers accompany a guide into 5-10 meters (16-33 feet) of water and watch for the cruising oceanic makos and blue sharks.  Frequently penguins, dolphins, fur seals, and whales are seen on the journey out as an added attraction.  The operator insists on an open water diver certification to participate.
Seasons and Conditions – Shark cage diving is possible year-round in Gansbaai.  The best time is from April through September when feeding patterns more consistently bring them to the Shark Alley site.
Air temperature average daily highs range from 18°C (64°F) from June through September to 23°C (73°F) in January and February.
The water temperature runs from 14-16°C (57-60°F) from April through September to highs from October to March of 18-20°C (64-68°F).  Outfitters will make sure you have adequate thermal protection.
Rainfall is low all year and it rarely is a factor influencing diving.
Currents are generally mild to non-existent in the Shark Alley site.
Visibility is typically 5-10 meters (16-33 feet).
The cage diving is done at the surface and is offered to divers and non-divers.  Dives on the mako and blue shark runs are guided dives in 5-10 meters (16-33 feet) of open water.  It is open to divers with a minimum of an open water certification.
For information on cold water scuba gear, please check my post:
Indian Ocean Liveaboards
None of the major liveaboard yachts travel to Gansbaai.  However, there are quite a few that cruise the relatively nearby Madagascar and Seychelles dive sites.  Please click here for my reviews: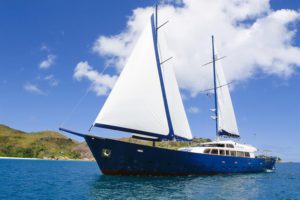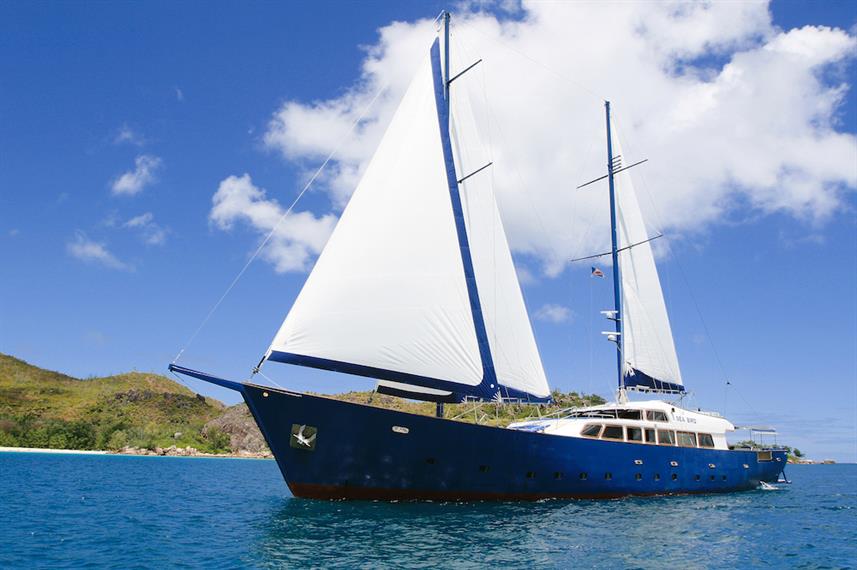 SY Sea Bird, Seychelles Liveaboard Diving – Check the Price & Details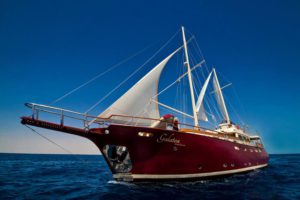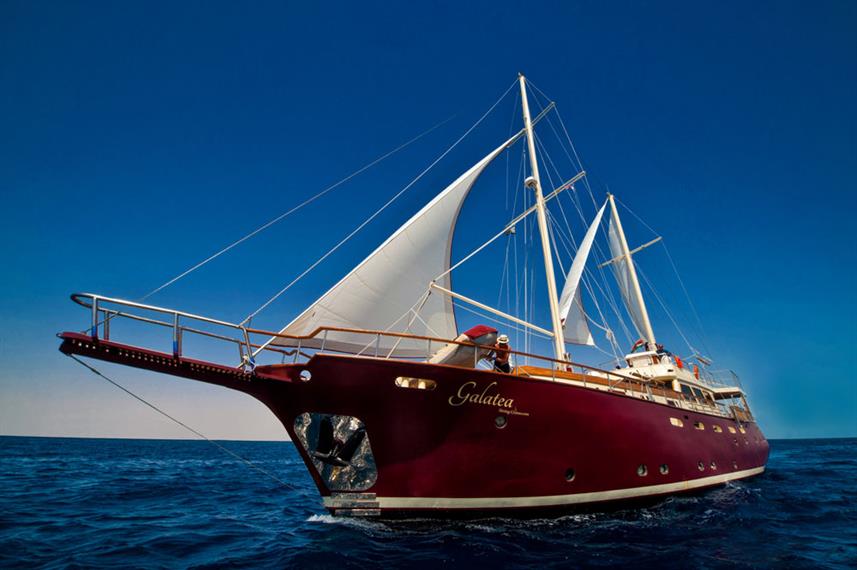 MV Galatea, Madagascar Liveaboard Diving – Check the Price & Details
For my reviews of some other top Southwest Indian Ocean diving destinations, please check these posts:
Gansbaai Lodging, Transportation, and Dive Shops
The closest major airport is Cape Town International which is the second-largest in the country with connections to some international destinations and to most domestic airports.  From there taxi, mini-bus, and bus services are available to deliver you directly to Gansbaai.  Car rental at the airport is probably the most convenient option.  Check with your hotel for the most current transit advice.  The drive from Cape Town typically takes two hours.
In Gansbaai, taxi, shuttle, and transport services are available for transportation around the immediate region.
For further details on transportation and tourist information, please check Wikitravel-Gansbaai.
Lodging and Dive Shops – There are a dozen or more charters in operation in Gansbaai offering great white shark cage diving experiences and at least one doing the offshore mako and blue shark safaris.  All the necessary equipment is available through them.  The numerous lodging options in Gansbaai run from $27-$326 per night.  The website linked below has the details and can arrange the booking for accommodations.  You can easily find the location on the map provided on this site.  Their rates are guaranteed to be the lowest and it is free to cancel or change dates.
Things to do in Gansbaai (aside from scuba diving)
The outdoor sights and activities are the main draw for Gansbaai but there is a cultural, food, and entertainment scene that also offers some interesting options.  Here is a shortlist of some of the highlights to look into:
Walker Bay Nature Reserve, Mountain Biking, Flower Valley Trust, De Uijlenes Tractor Rides, Guided Horse Trails, Guided Botanical Trails, Danger Point Lighthouse, Strandveld Museum, 4×4 Trails, Frauskraal Beach, Stanfords Bay, African Penguin and Bird Sanctuary, Dyer Island Cruises (Big 5 – Fur Seals, Great White Sharks, African Penguins, Dolphins, Southern Right Whales), Klipgat Caves, Platbos Forest Trails, Kleinbaai Tidal Pool, Seafood (Fish, Crayfish, Abilone), Baardies Food Wine Art, Grootbos (Restaurant), Benguela (Restaurant), BBlonds Restaurant, Blue Goose Restaurant, Ciro's Restaurant, Golf, Owl's Pub, Nightlife & Music.
Here are a couple of short videos that provide a small taste of what you can find in Gansbaai.
Photography in Gansbaai
With the interesting wildlife, landscapes, and other scenic natural and historical sites, as well, there are many excellent photo opportunities.  For information and reviews of dive cameras, click here:
Scuba Diving Trip Insurance
A cushion for emergencies provides peace of mind when on vacation.  I recommend this diving insurance as they have worldwide coverage and provide scuba divers a quality insurance and medical assistance service.
Feedback and Comments
I hope you found this post on Gansbaai shark cage diving interesting and useful. If you have any questions or ideas, please feel free to share them in the comments section.  I'd love to know of any experience you have.  If there is no comments section directly below, click here:  >>comments<<