We may earn money or products from the companies mentioned in this post.

This is the sixty-third in a series of reviews of the best diving destinations around the world.  In this post, the focus is on Mauritius.
In addition to this series on diving destinations, the best worldwide liveaboard diving locations and services are reviewed in their own series.  To check them out, or others in this series, click on Liveaboards/Resorts on the menu at the top and choose a title from the list.
Have you ever been diving in Mauritius before?  If so, I'd love to know about your experience.  What dive shop or liveaboard did you use?  Which dive spots are the best and what are the conditions there regarding the visibility, current, water temperature, sealife attractions, etc.?  Please post your response in the comments section at the bottom and we'll all learn something we can use.
Scuba Diving in Mauritius
Background – Located in the Indian Ocean east of Madagascar, the Republic of Mauritius consists of the island of the same name, Rodrigues Island 560 kilometers (350 miles) to the east and a couple of other small islands.  Uninhabited until Arab sailors arrived in the Middle Ages, it has seen a succession of colonists and rulers including Portuguese, Dutch, French and British, up until independence in 1968.  The country has a land area of 2,040 square kilometers (790 square miles) and a population including Rodrigues Island of 1,265,000.  This interesting multicultural, multiethnic, multilingual country is ranked number 2 in all of Africa on the human development index.  It is famous for biodiversity and many endemic species, including the extinct Dodo.  The islands were formed from volcanic activity 8 million years ago, though there are no active volcanoes today.  There are white sandy beaches and lagoons, coastal plains and a forested central plateau with a broken ring of mountains as high as 800 meters (2,600 feet) around the island.  The developed part of the economy is driven by tourism, textiles, sugar, and financial services and there is also a low-income agricultural economy below that.  The people are made up of a diverse group with Indian, African, Chinese and European (mostly French) ethnic backgrounds.  Likewise, there are several major religions practiced with Hinduism the most prevalent followed by Christianity and Islam.  There is no official language with English and French widely spoken and Mauritian Creole, based on French, the main language of the street.  For further demographic, historical and cultural information, you can check here: Mauritius 
Undersea World – A barrier reef encircles Mauritius with a rich variety of marine life including 200 species of coral, a marine park and 22 wrecks, both scuttled artificial reefs and some dating back to the 18th and 19th centuries.  Most of the diving takes place on the west coast, in the southwest and the northwest, and off the east coast to the southeast on the windward side.  The terrain is quite variable from inside the barrier reef with richer coral gardens to outside with cliffs, caverns, caves, and pinnacles.  There are lots of green turtles and pelagics like tuna, wahoo, and marlin. The reef inhabitants include colorful sponges, anemones, soft and hard corals, sea fans, damselfish, trumpet fish, boxfish, scorpionfish, frogfish, squirrelfish, clams, fusiliers, grunts, lionfish, moray eels, mantis shrimp, wrasses, titan triggerfish, butterflyfish, goatfish and many other macro critters.  In addition, there are marble stingrays, eagle rays, reef sharks, schools of barracuda and jacks, and dolphins.  Most of the sites are close to shore and even those outside the barrier reef only require about a 20-minute boat ride.
Seasons and Conditions – Diving is possible year-round.  Temperatures from November through April range from 25-33°C (77-91.4°F) and from June through September the figures are 18-24°C (64.4-75.2°F).  On the plateau, it could be 5°C cooler.  The annual range for water temperature is 22-27°C (71.6-80.6°F).  Some divers may want up to 5 mm of insulation when the water is at its coolest.  Rain can fall throughout the year, but it doesn't necessarily interfere with the diving for any extended period.  Cyclones out at sea are more likely in January and February and it is possible that they can bring rainy conditions that interfere with diving.  Also, stronger winds occur in July and August which can make the surface choppier on the east side.  There is the possibility of a strong current on some of the sites.  Visibility is generally from 10-30 meters (35-90 feet).  Conditions suitable for all levels of diver can be arranged.  Mauritius is blessed with at least 51 dive shops that provide training, equipment rental, guiding and boat tours.
None of the major liveaboard yachts travel to Mauritius.  However there a quite a few that cruise the relatively nearby Madagascar and Seychelles dive sites.  Please click here for my reviews: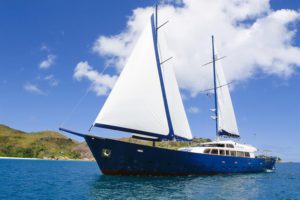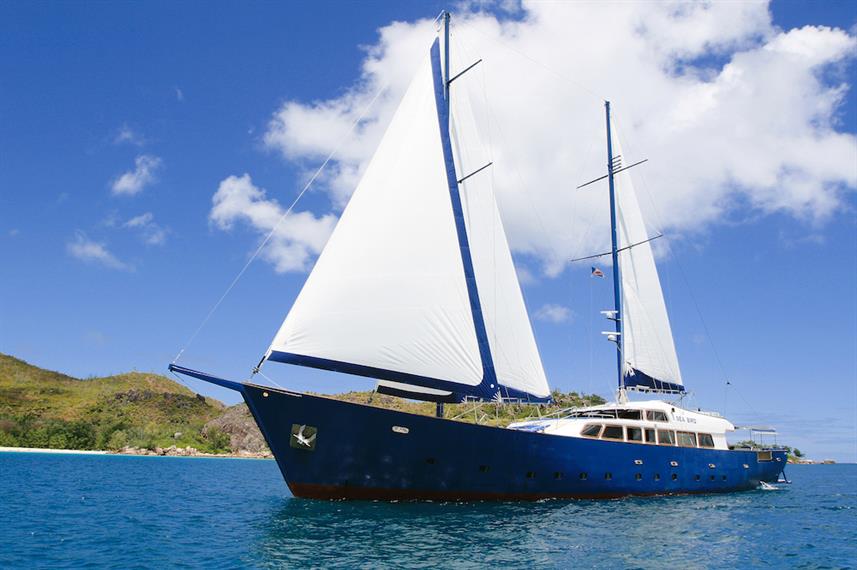 SY Sea Bird, Seychelles Liveaboard Diving – Check the Price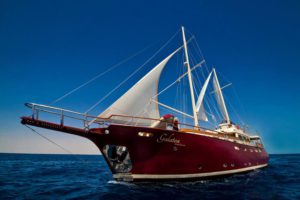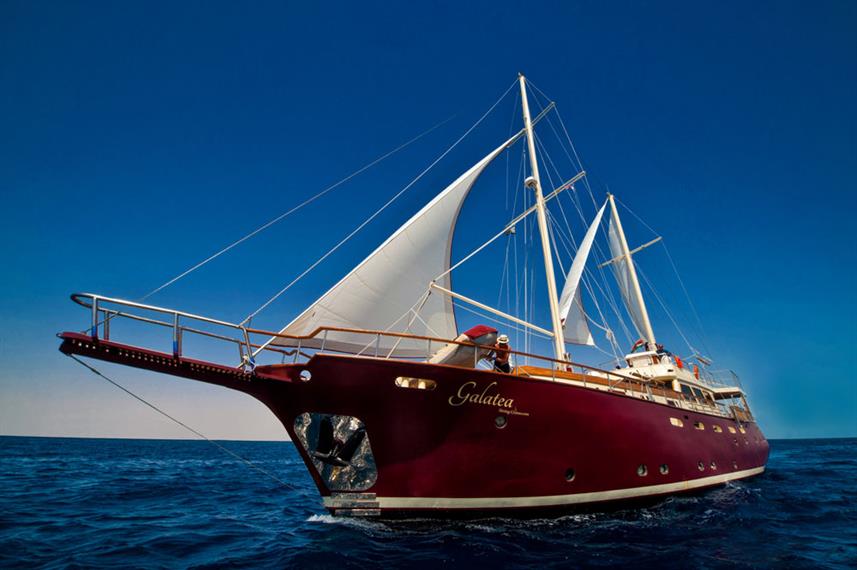 MV Galatea, Madagascar Liveaboard Diving – Check the Price
For my reviews of some other southwest Indian Ocean resort diving areas, please check these posts: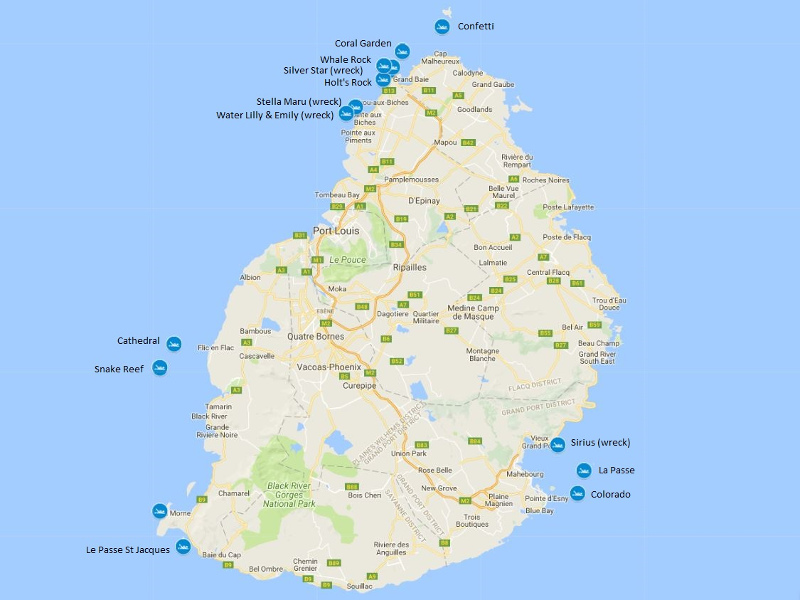 A Sampling of Mauritius Dive Sites
Whale Rock: 20 meters (68 feet) most interesting depth, large site with diverse abundant marine life, butterflyfish, angelfish, triggerfish, moray eels, parrotfish, occasional swordfish, and hammerhead sharks, all levels
Stella Maru: 25 meters (83 feet), Japanese trawler scuttled in 1987 to become an artificial reef, resting upright, fairly intact, rich surrounding coral, encrusting soft corals and algae, anemones, urchins, large moray eels, lionfish, angler fish, leaf fish, parrotfish, stonefish, scorpionfish, mackerel, all levels
Hio Siong 6 wreck: 29 meters (97 feet), scuttled to become an artificial reef in 2003, lots of fish including surgeonfish, butterflyfish, goatfish, lionfish, barracuda, tuna, good visibility for photoshoots, experienced level
Cathedral: 18-30 meters (60-100 feet), walls dropping off to a sandy bottom, caverns, arches, caves, cracks and crevices, shrimp, lobster, big moray eels, grouper, sweetlips, angelfish, wrasses, experienced level
Le Passe St. Jacques: 3-30 meters (10-100 feet), drift dive starting shallow in the lagoon moving past coral walls and pinnacles ending on the outside of the reef, moray eels, lionfish, nudibranchs, anemones, stingrays, turtles, eagle rays, pelagics, up to 15 grey reef sharks, whitetip reef sharks, trevallies, experienced level (check the video below)
HMS Sirius: 25 meters (83 feet), 36 gun Royal Navy Frigate launched in 1797, broken up and much salvaged over the years, cannons lying exposed, all levels
Mauritius Photos
With the interesting coral gardens and walls, numerous shipwrecks, colorful anemones, sponges, corals and encrusting invertebrates, nudibranchs, crabs, lobster, frogfish and other macro critters, reef fish, schools of barracuda and pelagics, turtles, rays and fascinating mountains, waterfalls, wildlife and historical sites, as well, there are many excellent photo opportunities.  For information and reviews of dive cameras, click here:
Direct flights from Australia, Asia, the Middle East, Africa, and Europe arrive daily at the single airport on Mauritius.  There is no rail service but 220 bus lines with 900 stops cover the majority of your potential destinations.  Every point on Mauritius is within a 2-hour drive.  Taxi service and car, bike and scooter rental are all popular.  Helicopter tours can give you a nice aerial view.  Port Louis is the main port for ferries to nearby islands.
There are at least 51 dive shops, a number of which are affiliated with resorts, that operate on Mauritius.  Most are situated from the southern to the northern tips on the west side, although there are some on the east coast, as well.  They are in operation year-round and offer a full range of services including equipment rental, dive courses, guiding and boat dive cruises.  There are at least 336 accommodations of every level available around the island from $15 to $6,391 per night.  The website linked below is a good source for the available options and can arrange a booking.  You can easily find the locations on the map provided on this site and identify those with dive shops.  Their rates are the lowest and it is free to cancel or change dates.
Mauritius Attractions (aside from scuba diving)
Mauritius is not only attractive for its scuba diving and ocean activities but also has an array of land-based scenic beauty and a long history to explore.  Here is a list of places to see and activities to consider: Ile aux Cerfs, 7 Colored Earth, Casela Nature Park, Grand Bassin Hindu Religious Site, Central Flaque Fresh food Market, Black River Gorge National Park, La Mourne Brabant, zip-lining, golf, various water sports, swimming with dolphins, a helicopter tour, Botanical Gardens, La Vanille Nature Park, Aldabra Giant Tortoises, colonial houses, Trou aux Cerfs Volcano, various waterfalls, Bois Cheri Tea Plantation, trekking, mountain biking, island tours, Port Louis tour and shopping.  Check out the below video for a look.
A cushion for emergencies provides peace of mind when on vacation.  I recommend this diving insurance as they have worldwide coverage and provide scuba divers a quality insurance and medical assistance service.
Feedback and Comments
I hope you found this post on Mauritius scuba diving interesting and useful. If you have any questions or ideas, please feel free to share them in the comments section.  I'd love to know of any experience you have diving in Mauritius.  If there is no comments section directly below, click here:  >>comments<<