We may earn money or products from the companies mentioned in this post.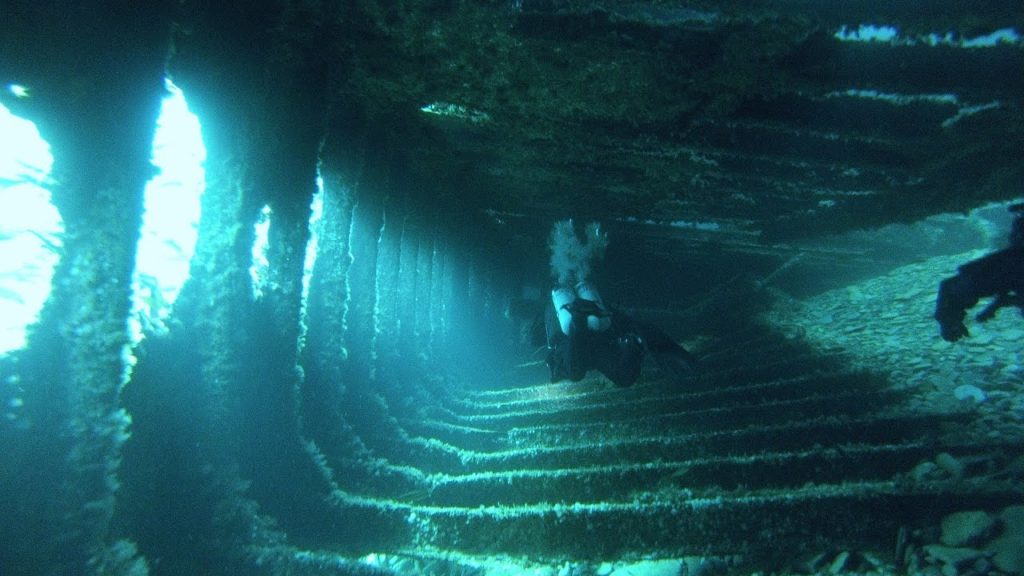 This is the one hundred and ninth in a series of reviews of the best dive resort locations around the world.  In this post, the focus is on Scapa Flow. In addition to this series on dive resort locations, the best worldwide liveaboard diving locations and services are reviewed in their own series.  To check them out, or others in this series, click on Liveaboards/Resorts on the menu at the top and choose a title from the list.
Have you ever been diving in Scapa Flow before?  If so, I'd love to know about your experience.  What dive shop or liveaboard did you use?  Which dive spots are the best and what are the conditions there regarding the visibility, current, water temperature, sealife attractions, etc.?  Please post your response in the comments section at the bottom and we'll all learn something we can use.
Diving Scapa Flow Wrecks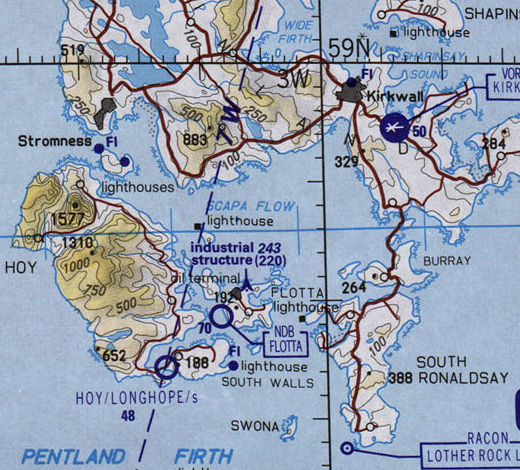 Background – Scapa Flow is a body of water sheltered by several of the Orkney Islands, which are part of the northern isles of Scotland situated 16 kilometers (10 miles) off the coast from Caithness.  There are 70 islands, in all, 20 of which are inhabited, that have a total population of 22,100.  They have been occupied for at least 8,500 years, and with some of the best preserved Neolithic ruins, are designated a UNESCO World Heritage Site.  Agriculture is the most important economic sector and there is an abundance of marine and avian life.  Scapa Flow has a sandy bottom no deeper than 60 meters (200 feet) but most of it is around 30 meters (100 feet) making it one of the top natural anchorages in the world.  For a more detailed look at the history, culture, and demographics of the Orkney Islands, please go here:  Orkney – Wikipedia
Undersea World – After the end of World War I under the terms of the armistice, the German High Fleet was held in Scapa Flow.  To keep the 74 vessels from being exploited by the Allied victors, Rear Admiral Ludwig von Reuter ordered them scuttled.  52 were successfully sunk and some were beached.  44 were later raised and salvaged leaving 8 on the seabed.  These 8 are all large ships classed as a cruiser, battleship, or destroyer and rest in water from 12-45 meters (40-147 feet) in depth upside down or on their sides.  In addition to these 8 are another 20 wrecks in Scapa Flow.  2 are British Battleships designated as war graves, a number were sunk as blockage in the eastern and western channels to prevent passage, and the remainder sunk for one reason or another over the years including a disconnected WWI U-Boat and another U-Boat sunk during the second world war.
These wrecks bathed in the rich waters of Scapa Flow have created a rich marine habitat on the sandy bottom amongst the seagrass and kelp, with a nice variety of encrusting life forms like soft coral and herringbone hydroids and macro critters including many species of sea star, urchins, hedgehogs, horse mussels, crabs, and lobsters.  Larger attractions are codfish, lings, wrasses, common skates, basking sharks in summer, and grey and common seals.
Seasons and Conditions – Diving is possible all year with the visibility best during the winter.  The air temperature gets as high as 20°C (68°F) in summer and down to 8°C (46°F) in winter.  The water temperature reaches its warmest in September at 14°C (57°F) and hits lows of 4°C (39°F) in April.  This is cold enough for a drysuit with hood and gloves year-round.  The best visibility reaches 30 meters (100 feet) in winter and below 10 meters (35 feet) in summer.  Currents are often 1-2 knots.  With wreck sites from 15-45 meters (50-147 feet), there are sites suitable for all levels.  Several dive shops operate out of Stromness on Orkney Mainland that provide a range of diving coursework, equipment rental, guiding, and boat cruises.  Some local operators offer short liveaboard safaris, as well.  A tune-up or class in the use of a drysuit is available.
For information about cold water gear, please check out my review:
If you are interested in another great UK dive site, please check out this review:
For a liveaboard to a warmer climate, check out this review and liveaboard yacht: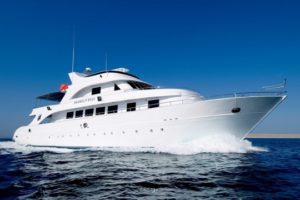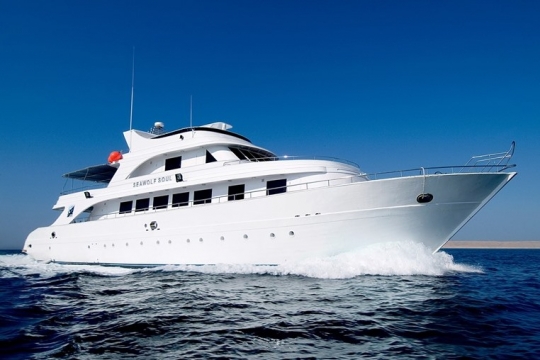 MV Seawolf, Red Sea Liveaboard – Check the Price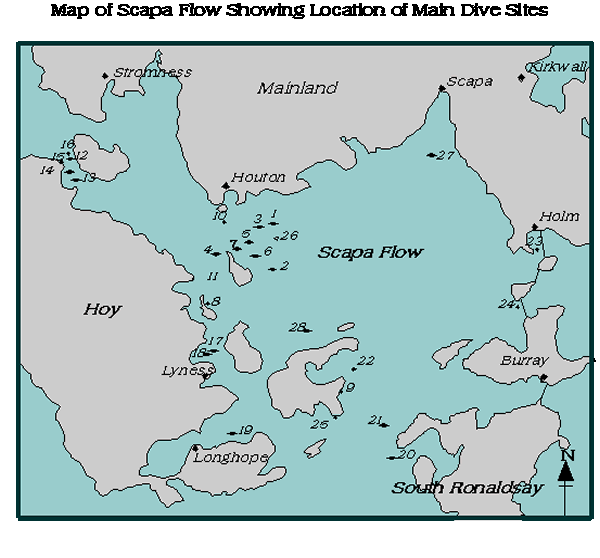 Selected Scapa Flow Wrecks
1) SMS Cöln:  36 meters (120 feet) maximum depth, 112-meter (367-foot) Cöln class light cruiser lying on her starboard side, accessible at 21 meters (70 feet), there is an open deck hatch, skylights, anchor chains, and armored control tower to examine, marine life highlights include schooling fish, cod, pollock, urchins, crabs, and lobsters, little current, suitable for all levels of diver
2) SMS Dresden: 38 meters (125 feet) maximum depth, 112-meter (367-foot) Cöln-class light cruiser lying on her port side with the stern at 38 meters (125 feet) and the bow at 25 meters (82 feet),  many artifacts are still in place, crabs and lobster in nooks and crannies, schooling pollock come during the summer, suitable for experienced level divers
3) SMS Brummer: 22-36 meters (72-115 feet), 140-meter (460-foot) minelaying cruiser lying on her starboard side, largely intact, deterioration is making penetration a little less straightforward, much of the weaponry on the sea floor, a lot to explore on the big ship, suitable for experienced level divers
4) SMS Karlsruhe: 24 meters (80 feet) maximum depth, 112-meter (367-foot) cruiser, lying on her starboard side, very damaged but still much to see, bow anchors, forward deck guns, and control tower still there, no serious penetration possible, suitable for all levels of diver
5) Kronprinz Wilhelm: 12-39 meters (40-128 meters), 146-meter (480-foot) battle cruiser lying on her port side, half of her 12-inch guns are visible, the stern is accessible at 12 meters (40 feet), armor bands have been removed allowing penetration into several sections, suitable for all level of divers
6) SMS König: 38 meters (125 feet), 146-meter (479-foot) König class battleship, lies nearly overturned and mostly broken apart, many interesting components are left to explore including the engine room, less dived than most, suitable for experienced level divers
7) SMS Markgraf: 45 meters (148 feet), 175-meter (574-foot) König class battleship lying almost completely capsized on her starboard side, the ship's superstructure prevented complete overturn, bow, stern, and rudders largely intact, much underneath is in place including some guns, suitable for experienced and technical levels
15) Blockship Tabarka: 14-18 meters (46-60 feet), 100-meter (327-foot) cargo steamship built in the Netherlands  sunk to block entrance of submarines through a western channel, heavy currents bring lots of nutrients, rich marine life with anemones, starfish, urchins, lobsters, urchins and colorful encrusting invertebrates, several penetration access points, suitable for all levels of diver
20) James Barrie: 43 meters (141 feet), 55-meter (180-foot) steam trawler that ran aground in 1969, sunk while under tow at the entrance to Widewall Bay, lies on her starboard side, some souvenirs have been taken, starboard anchor, the aft W-frame, winch, and fishing blocks are intact, the steam engine top is visible, and the rudder is on the seabed, suitable for experienced level divers
Extensive details concerning the Scapa Flow wrecks and their history
is available here:  Scapa Flow Wrecks
 For  a detailed history of the Scapa Flow wrecks, please check out this great authoritative book:
Dive Scapa Flow by Rod MacDonald
Things to Do in Orkney (aside from scuba diving)
The following video is a nice introduction to the scenic beauty and historic sites to visit on the Orkney Islands:
Scapa Flow Transportation, Hotels, and Diving Services
Air – Loganair has flights to the airport at Kirkwall, Orkney from Glasgow, Edinburgh, Aberdeen, and Sumburgh.
Ro/Ro Ferries
Scrabster to Stromness service takes 90 minutes.  There are 3 trips per day, every day.
Aberdeen to Kirkwall service takes 6 hours and is available on Tuesdays, Thursdays, Saturdays, and Sundays.  This is not available from November 1 to March 31.
Gill's Bay to St. Margaret's Hope, South Ronaldsay service takes 60 minutes.  There are 3 trips per day, every day.
Passenger-only Ferries – A 40-minute trip runs from John O'Groats to Burwick from May 1 to September 30.
Hotels and Diving – There are a number of lodging options in Stromness and Kirkwall in the $100 per night range.  At least three dive shops operate out of Stromness which provide services that include equipment rental, diving certification classes, dive guides, and boat tours.  Short liveaboard diving cruises can also be arranged at times.  The website linked below has the details and can arrange hotel booking.  You can easily find the location on the map provided on this site.  Their rates are guaranteed to be the lowest and it is free to cancel or change dates.
Photography in Scapa Flow
With the intriguing invertebrate life, variety of fish, macro critters, historic wrecks, and scenic shoreside targets, as well, there are many excellent photo opportunities.  For information and reviews of dive cameras, click here:
A cushion for emergencies provides peace of mind when on vacation.  I recommend this diving insurance as they have worldwide coverage and give scuba divers a quality insurance and medical assistance service.
Feedback and Comments
I hope you found this post on Scapa Flow scuba diving interesting and useful. If you have any questions or ideas, please feel free to share them in the comments section.  I'd love to know of any experience you have.  If there is no comments section directly below, click here:  >>comments<<