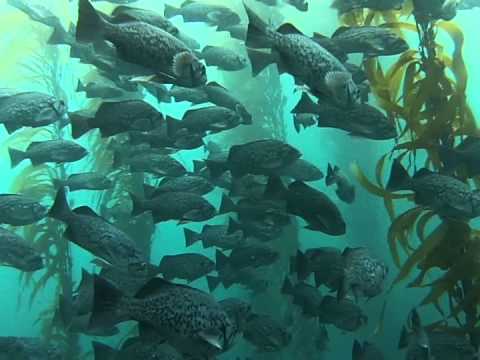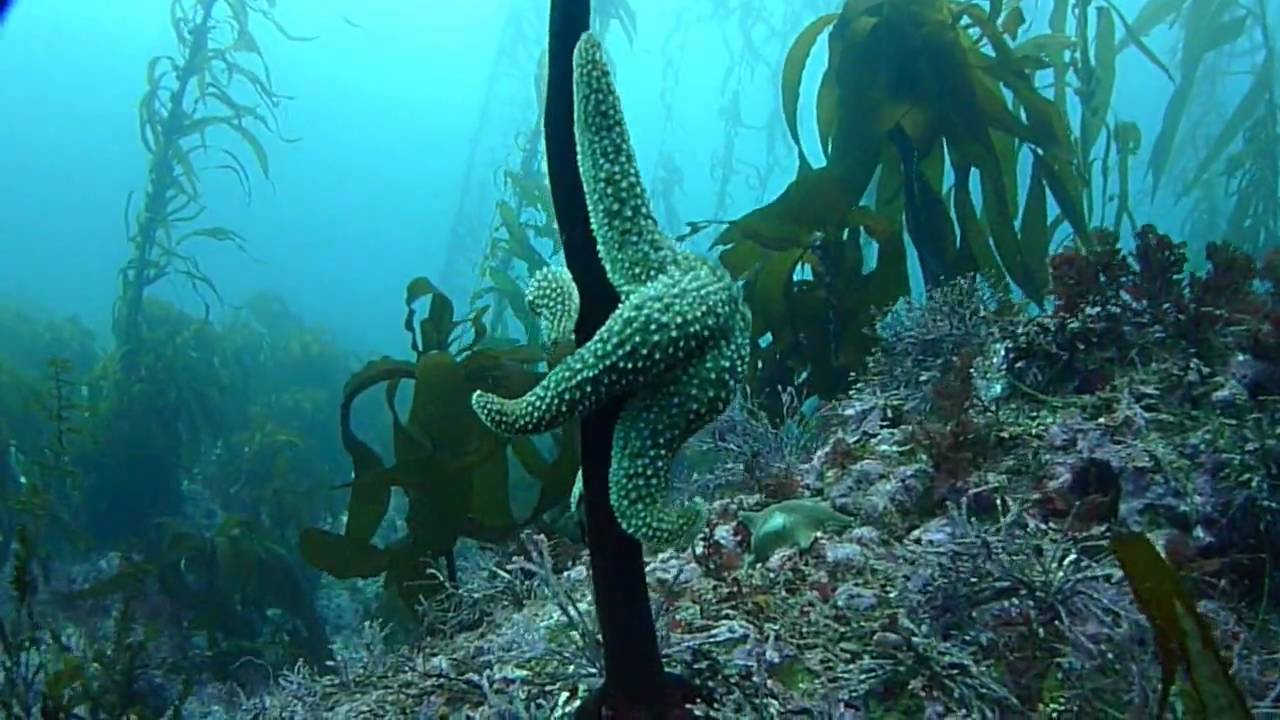 Updated May 25, 2021
This is the eighteenth in a series of reviews of the best dive resort locations around the world.  In this post, the focus is Monterey Bay, California.
In addition to this series on dive resort locations, the best worldwide liveaboard dive locations and services are reviewed in their own series.  To check them out, or others in this series, click on Liveaboards / Resorts on the menu at the top and choose a title from the list.
Have you ever been diving in Monterey Bay before?  If so, I'd love to know about your experience.  What dive shop or liveaboard did you use?  Which dive spots are the best and what are the conditions there regarding the visibility, current, water temperature, sealife attractions, etc.?  Please post your response in the comments section at the bottom and we'll all learn something we can use.
Monterey Bay Scuba Diving
With the great majority of my experience in tropical Asia, diving in Monterey Bay, with its own special and fascinating wildlife and cooler water conditions is truly exotic.  Over 65,000 divers come to the Monterey Bay Sanctuary annually for diving that can mostly be done from the beach in waters with kelp forests, an underwater canyon, vibrant reefs, and copious fish life with creatures including harbor seals, sea lions, otters, groupers, rockfish, starfish, skates, crabs, nudibranchs, octopus, abalone and occasionally blue and basking sharks and humpback whales.
The water temperature averages 50°F (10°C) so you will need to plan on wearing at least a 7 mm wetsuit or a drysuit with hood, gloves, and booties taking this temperature into account.  For information and advice on thermal gear, please check out these posts:
Visibility is normally from 15-30 feet (5-9 meters), sometimes reaching 80 feet (24 meters).  It's good enough that the Monterey Shootout photo and video competition is held there annually.  (See the video below.)
Monterey is about a 100 mile (160 km) drive from San Francisco and the international airport there.  Monterey Regional Airport is nearby.  There is good diving on both sides of the Monterey Peninsula (Monterey Bay and Carmel Bay) and a variety of quality accommodation in both places.  In addition, the restaurant and bar situation is vibrant.
Although excellent diving is accessible to divers who walk in from shore with their own equipment and dive buddy, there also are many dive shops nearby for gear rental, guiding, and a full range of courses.
Aside from the diving, there is the world-class Monterey Bay Aquarium and Point Lobos State Marine Reserve where you can hike and explore forests and rocky points and watch sea otters up-close in their natural habitat.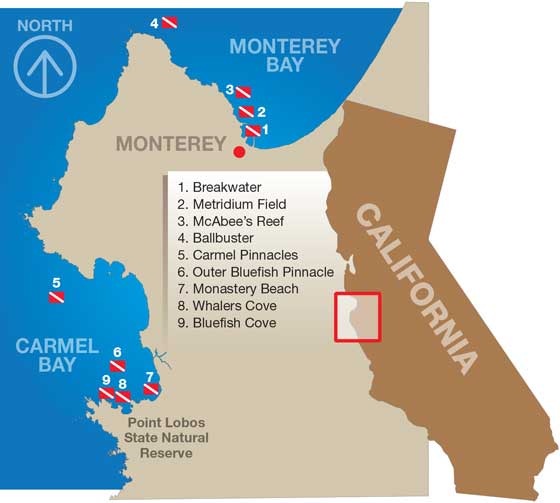 Best Scuba Diving Sites – Monterey Bay & Carmel Bay
The Breakwater: 10-60 feet (3-18 meters), popular, accessible, next to U.S. Coast Guard Pier, easy shore entry, shallow slope, little surf, rocky reef with kelp, sandy muck area, tube anemones, sessile invertebrates, many exotic nudibranchs, octopus, wolf eels, snails and sea lions, beginner level and training, good for night dives
Metridium Fields: 10-60 feet (3-18 meters), easy shore entry, rocky reef, giant metridium anemones provide the name, excellent macro life, surf perch, beginner level, and training
McAbee Beach: 10-45 feet (3-14 meters), easy beach entry, steeper slope than Breakwater, junk from the canneries to explore, kelp, invertebrates, fish and sea life similar to Breakwater, beginner level, and training
Ballbuster: 70-110 feet (21-33 meters), boat dive, pinnacle named for 50-pound lead commercial fishing balls snagged and lost there, good macro life, strong currents, mola mola, octopus, schools of rockfish, eels, experienced level
Carmel Pinnacles: 15-100 feet (4.5-30 meters), boat dive, two large pinnacles a mile offshore, marked by kelp beds, pinnacles are granite outcrops with walls and channels, pink and purple hydrocoral, chestnut cowries, big jellyfish, gelatinous zooplankton, possible blue and basking sharks, experienced level
Outer Bluefish Pinnacles: 40-150 feet (12-45 meters), boat dive, two pinnacles separated by a steep-faced canyon, sand bottom between the pinnacles at 90 feet (27 meters), strawberry anemones, encrusting sponges, many varieties of nudibranch, chestnut cowries, rockfish, sheepheads, experienced level
Monastery Beach: 20 feet-very deep (6 meters-?), difficult entry point with short, powerful surf zone, steep walls, kelp at 60 feet (18 meters), from 30-45 feet (9-13 meters) is the most wildlife, possible blue sharks, sea lions and humpback whales, advanced level, go with an experienced guide
Whaler's Cove: 10-80 feet (3-24 meters), beach entry, dense kelp, rich fish and invertebrate life, rocky bottom with a central sand channel, swim through, wildlife refuge area with diving by reservation, beginner level
Bluefish Cove: 10-100 feet (3-30 meters), beach entry from Whaler's Cove or by boat, rocky bottom at 40 feet (12 meters), colorful anemones and sponges, more than 50 species of nudibranch, drop off to the west to 100 feet (30 meters), steep-sided canyons and valleys, lingcod, rockfish, cabezons, and copepods, experienced level
Monterey Bay Accommodations
There are many dozens of accommodations available from around $35 per night on up. The diving operations are separate with 8-10 located on Monterey Bay and 8-10 in Santa Cruz across the bay, all near the seaside.
This website is a good source for the available options and can arrange a booking:
Monterey Bay Photos
With the macro life, beautiful, diverse coral reef and lots of fish, there are many excellent photo opportunities.  For information and reviews of diving cameras, click here:
Scuba Diving Trip Insurance
A cushion for emergencies provides peace of mind when on vacation.  I recommend this diving insurance as they have worldwide coverage and provide scuba divers quality insurance and medical assistance service.
Feedback and Comments
I hope you found this post on Monterey Bay scuba diving interesting and useful. If you have any questions or ideas, please feel free to share them in the comments section.  I'd love to know of any experience you have diving there.  If there is no comments section directly below, click here:  >>comments<<