We may earn money or products from the companies mentioned in this post.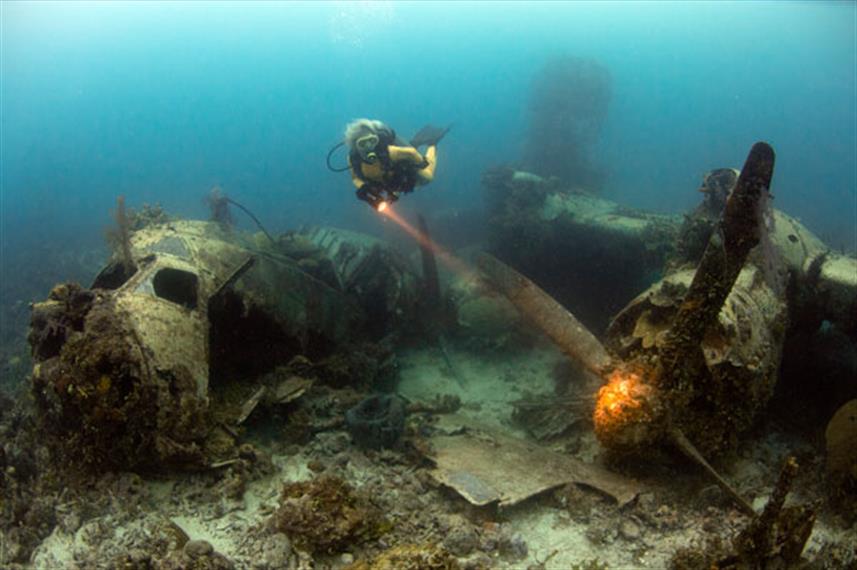 This is the forty-seventh in a series that introduces and describes the various dive services and sites for worldwide liveaboard dive safaris.  This one focuses on the best liveaboard destinations for wreck diving.
In addition to this review on liveaboards, the best worldwide dive resort locations and services are reviewed in their own series.  To check them out, or other liveaboards, click on Liveaboards/Resorts on the menu at the top and choose a title from the list.
Have you ever been diving on any of the locations described below?  If so, I'd love to know about your experience.  What liveaboard did you use?  How was the diving?  Were the services and accommodations good?  Please post your response in the comments section at the bottom and we'll all learn something we can use.
Wreck diving is one of the most mysterious and fascinating experiences possible for many.  You are given the chance to contemplate the lives and activities that took place and imagine the experiences and circumstances of a different era, perhaps in a time of war or disaster.  You can also see the power of the sea to take the intrusion and turn it into a useful part of the environment becoming the habitat of new and developing life.
Keep in mind that the depth and overhead environments presented in wreck diving are only to be attempted safely after appropriate training and certification.  Make sure you stay within your limits.  Don't create unnecessary risks for yourself and those diving with you.  Some of the liveaboard operators will require proof of a certain level of training before permitting you to participate.
Best Liveaboard Destinations For Wreck Diving 
Bahamas
Red Sea North
Palau
Truk
Coron, Philippines
Solomon Islands
Papua New Guinea
Red Sea Sudan
Cenderawasih Bay, Indonesia
Bikini Atoll
Bahamas
The Bahamas are known for their warm climate and sandy beaches, diverse marine life, sites suitable for all levels of diver, and many species of shark in large numbers.  They are also a great place to dive on shallow wrecks teeming with fish in crystal clear water bathed in sunlight, to the delight of photographers.  In fact there are 42 wrecks at 100 feet (30 meters) or less.  They are broadly spread around the large area of the Bahamas with 7 near Grand Bahama and 11 near New Providence.  The largest is Theo's Wreck, a 238-foot (72-meter) freighter at 100 feet (30 meters) near Grand Bahama, and the oldest is the San Jacinto, a steamer that sank in 1867 near the Abacos.  A popular wreck with beginners and snorkelers is the Sugar Wreck on the west side of Grand Bahama, swarming with fish in only 20 feet (6 meters) of water.  There are a variety of itineraries offered by the liveaboards, so make sure to find out which wrecks are to be visited.
Dive Season:  year-round, best from October through June
Skill Level:  Beginner to intermediate
Water Temperature:  72-82° F (22-28° C), lows in January, highs in August
Visibility:  100-150 feet (30-46 meters)
Wrecks:  Sugar Wreck, Hesperus Wreck, James Bond Wreck, Austin Smith, San Jacinto, Theo's Wreck, Comberbach (42 wrecks total:  check here for a list of wrecks and details)
For reviews of Bahamas and Caribbean Liveaboards and locations, check out these posts:
Check the Price & Details on Bahamas Liveaboards
Red Sea North
When not focusing on the rich and diverse marine life of sites like the Ras Mohammed National Park near Sharm el Sheik, Northern Red Sea liveaboards often go to the many wrecks in the region to the west and northwest of there.  These include the SS Thistlegorm, a British transport ship, sunk in 1942 with much of its structure and cargo in place. Another highlight is the site of the tragic wreck of the passenger ferry, the Salem Express, sunk in 1991 after hitting the Hyndman Reefs before reaching the port at Safaga with the loss of 470 passengers and much of the baggage still remaining.  Another notable site is the 326-foot (99.5-meter) cargo vessel, the Giannis D, which went off course and ran aground at full speed near Abu Nuhas Reef.  Today the superstructure can be reached at 13 feet (4 meters) and it has a maximum depth of 72 feet (22 meters).  On the itineraries that head to the south for the spectacular reefs at the Brothers Islands, Elphinstone, Daedalus, and St. John's there are two large wrecks of note.  The Numidia, a 450-foot (137-meter) cargo vessel ran aground through an error on its second voyage in 1901.  The Aida, a (75-meter) lighthouse tender launched in 1911, ran aground in bad weather in 1957.  They rest today 328 feet (100 meters) apart off the Brothers Islands.  The bow of the Aida is at 50 feet (15 meters) and the stern at 148 feet (45 meters).  The bow of the Numidia is at 26 feet (8 meters) and the stern at 262 feet (80 meters).  Both provide exploration opportunities for relative beginners to technical-level divers.  Note that pricing for most of the Red Sea yachts is quite low without sacrificing to any great extent in services and facilities.
Dive Season:  year-round
Skill Level:  beginner to technical (advanced open water recommended for wrecks, and deep sites with current)
Water Temperature:  highs in summer of 82°F (28°C) and lows in winter of 70°F (21°C)
Visibility:  70-100 feet (21-30 meters), 200 feet (60 meters) is possible on some sites.
Wrecks: Giannis D, Chrisoula K, Carnatic, Kingston, Rosalie Moller, Dunraven, SS Thistlegorm, Salem Express, Aida, Numidia (62 wrecks total:  check here for a list of wrecks in the Egyptian Red Sea and details)
For reviews of the Red Sea Egypt liveaboards and locations, check out these posts:
Check the Price & Details on Red Sea Egypt Liveaboards
Palau
In addition to the beautiful reefs, rich marine life with turtles, sharks, rays, dolphins, reef tropicals and thrilling currents, you can't overlook the bounty of ship and plane wrecks around the islands of Palau.  The more than 60 Japanese ships and numerous aircraft that were sunk in World War II are known today as the "Lost Fleet of Rock Islands."  The most popular are the largely intact and photogenic Jake Seaplane (Aichi E13A-1) that rests at 50 feet (15 meters) and is suitable for beginners, and the Iro Maru, a 469-foot (143-meter) oil tanker with forward and aft guns in place and sitting between 82-131 feet (25-40 meters), a depth suitable for experienced and technical divers.  Another favorite is the Helmet Wreck only discovered in 1990.  They haven't been able to identify it and gave it the name due to the helmets found inside. It's a 190-foot (58-meter) supply vessel resting upright on a slope from 50-115 feet (15-35 meters) in depth.  Itineraries of the liveaboards usually include these three.
Dive Season:  year-round
Skill Level:  beginner to advanced (advanced open water recommended for wrecks, and deep sites with current)
Water Temperature: 84-86°F (29-30°C) most of the year but drops to 79°F (26°C) in February and March
Visibility:  usually 50-130 feet (15-40 meters), increased rain and winds from July to September can cause a dip to the low end
Wrecks: Jake Seaplane, Iro Maru, Helmet wreck, Chuyo Maru, Amatsu Maru, Bichu Maru, Raizan Maru, Ryuko Maru, Teshio Maru, Zeke Fighter
For reviews of Palau liveaboards and diving, check out these posts:
Check the Price & Details on Palau Liveaboards
Truk
During WWII the Japanese used Truk (Chuuk) as its largest offshore military base which drew the attack of Task Force 58 and Operation Hailstone which destroyed all the ships and hundreds of aircraft in the protected Truk Lagoon.  Although there are attractive reefs with interesting macro life and reef tropicals to go along with reef sharks, turtles, and seasonal mantas and whale sharks from December through April, Truk has become the wreck divers' nirvana because of the 60 ships and 200 aircraft that were destroyed there leaving more than 50 viable dive sites today. This "Ghost Fleet" is made up of cargo ships and offensive naval ships, as well, and lots of evidence of the earlier life onboard in the form of personal effects, tanks, deck guns, gas masks, and ammo, some of it unstable, not to mention human remains.  Among them are some that are deep and offer deep penetration possibilities.
The two yachts cruising this remote location offer 8-11 day itineraries.  Nitrox is available on both as well as the nitrox specialty course.  Both vessels are set up to support rebreather and tech diving.
Dive Season:  year-round
Skill Level:  advanced to technical (advanced open water is the minimum)
Water Temperature: 81-86°F (27-30°C)
Visibility: usually pretty good but can be as low as 25 feet (8 meters)
Wrecks:  San Francisco Maru, Fujikawa Maru, Heian Maru, Gosei Maru, Aikoku Maru, Hoki Maru, Shinkoku Maru, Rio de Janeiro Maru, Kansho Maru, Unkai Maru, Submarine I-169, Yamagiri Maru, Nippo Maru
For reviews of Truk Lagoon liveaboards, check out this post:
Check the Price & Details on Truk Lagoon Liveaboards
Coron, Philippines
On September 24, 1944, the 24 ships of the Japanese fleet anchored in Coron Bay in the north of Palawan in the Philippines received a rather harsh surprise when U.S. Fast Carrier Force 38 appeared out of the sky in the form of Grumman Hellcat and Helldivers that proceeded to strafe, bomb, and torpedo them to the seabed in a 15 minute aerial attack.  To date, 12 of the wrecks have been found, mostly in the Tangat (Sangat) Island area.  Some of them are shallow enough for beginners but many are deeper and present significant penetration opportunities suitable for advanced and technical divers.  They all have their strong points but probably the most popular is the Akitsushima, a 389-foot (118-meter) flying boat tender at rest on her port side on a 119-foot (36-meter) bottom, reachable at 72 feet (22 meters).  Another favorite of the tech-set, the Irako is a 495-foot (147-meter) food supply vessel resting upright on a 148-foot bottom, accessible at 112 feet (34 meters).  It provides excellent penetration opportunities for technically trained divers.
In some cases, the marine life in and around the wrecks is pretty rich with encrusting corals, sponges, and black corals along with some great macro critters like crocodile fish, scorpionfish, nudibranchs, shrimps, and crabs, as well as reef tropicals.  Aside from the wrecks, there are also sites like Seven Islands, Bugar Reef, and Barracuda Lake worth exploring for a change of pace.
Dive Season:  year-round (liveaboards are scheduled from November through March)
Skill Level:  beginner to technical (advanced open water is the recommended minimum)
Water Temperature: 77-88°F (25-31°C)
Visibility:  16-50 feet (5-15 meters), best in the dry season from November to June
Wrecks: Taiei Maru, Akitsushima, Olympia Maru, Irako Maru, Kogyu Maru, Tangat Wreck, Sangat Gunboat, Lusong Gunboat, Nanshin Mau, Skeleton Wreck, Kyokuzan Maru
For a review of Coron Wreck Diving liveaboards, check out this post:
Check the Price & Details on Coron Liveaboards
Solomon Islands
Formed by volcanoes and tectonic movement, the more than 900 islands of the Solomons are part of Melanesia streaming to the southeast of Papua New Guinea with a surrounding seascape of pinnacles, canyons, drop-offs, and lava tubes and an exceptionally rich and pristine coral reef system.  Especially in the area around Guadalcanal, it was the setting of the famous WWII military campaign.  In a region that became known as "Iron Bottom Sound" between Guadalcanal Island and Florida Island, there was a major battle resulting in more than 50 ship and plane wrecks many well beyond even technical diving limits.  In all the count of wrecks around the Solomon Islands numbers approximately 200.  For an excellent accounting of the epic battle, check out this article in Wreck Diving Magazine.
Near Bonegi Beach, the Hirokawa Maru, Kinugawa Maru, and the Kysu Maru all rest on a steep slope with portions at or near the surface and accessible to all levels of diver.  The Hirokawa Maru continues on down to a maximum depth of 190 feet (58 meters).  There are Kawanishi "Mavis" seaplanes and Nakajima "Rufes" Float Zeros nearby, some of which are available at recreational depths.  The Granddaddy favorite of tech divers is the 348-foot (106-meter) USS Aaron Ward which had an epic battle with many chapters ending with it coming to rest on the seabed at 230 feet (70 meters).
Dive Season:  year-round (one liveaboard skips January and the other skips January and February)
Skill Level:  beginner to technical
Water Temperature: 82-86°F (28-30°C)
Visibility:  45-90 feet (14-27 meters)
Wrecks: Hirokawa Maru, Kinugawa Maru, Kysu Maru, USS Aaron Ward, Azumasan Maru, Mavis seaplanes, Rufes Float Zeros, John Penn
For a review of Solomon Islands liveaboards, check out this post:
Check the Price & Details on Solomon Islands Liveaboards
Papua New Guinea
In its remote location in the coral triangle with little tourism, Papua New Guinea offers pristine, biodiverse coral reefs on a variety of subsea terrain. The macro critters, reef tropicals, and megafauna including numerous species of sharks and rays, turtles, dolphins, whales, and other pelagics alone are worth the long journey.  There are also a large number of WWII ship and plane wrecks over the broad area of PNG that are suitable for all levels from beginner to tech divers.  Aircraft include KImbe Bay's Zero at less than 50 feet (15 meters) and an Australian PBY Catalina Flying Boat at 66 feet (20 meters) in New Ireland's Kavieng Harbor.  Other attractions are the Sanko Maru, a 400-foot (122-meter) ship used for prisoner transport at 72 feet (22 meters) in depth near New Hanover, and a couple of scuttled vessels, the Der Yang Wreck, a Taiwanese fishing boat at 100 feet (30 meters), and the Pacific Gas Wreck, a 214-foot (65-meter) tanker at 100-147 feet (30-45 meters).  The sites for wrecks are widely dispersed around the country making a liveaboard the most convenient option.
Dive Season:  year-round
Skill Level:  beginner to technical
Water Temperature: 74-88°F (23-31°C)
Visibility:  68-150 feet (20-45 meters), rains from December to March decrease the visibility
Wrecks:  B-17F Black Jack, Pacific Gas Wreck, Kimbe Bay Zero Wreck, Sanko Maru, Midget Sub Type B, Subchaser 39, Kate Bomber, "Deep Pete" Mitsubishi Float Plane, New Ireland's Australian PBY Catalina Flying Boat
For reviews of Papua New Guinea liveaboard and diving, check out these posts:
Check the Price & Details on Papua New Guinea Liveaboards
Red Sea Sudan
Not many people dive in the Red Sea off Sudan.  With the minimal logistical support, a liveaboard is the best way to get to the great reefs and wrecks there.  Spread over a large area there is pristine marine life on an interesting subsea terrain of caves, pinnacles, and steep walls in areas like Sanganeb National Park with its dolphins, turtles, and several shark species and Angarosh with frequent visits from hammerhead and tiger sharks.  The wrecks provide intriguing exploration for intermediate to technical level divers.  The Umbria, a 492-foot (150-meter) Italian cargo ship scuttled by her Captain when Italy entered WWII, can be accessed from 16-115 feet( 5-35 meters).  The cargo of 350,000 pounds of bombs can be seen in the hold along with other armaments and some Fiat autos.  The Toyota wreck sunk accidentally in 1977, rests upside down with its cargo of cars, trucks, and tractors in place at a modest depth of 66-118 feet (20-36 meters) and possible visitation from tiger sharks.  A third "wreck" of note is Conshelf II, Cousteau's undersea research lab, that remains in place, well encrusted.  Few liveaboards dive the Sudanese Red Sea, and this year the trips are limited.
Dive Season:  year-round
Skill Level:  intermediate to technical (advanced open water recommended for wrecks, and deep sites with current)
Water Temperature:  highs in summer of 85°F (29°C) and lows in winter of 75°F (24°C)
Visibility:  70-115 feet (21-35 meters), best from February to May
Wrecks: Toyota Wreck (Blue Bell Wreck), Umbria Wreck, SS Jassim, Conshelf II, Freedom Wreck on Merlo Reef
For reviews of the Red Sea liveaboards and locations, check out these posts:
Check the Price & Details on Red Sea Sudan Liveaboards
Cenderawasih Bay, Indonesia
Isolated in the northwest of the Indonesian province of Papua, Cenderawasih (Bird of Paradise) Bay covers a broad area with the western portion a protected marine preserve.  Called by Dr. Gerald Allen, the prominent ichthyologist "the Galapagos of Indonesia's reefs," Cenderawasih has great biodiversity with superb muck diving, bountiful reef tropicals, turtles, manta rays, and most prominently heaps of whale sharks.  It also has pretty stiff currents at times making the area suitable for intermediate to advanced divers.
During the second world war, the allies had a base at Biak to the east, while the Japanese anchored in the bay close to Manokwari in the northwest.  This proximity of forces resulted in many altercations leaving quite a few aircraft, ships, and boats on the seabed.  The largest is the Shinwa Maru (the Good Ghost), a 394-foot (120-meter) freighter resting on its starboard side in 115 feet (35 meters) with two holes from bombs in its side and empty bomb shells lying around.  There are also a number of aircraft including a P38 Lightning and a PBY Catalina Flying Boat, and on one location near Manim Island, 7 landing craft, all within recreational diving limits.
A number of liveaboard yachts run safaris to Cenderawasih that are equipped to provide the level of support to dive these wrecks at advanced and technical levels.
Dive Season:  July to September
Skill Level:  intermediate to advanced (advanced open water recommended for wrecks, and deep sites with current)
Water Temperature:  81-86°F (27-30°C)
Visibility:  33-100 feet (10-30 meters)
Wrecks: Shinwa Maru, Mansinam Cross Wreck, Pasir Putih Wreck, P40 Tomahawk, P38 Lightning, PBY Catalina Flying Boat, Manim Island 7 landing craft
For a review of Cenderawasih liveaboards, check out this post:
Check the Price & Details on Cenderawasih Liveaboards
Bikini Atoll
Set in the remote Marshall Islands, Bikini Atoll was used as the Pacific Proving Grounds where the US tested 23 atomic bombs from 1946-1958.  The purpose was to see the effects on a fleet of obsolete naval vessels including battleships, cruisers, and an aircraft carrier.  Fearing radioactivity the area was left deserted until fairly recently when undersea exploration of the wrecks was allowed.  During the human vacancy, the life around the wrecks has flourished so that the reefs have developed significantly with a multitude of reef tropicals and pelagics.
The wrecks on the itinerary of the Truk Master range from 70-170 feet (21-52 meters) with an average depth of 145-165 feet (44-50 meters).  The liveaboard provides support for tech and rebreather diving and makes two dives per day.  The top attraction is probably the USS Saratoga, an 888-foot (270-meter) aircraft carrier.  Not all were US vessels, another behemoth at rest at Bikini Atoll is the 708-foot (215.8-meter) Battleship Nagato, the flagship of Admiral Yamamoto at the Pearl Harbor attack.
Dive Season:  year-round (the single liveaboard goes to Bikini in May through July and October)
Skill Level:  technical (PADI Tech 50 equivalent or higher required)
Water Temperature: 82-84°F (28-29°C), a wetsuit is still necessary at depth
Visibility:  131-197 feet (40-60 meters)
Wrecks: USS Saratoga, Nagato, USS Arkansas, USS Lamson, USS Anderson, USS Apogon, USS Carlisle, Prinz Eugen
For reviews of Bikini Atoll liveaboards, check out this post:
Check the Price & Details on Bikini Atoll Liveaboards
Liveaboard Comparisons
If you have the interest in further comparisons and reviews of liveaboards, please check out these posts:
Last Minute Liveaboard Deals & Special Offers
For greatly reduced pricing on special offers for a broad range of liveaboards in 17 countries around the world, please check out this post:
A cushion for emergencies provides peace of mind when on vacation.  I recommend this diving insurance as they have worldwide coverage and give scuba divers a quality insurance and medical assistance service.
Feedback and Comments
I hope you found this post on the best liveaboard destinations for diving with sharks interesting and useful.  If you have any questions or ideas, please feel free to share them in the comments section.  I'd love to know of any experience you have.  If there is no comments section directly below, click here:  >>comments<<