Nuweiba Coral Reef (Photo courtesy of TripAdvisor)
Updated April 28, 2022
This is the one hundred and fifty-seventh in a series of reviews of the best dive resort locations around the world.  In this post, the focus is on Nuweiba, Egypt. In addition to this series on dive resort locations, the best worldwide liveaboard diving locations and services are reviewed in their own series.  To check them out, or others in this series, click on Liveaboards/Resorts on the menu at the top and choose a title from the list.
Have you been diving in Nuweiba before?  If so, I'd love to know about your experience.  What dive shop or liveaboard did you use?  Which dive spots are the best and what are the conditions there regarding the visibility, current, water temperature, sealife attractions, etc.?  Please post your response in the comments section at the bottom and we'll all learn something we can use.
Diving Nuweiba
Background
Nuweiba is a town of 20,000 situated on a coastal plain between the Sinai Mountains and the Gulf of Aqaba 70 kilometers (44 miles) south of Taba, 180 kilometers (113 miles) north of Sharm el-sheik, and 465 kilometers (290 miles) from Cairo.
Originally a simple Bedouin settlement, the name means bubbling spring.  It occupies a 7-kilometer (4.4-mile) stretch in 3 parts, the port, the city, and Tarrabin, a Bedouin camp, and a beach strip.  After the 6-Day War, Israel occupied the area from 1967 until they left in 1982.  In 1985 the port was established and expansion of the town began.
In the area between the port and the city is a strip of modern hotels catering to tourists. One mile north of the city is  Tarrabin, the Bedouin camp, which has adapted to tourism by providing huts for rent where low-budget backpackers tend to stay.
Undersea World
Along the shoreline of Nuweiba, there are 10-12 dive areas that can be subdivided into 30-40 different sites mostly accessible from shore.  Typically they have a gradual slope with grassy beds that have a good variety of healthy hard coral species as you go deeper.  On some sites, the decline becomes steeper with drop-offs, walls, crevices, and caverns as the depth increases to a maximum of 90 meters (295 feet) as you move across the gulf to Saudi Arabia.  This forms a sort of underwater bridge with sea bottoms descending to 1,200 meters (3,937 feet) on either side of it.
Most sites are shallow enough for recreational divers and provide lots of targets for macro photographers.  The grassy beds and shallower coral areas have a great number and variety of critters including many species of nudibranchs, flatworms, seahorses, ghost pipefish, mimic octopus, blennies, cuttlefish, crabs, shrimps, giant clams, anemones, frogfish, stonefish, lionfish, pufferfish, snake eels, and moral eels.  Sharks and mantas aren't often seen but there are abundant reef tropicals, sea bream, cornetfish, parrotfish, large resident green turtles, groupers, jacks, stingrays, torpedo rays, and eagle rays, with dolphins that are more prevalent in winter.
In addition, a couple of major artificial reefs are in place to explore.
Advanced and technical divers also have a few deeper areas that can satisfy their skill levels, as well.
Seasons and Conditions
Diving is a great year-round activity in Nuweiba. Tourists are there in larger numbers from July through December.
Air temperature varies significantly throughout the year with daily average highs over 36°C (97°F) in June through August which fall to 21°C (70°F) in January.
Water temperature follows the air temperature fairly closely with highs in July through September of 28°C (77°F) and lows of 21°C (70°F) in February and March.  The rest of the year it is somewhere between the two levels.  A 5-7mm wetsuit will suit many divers when the water is at its coolest.
This is a desert area that is dry all year with no rain at all from May through September.  The total annual rainfall is 13mm (.4 inches).
Currents are often mild but can be strong on some sites based on tidal flow and the lunar cycle.
Visibility is usually in the 21-30 meter (70-100 foot) range all year.
There is diving suitable for all levels of divers.  The few dive shops in operation in Nuweiba offer a full range of diving coursework, equipment rental, guiding, and boat cruises.  Most of the local sites are accessed from shore, however. Day trips can be arranged to more distant locations up and down the coastline.
There are no liveaboard yachts directly cruising the Nuweiba area.  A large number of them do travel to the Sharm el-sheik area and other top sites in the northern and southern sections of the Red Sea.  Here is my review of them and some links to top vessels: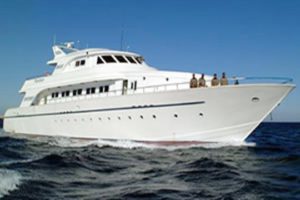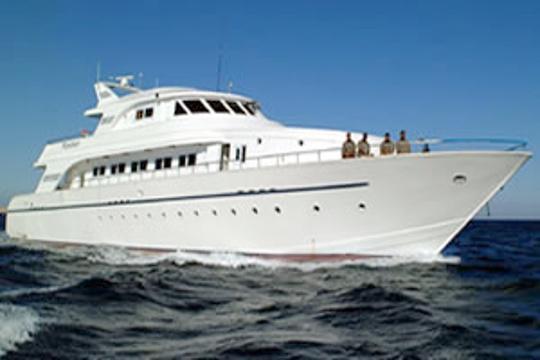 MY Excellence, Red Sea Liveaboard Diving – Check the Price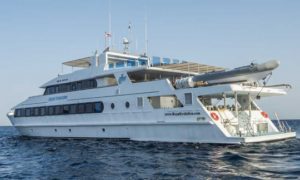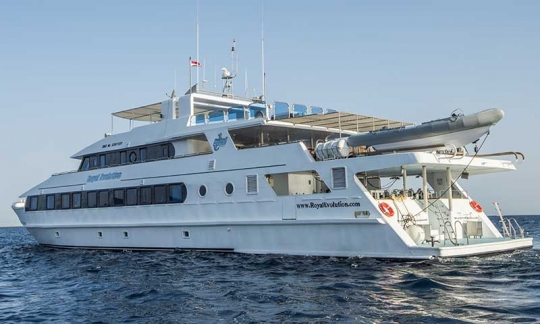 MS Royal Evolution, Red Sea Liveaboard Diving – Check the Price

MY Emperor Elite, Red Sea Liveaboard Diving – Check the Price
Selected Nuweiba Dive Sites
Dolphin Bay: 12 meters (40 feet), near Taba Steigenberger Hotel, shore entry, a calm lagoon with lots of coral and reef tropicals, in the shallow seagrass bed look for seahorses amongst the corals, suitable for all levels of diver
Ras Shaitan: 40 meters (130 feet) maximum depth, shore entry, one of 4 sites off the area on land of the same name, which means Devil's Head, a seagrass meadow home to seahorses, pipefish, table corals, several colors of anemone, and the possibility of rays and sharks, on further descent to 40 meters (130 feet) are more corals and pinnacles, moderate current is possible, suitable for all levels of diver depending on depth, and technical divers
The Labyrinth: 50 meters (164 feet) maximum depth, near Nuweiba town, shore entry, seagrass with coral heads and small pinnacles in the shallows gives way to a complicated series of reef walls and passageways, after making your way through the maze there is a coral garden where you can find macro critters like frogfish, big swarms of fish, and schools of barracuda and snappers, from the coral garden the reef drops off to the maximum depth where there is a chance of larger passing pelagics, after passing through the labyrinth and exploring the coral garden you can make your way back through to shallow water, suitable for all levels of diver unless you go deep
MFO Pipeline: 20 meters (68 feet), south of the Elaria Beach Resort, shore entry, an unused Israeli desalinization plant left two pipelines running from shore to 18 meters (60 feet) in depth, lots of encrusting life including soft corals, numerous lionfish, scorpionfish, stonefish, and reef tropicals, nearby is a small reef of hard and soft corals at 14-20 meters (46-68 feet) with small pinnacles and coral heads, highlights are parrotfish, jacks, groupers, leopard rays, giant barracuda, and green turtles mating at the end of summer, in the shallows on your safety stop look for macro critters like pygmy seahorses, suitable for all levels of diver
MFO Sinkers: 8-35 meters (25-115 feet), near the MFO camp, shore entry, the Israelis accidentally placed a big marker buoy improperly with the chain too short to allow the buoy to remain on the surface, the buoy is suspended at a depth of 8-12 meters (25-40 feet), today the buoy and chain are well encrusted with colorful soft corals, highlights are banded boxer shrimps, and schools of fusiliers, damselfish, and glassfish, look for barracuda, jacks, and snappers cruising the site for a meal, suitable for all levels of diver depending on depth attempted, check out the video just above
Abu Lou Lou: 5-26 meters (16-85 feet), near the Hilton Hotel, shore entry, seagrass in the shallows where green turtles often feed and you can find ghost pipefish, pygmy pipehorses, and seahorses, the coral reef runs from 5-26 meters (16-85 feet), look for fish getting cleaned by cleaner shrimps, lots of lionfish, stonefish, several species of frogfish, and scorpionfish, suitable for all levels of diver
Ras Abu Galum: in the national park of the same name, 2-hour drive to the south to a Bedouin camp, several sites with pristine coral reefs and drop-offs to 60 meters (196 feet), shallow areas have many species of hard coral, anemones, and reef tropicals, moving deeper possibilities include eagle rays, barracuda, turtles, whitetip and blacktip reef sharks, and maybe even a whale shark, sites suitable for all levels of diver including technical divers
Things to Do in Nuweiba (aside from scuba diving)
Nuweiba offers a sort of rugged look at local desert culture and history.  Interesting sites and activities include Colored Canyon, Camel Treks, Habiba Village, Nuweiba Square, Bedouin Life, Mount Sinai, Han Kang (restaurant), Tarabin Beach, Cleopatra Restaurant, Nuweiba Beach, St. Catherine Monastery, Ciao Nuweiba Restaurant, Star Gazing in the clear Nuweiba sky, Castle Zaman, Nawinis Site Remains, and The Dunes.
This video is a nice introduction to the stark topography and raw beauty of Nuweiba.
Nuweiba Transportation, Hotels, and Diving Services
Transportation
Air 1 – The first step is to fly into Sharm el-sheik Airport, the largest in Sinai which handles 10 million international and domestic passengers annually.  From there it is best to leave the airport and find a micro-bus or taxi to the bus station for a reasonably priced two-hour bus trip to Nuweiba.
Air 2 – Fly into Taba Airport where you can take a bus, taxi, or car to Nuweiba which takes an hour or so.
Air 3 – You can also fly into Cairo and take a  7-hour or more bus ride from there to Nuweiba.
Ferry service runs from Aqaba to Nuweiba 3 times daily with a journey time of 1.5-2.5 hours.
Taxi service is sparse but available in Nuweiba.  Most arrivals by both bus or ferry will be at the port where taxis are most likely to be found.
Walking is the best option for many local journeys.
Check with your hotel about the best options for local travel.
For more complete details on transportation and other tourist information, please go to Wikitravel-Nuweiba.
Hotels and Diving
Lodging options in Nuweiba start at $13 and run to around $67 per night.  There are several dive shops in operation offering a full range of services that include equipment rental, diving certification classes, dive guides, and boat tours.
The website linked below has the details and can arrange a booking for the lodging.  You can easily find the location on the map provided on this site.  Their rates are guaranteed to be the lowest and it is free to cancel or change dates.
Photography in Nuweiba
With the attractive coral reefs, a variety of fish, macro critters, rays, dolphins, and scenic shoreside targets, as well, there are many excellent photo opportunities.  For information and reviews of dive cameras, click here:
Scuba Diving Trip Insurance
A cushion for emergencies provides peace of mind when on vacation.  I recommend this diving insurance as they have worldwide coverage and give scuba divers quality insurance and medical assistance service.
Feedback and Comments
I hope you found this post on Nuweiba scuba diving interesting and useful. If you have any questions or ideas, please feel free to share them in the comments section.  I'd love to know of any experience you have.  If there is no comments section directly below, click here:  >>comments<<