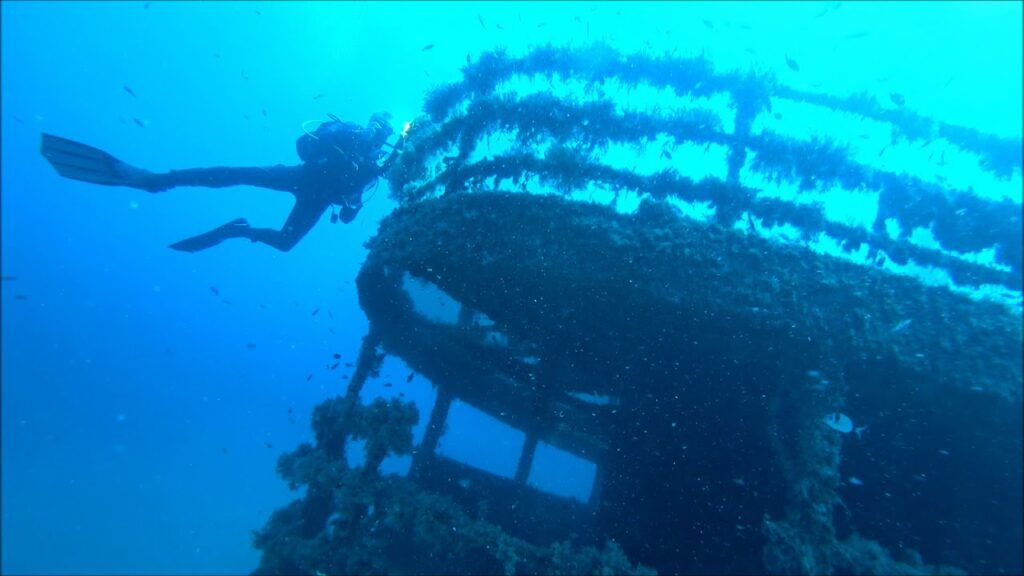 Updated June 7, 2021
This is the one hundred and forty-second in a series of reviews of the best dive resort locations around the world.  In this post, the focus is on Mallorca, Spain.  In addition to this series on dive resort locations, the best worldwide liveaboard diving locations and services are reviewed in their own series.  To check them out, or others in this series, click on Liveaboards/Resorts on the menu at the top and choose a title from the list.
Have you been diving in Mallorca before?  If so, I'd love to know about your experience.  What dive shop or liveaboard did you use?  Which dive spots are the best and what are the conditions there regarding the visibility, current, water temperature, sealife attractions, etc.?  Please post your response in the comments section at the bottom and we'll all learn something we can use.
Scuba Diving on Mallorca
Background
Situated 246 kilometers (154 miles) from Barcelona, Mallorca is the largest of the Balearic Islands, an autonomous region of Spain, with an area of 3,640 km2 (1,405 square miles).  Palma is the capital of the region and the island with a population of 405,000 out of a total population for the island of 860,000.
With evidence of settlements starting in the Neolithic period, Mallorca has a rich cultural history to go along with varied topography including two mountain ranges, a flat fertile central zone extending to Palma, north coast cliffs, and a number of caves both above and below sea level.  Mallorca also holds governance over a number of small islands off the southern and western coasts.
Tourism has been the major economic driver since the 1950s and around 10 million visitors arrive annually.  Another source of income is sea schools which teach sailing and maritime skills.  Historically Mallorca is known for the artists and academics that it has attracted over the years with the likes of Chopin, George Sand, Robert Graves, Joan Miro, and Agatha Christie spending time there.  Today most tourists are German or British, with Germans the majority.  The two official languages are Catalan and Spanish.
Undersea World
The diving around Mallorca is characterized by diverse topography, huge shoals of fish, a variety of marine life, and clear water that is pretty warm much of the year.
There are interesting dive sites around the island with many dive shops in the east and southwest, Palma, and Bahia de Pollenca in the northeast.  Sites are reachable by car, boat, and in some cases right offshore from the dive center.
Conditions are good for diving all year, not just during the busier warm season from May to November.
There are 4 marine reserves with the biggest around Cabrera Island to the southwest.
The undersea terrain is diverse and includes sandy and rocky bottoms, walls, caves, swim-throughs, boulders, and shipwrecks.  Many of the surfaces are covered in hard and soft corals, sponges, gorgonians, and plant life, including vast meadows of seagrass.
Marine life highlights are large schools of barracuda, bream, jacks, and goatfish, big groupers, stingrays, wrasses, damselfish, cardinalfish, bream, octopus, and macro critters in the nooks and crannies like nudibranchs, starfish, urchins, gobies, and moray eels.
Seasons and Conditions
Diving is possible all year in Mallorca.  The best time is from May to November when the water is warmer.
Air temperature average daily highs reach 30°C (86°F) in July and August and dip to 15°C (59°F) in January and February.
The range for water temperature is 14-27°C (57-81°F) with highs in August and lows in January and February.  During the summer months, a 3-5mm wetsuit will be enough thermal protection for most.  When the water is at its coolest, a drysuit with a hood and gloves is your best bet.
Currents are generally mild though occasionally stronger in some locations.
Mallorca has a relatively dry climate with the wettest times from September through December with more than 48 mm (1.9 inches) of rain per month.
Visibility is usually in the 20-30 meter (66-100 foot) range.
There are sites suitable for all levels of diver from beginner to advanced levels.  More than 30 dive shops are available that can provide a full range of diving coursework, equipment rental, guiding, and boat cruises.
For information about cold water gear, please check out my review:
Liveaboard Diving
There are no major liveaboard yachts cruising Mallorca but there are to other great Mediterranean locations: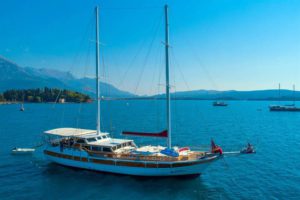 Sadri Usta, Montenegro Liveaboard Adventure Cruise – Check the Price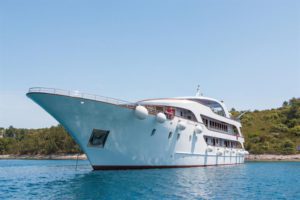 MV Futura, Croatia Liveaboard Adventure Cruise – Check the Price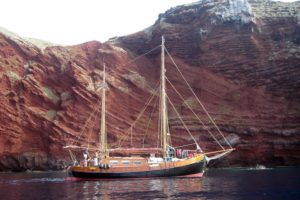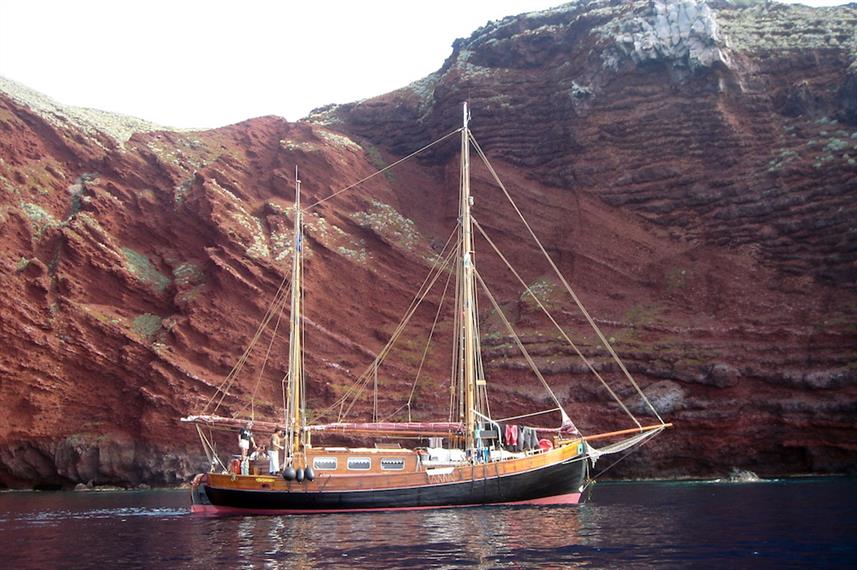 Norseman, Tuscan Archipelago Scuba Diving Liveaboard – Check the Price
For my reviews of other regional diving destinations, please check out these posts:
Selected Mallorca Dive Sites
Palma Wrecks: 35 meters (115 feet) maximum depth, 4 wrecks near the Palma harbor, 2 are cargo ships, 40-meters (130-feet) and 60 meters (19-feet) in length, plus two smaller vessels including a yacht, all sank in the early 1980s, care should be taken but many areas are penetrable including sleeping areas, wheelhouses, engine rooms, bridges, cellars, and smokestacks, the rich marine life includes schools of barracuda, bream, damselfish, groupers, and nudibranchs, suitable for experienced level divers
Jeronimo: 30 meters (100 feet), Bahia de Pollenca site, a big entrance to a cave that extends from 2 meters (6 feet) to 18 meters (60 feet), just after entering you can surface inside to an air pocket and look around at the stalactites, after exploring the cave underwater outside the cave is a wall to a rocky 30-meter (100-foot) bottom with moray eels, groupers, and octopus, suitable for experienced level divers
The Pinnacle: 30 meters (100 feet), in the bay of Cala Murta in the northeast, pinnacle with a wall from 10-24 meters (35-80 feet), good spot for schools of barracuda, the wall has lots of yellow anemones, moray eels and octopus in nooks and crannies, groupers, and stingrays on the sandy bottom, at the end of the wall is a canyon, a big rock, and a large arch, the rocks there provide habitat for macro critters like scorpionfish and nudibranchs, suitable for experienced level divers
Big Cheese: 30 meters (100 feet), near Cala Ratjada in the east, 60-meter (197-foot) wide rock breaking the surface, the bottom extends from 15 meters (50 feet) in the north to 30 meters (100 feet) in the south, many interconnected holes and tunnels are in the rock reminiscent of a block of Swiss cheese, a variety of marine life including nudibranchs morays, barracuda, and groupers are inside or nearby, suitable for experienced level divers
Northern Point: 24 meters (80 feet), near Cala Bona and Cala Millor in the east, drop-off to a sandy bottom, groupers,  schools of barracuda, and a variety of smaller fish can be found, suitable for all levels of diver
Illa del Toro: 40 meters (130 feet) maximum depth, marine reserve near Santa Ponsa in the southwest, steep decline with many holes, cracks, and caverns, rich diversity of marine life including moray eels, golden redfish, red dragonfish, wrasses, scorpionfish, seahorses, octopus, and conger eels, suitable for all levels of diver depending on the depth
Island of Dragonera: marine reserve off the western tip, many sites descending to as deep as 50 meters (164 feet), has a number of caves with air pockets, steep drop-offs, and rich marine life including sponges, corals, crinoids, tube anemones, shrimps, and slipper lobsters, also a shipwreck with big conger and moray eels, possibility of eagle rays, has diving suitable for all levels of diver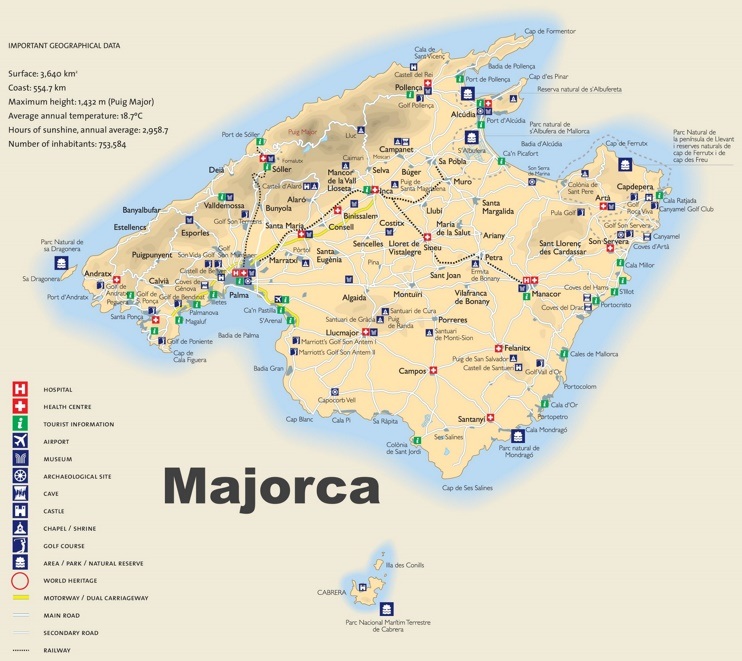 Things to Do in Mallorca (aside from scuba diving)
Mallorca is a big island with lots of historical and natural assets to enjoy.  Palma, the capital, deserves major exploration, but so does the rest of the island.  The best way to accomplish that is to rent a car.  Here is a list of some of the highlight attractions and activities around the island to check out: the Roman bridge, Port de Pollenca, Campanent Caves Tour, Castle D'Alaro, Hiking, Downtown Palma, the ancient Babos Arabes, Castell de Belver, Cathedral Santa Maria (La Seu), Palma Cathedral, Coves dels Hams, Coves del Drech, Palacio Real de la Almudaina, Fundacio Pilar i Joan Miro, Castell de Belver, Cap de Formentor, Santuari de Llue, Castle of Caddepera, Valldemossa Charterhouse, Calo de Moro, Cala Figuera, Mondrago Natural Park, Platja de Muro, Palma Aquarium, Western Water Park, Puig de Massanella, Sa Dragonera, Mercat de Santa Catalina, take a walk in Soller, Calo de Moro (beach), Mirador Es Colomer (view), Formentor Beach, Valldemossa, Cala Mesquida Beach, Es Trench Beach, Es Pontas Arch, Wineries, Cycling Tour, Cala Figuera, Hot Air Balloon Ride, Colonia de San Pere, Cap de Pere Lighthouse, Montuiri, Soller Mountain, Sa Calobra.
The first video gives a short glimpse of Palma and the second is one couple's driving tour of the island.
Mallorca Transportation, Hotels, & Diving Services
Transportation
Air – Palma de Mallorca Airport (PMI) links to many European cities on a number of airlines daily, including many of the discount airlines.  Flights are also available to Ibiza and Menorca at about double the price of the ferries to those neighboring Balearic Islands.
Boat – There are ferries connecting Palma to the other Balearic Islands and a number of ports on the coast of continental Spain including Valencia and Barcelona. Alcudia in the east of Mallorca also connects by ferry to Menorca.
Bus transportation between major resort areas is relatively frequent, but many medium and long-distance destinations are only served once per week in the low season, and not at all on Sundays.  Schedules are available online.
Train – Inland rail transportation is available to limited areas including Puerto de Sóller, Manacor, Inca, Sa Pobla, and Sineu. Stations may not be close to town centers but shuttle buses are usually available.
Car rental is a great option especially for journeys inland and along the coast.  Rental is available as a walk-in at the airport but pre-booking online is much cheaper.
For additional details regarding the above transportation, rentals, scheduling, and other tourist matters, go to Wikivoyage-Mallorca.
Hotels and Diving
In Mallorca, there are more than 1,800 lodging options starting at $20 per night.  More than 30 dive shops are in operation, some located within or associated with hotels.  They offer a full range of services that include equipment rental, diving certification classes, dive guides, and boat tours.
The website linked below has the details and can arrange a booking for the lodging.  You can easily find the location on the map provided on their site.  The rates are guaranteed to be the lowest and it is free to cancel or change dates.
Photography in Mallorca
With the colorful coral reefs, a variety of fish, barracuda, macro critters, wrecks, and intriguing onshore targets, as well, there are many excellent photo opportunities.  For information and reviews of dive cameras, click here:
Scuba Diving Trip Insurance
A cushion for emergencies provides peace of mind when on vacation.  I recommend this diving insurance as they have worldwide coverage and give scuba divers quality insurance and medical assistance service.
Feedback and Comments
I hope you found this post on Mallorca scuba diving interesting and useful. If you have any questions or ideas, please feel free to share them in the comments section.  I'd love to know of any experience you have.  If there is no comments section directly below, click here:  >>comments<<