"Archi e Grotte" – Catania, Sicily (courtesy of TripAdvisor)
Updated June 15, 2021
This is the one hundred and twenty-third in a series of reviews of the best dive resort locations around the world.  In this post, the focus is on Sicily. In addition to this series on dive resort locations, the best worldwide liveaboard diving locations and services are reviewed in their own series.  To check them out, or others in this series, click on Liveaboards/Resorts on the menu at the top and choose a title from the list.
Have you been diving in Sicily before?  If so, I'd love to know about your experience.  What dive shop or liveaboard did you use?  Which dive spots are the best and what are the conditions there regarding the visibility, current, water temperature, sealife attractions, etc.?  Please post your response in the comments section at the bottom and we'll all learn something we can use.
Scuba Diving in Sicily
Background
Separated from the boot of Italy by the narrow Strait of Messina, Sicily, along with the minor islands around it, is an autonomous region of Italy with a population of over 5 million.
Settled by humans around 12,000 BC, it has a rich cultural heritage as demonstrated by the many artifacts and historical sites.
Hilly and largely deforested by man, with a Mediterranean climate, it is cultivated where possible and has diverse natural fauna on its 25,711 km2 (9,927 square miles).
There are a number of rivers and several active volcanoes including 3,329-meter (10,922-foot) Mount Etna.
The economy is mixed and diversified featuring industry, agriculture, service, and tourism sectors.
Today the people are bilingual speaking both Sicilian and Italian.
For more demographic, historical, and cultural information, check here:  Wikipedia – Sicily
Undersea World
There is a lot of good diving around the main island and at many of the surrounding islands, as well.
The diversified marine life includes hard and soft corals and large colorful gorgonians and sponges more like what you would expect in tropical areas.
The largely volcanic underwater terrain with black sand in places supports rich macro and fish life that includes a variety of nudibranchs and Spanish dancers, crabs, shrimps, lobster, octopus, scorpionfish, flying gurnards, conger, and moray eels poking their heads out of nooks and crannies, colorful Mediterranean parrotfish, wrasses, schools of anthias and sea breams, huge 1.2-meter groupers, amberjacks, and vast schools of barracuda.
In most areas, there are not a lot of large pelagics but if you can get to Lampedusa there are sharks, turtles, dolphins, and manta rays possible.
The undersea topography is a special feature of interest. Starting in the southeast, Catania has intriguing volcanic caves.  Moving up the coast to Taormina there is a Marine Protected Area, caves, and a Roman cargo vessel, the Wreck of Columns.  The Messina area has a number of shipwrecks.  On the Aeolian Islands off the northeast coast, the active volcano Stromboli has provided interesting walls and formations.  Moving toward Palermo to the northwest is San Vito Lo Capo with its caves and walls.
The island to the north from there, Ustica, also has interesting walls and formations with masses of fish and huge red gorgonians and colorful sponges. Those are just some of the highlight locations.
There are also interesting sites off the Aegadian Islands to the west, Pantelleria to the south, and in areas along the southern coast and south of Catania in the southeast to Syracuse and further on.
The visibility is great and conditions suitable for all levels.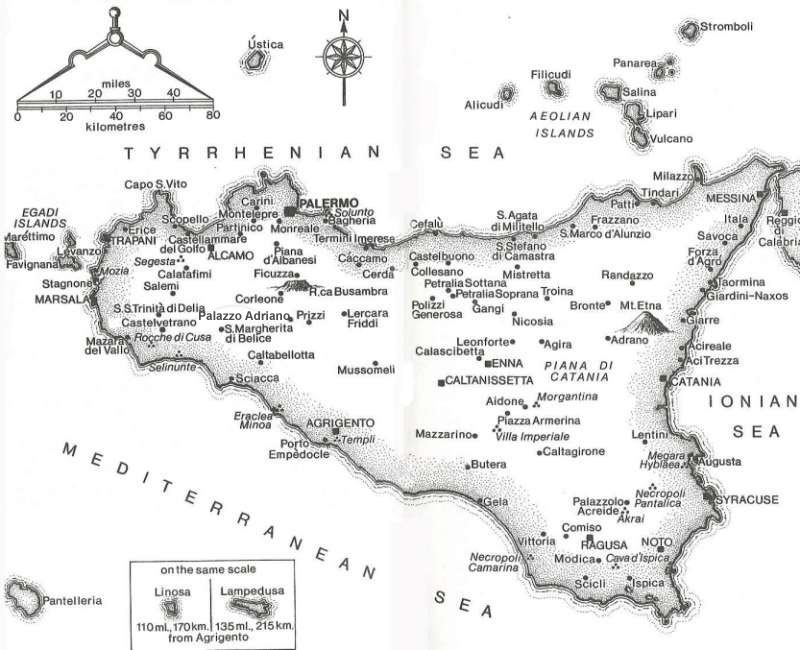 Seasons and Conditions
It is possible to dive all year in Sicily.
Air temperature average daily highs reach 26°C (79°F) in July and August, the warmest months and only get up to 12°C (54°F) in January and February, the coolest months.
The water temperature follows the seasons with a range of 15-26°C (59-79°F).  At the warmest, a 3mm wetsuit will likely be sufficient.  In winter a 7mm wetsuit with hood and gloves or drysuit may be suitable.
The dry season runs from May through August.
Currents are usually weak to non-existent.
Visibility is great in the 10-40 meter (35-130 foot) range.
There are sites suitable for all levels of diver.  Dozens of dive shops operate around Sicily, some in or associated with hotels, that offer a full range of diving coursework, equipment rental, guiding, and boat cruises.
For information about cold water gear, please check out my review:
Mediterranean Liveaboards
There are no major liveaboard yachts cruising Sicily but there are some others to Mediterranean sites: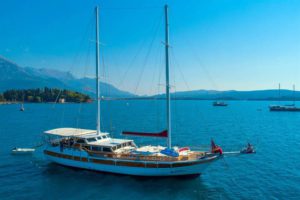 Sadri Usta, Montenegro Liveaboard Adventure Cruise – Check the Price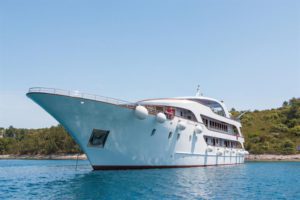 MV Futura, Croatia Liveaboard Adventure Cruise – Check the Price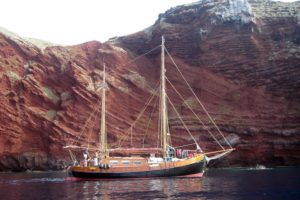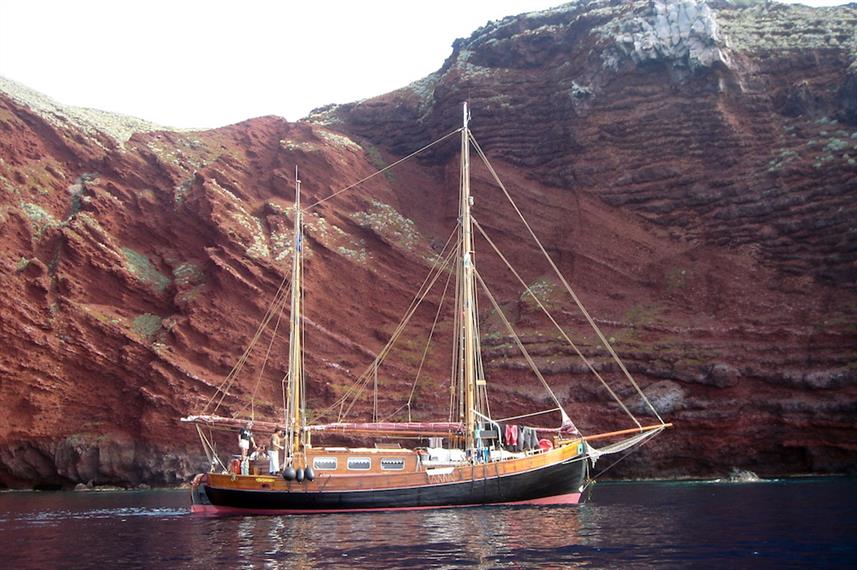 Norseman, Tuscan Archipelago Scuba Diving Liveaboard – Check the Price
For my reviews of other Mediterranean and Adriatic diving, please check out these posts:
Things to Do in Sicily (aside from scuba diving)
Sicily is such a large island with a huge number of historical sites, museums, theaters, and galleries, natural features like volcanoes, islands, and beaches, and fabulous cuisine and food culture, there are just too many things to list.  This video provides a nice glimpse of these to give you a feel for what is in store for you in Sicily.
Sicily Transportation, Hotels, & Diving Services
Transportation
Air – Sicily's main airports in Catania (CTA) and Palermo (PMO) both have domestic flights to many locations in Italy and many international flights, as well.  There are also airports in Trapani (TPS), Ragusa/Comiso (CIY), and two minor islands Pantelleria (PNL), and Lampedusa (LMP) that connect to Italy.
Train – Long-distance trains from Rome, Naples, and Milano cross the Straits of Messina by rail/ferry and continue to Palermo and Catania.  The train network in Sicily is cheap and good.
 Bus – Long-distance buses link Catania and Palermo with Rome and Naples.  The bus network in Sicily is cheap and extensive.
Taxis are available at airports, stations, and elsewhere for short-term and longer-term hires.
Car Rental is an option from a number of agencies.  There are four motorways and the main roads are good.
For further details on transportation and other tourist tips, please go to Wikitravel – Sicily
Hotels and Diving
There are thousands of lodging options in Sicily starting at $13 per night.  Dozens of dive shops are in operation, some within or associated with hotels, offering a full range of services that include equipment rental, diving certification classes, dive guides, and boat tours.
The website linked below has the details and can arrange a booking for the lodging.  You can easily find the location on the map provided on this site.  Their rates are guaranteed to be the lowest and it is free to cancel or change dates.
Photography in Sicily
With the colorful gorgonians, sponges, and coral, a variety of fish, macro critters, caves, grouper, wrecks, and scenic shoreside targets, as well, there are many excellent photo opportunities.  For information and reviews of dive cameras, click here:
Scuba Diving Trip Insurance
A cushion for emergencies provides peace of mind when on vacation.  I recommend this diving insurance as they have worldwide coverage and give scuba divers quality insurance and medical assistance service.
Feedback and Comments
I hope you found this post on Sicily scuba diving interesting and useful. If you have any questions or ideas, please feel free to share them in the comments section.  I'd love to know of any experience you have.  If there is no comments section directly below, click here:  >>comments<<