We may earn money or products from the companies mentioned in this post.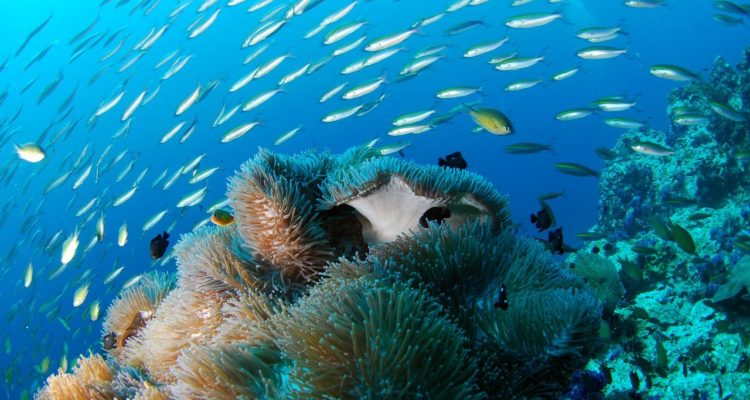 This is the one hundred and sixth in a series of reviews of the best dive resort locations around the world.  In this post, the focus is on Greece. In addition to this series on dive resort locations, the best worldwide liveaboard diving locations and services are reviewed in their own series.  To check them out, or others in this series, click on Liveaboards/Resorts on the menu at the top and choose a title from the list.
Have you ever been diving in Greece before?  If so, I'd love to know about your experience.  What dive shop or liveaboard did you use?  Which dive spots are the best and what are the conditions there regarding the visibility, current, water temperature, sealife attractions, etc.?  Please post your response in the comments section at the bottom and we'll all learn something we can use.
Scuba Diving Greece
Background – Situated on the southernmost tip of the Balkan Peninsula, Greece has the 11th longest coastline in the world with more than 1,200 islands, 227 of which are inhabited.  80% of the country is mountainous with valleys, olive orchards in the south, forests in the north, and many idyllic beaches that it is so famous for.  The birthplace of democracy and historic center of culture and knowledge today has a developed economy fueled by the service sector with 33 million tourists annually.  At least half the people can speak English with a substantial number speaking French, Italian, and German.  In the tourist industry, most can speak English.  For more demographic, historical, and cultural information on Greece, please go here:  Wikipedia – Greece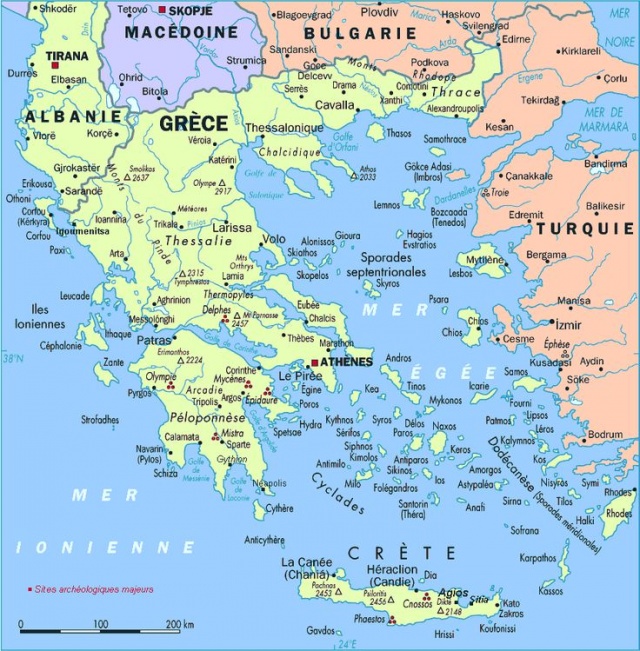 Undersea World – The waters around the 1,200 Greek Islands (some make that number much higher) are full of artifacts from the long and rich history of the culture.  Up until 2006, the Greek government was quivering in fear that scuba divers would pillage sites, and maybe rightfully so, so recreational scuba diving was banned.  The EU evidently took a look at the developing tourist attraction that is scuba diving and the Greek government started to allow it, with a no touch regulation for antiquities.  Now 23 years later there are at least 96 dive shops in operation in Greece reflecting the strong demand for diving that the EU foresaw.  Besides the intriguing archaeological relics, there is a remarkable undersea terrain of caves, caverns, and walls covered in a fairly rich Mediterranean reef of hard and soft coral, anemones, sponges, and plants.  Marine life attractions include glassfish, flying fish, grouper, bream, octopus, tube worms, lionfish, scorpion fish, moray eels, perch, and a variety of others including barracuda, monk seals, eagle rays, tuna, sharks, and loggerhead turtles.  There are also heaps of ancient and historical shipwrecks, to boot.   Many dives are from shore or only a short boat ride away.
Seasons and Conditions – It's possible to dive all year in Greece with the summer generally considered the best time for it.  Average air temperatures reach highs of 29°C (84°F) in July and August and low averages of 10°C (52°F) in January and February.  The water temperature ranges from 16-23°C (60-74°F) from winter to summer.  There will be some variation in the temperatures based on the specific location.  A 7mm wetsuit or drysuit with hood and gloves is appropriate when it is coldest and perhaps a 5mm wetsuit will do when the water is at its warmest.   Current is minimal and visibility is usually pretty good running from 6-50 meters (20-165 feet).  The summer is much drier, particularly from July through September. Most of the diving is not deep and there are sites suitable for all levels.  Shore access is often possible.  96 or more dive shops offer a full range of diving coursework, equipment rental, guiding and boat cruises.  This information does not apply to the Greek Island of Crete, which is discussed in another review you can access at a link down below in the list.
For information about cold water gear, please check out my review:
There are no major liveaboard yachts cruising Greece but there are some others to European sites: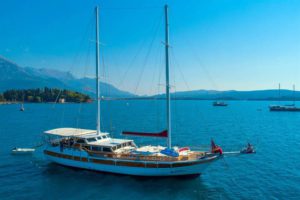 Sadri Usta, Montenegro Liveaboard Adventure Cruise – Check the Price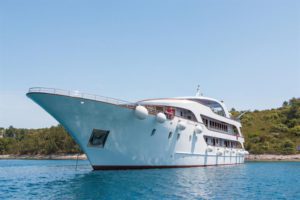 MV Futura, Croatia Liveaboard Adventure Cruise – Check the Price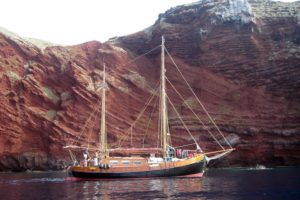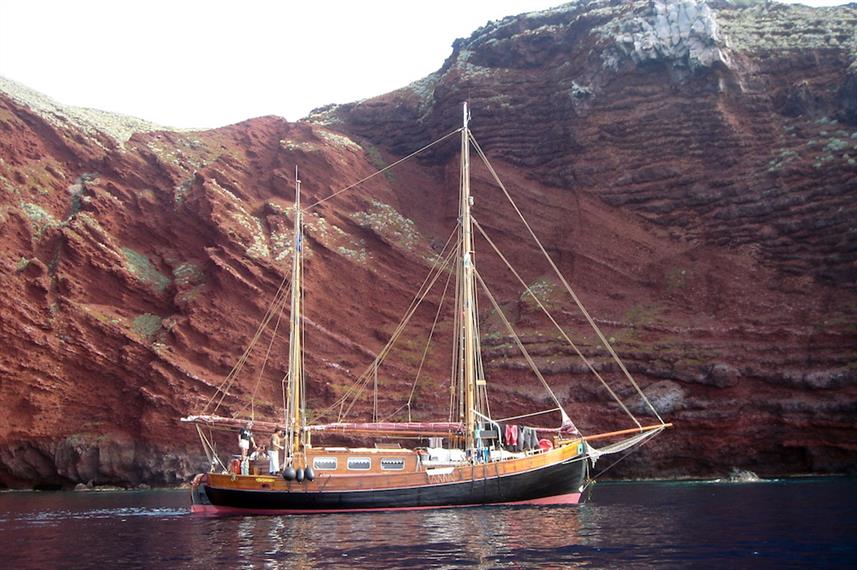 Norseman, Tuscan Archipelago Scuba Diving Liveaboard – Check the Price
For my reviews of other Mediterranean and Adriatic diving, please check out these posts:
Selected Greek Dive Sites
Akra Kanistro (Kassandra Peninsula): 40 meters (130 feet) maximum depth, rock formations with caverns and caves, rich marine life including corals and sponges, conger and moral eels, lobster, grouper, and on occasion tuna, experienced level
Andros Wreck (Loutraki port, Peloponnese): 22 meters (73 feet), Greek passenger ship sunk by German bombers in 1941, sandy bottom, easy penetration, visibility can be bad at times, all levels
Erika Cave (Porto Koufo Bay, Sithonia Peninsula): 12-35 meters (40-116 feet), a cave with a shallow entrance going deeper on penetration, cave residents include octopus, lobster, moray eels, and big grouper, all levels depending on how deep the penetration
Kalogria Reef (Sithonia Peninsula) 28 meters (93 feet) maximum depth, a small reef with rich marine life including shrimps, lobster, anemones, and grouper, all levels
Kellyfos Island (between Kassandra Peninsula and Sithonia Peninsula): several dive sites, rich corals, good macro life including moray and conger eels, scorpion fish, octopus, seahorses, and starfish, different levels depending on the site
Chios Island (in the Aegean Sea 7 kilometers (4.3 miles) from Turkey: several dives that include walls and caverns, rich coral reefs, a variety of marine life,  as several shallow wrecks, all levels depending on the site
Anna II Wreck (southeastern Mykonos Island): 25 meters (82 feet): 62-meter (203-foot) cargo ship sunk in 1995, mostly intact, easily accessible, lots of sponges and marine life, experienced level
Queen Olga Wreck (Lakki port, Leros Island): 32 meters (108 feet), WWII destroyer sunk by German fighter planes in 1943, the Captain and 72 crew members were killed, holes in the funnels from the attack can be seen, no penetration possible, visibility can be poor, experienced level
Perseus Submarine Wreck (Cephalonia, Ionian Islands): 52 meters (170 feet) maximum depth, sunk by an Italian landmine while on the surface in 1941, 60 crew members killed, only 1 survivor, periscope bases at 38 meters (126 feet), well preserved, bow, torpedoes, propellers, compasses, and controls are intact, advanced and technical levels
Kyra Eleni Wreck (southern Patroklos Island): 17-32 meters (58-105 feet), 99-meter (330-foot) freighter sunk in bad weather in 1978, cut in half, no crew lost, rich marine life with lots of fish on the interior, limited penetration, sandy bottom, visibility is usually good, all levels
Things to Do in Greece (aside from scuba diving)
Greece is one of Europe's top travel destinations with its stunning landscapes, ancient ruins, and other historic sites, along with beautiful beaches, unique and tasty cuisine, and rich culture.  There is a myriad of interesting places to visit.  This video introduces a few to consider.
Air – Elefthérios Venizélos International Airport in Athens is the busiest of 15 international airports in the country.  Other airports with a lot of traffic are in Heraklion, Thessaloniki, Chania, and Rhodes.  There is also extensive domestic air service, as well
Ferries – Ferry service to and around the many islands is part of a broad network.  Availability depends on the season.
Buses – Intercity buses are popular and there is a major nationwide network of routes.
Taxis are numerous in the major cities.  Drivers are known to be rude and often refuse service if they don't like the destination.
Cars are a convenient means of transport in Greece.  Rental agencies are present around the country with more in the major cities.
For more complete details of tourist information, please go here:  Wikitravel – Greece
Hotels and Diving – There are thousands of hotel and lodging options of all levels in Greece starting at around $11 per night.  At last count, there are 96 dive shops around the country.  Some of them are situated in or affiliated with hotels and offer a range of services including equipment rental, diving certification classes, dive guides, and boat tours.  The website linked below has the details and can arrange the booking.  You can easily find the location on the map provided on this site.  Their rates are guaranteed to be the lowest and it is free to cancel or change dates.
Photography in Greece
With the beautiful reefs, a variety of fish, wrecks, and macro critters, and scenic shoreside targets, as well, there are many excellent photo opportunities.  For information and reviews of dive cameras, click here:
A cushion for emergencies provides peace of mind when on vacation.  I recommend this diving insurance as they have worldwide coverage and provide scuba divers a quality insurance and medical assistance service.
Feedback and Comments
I hope you found this post on Greek scuba diving interesting and useful. If you have any questions or ideas, please feel free to share them in the comments section.  I'd love to know of any experience you have.  If there is no comments section directly below, click here:  >>comments<<