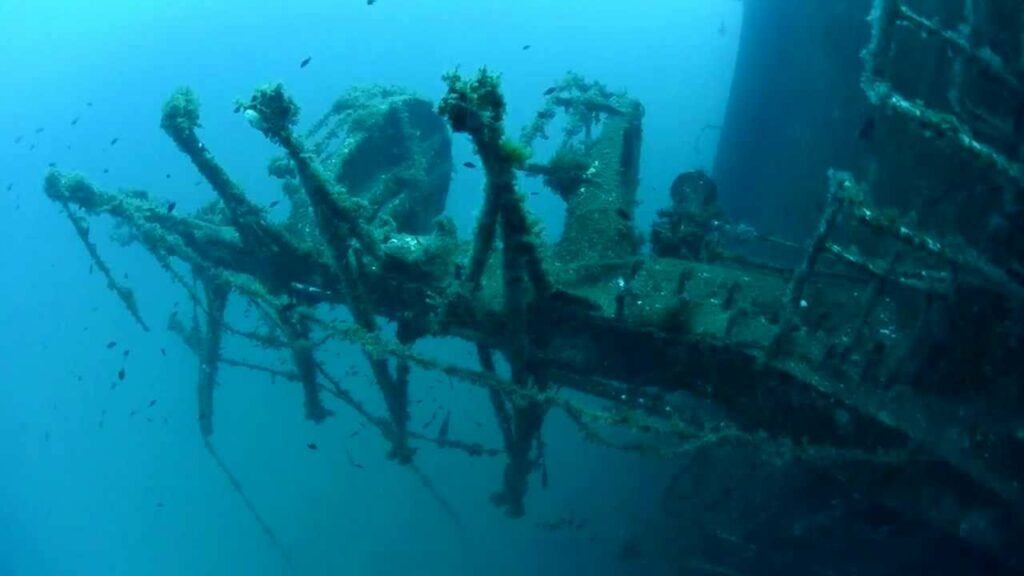 Updated June 7, 2021
This is the one hundred and forty-first in a series of reviews of the best dive resort locations around the world.  In this post, the focus is on Ibiza, Spain.  In addition to this series on dive resort locations, the best worldwide liveaboard diving locations and services are reviewed in their own series.  To check them out, or others in this series, click on Liveaboards/Resorts on the menu at the top and choose a title from the list.
Have you been diving in Ibiza before?  If so, I'd love to know about your experience.  What dive shop or liveaboard did you use?  Which dive spots are the best and what are the conditions there regarding the visibility, current, water temperature, sealife attractions, etc.?  Please post your response in the comments section at the bottom and we'll all learn something we can use.
Ibiza Scuba Diving Spain
Background
Situated 150 kilometers (93 miles) from Valencia, Spain, Ibiza is the 3rd largest of the Balearic Islands, an autonomous community of Spain.
With an area of 571.6 km2 (220.7 square miles) and a population of 144,000, Ibiza is famous for nightlife, electronic dance music, and the summer club scene.  The party lifestyle theme notwithstanding, cultural and historical influences are still strong.  In order to protect them in part, Ibiza and nearby Formentera Islands have been designated a UNESCO World Heritage Site and protected from many aspects of development and commercialization.
Commonly visiting ex-pats include Germans, British, Latin Americans, French, Italians, and Dutch with their languages commonly used around Ibiza.  The two official languages are Spanish and Eivissenc, a Catalan dialect.
Undersea World
In the seas around Ibiza, the water is clean and clear and there is a variety of seascapes on the 30-40 nearby dive sites.
In the well-lit shallows, the white sand is covered with massive meadows of long Neptune grass that has been in place for many generations.  Moving deeper there is a fantastic array of canyons, caves, swim-throughs, and several interesting wrecks.  The reef includes areas of grasses and other plants and a coral reef of colorful hard and soft corals, and gorgonians.  Nooks and crannies provide habitat for macro critters like nudibranchs, lobsters, shrimps, octopus, and moray and conger eels. Other highlights are chromis, wrasses, bream, perch, groupers, big schools of amberjacks, and massive shoals of barracuda.
Seasons and Conditions
Diving is possible all year in Ibiza.  The best time to dive is from May to November when the water is warmer.
Air temperature average daily highs reach 30°C (86°F) in July and August and dip to 16°C (61°F) in January and February.
The range for water temperature is 14-27°C (57-81°F) with highs in August and lows in January and February.  During the summer months, a 3-5mm wetsuit will be enough thermal protection for most.  When the water is at its coolest, a drysuit with hood and gloves is your best bet.
Currents are generally mild.
Ibiza has a relatively dry climate with the wettest times from September through December with more than 52 mm (2 inches) of rain per month.
Visibility is usually in the 20-30 meter (66-100 foot) range.
There are sites suitable for all levels of diver from beginner to advanced levels.  More than 30 dive shops are available that can provide a full range of diving coursework, equipment rental, guiding, and boat cruises.
For information about cold water gear, please check out my review:
Mediterranean Liveaboards
There are no major liveaboard yachts cruising Ibiza but there are to some other Mediterranean sites: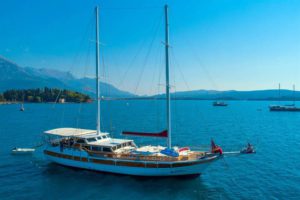 Sadri Usta, Montenegro Liveaboard Adventure Cruise – Check the Price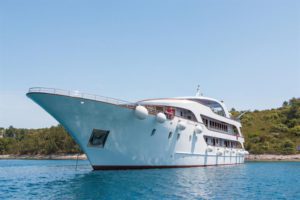 MV Futura, Croatia Liveaboard Adventure Cruise – Check the Price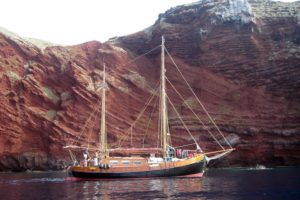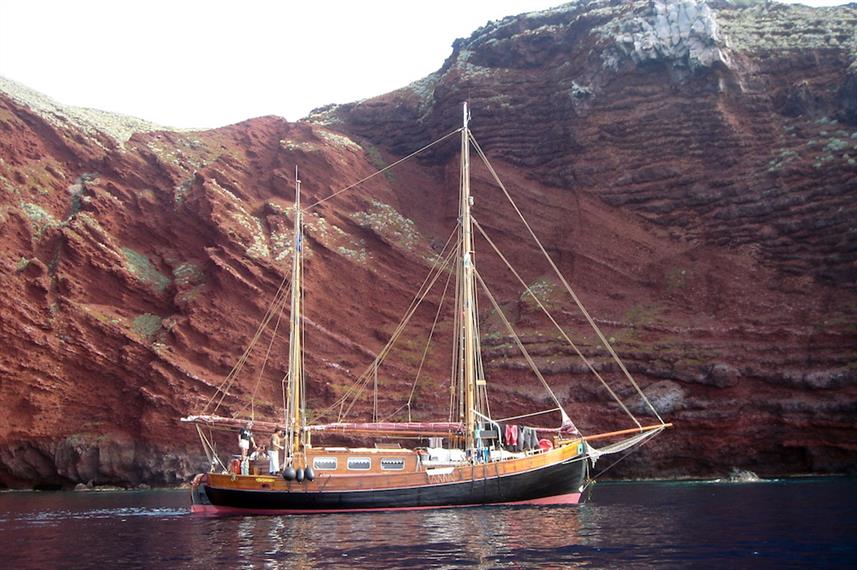 Norseman, Tuscan Archipelago Scuba Diving Liveaboard – Check the Price
For my reviews of other regional diving destinations, please check out these posts:
Selected Ibiza Dive Sites
La Mariana (the Platform): 11-33 meters (36-108 feet), hexagonal structure of reinforced concrete originally used as a floating fish farm for breeding gilt-head seabream, abandoned and then finally sank in a storm  to become an artificial reef in 1996, rich in marine life including huge schools of unafraid barracuda, amberjacks, groupers, lobsters, moray and conger eels, and scorpionfish, suitable for experienced level divers (check the video at the top)
Don Pedro Wreck: 26-47 meters (85-154 feet), 142-meter (466-foot) cargo vessel sank after smashing into a shoal off of Dado Pequeno, a small islet, no penetration is allowed but there is much to explore like the wheelhouse, propellers, and a bicycle on the bottom in a bed of plants, look for nudibranchs, scorpionfish, schools of small bogues, barracuda, and amberjacks, thermoclines are possible, so plan your thermal protection accordingly, suitable for advanced and technical divers (check the video below)
Dado Pequeño: 35 meters (115 feet), starts shallow on a rocky area with lots of small fish including rainbow wrasses and damselfish, sponges, and yellow anemones, then a wall with marine life like scorpionfish, white breams and toothed breams, brown meagres, moray eels, groupers, and big schools of salemas, suitable for experienced level divers (check the video below)
The Lighthouse: 24 meters (80 feet) maximum depth, a sunken beacon that starts with a platform at 2 meters (6 feet) that continues down to 12 meters (40 feet), interesting rocky terrain continues to 24 meters (80 feet), lots of marine life including chromis, octopus, lobsters, and moray eels in the nooks, and big barracuda, suitable for all levels of diver
El Arco: 18 meters (60 feet), two stone arches, the first at 14 meters (46 feet), encrusted with sponges, sea squirts, and invertebrates, look for salemas, two banded sea breams, striped mullets, brown meagres, groupers, and octopus, descending there are large boulders and a smaller arch, suitable for all levels of diver
Lladó Sur: 40 meters (130 feet) maximum depth, small islet to the northeast, with a rock platform at 12-15 meters (40-50 feet) on the north side, a slope to 20 meters (66 feet) on the west side, and a slope on the south side extending to 37 meters (121 feet), lots of big rocks around the island providing habitat for macro critters, look for massive shoals of salemas and barracudas, sandy base below the rocks, suitable for experienced level and technical divers
Malvin Norte: 32 meters (105 feet) maximum depth, islet to the west of Ibiza, broad Neptune grass bed on the north side with schools of white breams, salemas, and amberjacks, a rocky area at 10-15 meters (35-50 feet), and a rocky plateau at 32 meters (105 feet) on the south side, look for moray eels, scorpionfish, striped groupers, and octopus in the nooks, the north side is good for beginners and night dives, the rest is suitable for experienced level divers
Es Vedrá – La Bota: 45 meters (147 feet) maximum depth, rocky shoal not reaching the surface to the west of Es Vedrá Island, strong current is possible, marine life includes brittle-stars, starfish, sea hares, moray eels, groupers, scorpionfish, amberjacks, tuna, bream, and barracuda, suitable for experienced level divers
Cuevas de Punta Rasa: 12 meters (40 feet), located on Formentera Island, two caves, the first has an opening at 12 meters (40 feet) and two large air chambers, look for striped cave prawns in the light of your torch, the second cave is a few meters north, also has an air chamber, and is lit by natural light, the rocky area inside provides habitat for a school of brown meagres, suitable for all levels of diver
Things to Do in Ibiza (aside from scuba diving)
Ibiza has long been a tourist destination for its cultural and natural assets and reputation as a place for someone looking for a bohemian, cosmopolitan, or party lifestyle.  There are loads of places to see and things to do including this list:  Dalt Vila UNESCO Site, Lio Dinner Show, Ibiza Cathedral, Rent a Scooter, Playa d'en Bossa, Ride a Banana Boat, San Antonio (sunset), Can Marca Caves, Talamanca, Go Topless on a Beach, Santa Eulalia, El Vedra, Cala Comte, Surf Lounge, Island of Es Vedra, Ibiza Old Town, Spas, Kayaking, Surfing, Hippy Market, Sobrosada (a sausage), Yoga on the Beach, Aquarium Cap Blanc, Paella, Horseback Riding, Cliff Jumping at Cala Tarida, Formentera, Hike up Sa Talaia.
This video gives a brief introduction.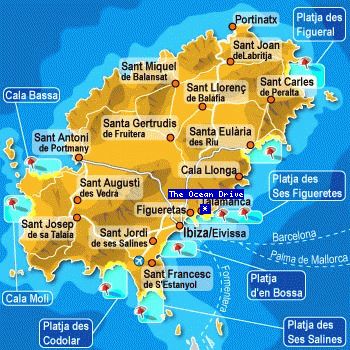 Ibiza Transportation, Hotels, & Diving Services
Transportation
Air – Ibiza Airport (IBZ) is served by more than 15 airlines on flights from Europe with more during the summer tourist season.   Bus lines are available at the airport for trips to the major settlements on the island.  Regulated taxis are located in the airport taxi rank.
Boats are available connecting to Denia, Alicante, Barcelona, Valencia, Palma de Mallorca, and Formentera.
Buses – Regular routes connect destinations around the island.
Taxis – Service is available for trips around the island.
Car Rental – Several agencies are in competition so rates are reasonable and you only need to show your license.  Local drivers are reputed to be dangerous.
Boats – Boat charters and yacht rentals are a possibility, and there are scheduled boat trips to nearby Formentera.
Jet Skis can be hired to zip around and for crossings to Es Vedra Island.
Walking is enough to get from place to place within the small cities.
For additional details regarding the above transportation, rentals, scheduling, and other tourist matters, go to Wikitravel-Ibiza.
Hotels and Diving
In Ibiza, there are more than 500 lodging options starting at $23 per night.  Several dozen dive shops are in operation, some located within or associated with hotels.  They offer a full range of services that include equipment rental, diving certification classes, dive guides, and boat tours.
The website linked below has the details and can arrange a booking for the lodging.  You can easily find the location on the map provided on their site.  The rates are guaranteed to be the lowest and it is free to cancel or change dates.
Photography in Ibiza
With the colorful coral reefs, a variety of fish, barracuda, macro critters, wrecks, and intriguing onshore targets, as well, there are many excellent photo opportunities.  For information and reviews of dive cameras, click here:
Scuba Diving Trip Insurance
A cushion for emergencies provides peace of mind when on vacation.  I recommend this diving insurance as they have worldwide coverage and give scuba divers quality insurance and medical assistance service.
Feedback and Comments
I hope you found this post on Ibiza scuba diving interesting and useful. If you have any questions or ideas, please feel free to share them in the comments section.  I'd love to know of any experience you have.  If there is no comments section directly below, click here:  >>comments<<