We may earn money or products from the companies mentioned in this post.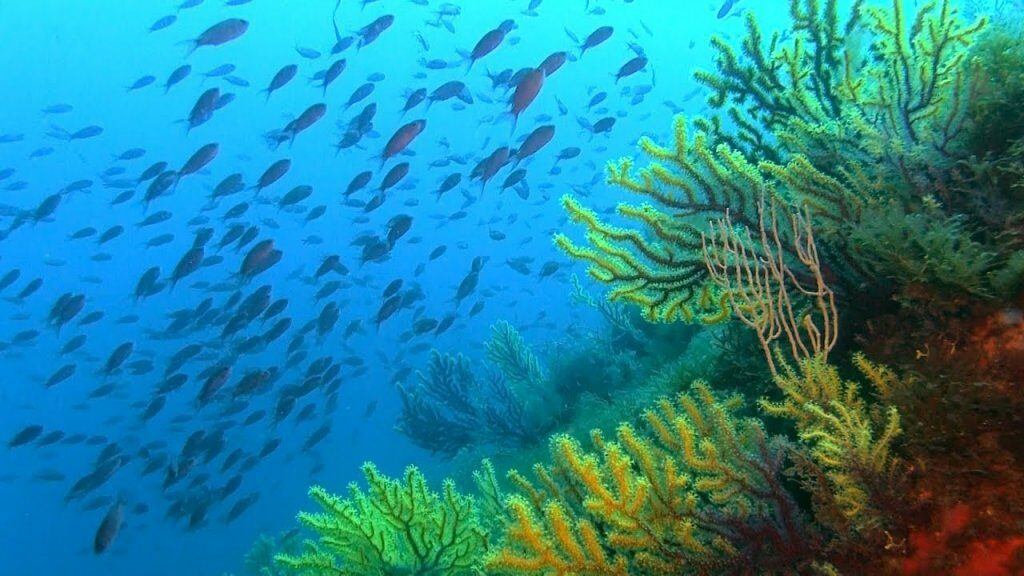 This is the one hundred and forty-forth in a series of reviews of the best dive resort locations around the world.  In this post, the focus is on Costa Brava, Spain.  In addition to this series on dive resort locations, the best worldwide liveaboard diving locations and services are reviewed in their own series.  To check them out, or others in this series, click on Liveaboards/Resorts on the menu at the top and choose a title from the list.
Have you been diving in Costa Brava before?  If so, I'd love to know about your experience.  What dive shop or liveaboard did you use?  Which dive spots are the best and what are the conditions there regarding the visibility, current, water temperature, sealife attractions, etc.?  Please post your response in the comments section at the bottom and we'll all learn something we can use.
Costa Brava Scuba Diving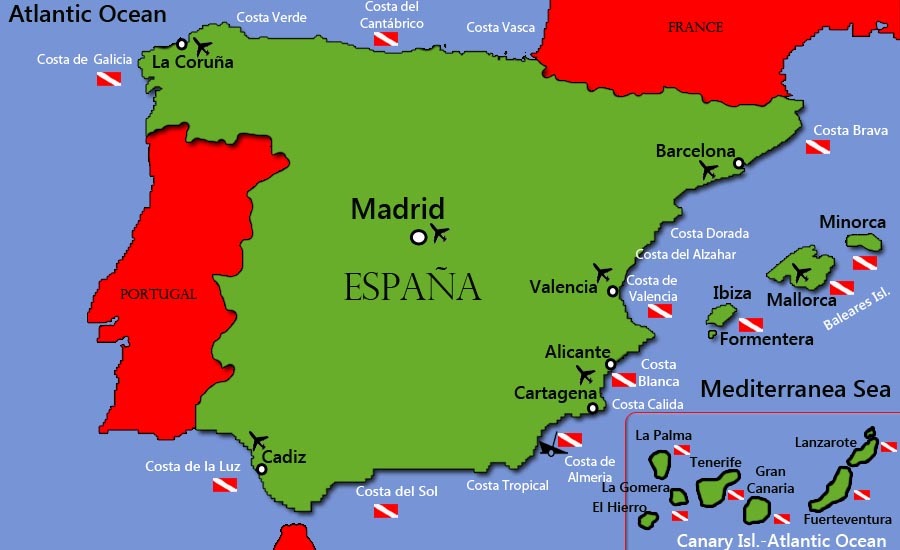 Background – Costa Brava, which translates as wild or rugged coast, is in the Spanish province of Catalonia running from the town of Blanes, 60 kilometers (37.5 miles) northeast of Barcelona, to the French border.  With its rocky cliffs and beautiful sand and pebble beaches, the Spanish government and local entrepreneurs identified the area for tourism development in the 1950s as Spain's isolation was dissipating.  The coastal zone is now the beneficiary of large-scale tourism, while inland the small towns and countryside have retained a more traditional culture and look.  Even along the coastline, there are different styles and levels.  Tossa de Mar is still a fishing town with more basic food, lodging, and entertainment options, while Lloret de Mar has its casinos, party atmosphere, and more luxurious hotels, and the southernmost coastal town of Blanes is known for its biological gardens.  Inland is Girona, the major city in Cost Brava, with a population of 100,000 and the regional airport.  People speak Catalan, the official language, and Spanish.  English is widely used with many also speaking French, and a few less German.
Undersea World – The rugged coastline of protected coves, beaches, and stony cliffs weaves intricately along the edge of Catalonia for a distance of 214 kilometers (134 miles).  This picturesque onshore topography gives way to a variety in subsea terrain with steep drop-offs, caves, tunnels, coral mazes, wrecks, and sheltered coves to explore up and down the length of Costa Brava.   600 types of fauna inhabit the area.  The reef includes grassy meadows, algae, multicolored gorgonians, red coral, sponges and macro critters like sea stars, nudibranchs, sea hares, moray and conger eels, octopus, cuttlefish, lobster, tubeworms, and fan mussels.  Other marine life to keep an eye out for is abundant with schools of sardines, cardinalfish, John Dories, wrasses, bream, red mullet, sea bass, groupers, sharks, turtles, schools of barracuda, eagle rays, the occasional Mola Mola (ocean sunfish), pelagics like tuna, and dolphins.  Most of the sites are within the recreational limits with the possibility of strong currents in some locations to add to the excitement.
Seasons and Conditions – Diving is possible all year in Costa Brava.  The best time is from May to September when the water is warmer.
Air temperature average daily highs reach 30°C (86°F) in July and dip to 13°C (55°F) in December.
The range for water temperature is 13-26°C (57-79°F) with highs in July and lows in December.  During the summer months, a 3-5mm wetsuit will be enough thermal protection for most.  When the water is at its coolest, a drysuit with hood and gloves is your best bet.
Currents are generally mild but strong at times in some locations.
Costa Brava has a relatively dry climate with two wetter seasons.  In October and November monthly rainfall is more than 80mm (3.15 inches).  The secondary wetter period is April-June with more than 60mm (2.36 inches) per month.
Visibility is usually in the 10-30 meter (33-100 foot) range.
There are sites suitable for all levels of diver from beginner to advanced and technical levels.  34 dive shops are available that can provide a full range of diving coursework, equipment rental, guiding, and boat cruises.
For information about cold water gear, please check out my review:
There are no major liveaboard yachts cruising Menorca but there are to some other Mediterranean sites: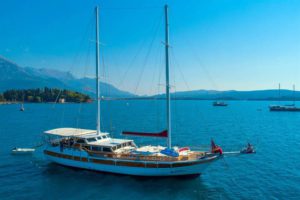 Sadri Usta, Montenegro Liveaboard Adventure Cruise – Check the Price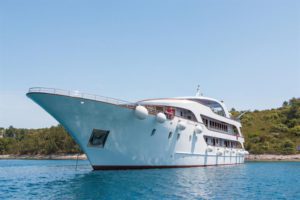 MV Futura, Croatia Liveaboard Adventure Cruise – Check the Price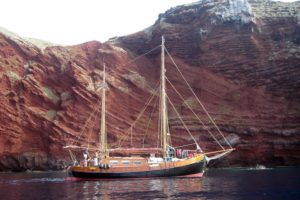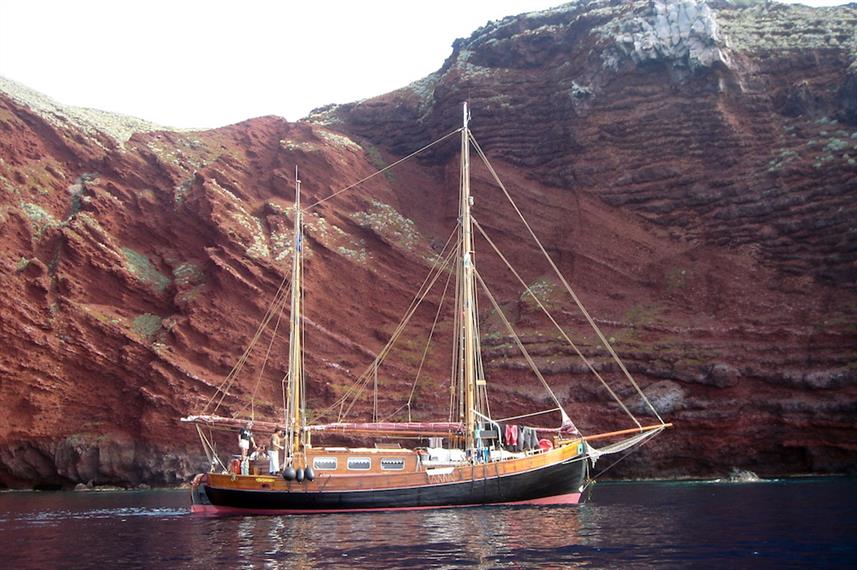 Norseman, Tuscan Archipelago Scuba Diving Liveaboard – Check the Price
For my reviews of other regional diving destinations, please check out these posts: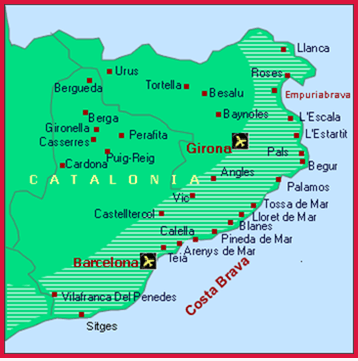 Selected Costa Brava Scuba Diving
Cap de Creus: near Cadaques and the easternmost point, largest Costa Brava marine reserve opened in 1998, multiple sites with beautiful reefs, rocky terrain covered in red, purple, and yellow gorgonians, numerous caves and caverns, marine life includes nudibranchs, and large numbers of fish like groupers, dentists, and barracuda, possibility of whales, suitable for all levels of diver
Coves de Cala Viuda: 7-24 meters (23-80 feet), between the Medes Islands (near L'Estartit) and L'Escala, caves with an intricate series of passages and air chambers, walls have colorful sea fans and red corals, look for scorpionfish in the nooks and crannies,  suitable for experienced level divers
The Medes Islands: 7 small islands a mile from L'Estartit, former hideout of pirates, vacant since 1934, a protected marine reserve since the 1980s, pristine sites including the 115-meter (377-foot) Reggio Messina, a train transporter scuttled in 1991 to become an artificial reef, at 28-35 meters (92-115 feet), dives around the Medes Islands are suitable for all levels of diver
Furió Fitó: 12-60 meters (40-197 feet), just north of Begur, rocky formations starting at 15 meters (50 feet), big wall on the north side with huge gorgonians, and multicolored corals, look for octopus, groupers, snappers, stingrays, and Mola Mola (ocean sunfish), suitable for all levels of diver depending on the depth
Ullastres: 8-53 meters (25-174 feet), a 20-minute boat ride from Palamos, 3 pinnacles peaking at 8 meters (25 feet), big yellow gorgonians, look for nudibranchs in the nooks and crannies, shoals of sardines often chased by schooling barracudas and jacks, strong current possible, suitable for advanced level divers
Formigues Islands: 30 meters (100 feet), 5 kilometers (3,125 miles) north of Palamos, 16 uninhabited islands, lots of subsea valleys and several large canyons, interesting macro life in the nooks like octopus and seahorses, suitable for snorkelers and all levels of diver
Boreas Wreck: 32 meters (105 feet), 5-minute boat ride from Palamos, 40-meter (130-foot) German WWII tugboat, later served as a private drug runner, seized and sunk to become an artificial reef in 1989, schools of bream around the top deck, lobsters and conger eels in the nooks, interesting penetration possibilities into the engine room, large chambers,  and corridors, suitable for experienced level divers
Coves de Sant Feliu: 30 meters (100 feet), near the bay of Sant Feliu in the south, three caves off a canyon, wide penetration area big enough for several divers extending to 18-21 meters (60-70 feet) in length, occasional filefish, in April and May possibility of Mola Mola outside, suitable for experienced level divers
Things to Do in Costa Brava (aside from scuba diving)
From Costa Brava's long coastline to the interior, it is rich in cultural, historical, and natural assets to enjoy.  Here is a shortlist of some of the highlight sites and activities to check out:  Girona, Gulf of Roses, Villa Vella, Tossa De Mar, Salvador Dalí Theatre-Museum, Castillo de Perelada, Lloret de Mar, Empúries, Cap de Creus, El Celler de Can Roca, Vichy Catalan – Caldes de Malavella, Kayaking, Creu d'en Cobertella, Club de Golf Costa Brava, La Garrotxa, Medieval Villages, Coastal Path, Bike Tour, Wineries, Food Tour, Art Galleries, Gala's Castle in Pubol, Colorful Architecture, Pottery Workshop, Snorkeling, Megalithic Remains.
This video provides a glimpse into what Costa Brava has to offer a tourist.
Air – The main airport in Costa Brava is the Girona-Costa Brava Airport.  Ryanair flies there from several European airports and Morocco all year.  Several other airlines fly there seasonally.  From the airport there are shuttles to the majority of resort cities.
Bus – Regular service runs between the towns.
Car Rental is the most convenient option for touring and exploration of the coastal cities.
For additional tourist details, go to Wikivoyage-Costa Brava.
Hotels and Diving – In Costa Brava there are thousands of lodging options starting at $22 per night.  34 dive shops are in operation, some located within or associated with hotels.  They offer a full range of services that include equipment rental, diving certification classes, dive guides, and boat tours.  The website linked below has the details and can arrange a booking for the lodging.  You can easily find the location on the map provided on their site.  The rates are guaranteed to be the lowest and it is free to cancel or change dates.
Photography in Costa Brava
With the colorful coral reefs, a variety of fish, barracuda, macro critters, Mola Mola, eagle rays, wrecks, caves, and intriguing onshore targets, as well, there are many excellent photo opportunities.  For information and reviews of dive cameras, click here:
A cushion for emergencies provides peace of mind when on vacation.  I recommend this diving insurance as they have worldwide coverage and give scuba divers a quality insurance and medical assistance service.
Feedback and Comments
I hope you found this post on Costa Brava scuba diving interesting and useful. If you have any questions or ideas, please feel free to share them in the comments section.  I'd love to know of any experience you have.  If there is no comments section directly below, click here:  >>comments<<