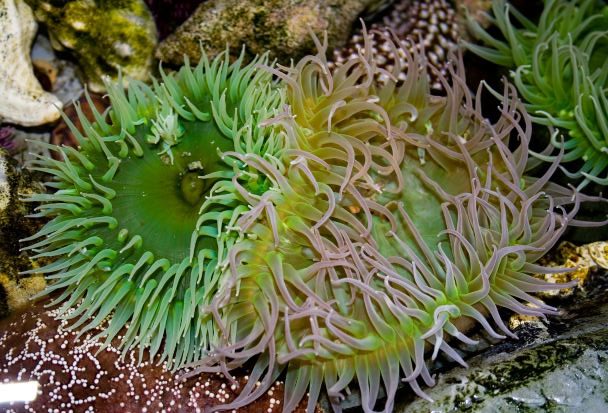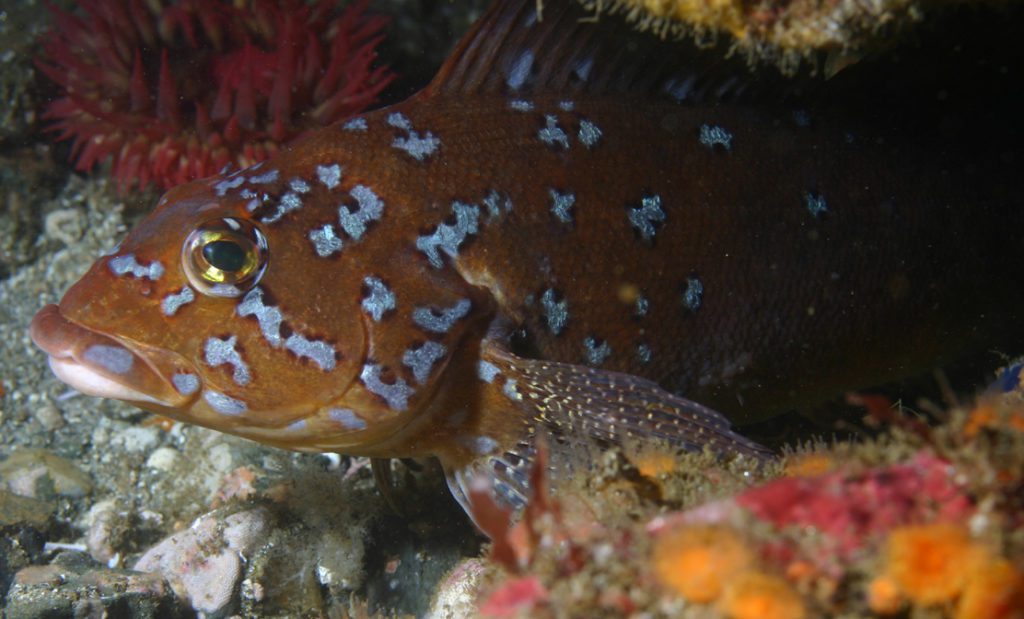 Updated June 15, 2021
This is the thirty-first in a series of reviews of the best dive resort locations around the world.  In this post, the focus is the San Juan Islands in the U.S. state of Washington.
In addition to this series on dive resort locations, the best worldwide liveaboard dive locations and services are reviewed in their own series.  To check them out, or others in this series, click on Liveaboards / Resorts on the menu at the top and choose a title from the list.
Have you ever been diving on the San Juan Islands before?  If so, I'd love to know about your experience.  What dive shop or liveaboard did you use?  Which dive spots are the best and what are the conditions there regarding the visibility, current, water temperature, sealife attractions, etc.?  Please post your response in the comments section at the bottom and we'll all learn something we can use.
Scuba Diving San Juan Islands Washington
Location
Situated between the Pacific Northwest (USA) and Vancouver Island (Canada) are the picturesque and serene San Juan Islands.  The archipelago is made up of 172 named islands with a population of 17,000 mostly living on the 4 largest, San Juan, Orcas, Lopez, and Shaw Islands, where the majority of accommodations, services, and activities are located.
Undersea World
The underwater terrain is made up of volcanic and sedimentary materials with a lot of variety in topography.  Large boulders, steep walls, pinnacles, caves, rocks, and ledges are there to explore.
Some areas have a substantial amount of kelp or eelgrass and there are a few man-made areas of interest like pilings and artificial reefs.
The wildlife is equally diverse.  Invertebrate life is rich and includes encrusting corals, hydroids, sponges, barnacles, plumose anemones, sea cucumbers, tube worms, scallops, snails, urchins, shrimp, king crabs, nudibranchs, octopus, squid, and many others displaying in a particularly colorful way.  Lingcod, sea bass, many varieties of rockfish, wolf eels, and greenlings reside near the seabed with sea lions, dolphins, orcas, Dahl's porpoises, and grey whales often appearing from above.
For my reviews of other Pacific Northwest scuba diving areas, please check out these posts:
For more information about Pacific Northwest marine life, please check out my book review:
Seasons and Conditions
The region's reputation for rain, drizzle, fog, and cloudiness is deserved making an umbrella useful to have on hand.
There are basically two seasons with temperatures moderate year-round.  Summer temperatures reach highs of 79°F (26°C) and lows in winter don't often go below 46°F (8°C).
Water temperatures have a range of 43-56°F (6-13°C).  Most divers are comfortable in a dry suit and heavy hood.
There is frequently a lot of plankton that nurtures the wildlife but can affect the visibility, which is usually 15 feet (5 meters) or better but can be as good as 80-100 feet (24-30 meters).
For my reviews and information about cold water gear please click on the following post: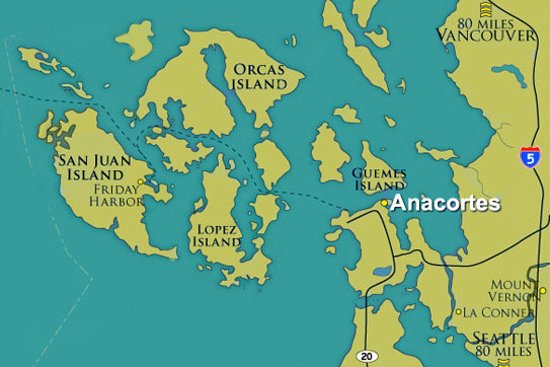 Selected San Juan Islands Scuba Dive Sites
There are dozens of dive sites that are explored regularly and conditions, underwater terrain, and wildlife are well known.  In such a large area, there are also many locations where there are some gaps in knowledge.  Some sites are prone to strong currents and care needs to be taken to enter at the best time related to tidal flow.  An experienced dive guide is quite valuable and helps ensure safety.  Below is a very small sample of what sites are available for different levels of skill.
Keystone Jetty: shallow, very rich invertebrate site, plumose anemones, octopus, lingcod, kelp greenlings, marine preserve, all levels
Smallpox Bay: sandy bottom to 20 feet (6 meters), with purple starfish, orange sea cucumbers, pink anemones, bull kelp starts just outside the bay, boulders start at 20 feet (6 meters), ledges and caves at 50 feet (15 meters), shrimp, lingcod, swimming scallops, all levels
Sucia Island: rocky walls, boulders, ledges, kelp forests, large schools of rockfish, lingcod, kelp greenling, several varieties of nudibranchs, scallops, starfish, all levels
Turn Island (near San Juan Island): 30 feet (9 meters) near shore with boulders, shelves, brown and bull kelp, descending to 70 feet (21 meters), orange sea cucumbers, Christmas anemones, red urchins, moon jellyfish, lingcod, experienced level
Reuben Tarte Park: white rocky wall close to shore, crevices to a shelf at 35 feet (10 meters), sloping to 60 feet (18 meters), kelp forest, blue starfish, red urchins, giant barnacles, big sea cucumbers, white sponges, yellow striped sea perch, Puget Sound king crabs, Irish lords, lots of small fish, experienced level
Lime Kiln Point: to 100 feet (30 meters), kelp forest, wall, mauve algae, dense invertebrate life, abalones, red urchins, giant barnacles, swimming scallops, giant octopus, rockfish, strong current, advanced level
Turn Point Wall (NW tip of Stuart Island): steep wall to 300 feet (90 meters) at the point, shelf at 60 feet (18 meters), current possible, safest on slack tide, very rich invertebrate life with plumose anemones, colonial sea squirts, nudibranchs, yellow bryozoa, rock scallops, Puget Sound king crabs, Irish lads, decorated warbonnets, longfin sculpins, several varieties of rockfish, advanced level
San Juan Islands Resorts
Getting There
There are several return ferries daily from Anacortes to Friday Harbor that take a little over an hour.  Many ferries run from other locations around Puget Sound to Anacortes and the San Juan Islands.
Anacortes is about 80 miles from both Vancouver, B.C., and Seattle, by the highway.
Diving
There are 3 dive shops in the San Juan Islands area providing diving services and charters:
Island Dive And Water Sports – Friday Harbor
Nak Nek Charters & Diving – Friday Harbor
Anacortes Diving & Supply – Anacortes
For diving operations to the south, these shops  can organize diving charters to the San Juan Islands:
Washington Divers – Bellingham
Gone Diving – Bellingham
Whidbey Island Dive Center – Oak Harbor
Top To Bottom Inc – Bellingham
Scuba Supplies – Port Angeles
Housing
There are a few dozen hotels available in Anacortes and Friday Harbor starting at $40/night.  This website can introduce them and arrange a booking:
San Juan Islands Things To Do (aside from scuba diving)
Visitors can take advantage of the natural assets by visiting the forests, pastures, beaches, and the 2,400 foot (727-meter) Mt. Constitution.  Wildlife includes foxes, deer, swans, ducks, hawks, and eagles with grey whales, porpoises, dolphins, and orcas at sea.  Perhaps boating, kayaking, fishing, biking, beachcombing, or a trip to an alpaca farm or lighthouse suits your fancy.
In the quaint small towns are shops, museums, spas, yoga, and restaurants, ranging from fine dining to brewpubs.  If you are on Orcas Island in October, there is the Doe Bay Festival.  There's quite a lot to do in such an idyllic and relaxing setting.
San Juan Islands Photos
With the dozens of dive sites, macro life, colorful, diverse reef life, lots of fish, and scenic shore-side environment, there are many excellent photo opportunities.  For information and reviews of diving cameras, click here:
Scuba Diving Trip Insurance
A cushion for emergencies provides peace of mind when on vacation.  I recommend this diving insurance as they have worldwide coverage and provide scuba divers a quality insurance and medical assistance service.
Feedback and Comments
I hope you found this post on San Juan Islands scuba diving interesting and useful. If you have any questions or ideas, please feel free to share them in the comments section.  I'd love to know of any experience you have diving there.  If there is no comments section directly below, click here:  >>comments<<