We may earn money or products from the companies mentioned in this post.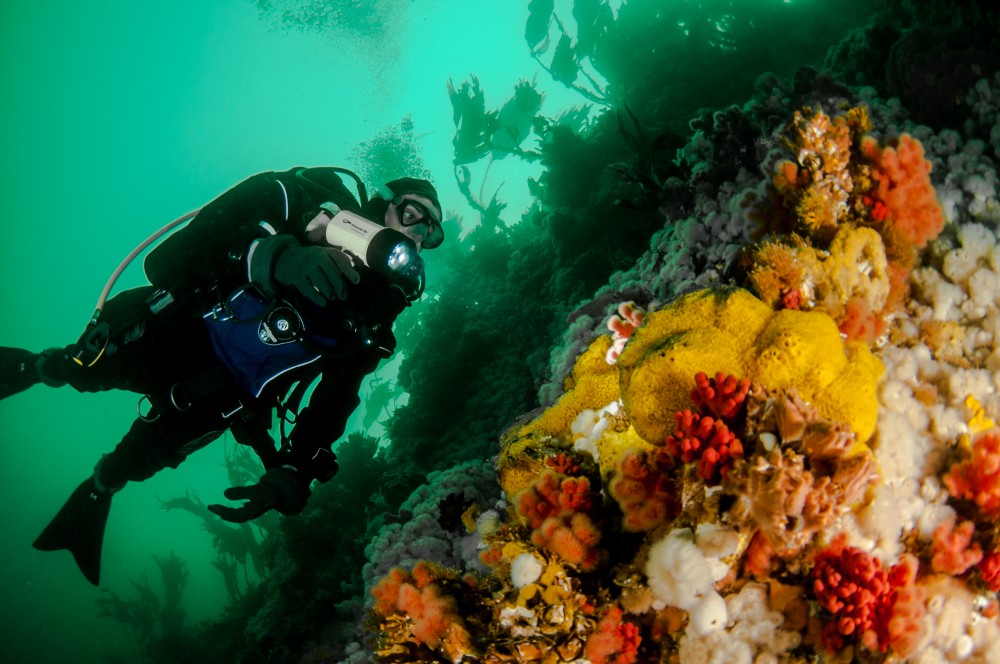 This is the fifty-eighth in a series of reviews of the best dive resort locations around the world.  In this post, the focus is on Nanaimo, Vancouver Island, British Columbia, Canada.
In addition to this series on dive resort locations, the best worldwide liveaboard dive locations and services are reviewed in their own series.  To check them out, or others in this series, click on Liveaboards/Resorts on the menu at the top and choose a title from the list.
Have you ever been diving in Nanaimo before?  If so, I'd love to know about your experience.  What dive shop or liveaboard did you use?  Which dive spots are the best and what are the conditions there regarding the visibility, current, water temperature, sealife attractions, etc.?  Please post your response in the comments section at the bottom and we'll all learn something we can use.
Scuba Diving Nanaimo
Location and Background – Nanaimo, a name shared with that of the original people living in the area, is situated on the eastern coast of Vancouver Island 110 kilometers (68.75 miles) northwest of Victoria and 55 kilometers (34.375 miles) west of Vancouver across the Strait of Georgia.  It started as a trading post in the early 19th century and developed into a coal production area by mid-century.  In an interesting and dangerous history, Nanaimo endured two major coal mine explosions killing a total of 250 workers n 1867 and 1868 and the founding and disintegration of 4 separate Chinatowns by 1960.  Lumber harvesting started in the 1940s and since the 1960s introduction of pulp mills, forestry has become the major economic driver.  Retail and tourism are the other important economic factors.  It has long been known as a hub and is considered the gateway to northern Vancouver Island and to the nearby islands.  There are 3 airports and 3 ferry terminals to facilitate transportation.  A 40 hectare (100 acre) bird sanctuary occupies the center of the city which also has a famous museum and an art gallery highlighting native culture.  English is spoken by all with only 1.4% speaking French as their first tongue.  87% of the population is of European ancestry.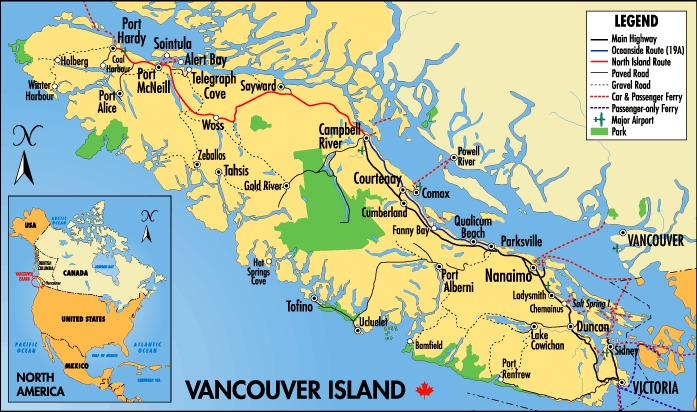 Undersea World – Jacques Cousteau described diving in this area as the best temperate diving in the world, second only to the Red Sea.  You might get some argument about the use of the word "temperate."  It is though a pretty remarkable cornucopia of underwater life in a varied and interesting habitat.  There are shore entries to a number of sites and around twelve in easy range of a boat.  Several scuttled wrecks have been carefully prepared for safe access at recreational and technical depths and the local dive shops are well equipped to provide training.  The terrain offers variety with deep walls, sandstone formations, boulders, narrow passageways, and small kelp forests.  Surfaces are covered with a rich range of invertebrates like huge white plumose anemones, yellow zoanthids, orange cup corals, lobed ascidians, orange sea pens, and pink corals, among many others.  The visibility is good enough to photograph an array of macro critters including numerous species of nudibranch, octopus, crabs, sea stars, red sea urchins, sea cucumbers and fish and mammals including cabezon fish, grunt sculpins, several species of rockfish, lingcod, wolf eels, Steller sea lions, harbor seals and the occasional orca.  Tidal flows bring in rich nutrients that help the reef thrive and set up some pretty exciting drift dives with currents up to 12 knots.
For my reviews of other Pacific Northwest scuba diving areas, please check out these posts:
For more information about Pacific Northwest marine life, please check out my book review:
Seasons and Conditions – Diving off Nanaimo and the eastern side of Vancouver Island is possible year-round.  Air temperatures are fairly mild with annual average highs of 22°C (72°F) in July and August and 7°C (45°F) in December and January.  Water temperatures range from highs of 12-18°C (54-64°F) in summer to 6-9°C (43-49°F) in winter.  At depth, it can be several degrees Celsius lower.  A few divers will go with a 7 mm wetsuit in summer, but most will choose a dry suit and heavy hoods and gloves year-round.  Visibility is quite variable based on the tide, algal blooms, and wind.  It tends to be best in winter ranging from 7.5-24 meters (25-80 feet).  In summer it may not be quite so good.  At slack tide, visibility tends to be better.  Currents can also be strong based on tidal flows, so it is recommended to get good advice from a dive professional about the best time to do your dive.  There are a number of dive shops operating in Nanaimo that provide a full range of dive courses, equipment rental and guiding from shore and by boat in the Nanaimo area and can arrange to make trips further north to Nanoose Bay, as well.  Technical and wreck diving instruction is a forte.
For my reviews and information about cold water gear please click on the following post:
A Sampling of Nanaimo Dive Sites
HMCS Saskatchewan: 40 meters (130 feet) maximum depth, 111 meter (366 foot) Canadian destroyer scuttled to become an artificial reef in 1997, near Snake Island and HMCS Cape Breton,  superstructure reachable at 12 meters (40 feet), intact and well encrusted with orange and white plumose anemones and sponges, several varieties of rockfish, huge lingcod, good penetration possibilities (extra holes have been cut), current possible, experienced level
HMCS Cape Breton: 43 meters (143 feet) maximum depth, 134 meter (442 foot) WWII Victory Class ship sunk to become an artificial reef in 2001, near Snake Island and HMCS Saskatchewan, deck reachable at 21 meters (70 feet), depth and penetration make this an advanced dive, encrusting life similar to the Saskatchewan's, cabezon, octopus, rockfish, large lingcod, seals and sea lions, perhaps a pod of orcas, current possible, advanced and technical level
Rivtow Lion: 24 meters (80 feet) maximum depth, 47 meter (150 foot) tugboat sunk to become an artificial reef in 2005, next to Brechan boat ramp of BC ferries, deck reachable at 15 meters (50 feet), plumose anemones, rich encrustation, good macro life, great for night dives, lingcod, all levels
Breakwater Island: 24 meters (80 feet) maximum depth, site on the inside of the island facing Gabriola Island's Drumbeg Provincial Park, kelp at the anchorage, wall to maximum depth, caves, rocks and boulders, many nooks and crannies for macro life, many rockfish varieties, rock scallops, lingcod, wolf eels, milder current, experienced level
Clark Rock: 24 meters (80 feet) maximum depth, north of Departure Bay by Pipers Lagoon Park, easy dive, little current, rich fish and invertebrate life, wolf eels, all levels
Dodd Narrows: 21 meters (70 feet), to the south, narrows between Cedar and Mudge Island, rich life, but the attraction is the drift which can reach 9 knots, plan well using the tide tables and expert advice, advanced level
Neck Point Park: 21 meters (70 feet) maximum depth, shore access, two rocky outcrops like islands on the bottom, rocky terrain around them, sea pens, feather stars, anemones, rich fish life, wolf eels, possible sea lions, easy dive, all levels
Keel Cove: 21 meters (70 feet), shore entry, a shallow reef with dilapidated sailboat wreck that fish and invertebrates inhabit, adjoining reef, good possibility to see a sea lion, all levels
Snake Island Wall: extends to well deeper than you want to go, site is on the side facing Nanaimo, on the other side from the Saskatchewan and Cape Breton wrecks, shallow shelf area then the drop off, many white plumose anemones, rich life on the wall, big lingcod, cabezon, strong possibility of seals and sea lions, strong current possible, experienced level
Namaimo Photos
With the interesting underwater terrain, wrecks, colorful anemones, sponges, corals, and encrusting invertebrates, crabs, octopus, and other macro critters, schools of fish and fascinating scenery and historical sites on land, as well, there are many excellent photo opportunities.  For information and reviews of dive cameras, click here:
Nanaimo is supported by 3 airports and 3 ferry terminals.  There is commercial air service to the main airports in Vancouver, Toronto and Calgary and small aircraft harbor service to Vancouver Harbor.  BC Ferries go to Horseshoe Bay and Tsawwassen in Vancouver and to Gabriola Island.  The marina provides mooring for smaller and larger private vessels.  The city has a public bus service with 17 lines seven days a week.  Car and bike rental is available.  Check out the video below for more.
Several dive shops operate in Nanaimo year-round that provide a full range of services including equipment rental, dive courses, guiding and boat dive cruises.  There are at least 22 hotels and resorts available from $22 to $559 per night.  The Buccaneer Inn is one that has an in house diving operation and convenient location.  The website linked below is a good source for the available options and can arrange a booking.  Their rates are the lowest and it is free to cancel or change dates.
Things to Do in Namaimo (aside from scuba diving)
Nanaimo has fabulous scenery, a rich history and interesting cultural life.  Here is a sample of some things to do when you are not diving: go on a whale-watching cruise, take a seaplane tour, visit a winery or salmon cannery, try an adventure attraction like ziplining, bungy jumping or primal swing, examine history and culture of the region at the museum and art gallery, seek some historic sites on a harborfront walking tour, enjoy some craft beer, local cuisine, music and nightlife  . . . . . .   Check out the video below for a glimpse of life in Vancouver and a few additional leisure options.
A cushion for emergencies provides peace of mind when on vacation.  I recommend this diving insurance as they have worldwide coverage and provide scuba divers a quality insurance and medical assistance service.
Feedback and Comments
I hope you found this post on Nanaimo scuba diving interesting and useful. If you have any questions or ideas, please feel free to share them in the comments section.  I'd love to know of any experience you have diving there.  If there is no comments section directly below, click here:  >>comments<<