We may earn money or products from the companies mentioned in this post.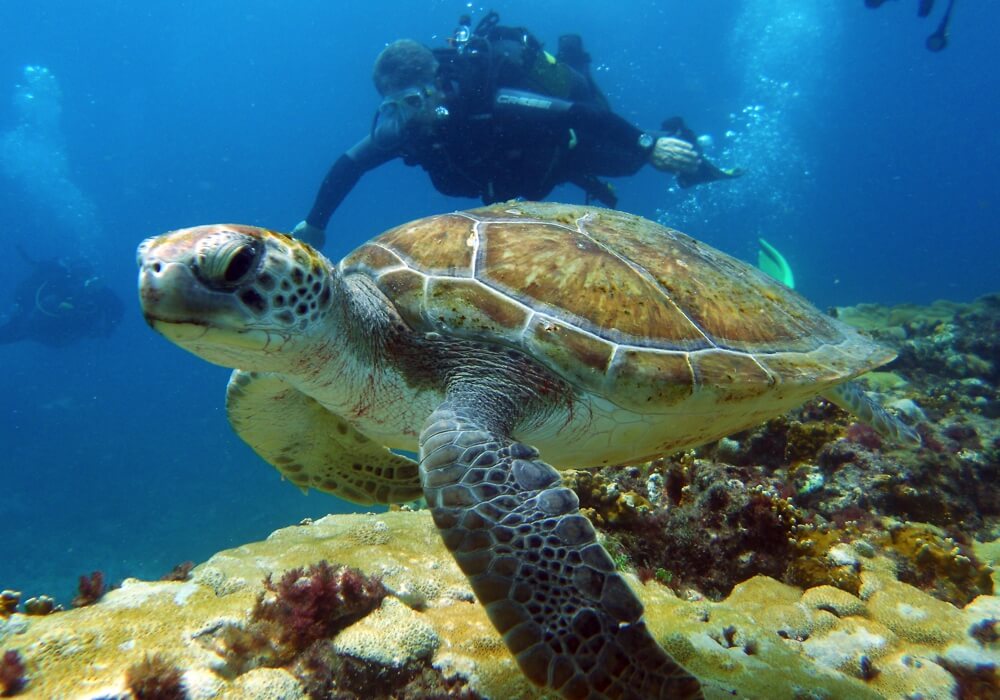 This is the fortieth in a series of reviews of the best dive resort locations around the world.  In this post, the focus is on Cape Verde.
In addition to this series on dive resort locations, the best worldwide liveaboard dive locations and services are reviewed in their own series.  To check them out, or others in this series, click on Liveaboards / Resorts on the menu at the top and choose a title from the list.
Have you ever been diving on the Cape Verde Islands before?  If so, I'd love to know about your experience.  What dive shop or liveaboard did you use?  Which dive spots are the best and what are the conditions there regarding the visibility, current, water temperature, sealife attractions, etc.?  Please post your response in the comments section at the bottom and we'll all learn something we can use.
Scuba Diving the Cape Verde Islands
Background – Cape Verde, the name English speakers use for the Republic of Cabo Verde, is an archipelago of 10 main islands (9 inhabited) located 570 kilometers (350 miles) west of Senegal on the African continent.  Primarily of volcanic origin, with Pico de Fogo last erupting in 2014, it is spread over 4,000 square kilometers (1,500 square miles).  Originally uninhabited it became a hub of merchants, privateers, pirates and slave traders starting with Portuguese settlement in the 1400s.  Upon the abolition of slavery in the late 1800s, the economy declined markedly.  With few natural resources and an arid climate, redevelopment has come with an emphasis as a commercial center, a stopover for ships, service industries, and tourism.  Today the population of 540,000 of mixed European, Moorish, Arab and African ancestry has a stable democracy, and a flourishing economy and standard of living.  Kriulu, a local variation of Portuguese with several dialects, is the main language.  Most can also speak standard Portuguese, with many speaking French and a few less speaking English.
Undersea World – The volcanic undersea terrain combined with warm tropical waters and cooler Atlantic currents has created a unique environment for a great diversity of wildlife.  Volcanic rocky formations, walls, caverns, crevices, nooks and crannies with colorful encrusting corals, sponges and other invertebrate life and sandy bottoms provide excellent habitat for fascinating macro critters including moray eels, nudibranchs, slipper, and spiny lobsters, shrimp, sea spiders, frogfish, cushion starfish, scorpionfish and sea snakes.  There is a great variety of reef fish like schooling surgeonfish and cape yellowtails, sergeant majors, trumpetfish, filefish, pufferfish, angelfish, cardinalfish, and goatfish.  Larger inhabitants are stingrays,  groupers, sand tiger and nurse sharks with the currents bringing the likes of tuna, wahoo, schools of barracuda, lemon, hammerhead, mako, tiger, bull and whale sharks along with manta rays, and hawksbill, leatherback and loggerhead turtles, which have a major nesting area on Cape Verde.  Dolphins, pilot whales, and humpback whales are also sighted year-round with the humpbacks breeding nearby.  In addition, more than 70 wrecks went down from the 16th to 18th centuries, many not accessible or largely salvaged with little remains.  There are a few more recent wrecks, some still largely above the surface.
To check out liveaboard diving opportunities, click here: liveaboard diving.
Here are reviews of other Macronesia scuba diving areas:
Seasons and Conditions – It's nice and warm year-round with average highs of 26.14 °C (79°F) in January at the coolest and 30.6 °C (87.1°F) in August at the warmest. Water temperatures range from 23-27°C (73.4-80.6°F).  For most divers a 3 mm wetsuit will suffice during the coolest period. Visibility is often quite good but ranges from 10-40 meters (35-140 feet). Current is usually not strong, but it occasionally can be in some locations. A bit of current bodes well for the introduction of nutrients and the interesting pelagic life that often comes along with it. Suitable diving is available for all levels of diver.  There is an established scuba diving infrastructure on Sal and Boa Vista Islands that can handle dive courses, equipment rental, and guided dive tours.  As time goes on more and more diving is happening around some of the other islands and some less established operations are in place.  Distances can be substantial between the islands, so if you are on Sal or Boa Vista, most of the dives will be nearby, but cruises to more distant sites can be arranged.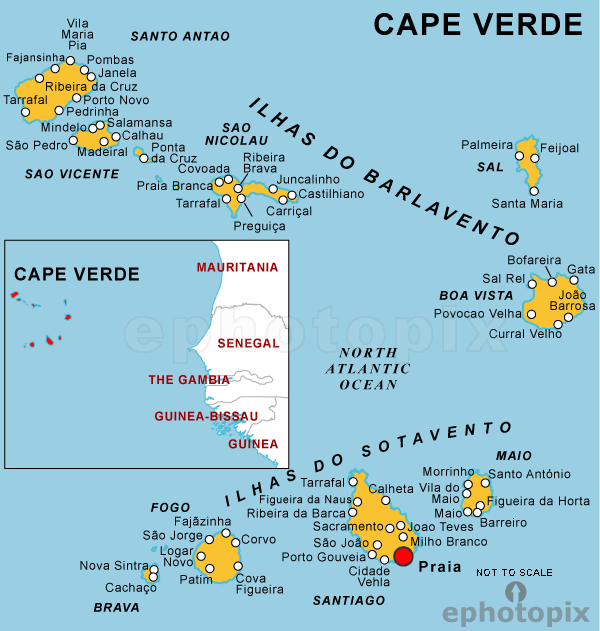 A Sampling of the Best Scuba Diving Sites of Cape Verde
Sal Dive Sites – 20 to 25 total around the island
Santo Antao: 12 meters (40 feet), 53-meter (178 foot) long cargo vessel sunk in a storm in 1966, in 3 pieces, top at 7 meters (22 feet), lots of fish including, porcupine puffers, barracuda, parrotfish, trumpetfish, stingrays and nurse sharks, all levels
Buracona: 30 meters (100 feet), labyrinth of caves with entrance at 26 meters (87 feet), entrance is 9 meters (30 feet) wide, horseshoe tunnel moving up to 7 meters (22 feet) with sunlit exit, crustaceans and macro critters in the cave, big fish outside, experienced level
Kwarcit Wreck: 28 meters (93 feet), 50-meter (168 foot) Russian fishing boat sunk as an artificial reef in 2006, lots of coral, schools of fish, scorpionfish, lobster, fireworms, flabellinas, stingrays, experienced level
Cavala: to 65 meters (215 feet), wall beginning at 28 meters (93 feet), a cave at 30 meters (100 feet), large fish, pelagics including hammerhead and tiger sharks possible, experienced level
Choclasse: 30 meters (100 feet), a plateau with an overhang full of yellow coral polyps, a wall from 14 meters (46 feet) down, schooling fish, morays, crabs, tuna, Atlantic sailfish, sharks, experienced level
Lost Anchor: 20 meters (68 feet), lost anchor above 12 meters (40 feet), lots of tropicals, stingrays, nurse sharks, a small wall at 16 meters (54 feet), all levels
Boa Vista Dive Sites – around 15 total around the island
Shark Bow: 27 meters (90 feet), reef top at 22 meters (73 feet), reef opens up at 25 meters (83 feet) to a broad open area with overhangs wherein are moray eels, lobster, fireworms, nudibranchs, and resting nurse sharks, outside are turtles, large schools of sergeant majors, bream and Guinean grunts, grouper and amberjacks, experienced level
Channel: 18 meters (60 feet), from 10-18 meters (35-60 feet) a canal or channel runs with rich marine life, possible stingrays and nurse sharks, all levels
Bodega de Tchoco: 14 meters (46 feet), large rocks on a sandy bottom, moray eels, octopus, snails, schooling fish, all levels
Bodega de Francoli: 14 meters (46 feet), a canyon with large rocks providing cover for crabs and lobsters, triggerfish, cornetfish, turtles, all levels
Teliarte Wreck: 10 meters (35 feet), fishing boat with a section broken off and scattered, lots of fish, snails, crabs, fireworms, and other macro critters, all levels

Cape Verde Photos
With the macro life, wrecks, rays, sharks, schools of colorful fish, dolphins, whales, clear water, diverse underwater terrain, and beautiful and historical onshore targets, there are many excellent photo opportunities.  For information and reviews of dive cameras, click here:
Cape Verde has 4 international airports on the islands of Sal, Santiago, Boa Vista and São Vicente with daily flights from Africa, Europe, and the Americas.  Between islands, domestic flights provide the fastest service.  Speedboats and ferries are also available.  Most places have metered taxis and the big cities have a periodical bus service.
Most of the scuba diving in based out of Sal and Boa Vista Islands.  A number of dive operations are located on these two islands with a few more on Santiago, São Vicente, Maio, and Santo Antao.  There are many dozens of resorts and hotels available there from $9 to $268 per night.    This website is a good source for the available options and can arrange a booking:
Cape Verde Things to Do (aside from scuba diving)
With such an interesting history, rich culture and varied natural environment from island to island, there are many things to do when you are not diving.  Here are some possibilities: beach activities, surfing, kite surfing, loggerhead turtle nesting observation on Boa Vista, hiking to a volcano, horseback riding, fishing, salt mine tours, quad biking tours, shopping for local crafts, whale watching, trekking, wildlife area tours, historical landmarks, churches, botanical gardens and zoo, local cuisine, restaurants, live music and nightlife.  Check out the video below.
A cushion for emergencies provides peace of mind when on vacation.  I recommend this diving insurance as they have worldwide coverage and provide scuba divers a quality insurance and medical assistance service.
Feedback and Comments
I hope you found this post on Cape Verde scuba diving interesting and useful. If you have any questions or ideas, please feel free to share them in the comments section.  I'd love to know of any experience you have diving there.  If there is no comments section directly below, click here:  >>comments<<