We may earn money or products from the companies mentioned in this post.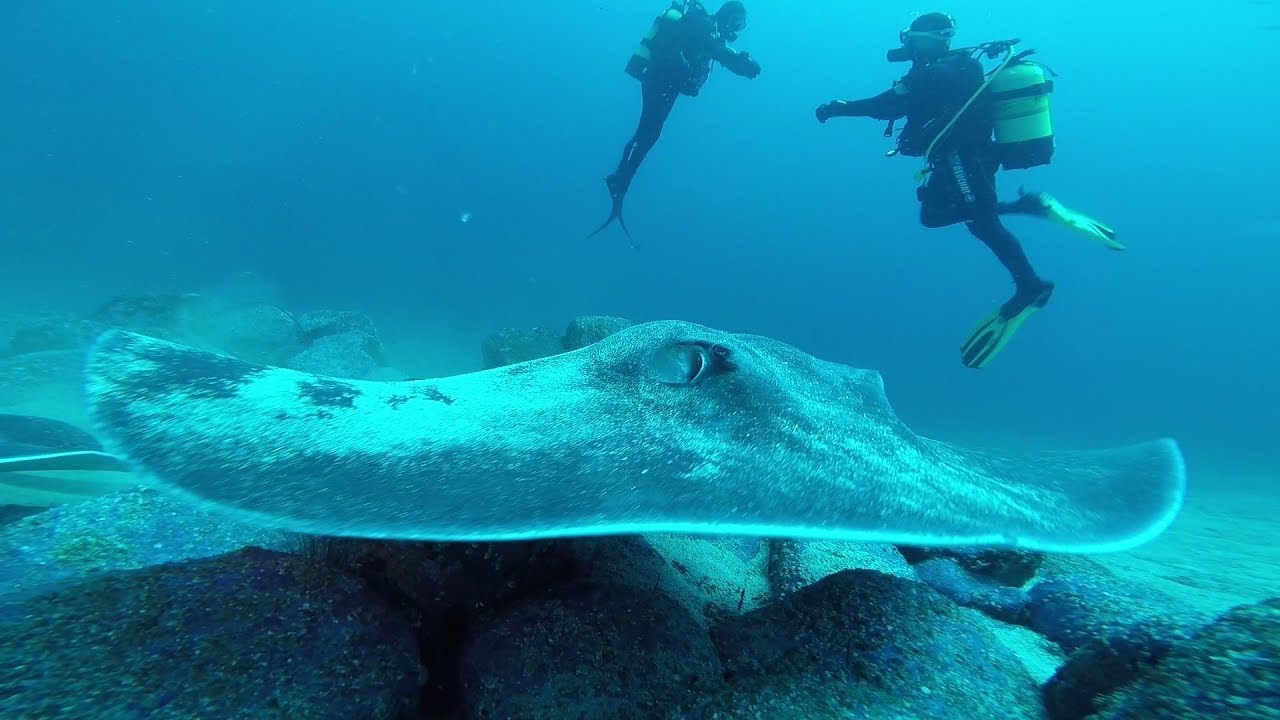 This is the seventy-fifth in a series of reviews of the best dive resort locations around the world.  In this post, the focus is Senegal.
In addition to this series on dive resort locations, the best worldwide liveaboard diving locations and services are reviewed in their own series.  To check them out, or others in this series, click on Liveaboards/Resorts on the menu at the top and choose a title from the list.
Have you ever been diving in Senegal before?  If so, I'd love to know about your experience.  What dive shop or liveaboard did you use?  Which dive spots are the best and what are the conditions there regarding the visibility, current, water temperature, sealife attractions, etc.?  Please post your response in the comments section at the bottom and we'll all learn something we can use.
Senegal Scuba Diving
Background – With a metropolitan population of 2.45 million and situated on Cap Vert, the peninsula that is the westernmost point of continental Africa, Dakar is the capital of Senegal.  The Portuguese arrived in the 15th century and used the Island of Goreé just off the coast as a slave trading settlement. In 1877 the French took control making the area part of the French Colonial Empire.  In 1902 Dakar replaced St. Louis to the north as the colonial capital.  Senegal gained independence from France in 1960.  Today it retains its regional significance as a center for national and international banking and many other international organizations.  The foundation of the economy is in fishing, phosphates, groundnuts, tourism and the aforementioned services.  Unfortunately, aside from the dwindling supply of fish and phosphates, there are very few natural resources and a significant drought since the 1960s hinders groundnut production and traditional subsistence farming.  A claim to world fame and a major source of tourism for Dakar and the country is the Dakar Rally race.  Unlike most other African countries, except for a tiny hiccup just after independence, Senegal has had a very stable government and peaceful environment.  The population of Dakar and 90% of the country practices one of several forms of Sufi Islam, which embraces a number of African cultural values, differentiating it from what might be described as the more rigid forms of Islam of countries like Somalia, Saudi Arabia, and Iran.  In Wolof, the language of Dakar and spoken by 80-90% of Senegalese, there is the word, "teranga," which means hospitality.  That is a sort of motto for the country.  People are friendly, ready to talk and invite you to join them.  I found this out personally when I lived in a village there for two and a half years in the 1970s.  French is the official language of the country which all people who have been to school can speak.  That would include most people in Dakar.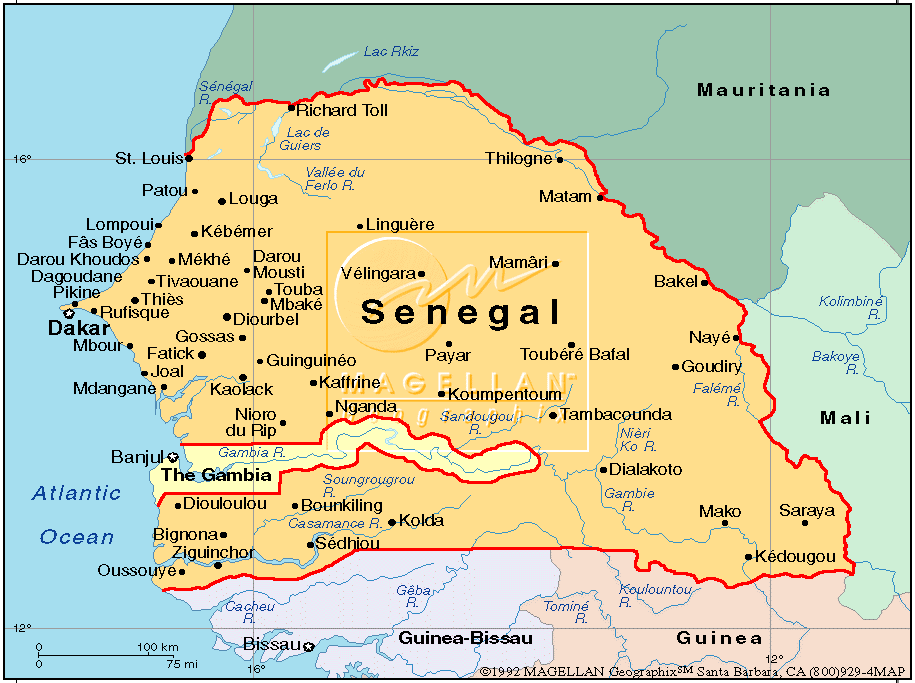 Undersea World – Dakar is at a position in the Atlantic Ocean where the rich coral life at the same latitude in the Caribbean or Indo-Pacific is not possible.  There are a number of colorful gorgonians and encrusting life forms, but not a multitude of hard and soft corals.  It is in a location, though, where there is a nice mixture of Mediterranean, Northern Atlantic and tropical species of fish.  The terrain is mostly a combination of volcanic and rocky outcrops interspersed with sand patches.  There are some interesting caverns, swim-throughs, nooks, and crannies providing a nice habitat for macro creatures like lobster, crabs, shrimp, octopus, blennies, nudibranchs and moray eels, as well as short-tail nurse sharks, guitar sharks, and big 1.5-meter wingspan stingrays.  There are many dozens of sites, some from shore, and most around islands or on shipwrecks.  Other creature highlights include grouper, trumpetfish, surgeonfish, filefish, white seabream, butterflyfish, angelfish, salema porgy, saddled seabream, pufferfish, parrotfish, red carp, tiger rays, dorado, schooling trevally, and barracuda, green turtles, eagle and manta rays, and pods of dolphins and humpback whales.  Many of these come to take advantage of sizable schools of anchovy and garfish.  A number are more likely to be seen in a particular season.  For nurse sharks, it's July to November, green turtles, January to April, stingrays, December to April, and humpback whales, September and October.
None of the major liveaboard yachts travel to Senegal.  To check out some liveaboard diving opportunities on the east side of Africa, click here: liveaboard diving.
Here are reviews of the Macronesia scuba diving areas in the Mid-Atlantic area not too far from Senegal:
Seasons and Conditions – Diving is possible year round.  There are two distinct seasons in Senegal, though.  The hot and rainy season with strong southeast winds is from May to November.  Keep in mind they only get around 15 inches (380 mm) of rain per year on average, so it is not often a big factor.  The average daily high temperatures at that time are 30-31°C (86-88°F).  The dry season from December to April affected by the harmattan wind sees average daily high temperatures of 25°C (77°F).  Water temperatures follow those seasons with a range of 20-27°C (68-81°F).  Some divers have indicated it might get several degrees Celcius cooler from January to March.  These temperatures could require as much as 7 mm of wetsuit protection.  One diver indicated his dive shop gave him two 3 mm wetsuits to wear during a cool time.  In conditions with strong winds, visibility can be poor in the 5 meters (16 feet) range.  On good days it can reach 30 meters (100 feet).  Current is at times a factor as is surface chop when the wind is up.  Dive operators indicate that there are dozens of dive sites they know around the peninsula and islands so that when conditions are not ideal in one area there is another location where diving will be okay.  Some of the wreck sites are pretty deep, but there are sites suitable for all levels of diver.  Several dive shops are in operation in Dakar offering a range of training, equipment rental, guiding and boat tours.  When business is slow they will be open on weekends and by appointment otherwise.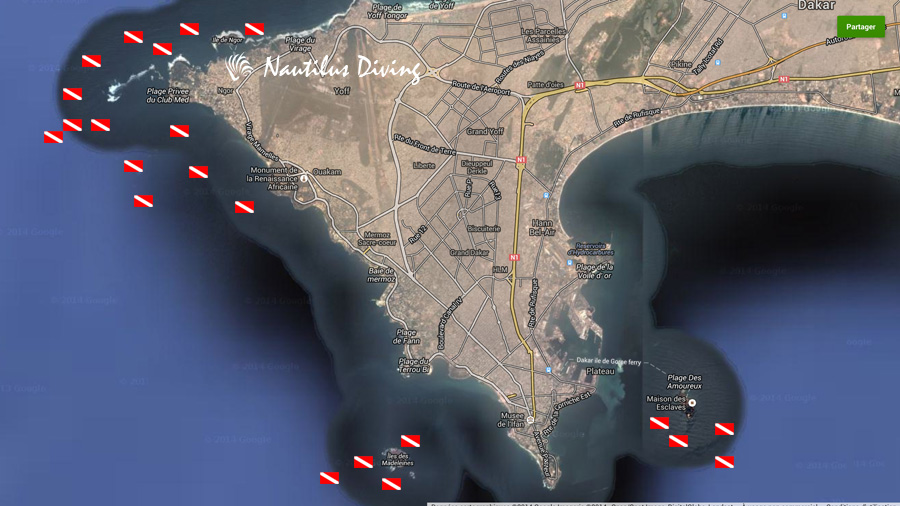 Selected Senegal Dive Sites
N'Gor/Les Almadies: Les Almadies – the westernmost point on the northwest corner of Dakar,  N'gor – the island just off the coast, more than 20 dive sites, north side has rocky bottoms from 8-10 meters (25-35 feet), good spot for green turtles, from Les Almadies to N'gor Island are many connected drop-offs with sandy or rocky areas in between, steep drop off running east to west at 12-24 meters (40-80 feet), many round volcanic rocks 2-3 meters in diameter,  rich fishlife including nurse sharks, angelfish, butterflyfish, surgeonfish, groupers, trumpetfish, moray eels, schools of diodons, nudibranchs, 5 species of sea star, at Les Almadies tip currents converge forming a rich area for nutrients, from 15-40 meters (50-130 feet), octopus, triggerfish, red carp, jacks, big gorgonians, moray eels, shrimp, crabs, lobster, sites suitable for all levels determined by depth and current
Madeleine Islands: small islands 3 kilometers (2 miles) of the coast of southwest Dakar, National Park created as a bird sanctuary for marine birds like cormorants and northern gannets, basaltic seascape, 15-24 meters (50-80 feet), some protected coves good for beginners, variety of sea life, diving cormorants, all levels
Goreé: former slave island just off the southern coast of Dakar, resting place of dozens of wrecks known as Cemetery Mbao, a government program aspired to stop trawling and simultaneously sunk many outdated boats to discourage dragging nets and create artificial reefs, other historic wrecks, as well, like the Tacoma wreck, a ship sunk by cannonballs from Goreé in 1940, other wrecks include Konnke Thie, Konnahke and the Red Star, a 100 meter (350 foot) Russian trawler, sites from 10-40 meters (35-130 feet)
Seminole Bank: 8.5 kilometers (5.3 miles) from the southwest of Goreé Island, interesting terrain of huge rocks, basaltic organs and sandy areas, big moray eels, huge stingrays in large numbers, pelagics including jacks, mackerel and serioles, to 35 meters (115 feet), visibility often excellent to 30 meters (100 feet), strong current possible, experienced level (check out the video above the Dive Sites Map)
Yoff: island off the north coast, fishing village with sandy beaches and surfing, shore diving area, lots of marine life including parrotfish, butterflyfish, angelfish, strong currents possible, experienced level due to currents
Dakar Photos
With the interesting undersea terrain, wrecks, colorful coral reefs, macro life, a variety of fish, nurse sharks, stingrays and turtles, and scenic coastal landscapes and historic landmarks as well, there are many excellent photo opportunities.  For information and reviews of dive cameras, click here:
The new Blaise Diagne International Airport just outside Dakar is now in operation.  Regular flights from major European and African cities and New York and Washington are available.  Taxis and car rapides (mid-size bus/vans) are the primary forms of transportation around the city.  Cars, motorbikes, and scooters are also for rent.
There are more than 130 hotels and lodges of every level ranging from $6 to $394 per night to choose from in the downtown Dakar area.  Several dive shops are in operation offering a range of services including equipment rental, dive courses, guiding and boat dive cruises.  The website linked below is a good source for the available options and can arrange a booking.  You can easily find the locations on the map provided on this site.  Their rates are the lowest and it is free to cancel or change dates.
Things to do in Dakar (aside from scuba diving)
Set on a windswept peninsula at the westernmost point of continental Africa, the ocean and seashore is a major focus of activities.  Dakar is a modern city with a rich history and culture that is well worth exploring.  Here is a short list as an example of things to do and places to see:  Goree, Ngor, Sandaga Market, Des Mamelles, Lac Retba (Rose), Reserve de Bandia, Monument de la Renaissance, Grande Mosquee, Mosquee de la Divinite, Cathedrale de Dakar, Village des Arts, IFAN Museum of African Arts, Senegal Zoo, Henriette-Bathily Women's Museum, a walk on the Corniche, Saly Portudal, Les Lions (football), French and Senegalese food, Senegalese music, city tours.  Here are a couple of videos to give you a feel for life in Dakar.
A cushion for emergencies provides peace of mind when on vacation.  I recommend this diving insurance as they have worldwide coverage and provide scuba divers a quality insurance and medical assistance service.
Feedback and Comments
I hope you found this post on Senegal scuba diving interesting and useful. If you have any questions or ideas, please feel free to share them in the comments section.  I'd love to know of any experience you have diving in Senegal.  If there is no comments section directly below, click here: >>comments<<