We may earn money or products from the companies mentioned in this post.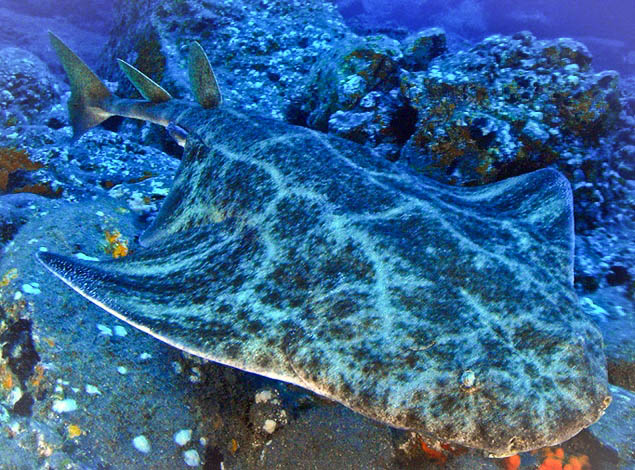 This is the forty-second in a series of reviews of the best dive resort locations around the world.  In this post, the focus is on the Canary Islands.
In addition to this series on dive resort locations, the best worldwide liveaboard dive locations and services are reviewed in their own series.  To check them out, or others in this series, click on Liveaboards / Resorts on the menu at the top and choose a title from the list.
Have you ever been diving on the Canary Islands before?  If so, I'd love to know about your experience.  What dive shop or liveaboard did you use?  Which dive spots are the best and what are the conditions there regarding the visibility, current, water temperature, sealife attractions, etc.?  Please post your response in the comments section at the bottom and we'll all learn something we can use.
Scuba Diving the Canary Islands
Background – Set only 100 kilometers (62 miles) west of Morocco, an Autonomous Community of Spain, the Canary Islands consist of 7 main islands and a number of smaller ones and islets.  They are of volcanic origin with a semi-arid climate and varied landscapes of mountains and primary forests in some locations and sparse, barren and desert-like terrain in others.  The total area is 7,493 square kilometers (2,893 square miles) and has a length of 550 kilometers (344 miles).  During the time of European colonization starting in the 14th century they served as a stopover for galleons in transit.  Today there is a thriving economy based on tourism, construction, and cultivation of tobacco, bananas, and a number of other fruits and vegetables.  Tourism makes up 32% of GDP with 16,000,000 visitors annually.  People come for the pleasantly warm climate, intriguing landscapes, natural environment, seaside atmosphere, and bustling, modern city life if desired, or quaint peaceful villages, if that suits the fancy.  The population of 2.2 million includes 82.5% that is Spanish born and the rest made up of people originally from Morocco, Italy, Venezuela, Cuba, and the Dominican Republic.  Spanish is the language spoken by all with English also widely in use.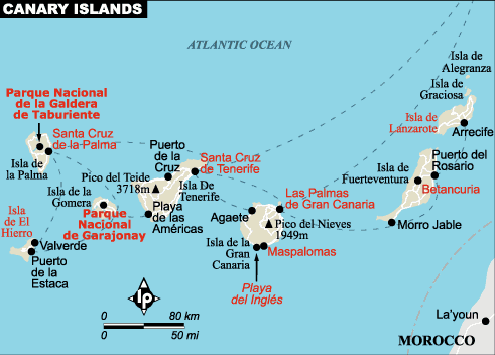 Undersea World – With its geographical position the Canaries are the recipient of trade winds, cold oceanic currents, Canary currents, and the warm Gulf Stream which provide a mild climate and lots of nutrients coming from more tropical areas.  While there is not much coral growth, there are some spots with anemones, soft coral and black coral.  Notwithstanding, there is a very rich sea life with 550 fish species and 1,000 invertebrates.  They have a varied seascape to live on created by volcanic activity that has caves, ledges, lava flows and boulders that have provided a lot of places for macro life and fish to thrive around, among them parrotfish, boxfish, drummers, moray eels, garden eels, crabs, sea urchins, nudibranchs, octopus, cuttlefish, scorpionfish, trumpetfish, damselfish, pufferfish, glass-eyes, goatfish, triggerfish,  and seahorses.  What is most attractive to divers is the multitude of large animals inhabiting the waters around the Canaries.  These include groupers, jacks, marlin, tuna, mobulas, common and marbled stingrays, eagle and manta rays, blacktip, whitetip, nurse, guitar, angel, hammerhead, mako, bull, silky and whale sharks, 400 resident pilot whales, sperm whales, beaked whales, false killer whales, orcas, dolphins, and 5 species of turtle (green, hawksbill, leatherback, Kemps Ridley, and loggerhead).  The fauna and seascapes vary from island to island.  Gran Canaria and Fuerteventura have 50 shipwrecks in the vicinity.  El Hiero and Lanzarote have a more dense and diverse array of life.  The dive sites of Tenerife are sheltered from the winds by the El Teide volcano and have Atlantic fauna.  The mammals and pelagics are there year-round with the mantas most prevalent in September.  There are also 3 MPAs (Marine Protected Areas) in the Canaries where no fishing, mining or boating is allowed.  These are El Cabron off Gran Canaria, Mar de las Calmas off El Hierro, and La Graciosa off Lanzarote.  In addition, there are dozens of wrecks from many eras to explore.
To check out liveaboard diving opportunities, click here: liveaboard diving.
Here are reviews of the other Macronesia scuba diving areas:
Seasons and Conditions – Air temperatures are mild with average highs in January of 16°C (60°F) and 23°C (74°F) in August.  Correspondingly water temperatures in January are 19°C (66°F) and 23°C (74°F) in August.  This is cool enough to consider wearing a 5-7 mm wetsuit or drysuit with a hood and gloves.  It is a pretty dry climate with more rain from October to April when up to 9 days a month have rainfall of no more than 43.2 mm (1.7 inches) total per month.  Visibility is typically 30 meters (100 feet) or more.  Currents are generally mild.  There are at last count 118 dive shops on the Canaries providing a full range of services, equipment rental, dive courses and guiding.
For my review of the categories of equipment suitable for colder conditions, please check out this post:
A Sampling of the Best Scuba Diving Sites of the Canary Islands
Los Chuchos, Tenerife: aka Stingray Village, 20 meters (68 feet), cliffs, tunnels, caverns and caves, eagle rays, common and round stingrays, and angel sharks gather to this feeding area, barracuda, jacks and tuna, garden eels and flounders in sandy areas, all levels
Arona, Gran Canaria: 36 meters (120 feet) maximum depth, can be reached at 24 meters (80 feet), 100 meter (328 foot) merchant ship sunk after a fire in the engine room in 1972, lying on its side, well established habitat for rich fauna today, schools of barracuda and pelagics, advanced level
La Catedral, Gran Canaria: 33 meters (110 feet) maximum depth,  volcanic formations with lava tubes, arches, crevices and a big cave, shore entry from Playa Chica, soft corals, sponges, tube worms, anemones, groupers, angel sharks, barracuda, moray eels, garden eels, visibility to 20 meters (68 feet), advanced level
Museo Atlantico, Lanzarote: 15 meters (50 feet), 35 sculptures by Jason de Caires Taylor (diving instructor/conservationist/photographer), placed on the seabed accumulating encrustations, creating a surreal seascape, all levels
El Cabrón, Gran Canaria: Marine Protected Area (MPA) with more than 10 dive sites, shore entry possible, rocky shelf at 9 meters (30 feet) and a platform at 23 meters (75 feet) with a sandy bottom, rich biodiversity, great macro life, angel sharks, stingrays, many fish varieties, all levels
El Bajon del Rio, Fuerteventura: 18 meters (60 feet) maximum depth, volcanic mushroom-shaped formations, rich marine life, zebra and black bream, barracudas, jacks, angel sharks, ornate wrasses, triggerfish, glass-eyes, parrotfish, scorpionfish, stingrays, all levels
El Bajon, El Hierro: 9 meters (29 feet) to the top of a pinnacle which heads down to great depths from there, big schools of tuna and jacks, parrotfish, trumpetfish, manta rays, turtles, strong current possible, advanced level
La Restinga, El Hierro: site in the Marine Protected Area (MPA), active volcano there (last eruption 2011), turtles, tuna and dolphins are common, whale sharks possible, all levels
La Carrera, Fuerteventura: 16 meters (52 feet), crevices, caves, a gully in rocky formations with sandy sections, eagle rays, angel sharks, lobster, groupers, jacks, and moray eels, all levels
Blue Hole (Agujero Azul), Lanzarote: 33 meters (108 feet), from 22-28 meters (72-91 feet) is a swim through into "the blue," hole created by an unusual bubble in a lava formation, bubbles also emerge from the sandy bottom, experienced level
Bajada del Realejo, Tenerife: 40 meters (130 feet), moray eels, pelagics, hammerheads, advanced level
Canary Islands Photos
With the macro life, wrecks, rays, sharks, schools of colorful reef fish and big pelagics, dolphins, whales, extremely clear water, diverse underwater terrain, and beautiful and historical onshore targets, there are many excellent photo opportunities.  For information and reviews of dive cameras, click here:
Canary Islands Resorts, Transportation and Dive Shops
There eight airports on the 7 main islands with 4 of them handling international flights.  For between island travel there are flights and fast and slow ferries.  The islands all have taxi and bus service.  The buses have varying levels of frequency and routes depending on where you are located.  Cars, motorcycles, and scooters are available to rent.
All the islands have full-service dive shops.  A number of hotels will have them, as well.  I have read that there are 118 shops available providing full services including equipment rental, dive courses, guiding and cruises year-round.
There are hundreds of resorts, hotels, guest houses and condos available on the Canaries from $13 to $1,366 per night.  The website linked below is a good source for the available options and can arrange a booking.  To navigate to different locations within the Canaries on the website, enter one of the city names from the map above or the one on the accommodation website into the search box at the top left of their page.
Canary Islands Things to Do (aside from scuba diving)
The Canary Islands have a unique history and culture and fantastic volcanic terrain with a varying natural environment from island to island.  There are many fascinating things to do when you are not diving. Here are some possibilities of things to see and do: black and yellow sand beaches, water sports, volcanoes, caves, forests, landscapes, nature tours, water parks, aquariums, historic buildings and churches, museums and galleries of all kinds, local restaurants and cuisine, gardens, shopping, city and village tours, music and nightlife. It is a very rich cultural scene with countless activities.  Please check out the video below for a glimpse.
A cushion for emergencies provides peace of mind when on vacation.  I recommend this diving insurance as they have worldwide coverage and provide scuba divers a quality insurance and medical assistance service.
Feedback and Comments
I hope you found this post on Canary Islands scuba diving interesting and useful. If you have any questions or ideas, please feel free to share them in the comments section.  I'd love to know of any experience you have diving there.  If there is no comments section directly below, click here:  >>comments<<