We may earn money or products from the companies mentioned in this post.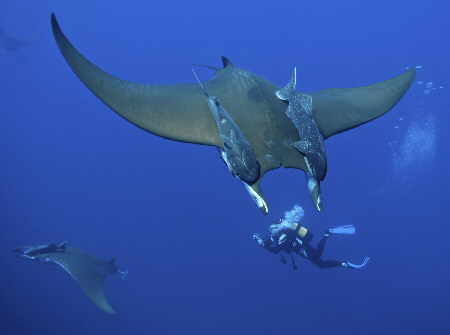 This is the forty-first in a series of reviews of the best dive resort locations around the world.  In this post, the focus is on the Azores.
In addition to this series on dive resort locations, the best worldwide liveaboard dive locations and services are reviewed in their own series.  To check them out, or others in this series, click on Liveaboards / Resorts on the menu at the top and choose a title from the list.
Have you ever been diving in the Azores before?  If so, I'd love to know about your experience.  What dive shop or liveaboard did you use?  Which dive spots are the best and what are the conditions there regarding the visibility, current, water temperature, sealife attractions, etc.?  Please post your response in the comments section at the bottom and we'll all learn something we can use.
Scuba Diving the Azores
Background – Situated 1,360 kilometers (850 miles) west of Portugal, 1,507 kilometers (936 miles) northwest of Morocco and 1,925 kilometers (1,196 miles) southeast of Newfoundland are the nine volcanic islands of the Azores, an Autonomous Region of Portugal.  Due to their location in the Gulf Stream, the climate is much milder than one might expect at that latitude. The Azores cover a fairly broad area with the islands of Corvo and Santa Maria nearly 640 kilometers (400 miles) apart. Discovered by the Portuguese in 1427, they were historically a midpoint for transatlantic sailors and local commerce was based on that.  Settled sporadically since that time there is a substantial variance from island to island in culture, dialect, cuisine, and traditions. Aside from the Portuguese, others that found their way to the Azores and influenced development were Africans, Moors, Jews, Scots, Germans, Italians, French, Spanish and Flemish.  At the same time, while all the islands have volcanic origins, each has its own geomorphologic characteristics. There are mountains, with Mount Pico the tallest at 3,551 meters (7,713 feet), hydrothermal vents, hot springs, lagoons, waterfalls, dense forests, and seamounts.  The population today of 247,000 relies on dairy farming, livestock, fishing and increasingly on tourism to fuel the economy.  Portuguese is the main language of the islands, but many also speak English.  The main capital is Porta Delgado on São Miguel, the most populous island.
Undersea World – Volcanic origins and position in the Gulf Stream have combined to give the Azores a unique and rich undersea life.  The flow of water from more tropical areas brings with it an abundance of nutrients like plankton, krill, and shoals of small fish which attract some of the world's most fantastic predators.  The topography is characterized by rocks and boulders, canyons, walls, crevices, overhangs and caverns with encrusting colorful corals, sponges, gorgonians and algae, which provide excellent habitat for a range of interesting creatures like slipper lobsters, tubeworms, scorpionfish, frogfish, crabs, moray eels, starfish, fireworms, nudibranchs and octopus. Colorful reef fish also residing nearby include grey triggerfish, parrotfish, pollack, snappers, stingrays, huge groupers and numerous schooling fish.  What makes the Azores incredible, though, is the long list of pelagics that pass through sometime during the year.  Here are some of them: huge schools of amberjacks, barracuda, and eagle, manta and mobula rays, up to 40 in a school, shortfin mako, blue, hammerhead and whale sharks, turtles, wahoo, tuna, marlin and 24 different species of cetacean.  Each island has excellent sites surrounding it where many of these creatures can be seen.  There are also several prominent sea mounts relatively far from the shoreline that has a greater possibility of seeing the pelagics in great numbers.  In addition, records show 600-700 ships lost around the Azores between the 15th and 20th centuries.  The good news is that many have been explored and are on the itinerary of the local dive shops.
To check out liveaboard diving opportunities, click here: liveaboard diving.
Here are reviews of other Macronesia scuba diving areas:
Seasons and Conditions – There is a significant seasonal variation in temperature and rainfall.  Average high air temperatures hit annual lows in February of 16.6 °C (61.9°F) and annual highs of 25.3 °C (77.5°F) in August.  In February and March water temperature averages 16°C (60.8°F).  The August average is 24°C (75.2°F).  When the water is at its warmest divers will probably find a 5 mm wetsuit appropriate.  At its coolest, a 7 mm wet or semi-dry suit, or drysuit would be in order with hood and gloves.  It rains quite a bit throughout the year with the wettest time from October to March.  Many hurricanes get their start in this region, though are generally far from their peak of power exhibited when they reach the Caribbean.  Visibility would rarely be less than 10 meters (35 feet) and sometimes as good as 60 meters (200 feet), especially on the offshore seamount dive sites.  Check out the videos for an idea.  Some sites can also have strong currents.  From June to October, the mobula and manta rays and whale sharks are much more likely to be sighted.  Whales and dolphins can be seen year-round with a greater possibility in March and April.  There are well-established dive shops on all the islands that can handle dive courses, equipment rental and guided dive tours including charters to the seamounts and more distant sites.
For my reviews and information about the cold water equipment options and considerations, please click the following post: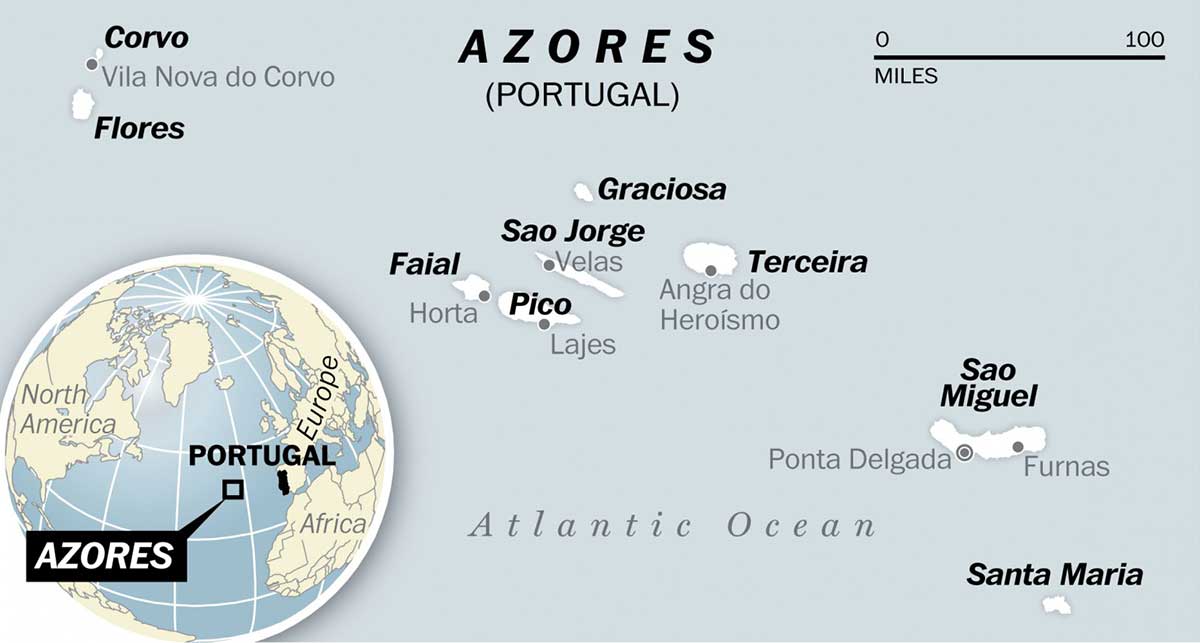 A Sampling of the Best Scuba Diving Sites of the Azores
Princess Alice Bank, 80 kilometers (50 miles) from Pico, between Pico and Faial, seamount with top at 30-40 meters (100-135 feet) in depth, descends to below 500 meters (1,667 feet), pelagics, hammerhead and blue sharks, schools of barracuda, up to hundreds of mobulas, tuna, black marlin, dolphins, up to 60 meters (200 feet) visibility, strong current possible, advanced level
Terceirense Wreck, Graciosa Island, off Vila de Praia Beach, 20 meters (68 feet), 40-meter (135 foot) freighter sunk in 1968, much dilapidation, penetration possible into the boiler room and hull, big groupers, Azores chromis, ornate wrasses, eels, hogfish, mackerel, sargus, all levels
SS Dori Wreck, São Miguel, near São Roque, 20 meters (68 feet), originally a WWII US Liberty Ship, the Edwin L. Drake, became a Liberian cargo vessel, the Dori, sinking in 1964 due to poor maintenance, stern at 9 meters (28 feet), bow at 20 meters (68 feet), large structures still intact, scorpionfish, moray and conger eels, swarming bream and salemas, lizardfish, triggerfish wrasse, flounder, mullet, jacks, barracuda, stingrays, all levels
Dom João de Castro Bank, between the islands of Terceira and San Miguel, underwater volcano with one crater peaking at 15 meters (50 feet), other peaks at 40-50 meters (130-165 feet), descends to 1,000 meters , rocky walls, vents, pelagics including mobulas, mantas, huge wahoo, schools of tuna and barracuda, turtles, great visibility, strong current possible, advanced level
Baía de Entre Montes, Faial, from Horta, to 20 meters (68 feet), rocky descent to a sandy bottom, hermit crabs, moray eels, crabs, flounders, razorfish and stingrays, all levels
Formigas Islets and Dollabarat Bank, 32 kilometers (20 miles) from Santa Maria, 5-30 meters (15-100 feet), 2 pinnacles, mantas, mobulas, barracuda, big-eye tunas, turtles, hammerhead sharks, excellent visibility, strong current possible, advanced level
Shrimp Cave, Pico, to 16 meters (53 feet), boulders, overhangs, small cave loaded with Narwhal shrimps, rich reef with lots of macro critters like slipper and  spiny lobsters, huge stingrays, all levels
Ambrosio, Santa Maria, an hour by boat from Vila do Porto Marina, 10-30 meters, (35-100 feet), a rich diverse reef with jacks, barracuda, manta rays, possible current, experienced level
Ponta da Cozinha, San Miguel, opposite the marina at Vila Franca, 12-18 meters (40-60 feet), boulders, crevices, canyons with rich macro life including lizardfish and octopus, Turkish wrasses, flounders, barracuda, eagle rays, good visibility, all levels
Baixa da Maia, Santa Maria, 15-24 meters (50-80 feet), caverns, caves, canyons, slipper lobsters, nudibranchs, schooling gray triggerfish, parrotfish, Turkish wrasses, barracuda, jacks, current possible, all levels
Azores Photos
With the macro life, wrecks, rays, sharks, schools of colorful reef fish and big pelagics, dolphins, whales, extremely clear water, diverse underwater terrain, and beautiful and historical onshore targets, there are many excellent photo opportunities.  For information and reviews of dive cameras, click here:
Azores Resorts, Transportation and Dive Shops
Each island has its own airport. The airports on São Miguel and Terceira have daily flights from the US, Canada, and Europe.  The Pico and Faial airports have international flights from Lisbon only.  These 4 airports and the airports on the rest of the islands all have domestic flights on SATA, an island linking airlines with frequent flights in 40-80 seat turboprop airplanes.  Cars, motorbikes, and bicycles are for rent and gasoline is cheap.  Taxi service with English speaking drivers is also available in most places.  Bus service is cheap and slow and scheduled based on the working day of the citizens.  The ferry service between the central islands is consistent.
All the islands have full-service dive shops.  Tourist traffic slows down a lot during the winter months, but they are still open and ready for action year-round.
There are many dozens of resorts, hotels, guest houses and condos available on the Azores from $10 to $169 per night.  The website linked below is a good source for the available options and can arrange the booking.  To navigate to different locations within the Azores on the website, enter one of the city names from the map above or on the accommodation website into the search box at the top left of their page.
Azores Things to Do (aside from scuba diving)
The Azores has an intriguing history and culture and fantastic volcanic terrain with a varying natural environment from island to island.  There are many fascinating things to do when you are not diving. Here are some possibilities of things to see and do: black sand beaches, geysers (taste food cooked underground), thermal springs and baths, volcanoes, caverns, caves, lakes, forests, wildlife areas, cultural tours, whale and dolphin cruises, canyoning, trekking and mountain climbing, Jeep tours, cultural and landmark sight-seeing tours, horseback riding, shopping and city tours, restaurants and local food.
As you can see most of the activities are related to the unique natural setting and culture.  The Azores is not really a party time sort of vacation, though.  Please check out the video below for a glimpse.
A cushion for emergencies provides peace of mind when on vacation.  I recommend this diving insurance as they have worldwide coverage and provide scuba divers a quality insurance and medical assistance service.
Feedback and Comments
I hope you found this post on the Azores scuba diving interesting and useful. If you have any questions or ideas, please feel free to share them in the comments section.  I'd love to know of any experience you have diving there.  If there is no comments section directly below, click here  >>comments<<