We may earn money or products from the companies mentioned in this post.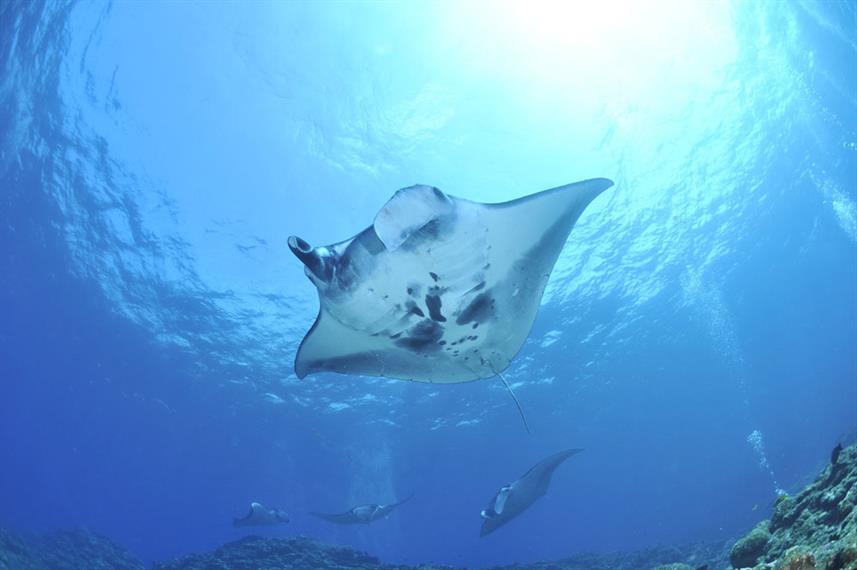 This is the one hundred and eighteenth in a series of reviews of the best dive resort locations around the world.  In this post, the focus is on Muscat, Oman. In addition to this series on dive resort locations, the best worldwide liveaboard diving locations and services are reviewed in their own series.  To check them out, or others in this series, click on Liveaboards/Resorts on the menu at the top and choose a title from the list.
Have you been diving in Muscat before?  If so, I'd love to know about your experience.  What dive shop or liveaboard did you use?  Which dive spots are the best and what are the conditions there regarding the visibility, current, water temperature, sealife attractions, etc.?  Please post your response in the comments section at the bottom and we'll all learn something we can use.
Best Diving in Oman – Muscat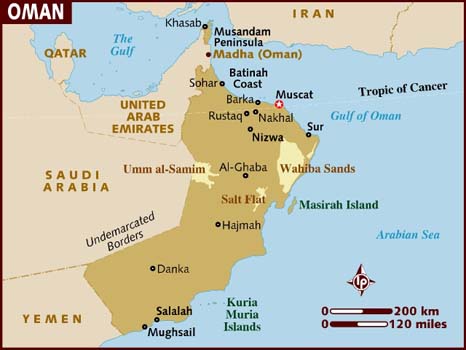 Background – Muscat is the capital and largest city in Oman.  Located on the coast of the Gulf of Oman it has been a trading port between the west and the east since the 1st century CE.  Historically dates, mother of pearl and fish were the main goods.  Today they still hold a small place in the economy which is dominated by oil.  Over the millennia Muscat saw itself under the control of Persian, Portuguese, Iberian, and Ottoman leadership and has absorbed a lot of foreign influences.  Arabic is the national language but speakers of many other languages are evident including English, Balochi, Swahili, and numerous from Southern Asia.  Likewise, Islam is the national religion with others tolerated as long as there is no proselytizing.  Muscat is divided into three sections covering 3,500 square kilometers (1,400 square miles) and has a metropolitan population of 1.72 million.  One section known as the "walled city" is the site of the Royal Palaces.  The second, Mutrah, is in the area of the original fishing village and the site of the Mutrah Souk (market), and the commercial center, Ruwi, is the third.
Undersea World – If you are looking for world-class diving with warm water, pristine coral reefs, great marine life of abundant macro critters and a big variety of megafauna, as well, and want a convenient uncrowded location and don't have time for a liveaboard, why not take a look at a trip to Muscat?  It's a big city that is easily accessible by air with attractive reasonably priced accommodation, situated right on the coastline with 3 major diving destinations within the range of day-trip diving.  The great nearby dive sites to explore are the Daymanayat Islands, Fahal Island, and Bandar Khayran.  There is a nice variety of undersea terrain with a rich coral reef that includes staghorn, orange cup, cabbage, and whip coral, among many others, big gorgonians, colorful soft corals and sponges and numerous other encrusting invertebrates.  In the nooks and crannies you can find, moray and snake eels, shrimps, crabs, nudibranchs, lobster, scorpionfish, lionfish, octopus, squid, and cuttlefish along with an array of reef tropicals like parrotfish, angelfish, and goatfish, with schooling fusiliers, snapper, batfish, jacks, and barracuda.  Megafauna highlights include 6 species of turtle, mola mola, eagle, mobula, and manta rays, and reef, guitar, leopard, and whale sharks, topped off with dolphins and pilot whales.  In addition, there are several intriguing wrecks.
Seasons and Conditions – Diving is a great all year in the seas around Muscat.
Air temperature varies significantly from summer to winter with daily average highs of 40°C (104°F) in June which fall to 25°C (77°F) in January.
The water temperature stays in a range of 24-30°C (75-86°F).  A 5mm wetsuit will likely suffice when the water is at its coolest.
This is a desert area that is dry all year with a total rainfall of 100.3mm (3.95 inches) annually.
Currents are variable depending on the tides and location.  They are often mild but can be strong on some sites.
Visibility is usually in the 10-25 meter (35-82 foot) range all year.
The best time to see whale sharks is from July through September during the plankton bloom.  Big schools of pelagics and manta rays are more likely in November and December while January through March is the season for humpback whales.  Dolphins are quite possible in April, and March through June is the time for sea turtles.
There are sites suitable for all levels of diver.   Numerous dive shops are in operation in Muscat, some in or associated with hotels, that offer a full range of diving coursework, equipment rental, guiding, and boat cruises.  Day trips are often arranged to the highlighted sites.
The Aggressor fleet and several dhows offer liveaboards for the Muscat area and to the other sites in Oman.  For details on Oman liveaboards, itinerary, and boat and dive site descriptions, please check out my post and links to a couple of top vessels: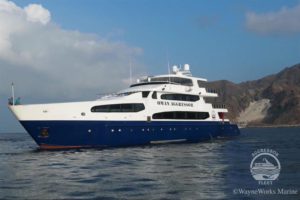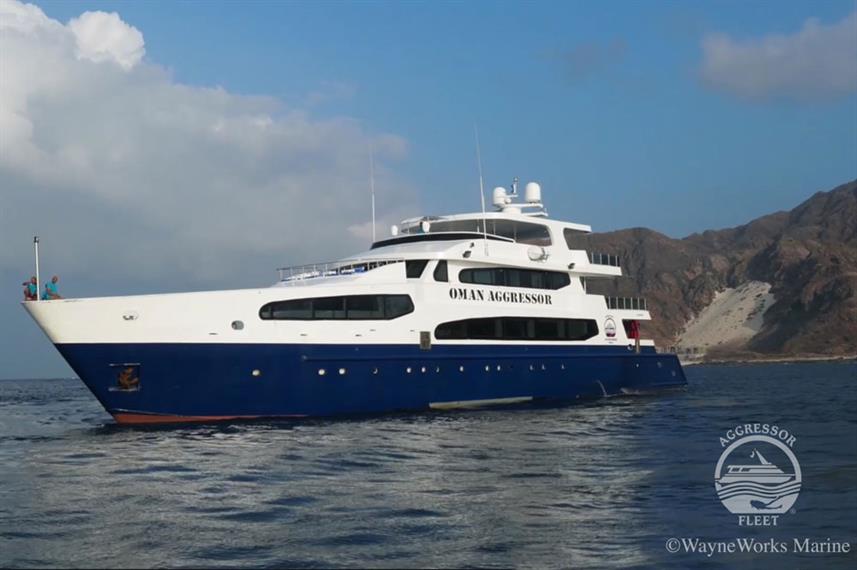 Oman Aggressor, Oman Liveaboard Diving – Check the Price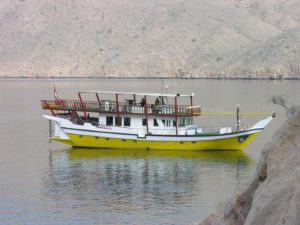 Queen of Musandam, Oman Liveaboard Diving – Check the Price
For information on great liveaboards to Red Sea dive sites, here is my review of them and some links to top vessels: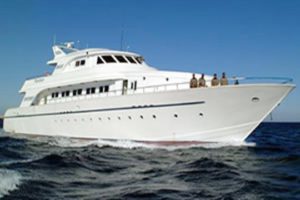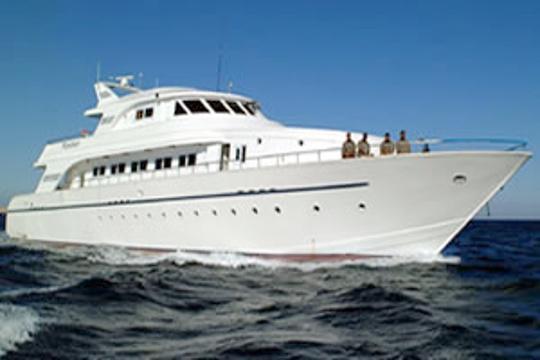 MY Excellence, Red Sea Liveaboard Diving – Check the Price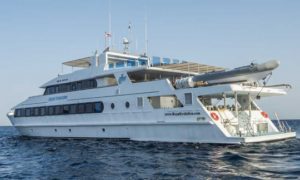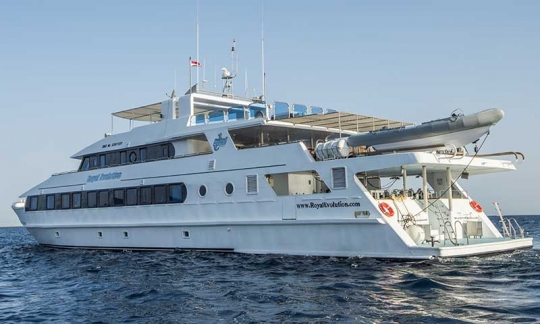 MS Royal Evolution, Red Sea Liveaboard Diving – Check the Price

MY Emperor Elite, Red Sea Liveaboard Diving – Check the Price
Muscat Dive Sites
Daymanayat Islands: located 70 kilometers (44 miles) from Al Mouj Marina in Muscat, 9 small islands, white sand beaches, excellent visibility to 30 meters (100 feet), fringing reefs, swim-throughs, and caves, 100 species of soft and hard coral, 10% endemic to Oman, 280 species of fish, large schools of fish, moray eels, kingfish, stingrays, leatherback, green, and hawksbill turtles, moray eels, leopard and whale sharks, manta rays, bottlenose and spinner dolphins, and humpback whales sometimes encountered, UNESCO nature reserve with turtle nesting and a bird sanctuary, diving suitable for all levels of diver
Fahal Island:  located 4 kilometers (2.5 miles) from Ras Al Hamra in Muscat, also known as Shark Island, limestone island with a rocky wall site on one side with lots of broccoli soft coral, a large coral garden with seasonal turtles, eagle rays and whale sharks on the other side, lots of reef fish and macro critters all around, blacktip reef sharks and barracudas are often sighted, diving suitable for all levels of diver
Bandar Khayran: located to the southeast, a short fast boat ride from Marina Al Rowdha in Sidab, Muscat, 15 dive sites with a variety of terrain, shallow coral reefs, swim-throughs, and drop-offs to 30 meters (100 feet), rich soft and hard corals, squid, giant honeycomb moray eels, snappers, goatfish, grouper, turtles, stingrays, and huge schools of fish, also the site of the 84-meter (276-foot) Al Munassir wreck, a landing craft scuttled in 2003 to become an artificial reef, at 30 meters (100 feet), home to lots of macro life including nudibranchs and pipefish, and much of the same rich marine life mentioned for the other sites, there is diving suitable for all levels of diver at Bandar Khayran
Things to Do in Muscat (aside from scuba diving)
When you are not diving, Muscat offers an interesting array of sights to see, shopping, eating, and recreation.  Here is a list of highlights to investigate: Mutrah Souk, Jawahir Oman (silver), Amouage Perfume Factory Tour, Qurm Beach, Dolphin Watching, Kalbooh Park, Yiti Beach, Bandar Al Rowdah, Al Alam Palace, Sultan Qaboos Grand Mosque, Al Qurom Park, Qantab Beach, Al Mirani, Mutra Corniche, Bait Al Zubair Museum, Children's Museum, Children's Library, Paris Gallery, Al Jalali Fort, Food and Drink – Trader Vic's, Al Angham, Kargeen Café, On the Rocks, Rukanah Café, The Cave, Ubhar.
The video below gives you a glimpse of some of these attractions.
Muscat Transportation, Hotels, & Diving Services
Air – Connections can be made with a large number of European, Middle Eastern, and Asian countries through Muscat International Airport located 37 kilometers (23 miles) west of Mutrah (which is in the northeast section of Muscat).  Public buses are available and taxis can be booked at a taxi counter.
Buses – Long distance service is available for trips around the country and to Yemen and Dubai.
Taxis – Minibuses, known as baisa buses, operate along the highways and on the main routes in town.  They are reasonably priced, with haggling.  If they are traveling in the direction you want to go, they can get you to your destination.  Discuss it before boarding.  They are also available at the airport.  Regular taxis, usually orange and white) are a little more expensive.  Secure your price before boarding.
Rental cars by major chains are an option and reasonably priced.  They are available at the airport and at locations around the city.
For more complete details on transportation and other tourist tips, please go to Wikivoyage – Muscat.
Hotels and Diving – Many hundreds of lodging options are available in Muscat starting at $12 per night.  There are a number of dive shops in operation, some within or associated with hotels, offering a full range of services that include equipment rental, diving certification classes, dive guides, and boat tours.  The website linked below has the details and can arrange a booking for the lodging.  You can easily find the location on the map provided on this site.  Their rates are guaranteed to be the lowest and it is free to cancel or change dates.
Photography in Muscat
With the attractive coral reefs, a variety of fish, macro critters, wrecks, sharks, rays, dolphins, whales, and scenic shoreside targets, as well, there are many excellent photo opportunities.  For information and reviews of dive cameras, click here:
A cushion for emergencies provides peace of mind when on vacation.  I recommend this diving insurance as they have worldwide coverage and give scuba divers a quality insurance and medical assistance service.
Feedback and Comments
I hope you found this post on Muscat scuba diving interesting and useful. If you have any questions or ideas, please feel free to share them in the comments section.  I'd love to know of any experience you have.  If there is no comments section directly below, click here:  >>comments<<