We may earn money or products from the companies mentioned in this post.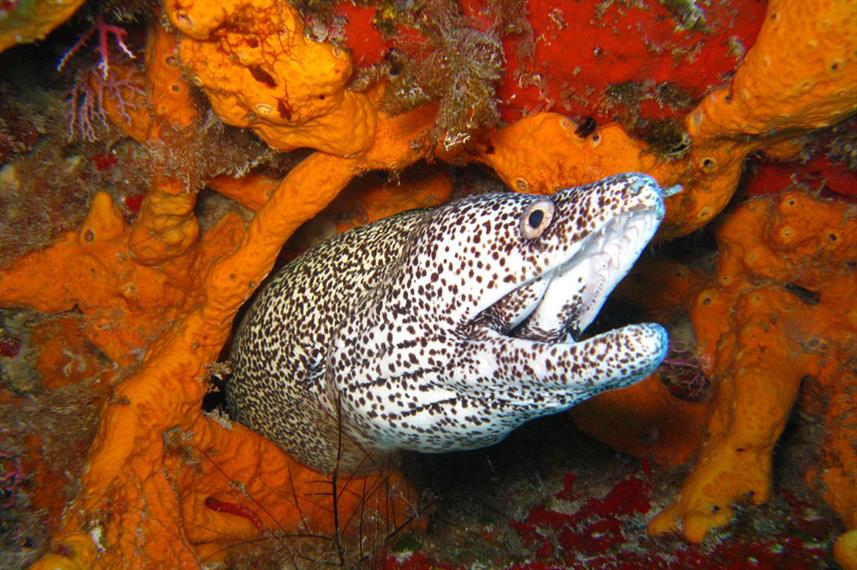 This is the twenty-fifth in a series which introduces and describes the various dive services and sites for worldwide liveaboard dive safaris.  The focus in this one is on Oman liveaboards.
In addition to this series on liveaboards, the best worldwide dive resort locations and services are reviewed in their own series.  To check them out, or other liveaboards, click on Liveaboards/Resorts on the menu at the top and choose a title.
Have you ever been diving in Oman?  If so, I'd love to know about your experience.  What dive shop or liveaboard did you use?  Which dive spots are the best and what are the conditions there regarding the visibility, current, water temperature, sealife attractions, etc.?  Please post your response in the comments section at the bottom and we'll all learn something we can use.
Best Liveaboard Scuba Diving Oman
Situated to the south of Saudi Arabia and the Emirates, with a coastline on the Gulf of Oman and the Arabian Sea, is Oman.  With its rich history and dramatic desert and mountain landscapes, it is increasingly being discovered for its fascinating and protected scuba sites that are so well accessed by a liveaboard.
Many of the best sites are protected by bans on fishing which has promoted rich coral reefs of diversity with great macro life, pelagics and massive schools of fish.
While there is significant drift, on occasion, on some sites, and some cave and wreck exploration available, most of the sites are on shallow reefs where the diving is suitable for beginners.  The Oman liveaboards provide an excellent opportunity to increase skills by taking an advanced open water or underwater photography specialty course.
Oman Dive Site Highlights
Musandam:  Diverse area with reefs, walls, limestone substrate, caves, coral gardens, some strong current. 900 species of fish. Pelagics include manta and eagle rays, dolphins, whale sharks, mola mola, hawksbill and green turtles. Also home to spiny lobster, cleaner shrimp, and other creatures. Sandy cave bottoms with skates, rays, and sharks. Schools of tuna and jacks.
Daymanayat Islands: 100 species of soft and hard coral, 10% endemic to Oman. 280 species of fish, stingrays, green and hawksbill turtles, moray eels, leopard and whale sharks.  Bottlenose and spinner dolphins and humpback whales sometimes encountered. Nature reserve with turtle nesting and bird sanctuary.
Bandar Khayran:  15 dive sites southeast of Muscat. Variety of sites – shallow coral reefs, swim-throughs, and drop-offs to 100ft/30m. Rich soft and hard corals, giant honeycomb moray eels, lobsters, stingrays, turtles, nudibranchs, pipefish, and gigantic schools of fish.
Al Munnasir Wreck:  Artificial reef of a scuttled 3000 ton 276ft/84m ship at a depth of 100ft/30m. Lots of fish including huge morays and grouper, large schools of snapper and goatfish, resident turtles and rays.
Fahal Island:  Rocky wall site on one side with broccoli soft coral. Large coral garden with seasonal turtles, eagle rays and whale sharks on the other side.
Hallinayat Islands:  Healthy marine life with a pristine coral garden and wrecks, resident humpback whales, encounters with manta rays, sperm whales, large pods of dolphin, green turtles, oceanic manta rays, giant groupers, giant catfish, mobula rays and thousands of fish.
Seasons and Conditions
The water is warm year-round at 27-28°C (79-82°F).  Some sites have a thermocline at around 10 meters (33 feet) where the temp can drop to 23°C (74°F).  A 3-5mm wetsuit is recommended.  Visibility varies based on the season and plankton blooms.  The range is from 35-85ft (10-25m).
The best season for whale sharks is July through September during the plankton bloom.  For turtles, it is from March to June.  For big schools of pelagic fish and manta rays, the season is November-December.  January to March is the humpback season.  April is the best time for dolphins.  In summary, all year something memorable to see and photograph is making the cruise to the seas around Oman.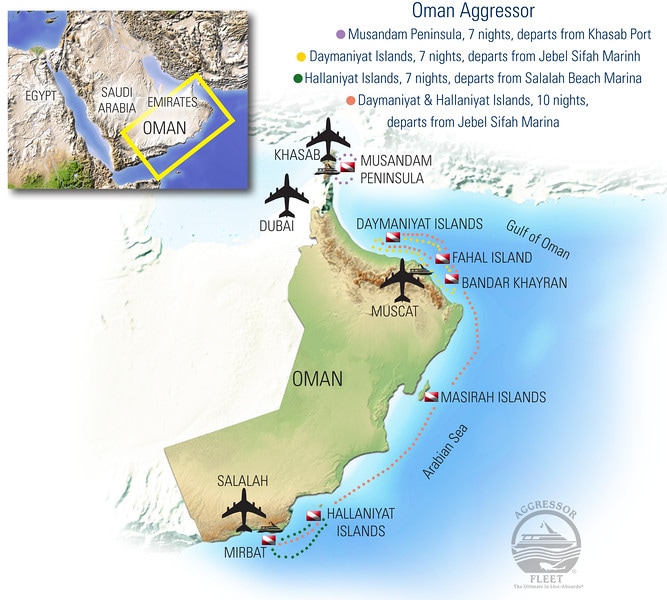 Best Liveaboard Dive Boats – Oman
The Aggressor Fleet is represented by the Oman Aggressor, a 22 meter, high quality, modern yacht offering 4 itineraries over 7 to 10 nights.
The Al Marsa Fleet is represented by the other three vessels, which are traditional Arabic dhows that have been modernized and custom outfitted for diving.  They are configured very similarly and offer 6-7 day dive safaris to the Musandam Peninsula and the same level of services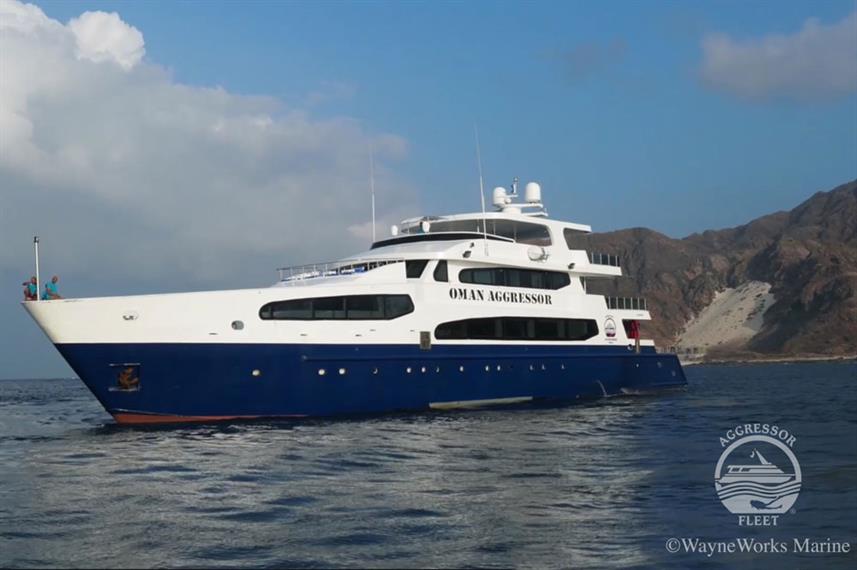 Year-round 7-10 night itineraries to the Daymaniyat Islands, Musandam Peninsula, and Hallaniyat Islands
Audio & video entertainment, library, TV in cabins
Complete video/photo center
Air-conditioned saloon, aircon cabins, en-suite bathrooms
Sun deck
Indoor Saloon
Hot Tub
No internet
Western and local food
English speaking crew
Rinse hosts
Dive deck
Snorkeler friendly
All levels of diver welcome, courses available
Nitrox available
2 tenders for diving
Check it out on Liveaboard.com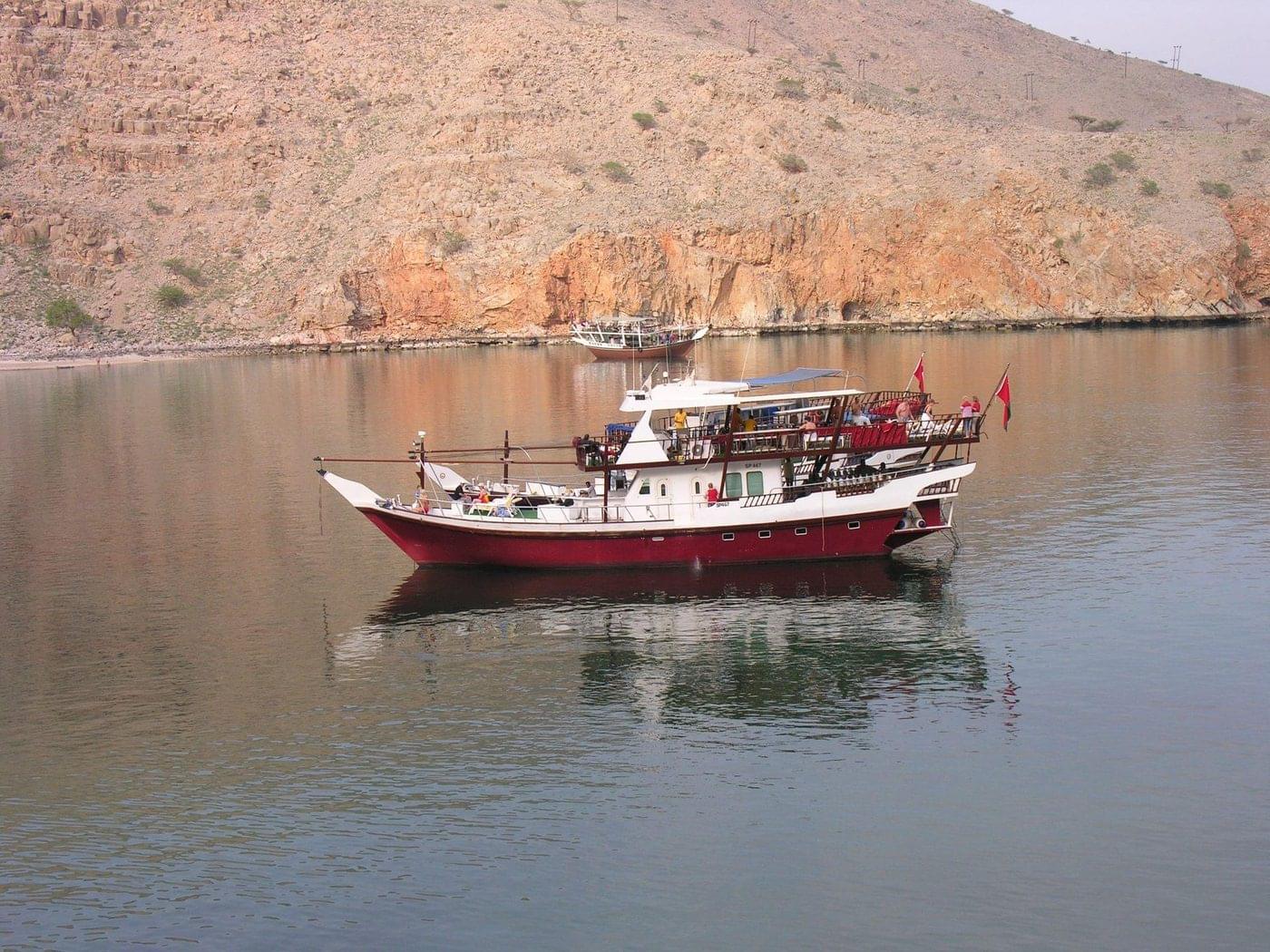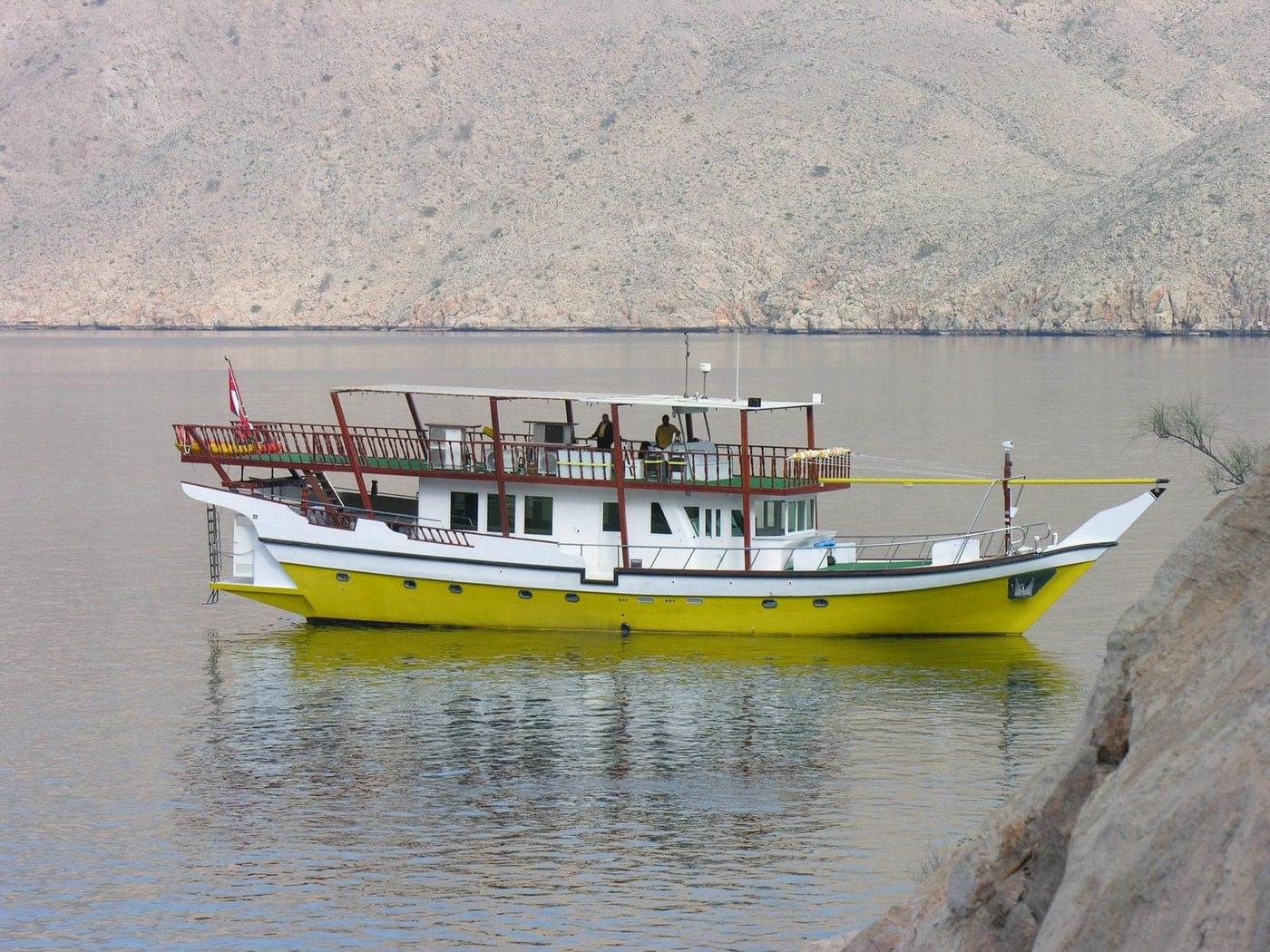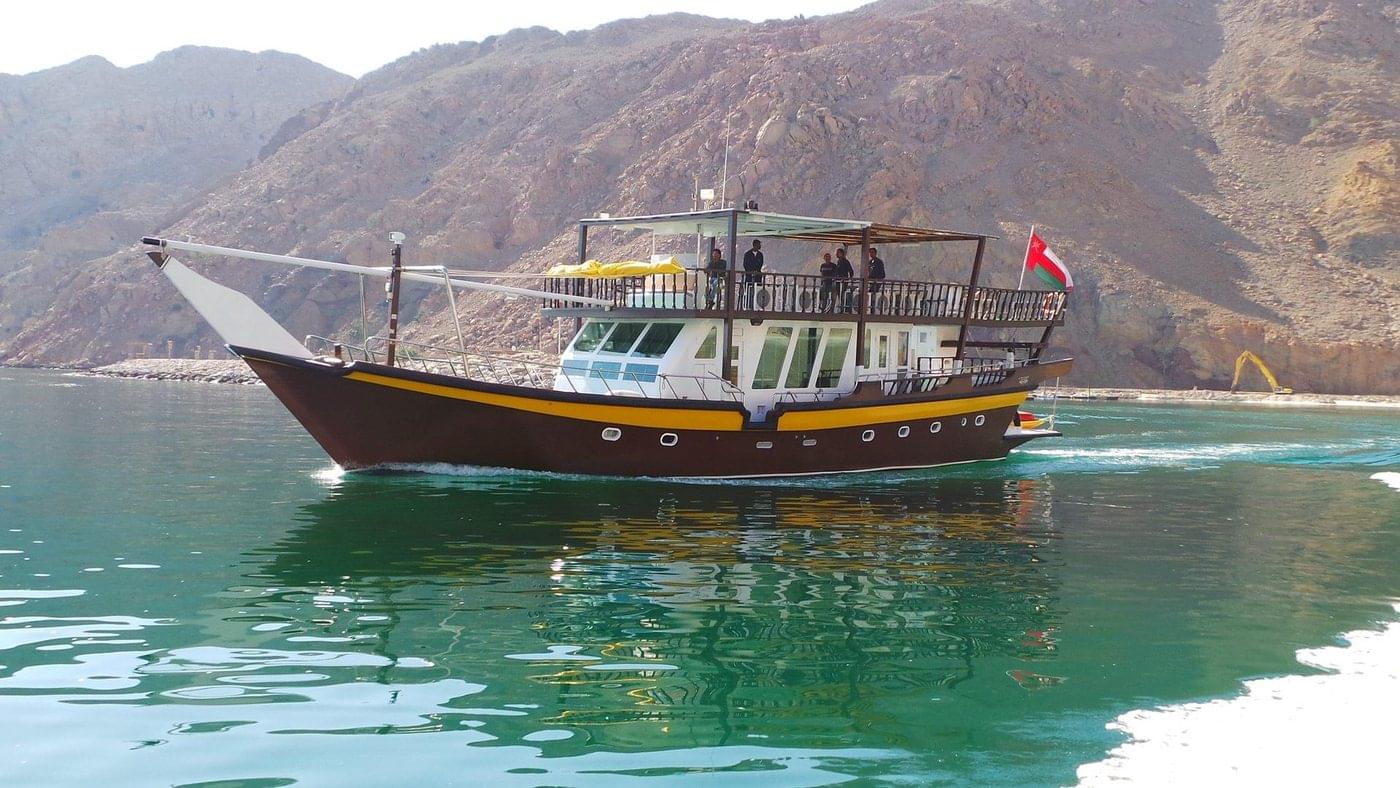 Red Dhow, Queen of Musandam & Yellow Dhow features:
Year-round 6-7 night dive safaris to the Musandam Peninsula
Full-length sun deck, lower decks with bar
Air-conditioned saloon with  movies
Battery charging station
Galleys inside and outside with bbq
Buffet with vegetarian and Halal food, alcohol available
English and Arabic spoken
Snorkeling and kayaking
All levels of diver welcome, courses offered
Equipment for rent
Spacious dive deck
 Zodiac/dhoni tenders
Life rafts
Check it out on Liveaboard.com
|   | Oman Aggressor | Red Dhow | Queen of Musandam | Brown Dhow |
| --- | --- | --- | --- | --- |
| | | | | |
| Length | 45 m | 23 m | 23 m | 22 m |
| Guests | 22 | 16 | 16 | 16 |
| Equipment | $175/week | Available | Available | Available |
| Nitrox | $100/week | No | No | No |
| Snorkeling | Yes | Yes | Yes | Yes |
| Dive Courses On Board | Yes | Yes | Yes | Yes |
| Single Supplement | +100% | +100% | +100% | +100% |
| Price/Day | $224 | $162 | $218 | $169 |
Oman Photos
With the macro life, beautiful, diverse coral reef and lots of fish, there are many excellent photo opportunities.  For information and reviews of diving cameras, click here:
A cushion for emergencies provides peace of mind when on vacation.  I recommend this diving insurance as they have worldwide coverage and provide scuba divers a quality insurance and medical assistance service.
Feedback and Comments
I hope you found this post on Oman scuba diving interesting and useful. If you have any questions or ideas, please feel free to share them in the comments section.  I'd love to know of any experience you have diving there.  If there is no comments section directly below, click here:  >>comments<<