We may earn money or products from the companies mentioned in this post.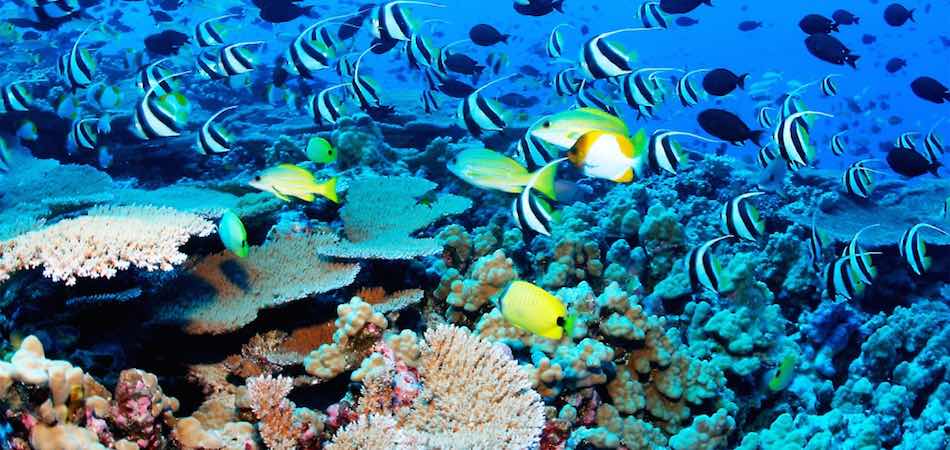 Updated January 9, 2021
This is the one hundred and sixty-fifth in a series of reviews of the best dive resort locations around the world.  In this post, the focus is on Goa, India. In addition to this series on dive resort locations, the best worldwide liveaboard diving locations and services are reviewed in their own series.  To check them out, or others in this series, click on Liveaboards/Resorts on the menu at the top and choose a title from the list.
Have you been diving in Goa before?  If so, I'd love to know about your experience.  What dive shop or liveaboard did you use?  Which dive spots are the best and what are the conditions there regarding the visibility, current, water temperature, sealife attractions, etc.?  Please post your response in the comments section at the bottom and we'll all learn something we can use.
Scuba Diving Goa India
Background – Goa is a small Indian state on the southwestern coast with a population of around 1.5 million.  Colonized by the Portuguese for 450 years from the 1600s until 1961, the cultural influence is quite evident though diminishing.
The economy is driven by fast-growing tourism with greater than 5 million Indian and foreign tourists annually.  Historically the foreigners were predominated by Brits and Russians of limited means, hippies, and pilgrims visiting Hindu and Catholic shrines, but that is starting to change with demand for upscale facilities and services coming online.  Tourist activities focus mainly on watersports, and nightlife, including casinos.  Other important economic factors are mining, a limited number of SEZs focusing on middle-range manufacturing, and a declining agricultural sector.  This has all resulted in Goans having the highest per capita GDP in India.
Most can speak Konkani, Hindi, English, and Marathi, with a very small declining population able to speak Portuguese.
For detailed demographic, cultural, historical, and geographic information, check Wikipedia-Goa.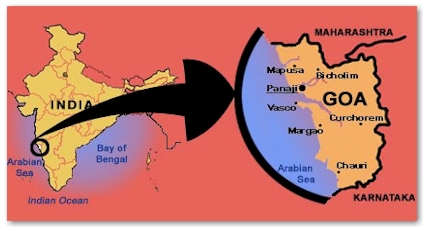 Undersea World – The diving in Goa concentrates on Grande Island and Sao Jorge Island near Vasco de Gama.  The sites are mostly shallow and calm with minimal current, good for training and all levels of diver.  There are sandy bays, coral fields, and wrecks to explore like Suzy's Wreck off Grande Island.
The reef, unfortunately, is far from pristine but does support a variety of hard and soft corals, gorgonians, and sea whips.  It is made up for by the range of tropicals to see like flame-tail snappers, sweetlips, Malabar groupers, bannerfish, sweepers, sergeant majors, angelfish, blue-lined hinds, fusiliers, scats, and red-tailed butterflyfish.  Macro critters and invertebrates include sea cucumbers, lobsters, shrimps, nudibranchs, scorpionfish, lionfish, cuttlefish, and morays to go with turtles, stingrays, barracuda, the occasional bamboo shark or nurse shark, and humpback dolphins seen almost daily.
115 kilometers (72 miles) down the coastline from Palolem Beach in Goa is the temple town of Murudeshwar.  From there 15 kilometers (9 miles) off the coast is uninhabited Netrani Island aka Pigeon Island.  The reef is in much better condition than at Grande Island, the visibility is better in the range of 15-30 meters (50-100 feet), and there are sites worth visiting to 40 meters (130 feet).  The marine life is similar except for a number of more spectacular animals available like turtles, great barracuda, Napoleon wrasses, cobia, whitetip and blacktip reef sharks, stingrays, and cobia.  Netrani has also been blessed with appearances by giant mantas, orcas, and Bryde's and pilot whales.   The Goa dive shops make the drive to Murudeshwar and boat out from them.
Seasons and Conditions – Diving is possible from October to May around Goa due to heavy rains from June through September.
Air temperature average daily highs range from 29-33°C (84-91°F) with April and May the hottest months.
The water temperature annual range is 27-30°C (81-86°F).
The rainy season is from June through September with little to no rain at all from January through March.
Currents are usually mild with stronger currents possible on some sites
Visibility in season runs from 3-12 meters (10-40 feet) on the sites near Goa.  Around Netrari Island it is better at 15-30 meters (50-100 feet)
The sites around Goa range from 8-24 meters (25-80 feet) in depth and are suitable for all levels of diver.  With poor visibility, care needs to be taken with training and beginner divers.  There are around 30 dive centers diving around Goa that provide training and boat tours.  Some can organize day trips to other areas including Netrani Island where deeper dive sites are available.
There are no liveaboard yachts diving in the Goa region.  There are a number, however, that cruise the Maldives for scuba diving.  Here is a review and links to a few of the best boats: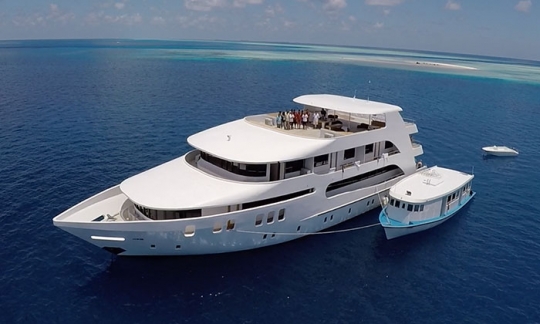 Most Popular – MV Adora – Check the Price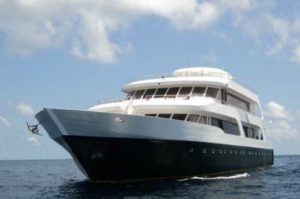 Staff Choice – MV Emperor Leo – Check the Price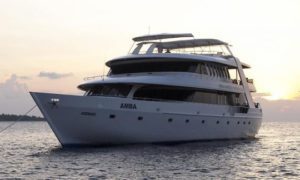 Great Value – MV Amba – Check the Price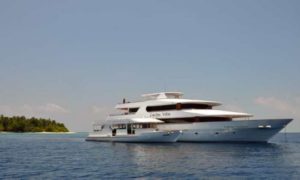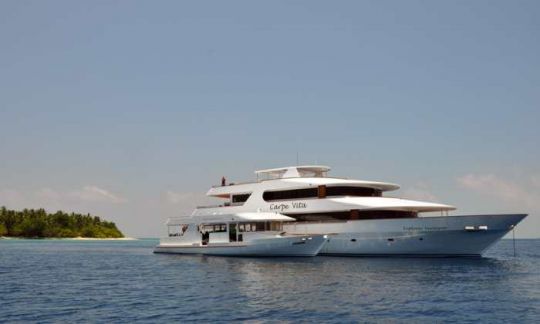 Top-Rated – MV Carpe Vita – Check the Price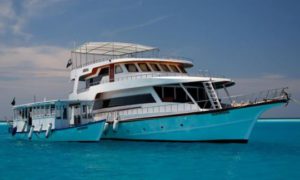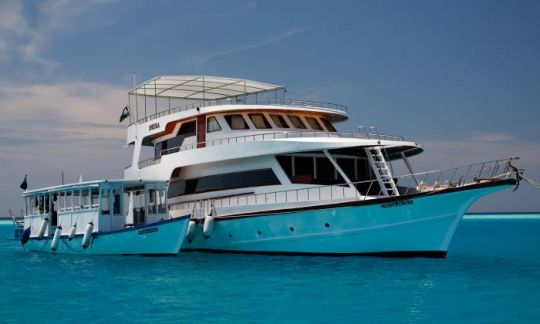 Small Group – MY Sheena – Check the Price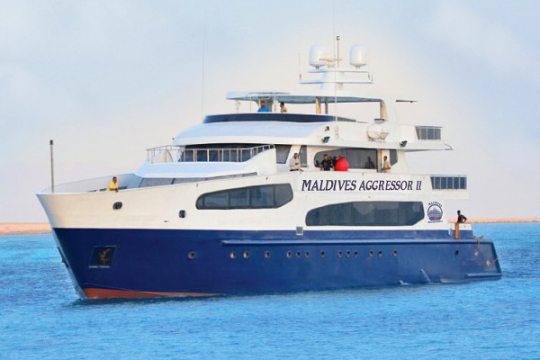 Photographers' Favorite – Maldives Aggressor II
Here are reviews of a couple of relatively nearby Indian Ocean dive sites:
Selected Goa and Netrani Island Dive Sites
Suzy's Wreck (Goa): 2-13 meters (6-43 feet), 130-meter (427-foot) metal cargo ship that sunk in a storm in the 1950s, much salvaged, the superstructure remains, encrusted in small hard and soft corals, lots of mollusks, diverse fish and marine life includes nudibranchs, squid, lobsters, clams, tiger cowries, blennies, batfish, angelfish, flame-tail snappers, sweetlips, scorpionfish Moorish idols, bannerfish, groupers, moray eels, pufferfish, boxfish, flounders, stargazers, and stingrays, suitable for all levels of diver
Sail Rock (Goa):  8-24 meters (25-80 feet), a pinnacle protruding above the surface, gradually sloping walls and rocky outcrops, marine life includes schooling tropicals like bannerfish, Moorish idols, and yellowtail snappers, pelagics and bigger fish are possible like tuna, red snapper, groupers, giant barracuda, eagle rays, and sharks, strong current is possible, suitable for experienced divers
Umma Gumma Reef (Goa): 6-12 meters (20-40 feet), off Grande Island, protruding rocky outcrop with coral encrustation, marine life includes lobsters, and scorpionfish, reef tropicals there are blue-ringed angelfish, porcupine puffers, collared butterflyfish, needlefish, triggerfish, surgeonfish and batfish, and bigger fish like groupers, jacks, barracuda, tuna, and possible reef sharks, minimal current, suitable for all levels
Davy Jones Locker (Goa):  11-18 meters (36-60 feet), a metal steamer in fragments, the stern section and a large propeller are identifiable, habitat for schools of grouper, mullet, barracuda, jacks, and bannerfish, tuna are possible, look for nudibranchs and moray eels, surface conditions may be rough, suitable for experienced divers
Lobster Avenue (Goa):  2-10 meters (6-33 feet), rocky bottom interspersed with sand, abundant plate corals and rocks provide shelter for schools of snappers, sergeant majors, and parrotfish, scats, morays, red-toothed triggerfish, big lobster, and groupers, possibility of turtles, nurse sharks, and marble rays, gentle current with possible surge, suitable for all levels
The Jetty (Goa):  2-10 meters (6-33 feet), disused jetty off a sandy beach with lots of hard corals, an abundance of marine life with macro critters including lionfish, scorpionfish, moray eels, lobsters, and nudibranchs, also schools of baitfish, damselfish, groupers, sweetlips, puffers, butterflyfish, and barracuda, suitable for all levels
Grand Central Station (Netrani):  6-25 meters (20-82 feet), corals and rocks in the shallows with rabbitfish, sergeant majors, and red-toothed triggerfish, gives way to sloping walls, look for groupers, red snappers, parrotfish, Napoleon wrasses, and cobia deeper, possible Olive Ridley turtles, usually a gentle current, suitable for all levels
Dini's Delight and the Abyss (Netrani):  8-35 meters (25-115 feet), Dini's Delight is the shallow portion characterized by big coral heads with swim-throughs, and rich marine life includes lobsters, puffers, morays, coris, angelfish, wrasses, and parrotfish, moving deeper into the Abyss, look for schools of pelagics like tuna, and barracuda, suitable for all levels depending on the depth attempted
Jenny's Aquarium (Netrani): 6-15 meters (20-50 feet), terrain of walls with rocks and a small cavern and the possibility of whitetip reef sharks resting inside, look for morays and lobsters between the rocks, reef tropicals include bannerfish, blue-ringed angelfish, Moorish idols, schools of butterflyfish, big groupers, and Napoleon wrasses, cruising blacktip reef sharks are a possibility, sometimes there is some current, suitable for all levels
The Nursery (Netrani): 6-10 meters (20-33 feet), sheltered bay with a shallow wall, rocks, and a gravel bottom which serves as a breeding area and nursery, look for juveniles, stonefish, nudibranchs, and moray eels, surge is possible, suitable for all levels
Things to Do in Goa (aside from scuba diving)
The intriguing mix of Portuguese and Indian cultures has resulted in a variety of available activities and historical sites to visit when you are not taking advantage of the seaside and partying that Goa is famous for.  Here is a sample of sights and activities to consider:  Beaches, Waterfalls of Goa, Parasailing, Dolphin Watching, Churches, Ancestral Goa, River Cruise, Goan Cuisine, Reis Magos Fort, Cola Beach View Point, Chapora Fort, Old Goa, Goa State Museum, Anjuna Flea Market, Mapusa Friday Bazaar, Bondla Wildlife Sanctuary, Fort Aguada, Nightclubs, Casinos, Singbal's Book House, Mahadeva Temple, Big Foot Cross Museum, Fontainhas, Ashiyana Yoga Center, Sahakari Spice Farm.
This video gives a glimpse of some of the popular activities to consider.
Air – Goa's only airport is Dabolim Airport in Vasco da Gama.  There are only a few direct international flights with most routed through Mumbai.  Domestic flights connect to many locations.  Pre-paid taxis can be arranged at the international arrival area.
Bus and train connections are available to many cities in India.  Bus service within Goa is reasonably priced and convenient.  There is also a hop-on-hop-off touring coach service in aircon vehicles.
Car hire and rental are available all over Goa from numerous companies including famous rental outfits.  Ask at your hotel.
Motorbikes and scooters are also readily available to rent for short and long term.  There are geared and ungeared versions.  The law requires a helmet.
For more details on transportation and other tourist information, check Wikitravel-Goa.
Hotels and Diving – In Goa there are many hundreds of lodging options starting at $4.  There are also more than 30 dive shops offering a range of services that includes equipment rental, diving certification classes, dive guides, and boat tours.  The website linked below has the details for the lodging and can arrange a booking.  You can easily find the location on the map provided on their site.  The rates are guaranteed to be the lowest and it is free to cancel or change dates.
Photography in Goa
With the colorful coral reefs, a variety of fish, marine life, and beautiful onshore targets, as well, there are many excellent photo opportunities.  For information and reviews of dive cameras, click here:
A cushion for emergencies provides peace of mind when on vacation.  I recommend this diving insurance as they have worldwide coverage and give scuba divers a quality insurance and medical assistance service.
Feedback and Comments
I hope you found this post on Goa scuba diving interesting and useful. If you have any questions or ideas, please feel free to share them in the comments section.  I'd love to know of any experience you have.  If there is no comments section directly below, click here:  >>comments<<