We may earn money or products from the companies mentioned in this post.
This is the twenty-third in a series of reviews of the best dive resort locations around the world.  In this post, the focus is Sri Lanka.
In addition to this series on dive resort locations, the best worldwide liveaboard dive locations and services are reviewed in their own series.  To check them out, or others in this series, click on Liveaboards / Resorts on the menu at the top and choose a title from the list.
Have you ever been diving in Sri Lanka?  If so, I'd love to know about your experience.  What dive shop or liveaboard did you use?  Which dive spots are the best and what are the conditions there regarding the visibility, current, water temperature, sealife attractions, etc.?  Please post your response in the comments section at the bottom and we'll all learn something we can use.
Sri Lanka Diving
Sri Lanka, the multi-cultural large island country of 22 million, is located just off the southeast tip of India.  Gaining independence from Britain in 1948, English is still widely spoken by the population.  Since the 30-year civil war that ended in 2009, the country has remained relatively peaceful.  The original plantation economy is still important with the production of cinnamon, tea, and rubber and has expanded to include coffee, sugar and food crops. In addition, and more importantly, expansion has moved into light industry, finance, tourism and other services making Sri Lanka into the second most prosperous country per capita, in South Asia, behind only the Maldives.  For more demographic, geographical, historical and cultural information on Sri Lanka, click here:   Sri Lanka (Wikipedia)
With a tropical climate, there are interesting dive sites all around this big island.  The real notoriety is for the many outstanding historical wrecks, but the reef diving is good and improving as environment protection is becoming widespread and increasingly more areas designated marine preserves.  Sea life highlights include titan and clown triggerfish, sweetlips, batfish, giant barracuda, goliath grouper, trevally, bumphead parrotfish, Napoleon wrasse, eagle and bull rays, reef and whale sharks, several varieties of turtle, blue and sperm whales, spotted and bottlenose dolphins, not to mention a variety of macro critters including, lobsters, moray eels, nudibranchs and various hard and soft corals, sponges, tunicates and other invertebrates.
Sri Lanka has climate variations around the island based on altitude, latitude, and distance from the coast, monsoon winds and the season.  Seasonal air temperature averages are 22°C (72 °F) in winter and 33°C (93°F) in summer and the water temperature is roughly 27-28°C (80-83°F) year round.  Rainfall is subject to monsoon winds coming from the Indian Ocean and conversely from the Bay of Bengal.  The best season for diving in the west and southwest is October to May.  In the east and northeast, it is May to October.
Visibility is good at 20-30 meters (65-100 feet).
For reviews of diving in other Indian Ocean locations, please click on these posts: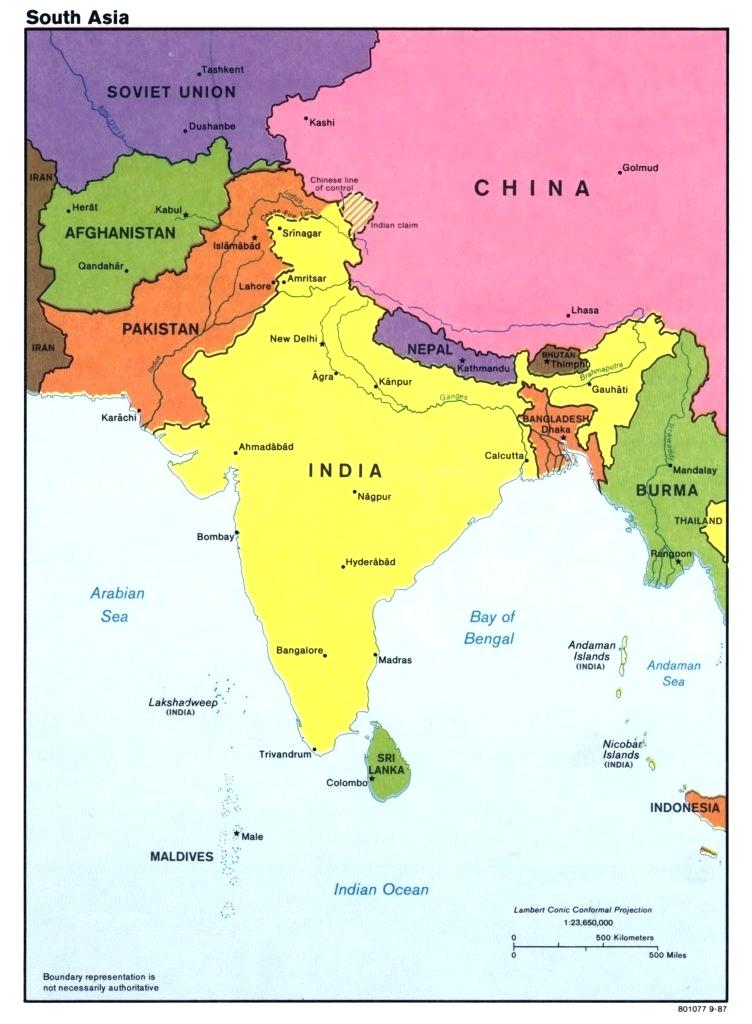 Selected Best Dive Sites
Best Reef Areas
Hikkaduwa: national park with a fringing reef of great biodiversity, 60 species of hard coral, 170 species of fish, seagrass and marine algae
Kalpitiya: beach tourist area with rich biodiversity, 156 species of coral, 283 species of fish, manta rays, reef sharks, turtles, whales and dolphins, macro critters like shrimp, crabs, mollusks, May to November southwest monsoon precludes diving, mild currents
Kirinda: great beach, Buddhist shrine on shore, Great Basses wreck nearby, Great and Little Basses reefs to the southeast, lighthouse built in 1860 is on the reef, grey reef sharks and tuna
Weligama: 30 km (19 miles) east of Galle, fishing village, snorkeling and diving, dolphins and sharks November to April, Yala Rock site
Trincomalee: ecotourism area, beautiful white sand beaches, snorkeling and diving around Nilaveli Beach and Pigeon Island, Irakkandy shipwreck
Colombo: one dozen wrecks in the area including Medhufaru, Cargo Wreck, Car Wreck, Tug Wreck, Battery Barge, SS Worcestershire, Para Gala, Wallet Wreck, Panadura Wreck, Taprobane East Wreck, 30-57 meters (100-190 feet) in maximum depth, nice reefs including Taprobane East, Barracuda Reef, Gorgonian Gardens, Serendib Reef
Selected West Coast Wrecks
SS Perseus (or Taprobane North Wreck): Colombo, depth: 30-40 meters (100-130 feet), WWI British steamship sunk in 1917 after hitting a German mine, broken up, black and soft corals, lots of fish including snappers, Napoleon wrasses, trevallies, groupers, advanced level
Taprobane East Wreck: Colombo, depth: 32 meters (115 feet), a skeleton of a small barge in sandy bed, soft corals, reef fish like wrasses, glassfish, snapper and stingrays, experienced level
MV Chief Dragon (or Car Wreck): Colombo, depth: 20-32 meters (67-115 feet), 112-meter (370-foot) Panamanian cargo ship (with cars), sunk in 1983, hard and soft corals, trevallies, mackerel, barracuda, soft corals, experienced level
MV Medhufaru: Mount Lavinia, depth: 14-30 meters (48-100 feet), Moldavian cargo vessel, floundered and sunk in 2009, sits upright on a sandy bed, fusiliers, batfish, lionfish, mackerel, tuna, wahoo, trevallies, beginner to experienced level
MV Thermopylae Sierra: Moratuwa, depth: to 24 meters (80 feet), 155-meter (515-foot) Cypriot bulk freighter, sunk 2012, upright with deck at 10-12 meters (35-40 feet), snappers, parrotfish, surgeonfish, angelfish, mackerel, octopus, eagle rays, trevallies, tuna, barracuda, beginner and experienced level
SS Worcestershire: Moratuwa, depth: 50-57 meters (167-190 feet), British merchant naval vessel sunk by a German mine in 1917, sits upright with collapsed hull and bridge, soft, whip and black corals, sea fans, snappers, fusiliers, Napoleon wrasses, big-eye and giant trevallies, giant sweetlips, tech level
SS Rangoon: Unawatuna, depth 27-32 meters (90-115 feet), a steamship sunk in 1872 in front of Galle Fort, upright with masts intact, snappers, rabbitfish, trevallies, experienced level
SS Conch: Acurala, depth 17-21 meters (57-70 feet), a British steamship, first oil tanker built, struck Akarta Rock and sunk in 1903, spread over a large area, partly salvaged, engine block, boilers, propeller, snappers, angelfish, porcupinefish, triggerfish, moray eels, groupers, beginner level
Selected East Coast Wrecks
HMS Hermes: Batticaloa, depth: 40-53 meters (130-178 feet), British aircraft carrier sunk by the Japanese in 1942, intact bow, guns, anchors and propeller, tuna, trevallies, barracuda, black coral, tech level
SS British Sergeant: Mankerni, depth: 13-27 meters (43-90 feet), British oil tanker sunk by the Japanese in 1942, much has been salvaged, large caverns in the bow with schools of fish, pink and purple soft corals, experienced level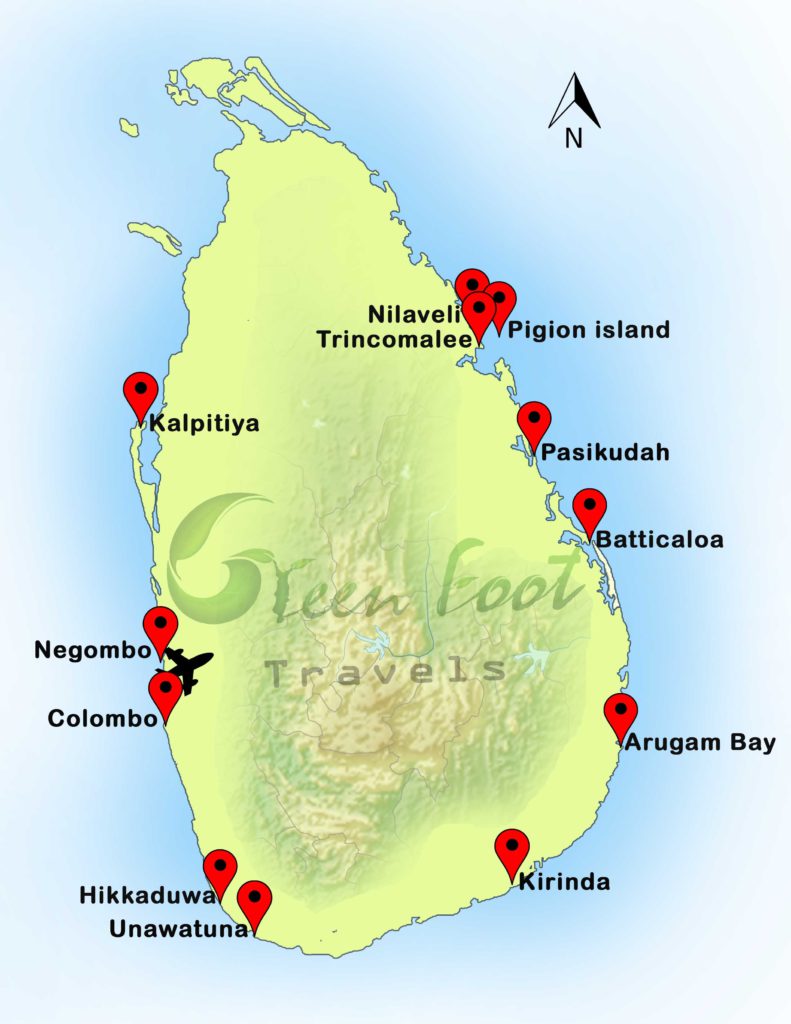 Sri Lanka Accommodation
Colombo-Bandaranayake International Airport provides service for many non-stop flights from around Europe and Asia. In addition, there are 15 domestic airports.  Land transportation includes tuk-tuks, taxis, buses, and trains.
In Sri Lanka, there are thousands of hotels, resorts, and condos available.  Pricing runs from the very lowest budget level on up to high luxury.  As for the diving, many of the hotels have their own dive shop.  Otherwise, there are lots of dive operations on Sri Lanka mostly in the locations highlighted on the dive site map above.  For a website that is a good source for the available housing options and can arrange a booking, click here:  Sri Lanka Hotels, Resorts  For locations all around the island, you can continue the search on the website.
Sri Lanka Things To Do (aside from scuba diving)
There is an abundance of interesting activities and events in Sri Lanka to round out a vacation there: surfing, beach and seaside activities, religious and cultural festivals, palaces, museums, city tours, food, restaurants and nightlife, shopping, sports, hiking and wildlife tours.  Sri Lanka has jungles, 51 natural waterfalls, 2,100-meter (7,000 foot) mountains, leopards, elephants, monkeys, rich bird life, and biodiversity.
Sri Lanka Photo Opportunities
With the macro life, beautiful, diverse coral reef, lots of fish and wrecks, there are many excellent photo opportunities.  For information and reviews of diving cameras, click here:
A cushion for emergencies provides peace of mind when on vacation.  I recommend this diving insurance as they have worldwide coverage and provide scuba divers a quality insurance and medical assistance service.
Feedback and Comments
I hope you found this post on Sri Lanka scuba diving interesting and useful. If you have any questions or ideas, please feel free to share them in the comments section.  I'd love to know of any experience you have diving there.  If there is no comments section directly below, click here:  >>comments<<