We may earn money or products from the companies mentioned in this post.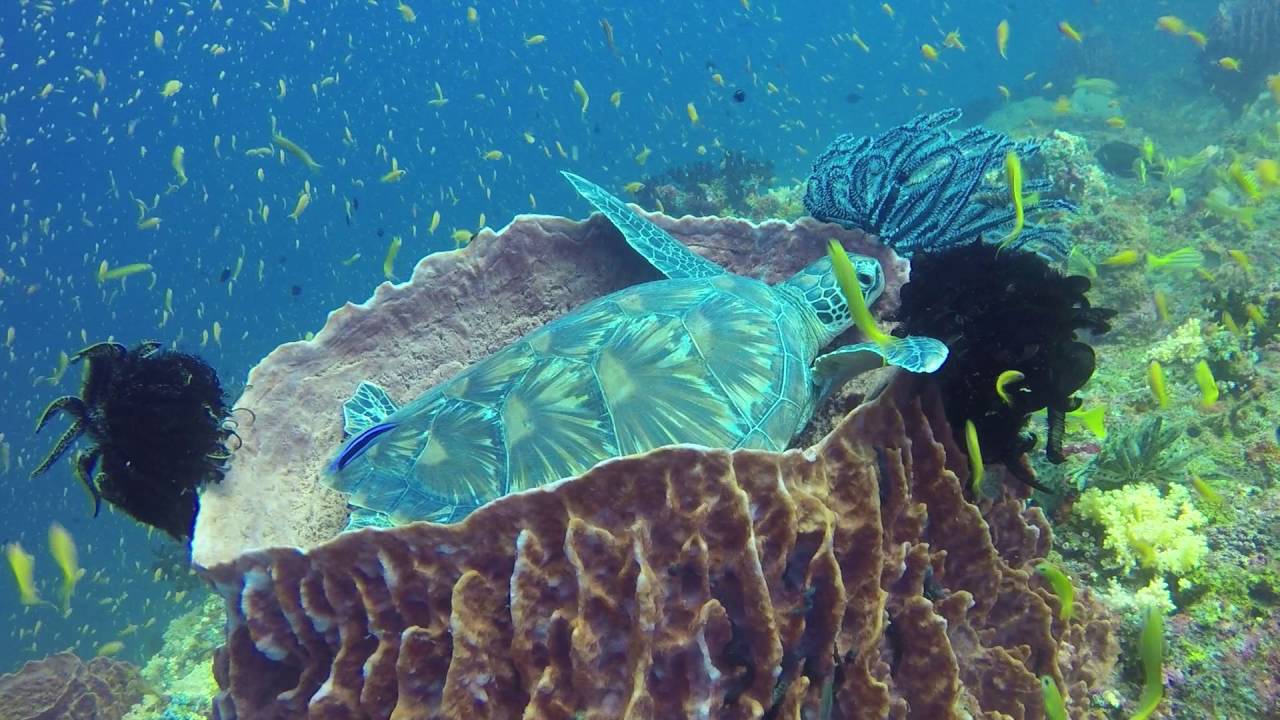 This is the sixty-eighth in a series of reviews of the best dive resort locations around the world.  In this post, the focus is the Andaman Islands.
In addition to this series on dive resort locations, the best worldwide liveaboard diving locations and services are reviewed in their own series.  To check them out, or others in this series, click on Liveaboards/Resorts on the menu at the top and choose a title from the list.
Have you ever been diving in the Andaman Islands before?  If so, I'd love to know about your experience.  What dive shop or liveaboard did you use?  Which dive spots are the best and what are the conditions there regarding the visibility, current, water temperature, sealife attractions, etc.?  Please post your response in the comments section at the bottom and we'll all learn something we can use.
Scuba Diving the Andaman Islands
Background – The 572 Andaman and Nicobar Islands form an archipelago in the Bay of Bengal between India and Myanmar.  All but a few islands in the north are under the control of the Indian government.  Archaeological evidence indicates inhabitation for at least the last 2,200 years and probably for much longer. When the indigenous people first came into contact with outsiders in the 1850s they numbered around 7,000 and had not yet started using fire.  With introduced disease and less than favorable conditions under the British from the 1850s and the Japanese during the WWII occupation, there are around 400-450 from the several original ethnic groups remaining today.  Many of the islands, including North Sentinel, are out of bounds to visitors and the indigenous people are living a relatively untouched primitive lifestyle with hostility toward visitors.  In November of 2018 the missionary John Allen Chau went there without permission and was killed.  Today there are 345,000 inhabitants, up from 50,000 in 1960, most of whom are Bengali, Hindustani and Tamil migrants.  Port Blair is the chief community and government administrative center for The Andamans.  The less populated Nicobar Islands are administered as a separate area.  The archipelago is the continuation of the Burmese Arakan Yoma range in the north and it extends down to the Indonesian Archipelago in the south.  The 2004 Indian Ocean earthquake and tsunami inflicted a big toll with 2,000 people killed and 4,000 children losing at least one parent.  In 2009 and 2010 earthquakes struck nearby, but without such devastating damage.  Flora differs somewhat from north to south, but the forests are largely unspoiled by the influx of people and there are a number of endemic mammals, birds, reptiles and amphibians.  The area remains fairly isolated with scheduled flights only coming from 5 Indian cities and lengthy ferry trips from two Indian cities.  A wide variety of religions are practiced including Hinduism, Christianity, Islam, Sikhism, Buddhism, Jainism, Baha'i Faith, and Animism.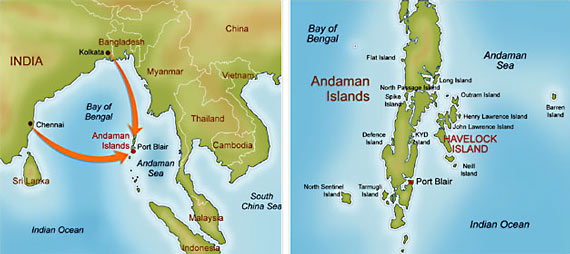 Undersea World – With so many islands and the relative remoteness, there are a massive number of areas that are virtually unexplored for diving.  At the point of contact at Port Blair, there are some quality dive centers and nearby reefs of interest.  Most of the diving happens, though, a 50 kilometer (31 mile) ferry trip away around Havelock Island, the main tourist area, with several beautiful beaches and most of the dive operations in the Andaman Islands.  It is part of the 11 island Ritchie's Archipelago which also includes Neil Island with its own dive shops, as well.  These sites have a mixed terrain of fringing reefs, pinnacles, walls and rocky areas on oftentimes pristine reefs of hard and soft corals, sea fans, a rich array of encrusting invertebrates and a large number of big barrel sponges.  The free-swimming wildlife is astounding at times with huge schools of reef tropicals and pelagics, as well.  Photographers will delight in the macro life like nudibranchs, lobster, seahorses, octopus, sea cucumbers, crinoids, lionfish, scorpionfish, frogfish, stonefish, banded sea kraits, garden and moray eels, and many others.  Coral heads often team with schooling Moorish idols, bannerfish, blueline snappers and shoals of several varieties of fusilier. Larger wildlife includes several species of sweetlips, triggerfish, grouper, Maori wrasses, bumphead parrotfish, batfish, jacks, barracuda, pelagics, white and blacktip reef sharks, stingrays, eagle and manta rays, whale sharks, dolphins, dugongs, and green turtles.  Some of the shops also arrange safaris out to Barren Island 100 kilometers (62 miles) from Havelock to dive in the volcanic black sand with steep walls and the turtles, mantas and reef sharks that frequent there.  Meanwhile, between dives, there is the smoking volcano in the background.  As the diving world learns more about the Andaman and Nicobar Islands there will be more exploration and many new dive sites for us to enjoy.
Seasons and Conditions – It's always warm with average daily high temperatures from 29-32°C (84-90°F).  Water temperature likewise is quite comfortable in a range from 27-31°C (81-88°F).  Most divers will not need more than 3 mm of protection.  The rain is quite substantial from May to October and most diving is discontinued during that season.   Visibility is oftentimes great, but the range is 5-40 meters (16-130 feet).  Currents on some sites can get strong, but conditions are available for all levels of diver.  There are at least 20 dive shops mostly around Port Blair and Havelock Island, but also in a few other locations, as well, that can provide a range of training, equipment rental, guiding and boat tours.
None of the major liveaboard yachts travel to the Andaman Islands.  However, there are quite a few that cruise other spots in the Andaman Sea.  Please click here for my reviews of Andaman Sea options: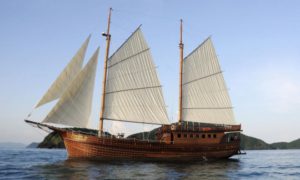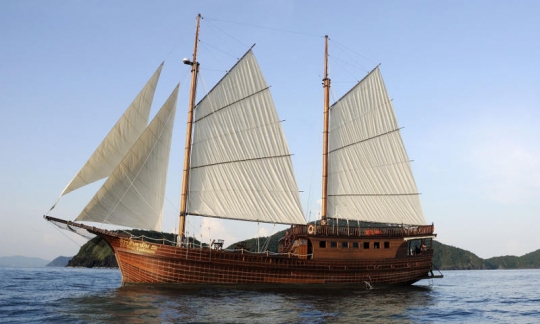 SY Diva Andaman, Andaman Sea Liveaboard Diving – Check the Price
Selected Andaman Islands Diving Sites
The Wall: 10-30 meters (35-100 feet), near the Havelock Jetty, red, yellow and purple soft corals and sea fans on and along the wall, lionfish, scorpionfish, stonefish, frogfish, nudibranchs, octopus, pufferfish, a big resident Napoleon wrasse, stingrays, good for night dives, all levels
Dixon's Pinnacle: 18-30 meters (60-100 feet), 3 pinnacles, rich hard and soft corals, large barrel sponges, banded cleaner shrimp, glassfish, batfish, red-toothed triggerfish, juvenile emperor angelfish, Napoleon wrasses, green turtles, manta rays, schooling barracuda, giant trevallies, groupers, tuna, mackerel, currents bring a lot of nutrients, experienced level
Johnny's Gorge: 20-28 meters (68-93 feet), 2 coral reef sections divided by a shallow gorge, swim-throughs, big barrel sponges, lots of coral, Andaman and striped sweetlips, angelfish, clown triggerfish, long-finned batfish, barracuda, devil, manta and eagle rays, stingrays, whitetip reef sharks, big groupers, experienced level
Lighthouse: 6-20 meters (20-68 feet), sloping site with rich coral in the shallows, fusiliers, octopus, lionfish, good macro life, bumphead parrotfish, lobsters, good night dive, all levels
Minerva's Ledge: 10-21 meters (35-70 feet), close to Johnny's Gorge, discovered by Jacques Cousteau in the 1970s, very big site, some coral bleaching, good macro, nudibranchs, many species of fish, angelfish, oriental sweetlips, surgeonfish, triggerfish, butterflyfish, banded sea kraits, green turtles, eagle rays, Napoleon wrasse, whitetip reef sharks, possible tiger sharks, occasional strong currents, all levels
Jackson's Bar: 24-36 meters (80-120 feet), big shoal with a long wall, barrel sponges, lots of hard and soft corals, spotted garden eels, Napoleon wrasses, yellow-spotted sweetlips, whitetip reef sharks, blue-spotted stingrays, experienced level
MV Mars: 7-15 meters (22-50 feet), a wooden cargo ship sunk in a storm in 2006, rests upright, next to a reef, can combine the dive with the reef, visibility can be poor, all levels
Neil's Cove: 12-18 meters (35-50 feet), close to Elephant Beach, gentle slope from a cove, hard corals, lots of reef tropicals, stingrays, blue striped snappers, bumphead parrotfish, all levels
7th Heaven: 6-12 meters (20-40 feet), near Number 7 Beach, coral patch reef, lots of anemones and clownfish, damselfish, ornate ghost pipefish, stingrays, possible dugongs, all levels
Andaman Islands Photos
With the pristine coral reefs, rich macro life and sharks, dolphins, manta rays, whale sharks, turtles and dugongs, endemic land-based wildlife, scenic beach scenes, and volcanoes, as well, there are many excellent photo opportunities.  For information and reviews of dive cameras, click here:
The international airport in Port Blair connects to 5 Indian cities.  A 3-day ferry is available from Chennai, Visakhapatnam, and Kolkata.  Motorbikes and bicycles are for rent as are cars with driver.  There is a restriction on foreigners driving, themselves.  Limited bus service is available on several of the major islands with ferries connecting them.  The ferries often involve long waits.  Private buses can also be arranged.
There are at least 20 dive shops, a number of which are affiliated with resorts, that operate in the Andaman Islands.  The diving season is December through May.  Some are in operation beyond that time frame.  They offer a full range of services including equipment rental, dive courses, guiding and boat dive cruises.  On the major inhabited islands, there are at least 102 accommodations of every level available from $9 to $475 per night.  The website linked below is a good source for the available options and can arrange a booking.  You can easily find the locations on the map provided on this site.  Their rates are the lowest and it is free to cancel or change dates.
Things to do the Andaman Islands (aside from scuba diving)
There is a lot of scenic beauty at the seaside and inland and interesting culture to get acquainted with.  Here are some of the places to go: Cellular Jail, Indira Point, Barren Island volcano, limestone caves, Neil Island jetty, Elephant Beach, Samudrika Marine Museum, Anthropological Museum, Mangrove Forest, Marina Park and Aquarium, Jogger's Park, Rajiv Gandhi's Statue, Chatham Saw Mill, Radhanagar Beach, Laxmanpur Beach, Parrot Island, Inglis Island, Red Skin Island, great seafood, snorkeling, motorbike touring, shopping in Port Blair and many others.   Check the videos below for a look.
A cushion for emergencies provides peace of mind when on vacation.  I recommend this diving insurance as they have worldwide coverage and provide scuba divers a quality insurance and medical assistance service.
Feedback and Comments
I hope you found this post on Andaman Islands scuba diving interesting and useful. If you have any questions or ideas, please feel free to share them in the comments section.  I'd love to know of any experience you have diving in the Andaman Islands.  If there is no comments section directly below, click here:  >>comments<<