We may earn money or products from the companies mentioned in this post.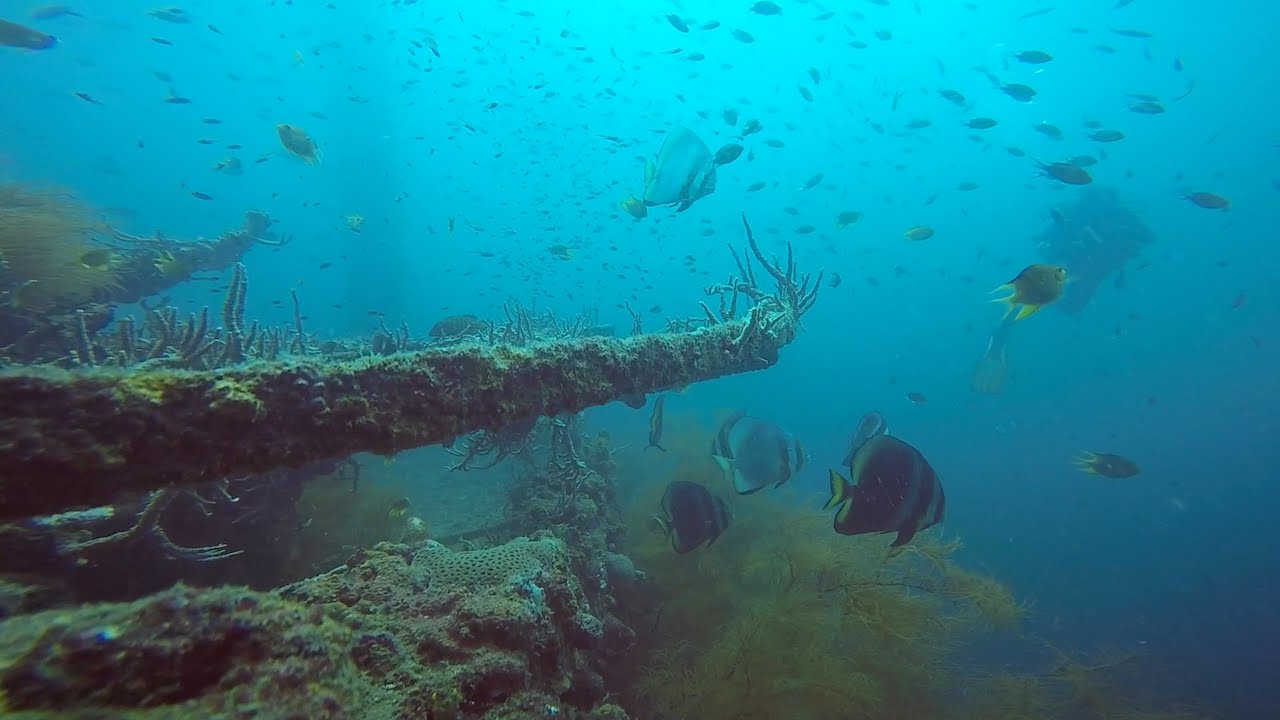 This is the one hundred and second in a series of reviews of the best dive resort locations around the world.  In this post, the focus is on Coron, Philippines. In addition to this series on dive resort locations, the best worldwide liveaboard diving locations and services are reviewed in their own series.  To check them out, or others in this series, click on Liveaboards/Resorts on the menu at the top and choose a title from the list.
Have you ever been diving in Coron before?  If so, I'd love to know about your experience.  What dive shop or liveaboard did you use?  Which dive spots are the best and what are the conditions there regarding the visibility, current, water temperature, sealife attractions, etc.?  Please post your response in the comments section at the bottom and we'll all learn something we can use.
Scuba Diving Coron Philippines
Background – The municipality of Coron is situated at the northern end of Palawan Province in the Philippines.  It occupies half of Busuanga Island and all of Coron Island.  The population of 52,000 has doubled since 1980 behind an economy of dwindling traditional fishing and increasing tourism based on beaches, scuba diving, and natural tourist spots.
Undersea World – Set on an idyllic tropical bay Coron is thought of by many as sort of a poor man's Truk Lagoon.  Considering the reputation Truk has for wreck diving, that has to stand as a pretty nice compliment.  On September 24, 1944, the Japanese must have been feeling pretty safe with their fleet anchored in this remote and sheltered area.  When Task Force 38 from the USS Lexington caught them by surprise the result was 24 of the ships sunk in a 15-minute raid.  12 of the wrecks have been located mostly around the smaller islands to the west of Coron near Tangat (Sangat) Island 1-2 hours from Coron town.  The majority are shallow enough for recreational divers with the deepest the Irako at 43 meters (143 feet) in depth.  Accessibility at 30 meters (100 feet) or less makes practically all of them great candidates for an extended bottom time through the use of Nitrox.  There are a lot of great penetration opportunities and the artificial reef is a pretty rich one with a thick coat of encrusting invertebrates and macro critters like shrimp, crabs, anemones, tunicates, nudibranchs, scorpionfish, lionfish, and crocodilefish, along with big grouper, schooling barracuda, sharks, turtles, and many others.  In addition to the wrecks, there are a number of other intriguing locations including Barracuda Lake in a mountain crater, and several nice reef dives for a change of pace.
Seasons and Conditions – Diving around Coron is possible year-round.
Air temperature is always nice and warm with daily highs ranging from 31 to 34°C (88 to 93°F).
Water temperature consistently stays from 25 to 31°C (77 to 88°F).  A 3 mm wetsuit is probably the most thermal protection needed for most.
The rainy season is from June through September which sometimes interferes with diving.  The liveaboards schedule around the wet weather.
Currents run from mild to strong depending on the location and tidal conditions.
Visibility is normally in a range of 5-15 meters (16-50 feet) with the best coming in the dry season from November through June.
There are sites suitable for all level of diver. Around 20 dive shops are in operation in Coron town and a dozen or so more not too far away at resorts that can offer a full range of diving coursework, equipment rental, guiding, and boat cruises. Some of them also arrange safaris to Apo Reef and other outlying sites.
A number of liveaboards dive the wrecks in Coron on safaris combined with Apo Reef to the east.  Here is my review and five vessels that offer that cruise: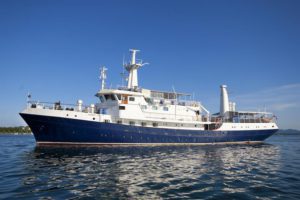 MV Discovery Palawan – Check the Price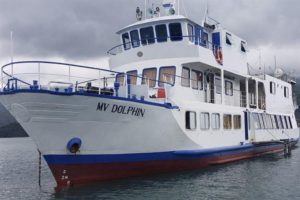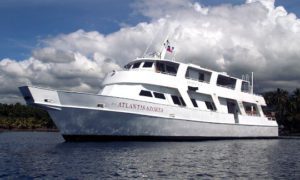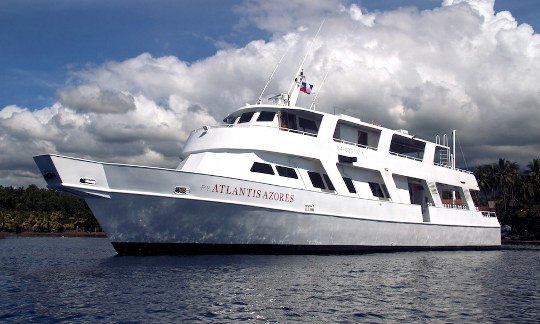 PY Atlantis Azores – Check the Price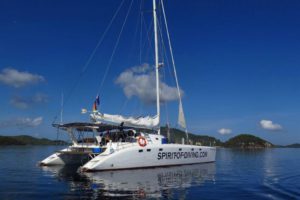 Flying Dolphin 3 – Check the Price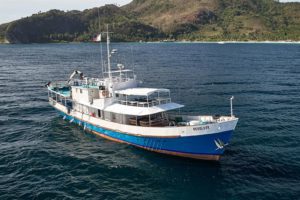 For other posts about Philippine diving, please check these: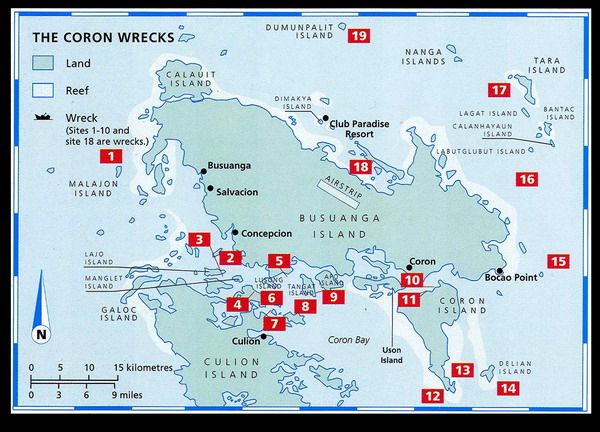 Selected Coron Wrecks & Dive Sites
Akitsushima (near Manglet Island): 17-38 meters (57-125 feet), 118-meter (395-foot) Japanese seaplane tender, hit by a torpedo toward the stern with great damage, lying on its port side, penetration is possible into the engine room and other areas, many guns are in place as is the crane for loading the Kawanishi seaplanes, live ammo is still found in place, lots of batfish, grouper, sweetlips, lionfish, scorpion fish, yellowfin tuna, and barracudas, experienced and technical levels
Irako (mouth of Coron Bay off Tangat Island): 28-43 meters (93-143 feet), 147-meter (490-foot) refrigerated provision boat, largely intact sitting upright, deck can be reached at 28-35 meters (93-120 feet), penetration into the engine room and cargo holds is possible, two turtles in residence, grouper, schools of fusiliers, jacks, and yellowfin tuna, rays near the mast section, experienced and technical levels
Okikawa Maru (near Concepcion): deck at 10-16 meters (35-53 feet), 168-meter (560-foot) Japanese tanker, resting upright, folded near the bow, penetration opportunities through the propeller shaft and into the engine room, there is no engine but two boilers, lots of lettuce coral, soft coral, and sponges, many macro critters including nudibranchs, scorpionfish, lionfish, and pufferfish, other fish highlights are sweetlips, grouper, lionfish, surgeonfish, wrasse, and soldierfish, strong current is possible, all levels
Skeleton (off Coron Island to the northwest): 5-22 meters (16-73 feet), 25-meter (83-foot) deteriorated wreck with only the frame remaining, opening on the starboard side at 14 meters (47 feet) allowing penetration, lots of places for macro critters like ghost pipefish, scorpionfish, and nudibranchs, lots of reef fish, angelfish, damselfish, and turtles, tuna, reef sharks and turtles possible, can also continue on the adjacent reef, all levels and snorkeling
Tangat Wreck (near Tangat Island): 30 meters (100 feet), 160-meter (535-foot) cargo ship resting upright, masts still in place, large open cargo holds for easy penetration the length of the ship with a few tight squeezes, huge pufferfish, schools of banana fish, large turtles, experienced level
Lusong Gunboat (east of Lusong Island): 15 meters (50 feet), small submarine hunter, stern pushes through the surface at low tide, much of the main structure is missing, next to a coral reef, lots of soft corals and sponges, anemones and clownfish, pufferfish, angelfish, butterflyfish, wrasses, parrotfish, cuttlefish, and other reef tropicals, mild current, all levels and snorkeling
Kogyo Maru (north of the Irako off Tangat Island): 38 meters (127 feet), 158-meter (526-foot) Japanese freighter, fairly well intact lying on her port side, penetration is possible to all six holds, the bridge, and huge engine room, the second hold still contains a tractor, air compressor, bulldozer, and cement bags, well encrusted with hard and soft corals, marine life includes waspfish, scorpionfish, razorfish, lionfish, batfish, snapper, crocodile fish, groupers, barracuda, turtles, and rays, experienced and technical levels
Olympia Maru (west of Tangat Island): 25 meters (83 feet), 120-meter (400-foot) Japanese army cargo vessel, lying on her starboard side, intact, cargo rooms can be penetrated, divers can view the inner stern, gangways, locker rooms, boilers, and gangway, superstructure encrusted in sponges, soft coral, and black coral, pufferfish, lionfish, scorpion fish, crocodile fish, razorfish, glassfish, snappers, seahorses, ghost pipefish,  large schools of banana fish, batfish, experienced level
Barracuda Lake (on Coron Island): 35 meters (120 feet) maximum depth, mountain lake with a mix of spring water and salt water, near the surface it is fresh and gets saltier and warmer on descent, not much marine life, interesting moonlike terrain with some limestone pinnacles around the edge, some small catfish, freshwater shrimps, and clams, a channel leads to the sea where there are snappers, pufferfish, batfish, and a 1.5-meter barracuda that resides in the lake, at the surface the water is clear and turns brownish the deeper you go,  requires a 15 minute hike with your equipment up the mountain to the crater lake
Bugor Reef (off the north shore of Culion Island): 3-35 meters (10-120 feet), a sloping reef with rich marine life, hard and soft corals, batfish, moray eels, pufferfish, and many reef tropicals, giant clams, possible leopard and guitar sharks, all levels
7 Islands Reef or Siete Picado (off Coron Island): 24 meters (80 feet) maximum depth, a marine sanctuary, variety of hard and soft corals, lots of fish and macro critters including batfish, barracuda, grouper, emperor angelfish, moray eels, mandarin fish, lobsters, seahorses, nudibranchs, cuttlefish, giant clams, turtles, stingrays, and eagle rays, strong current is possible, all levels
Coron Things to Do (aside from scuba diving)
The best things to do in this remote island paradise involve enjoying nature, the scenery, and the hospitality of the people.  Here are some highlight attractions to consider:  Banol Beach, Barracuda Lake, Kayangan Lake, Caluit Safari Park, Black Island, Culion Island (home of the now-closed historic leper colony), Mt. Tapyas, Maquinit Hot Springs, Twin Lagoons, Bulog Island, Kingfisher Park, Banana Island, Levine's (restaurant).
This video gives a nice view of the scenery and some options for a visitor.
Coron Hotels, Resorts, Transportation, and Diving Services
Air – There are frequent flights from Manila to Francisco B. Reyes Airport in Coron on PAL Express and Cebu Pacific Airlines.  On Tuesdays and Fridays, there are also flights from Puerto Princesa and Caticlan (Boracay) on Air Juan.  Airport to town transfers can be made by van at low prices.
Boat – There are several sleeper ferries per week running between Manila and Coron and Puerto Princesa and Coron.  Fast and slow boats run between El Nido and Coron four times per day.  The fast boat takes 3.5 hours and the slow one takes 8 hours.
Buses and Jeepneys are available at the tourist center for trips to outlying areas.
Taxis are not in use.
Tricycles are available at very low rates for trips around town.
Motorcycle Rental is also an option which is useful for short trips out of town and into the mountains and countryside.
For more complete details of tourist information, please go here:  Coron – Wikitravel
Hotels and Diving – There are over 100 hotel and lodging options of all levels in Coron starting at $4 per night.  At last count, there were 20 dive shops in Coron town and another dozen or so not far away.  A number of them are located in or affiliated with resorts and offer a range of services including equipment rental, diving certification classes, dive guides, and boat tours.  Some organize safaris to Apo Reef and other outlying sites.  The website linked below has the details and can arrange the booking.  You can easily find the location on the map provided on this site.  Their rates are guaranteed to be the lowest and it is free to cancel or change dates.
Coron Photos
With the coral reefs, a variety of reef fish, wrecks, and macro critters, and scenic shoreside targets, as well, there are many excellent photo opportunities.  For information and reviews of dive cameras, click here:
A cushion for emergencies provides peace of mind when on vacation.  I recommend this diving insurance as they have worldwide coverage and provide scuba divers a quality insurance and medical assistance service.
Feedback and Comments
I hope you found this post on Coron scuba diving interesting and useful. If you have any questions or ideas, please feel free to share them in the comments section.  I'd love to know of any experience you have diving in Coron.  If there is no comments section directly below, click here:  >>comments<<