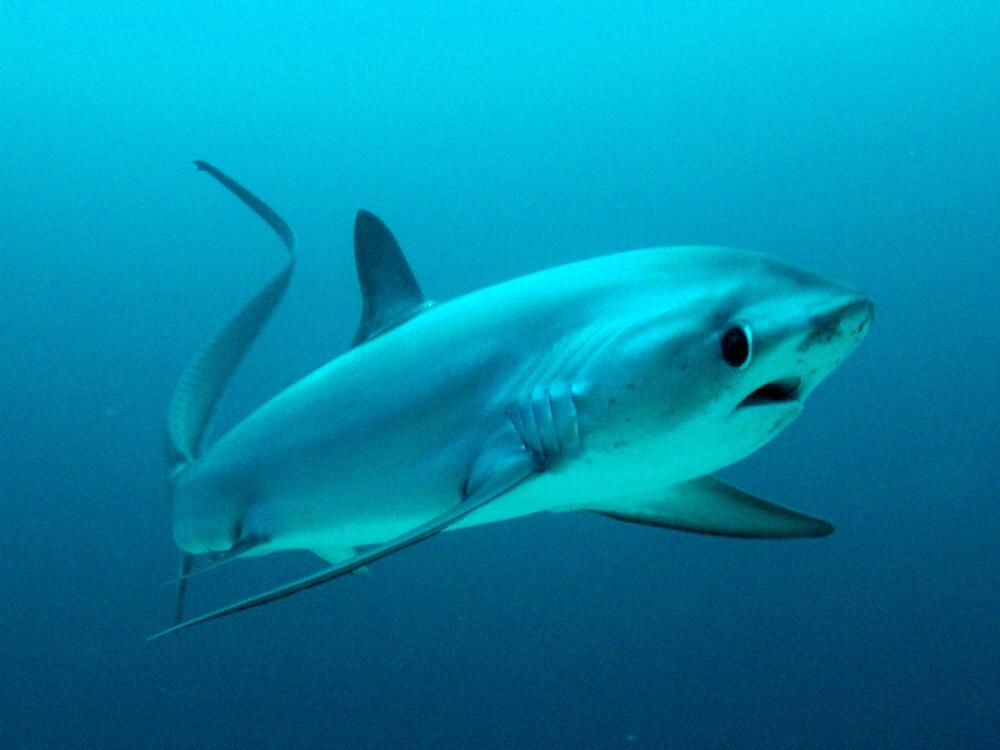 Updated June 17, 2021
This is the sixteenth in a series of reviews of the best dive resort locations around the world.  In this post, the focus is on Malapascua, Cebu, Philippines.
In addition to this series on dive resort locations, the best worldwide liveaboard dive locations and services are reviewed in their own series.  To check them out, or others in this series, click on Liveaboards / Resorts on the menu at the top and choose a title from the list.
Have you ever been diving in Malapascua before?  If so, I'd love to know about your experience.  What dive shop or liveaboard did you use?  Which dive spots are the best and what are the conditions there regarding the visibility, current, water temperature, sealife attractions, etc.?  Please post your response in the comments section at the bottom and we'll all learn something we can use.
Best Diving in Malapascua
Background
Malapascua Island is situated off the far northern tip of Cebu Island in the central Philippines.  On Christmas Day in 1520, Spanish sailors encountered bad weather and found themselves broken down on this particular island.  It was a pretty bad Christmas day for them there.  Roughly, in Cebuano, bad Christmas translates as Malapascua.  A little bit later, on April 27, 1521, Magellan had a bad day, too, down on Mactan Island (near Cebu City, today) when Chief Lapu Lapu and his men killed him.
Undersea World
Today lots of divers come to Malapascua in search of a good time scuba diving, primarily by watching the usually very shy thresher sharks at as shallow a depth as 20 meters (68 feet).  In the early morning, they frequently come up from the deep for small reef fish to relieve them of irritating parasites.  The site at nearby Monad Shoal is perhaps the most reliable place in the world to see them, sometimes at a distance of 5-10 meters (15-35 feet).  At the same time, manta rays may also appear.
Kimud Shoal is also nearby where hammerheads are often spotted.  Other highlight areas are Chocolate and Calangaman Islands and Gato Island where you can see nurse, whitetip reef, and bamboo sharks.
Other sites can boast devil and eagle rays, turtles, and rich hard and soft coral areas that host sea horses, frogfish, mandarin fish, flamboyant cuttlefish, blue-ringed octopus, ghost pipefish, and other great smaller critters that macro photographers crave.
In addition, you can visit an awesome cave and four wreck sites, including the MV Dona Marilyn, where 389 people died in the 1988 tragedy.  In all, there are more than 30 dive sites.
Seasons
Diving is good year-round.
The best time to spot hammerhead sharks at Kimud Shoal is from December to April.
Mantas appear more often during the plankton bloom in December and January.
Heavy rain, winds, and typhoons, which are prevalent in much of the Philippines, usually by-pass Malapascua, however, they did suffer significant typhoon damage in November 2013 and the typhoons have been more prevalent in recent years. It rains a bit in most months of the year.
Air and Water Temperature
Water temperature is 27-30°C (80-86°F) most of the time.  From December to February it can drop to 25°C (77°F).
Average air temperatures are warm year-round in a range of 27-30°C (80-86°F).
Visibility
The best visibility is from June to September at 15-30 meters (50-100 feet).  It can dip to the 5-10 meter (16-35 foot) range during the plankton bloom in December and January.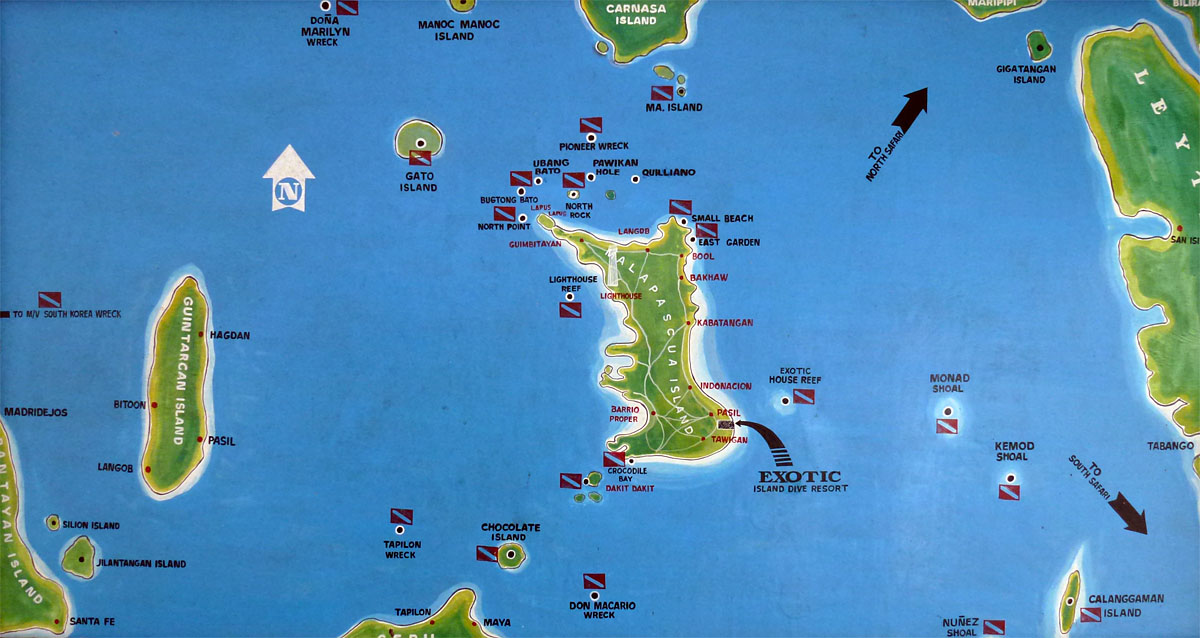 Selected Popular Malapascua Dive Sites
Monad Shoal – 20 meter (68 foot) sunken shoal, thresher shark cleaning station, manta rays, mobulas, barracuda, snappers, lionfish, macro critters including nudibranchs, mantis shrimp, and pygmy seahorses, occasional strong drift on the full moon, 10-15 meter (35-50 foot) visibility usually, experienced level
Dona Marilyn Wreck – 98 meter (325 foot) ferry sunk in 1998, lying on the starboard side, 18-35 meters (60-115 feet) deep, port side covered in soft corals, blue-spotted stingrays, eagle rays, and whitetip reef sharks possible, sweetlips, batfish, scorpionfish, nudibranchs, urchin crabs, colemani shrimp, possible strong currents, visibility 10-20 meters, experienced level
Gato Island – 3-27 meters (10-90 feet), big rocks with soft corals, tunnel and swim-throughs, bamboo and whitetip reef sharks, banded sea snakes, nudibranchs, harlequin ghost pipefish, pygmy seahorses, and other macro critters, usually mild current, open water level
Mogami Maru – WWII Japanese wreck in 50 meters (170 feet), upright, ammunition still inside, tech dive
Lighthouse – 8-10 meters (25-35 feet), the chance of spawning mandarin fish, seahorses, big crabs, many varieties of shrimp, bobtail squid, banded pipefish, blue-ringed octopus, common octopus, juvenile sweetlips, banded sea snakes, frogfish, no current, great night dive, open water level
Calangaman Island – 5-40 meters (16-135 feet), wall, lots of hard and soft corals, black coral, fan corals with pygmy seahorses, long nose hawkfish, sea moths, nudibranchs, frogfish, lionfish, scorpionfish, orangutan crab, spotted garden eel, possible thresher sharks, no current, open water level, unless deep
Bantigue – 5-15 meters (16-50 feet), coral garden washed away by Typhoon Yolanda, now a sandy bottom with coral sections, muck area, sea moths, nudibranchs, ghost pipefish, flying gurnards, dragonets, lionfish, black pitted snake eel, banded snake eel, helmet crab, porcelain crab, devil fish, blue-ringed octopus, no current, 10-20 meters (35-68 feet), open water level
Kimud Shoal – to 40 meters (135 feet), smaller plateau than Monad Shoal, possible schooling hammerhead sharks and threshers from February to April in cooler water, 15-30 meters (50-100 feet) visibility, no current, advanced level
Lapus Lapus – 8-25 meters (16-83 feet), best coral garden in the area, overhang, rock formation to 20 meters (68 feet), rich soft corals, lots of reef fish, frogfish, lionfish, scorpionfish and nudibranchs, 10-20 meter (35-68 feet) visibility, possible strong current, open water to advanced level
Deep Rock – 16-26 meters (52-87 feet), 20-meter wide (68 feet) rock rich with soft and hard corals, pygmy seahorses, frogfish, nudibranchs, batfish, cuttlefish, zebra crabs, dragonets, pipefish, juvenile sweetlips, various shrimp, lionfish, 10-25 (35-83 feet) meter visibility, possible strong current, open water level
Malapascua Liveaboard Diving
Currently, three of the major liveaboard yachts cruising the Philippines make trips to Malapascua.  Seadoors is one of the three.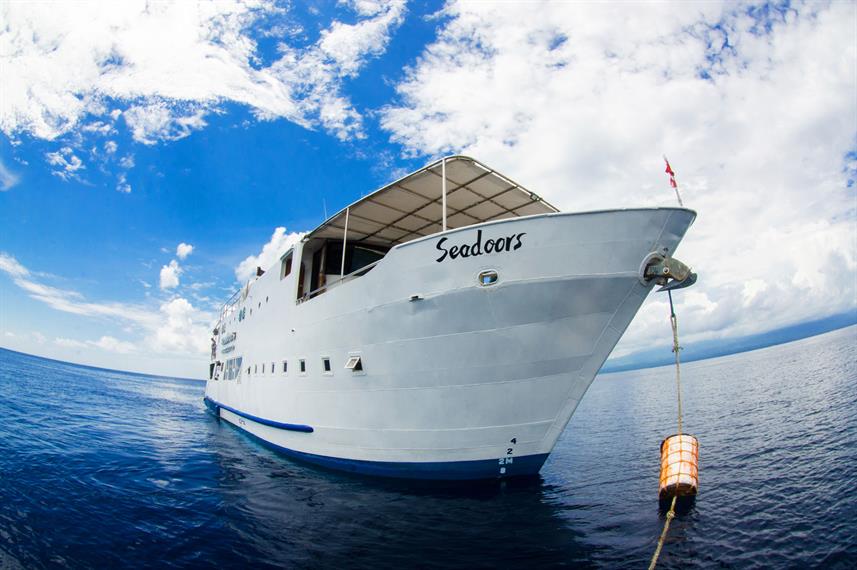 Seadoors, Malapascua Liveaboard Diving – Check the Price  
For my reviews of Malapascua liveaboard diving, click these popular articles:
For my reviews of other liveaboards and resort diving in the Philippines, please check these titles:
Malapascua Island Resorts
There are also a number of resorts and hotels there in the 2-3 star range.  Many of them are equipped with dive shops.  Otherwise, there are several quality diving operations nearby.  This website is a good source for the available options and can arrange a booking:
It is suggested to ask your hotel to advise you on arrangements from the airport on Mactan Island to Malapascua.  They can help organize the most comfortable means.
Malapascua Photo Opportunities
With the macro life, beautiful, diverse coral reef, and lots of fish, there are many excellent photo opportunities.  For information and reviews of diving cameras, click here:
Scuba Diving Trip Insurance
A cushion for emergencies provides peace of mind when on vacation.  I recommend this diving insurance as they have worldwide coverage and provide scuba divers quality insurance and medical assistance service.
Feedback and Comments
I hope you found this post on Malapascua scuba diving interesting and useful. If you have any questions or ideas, please feel free to share them in the comments section.  I'd love to know of any experience you have diving there.  If there is no comments section directly below, click here:  >>comments<<