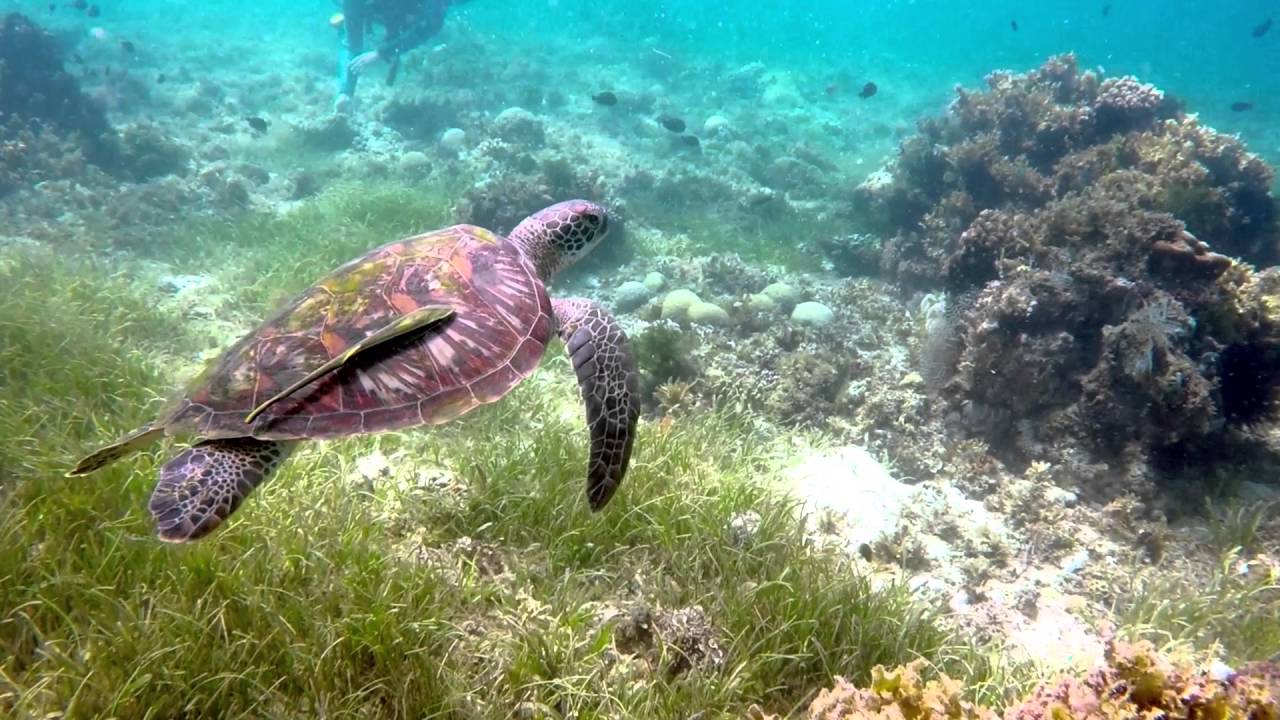 Updated January 1, 2020
Are you looking for your dream dive vacation? This is the eighth in a series of reviews of the best dive resort locations around the world.  In this post, the focus will be Panglao Island in Bohol, Philippines.
In addition to this series on dive resort locations, the best worldwide liveaboard dive locations and services are reviewed in their own series.  To check them out, or others in this series, click on Liveaboards / Resorts on the menu at the top and choose a title from the list.
Have you ever been diving on Panglao Island before?  If so, I'd love to know about your experience.  What dive shop or liveaboard did you use?  Which dive spots are the best and what are the conditions there regarding the visibility, current, water temperature, sealife attractions, etc.?  Please post your response in the comments section at the bottom and we'll all learn something we can use.
Panglao Scuba Diving
Background – Panglao Island is located on the southern tip of Bohol Province in the Philippines.  Resort scuba diving has been steadily developing there for the last 30 years. Today there are dozens of hotels of all levels around the island, but the beautiful shoreline on the eastern side around Alona Beach is the most advanced resort area.
Panglao is in a centralized location for going to other outstanding dive destinations including Cabilao and Balicasag Islands.  In addition, excursions can be easily arranged to the Chocolate Hills and other land-based natural areas with attractions like the tarsier.
For an overview of the history, geography, and culture in Bohol, please click on this link:  Bohol Information
Undersea World – There is great biodiversity with outstanding macro life for the photographer or marine biologist, and a lot of reef fish, pelagics, and large animal life. Highlights include big schools of barracuda and jacks, white and blacktip reef sharks, hammerheads, in season, the occasional whale shark, turtles, whales, dolphins, turtles, ghost pipefish, nudibranchs, pygmy seahorses, and many others.  See the site summaries below for more.  A lot of the dives are on walls with lots of hard and soft corals, giant fans, black coral, various sponges, tunicates, feather stars, and a huge variety of invertebrates.
Seasons and Conditions – Diving is good year-round.  It is always warm with a range of 77-95°F (25-35°C) and the water temp between 77-86°F (25-30°C).  Most people never need any thicker than a 3 mm wetsuit.  The rainiest time is from July to September, but it doesn't often interrupt diving.  Visibility is usually from 15-30 meters (50-100 feet). When it rains, visibility decreases some.  The best time for hammerheads is from December to April.
Liveaboard cruises only touch on the Panglao Island area.  There are very limited opportunities annually to dive on Cabilao and Balicasag on liveaboards with none of them going to the main dive sites east of Panglao Island.
To check out Philippines liveaboard opportunities, please click here:
For other posts about Philippine diving, check these:

Panglao Island Dive Sites
Brief Dive Site Summaries (see map below for locations)
Black Forest (Balicasag Island) – steep slope starts at 5-8 meters, coral heads all along the slope, many black corals starting at 30 meters, schools of bluefin and big eye jacks, Spanish mackerel, barracuda, reef fish, bannerfish, Moorish idols, turtles
Marine Sanctuary (Balicasag Island) – from 4-5 meters a steep wall descends, overhangs, ledges, caverns, big eye jacks, unicornfish, giant trevallies, great macro
Rudy's Rock (Balicasag Island) – a good place for big schools of bigeye jacks and green turtles
Diver's Heaven (Balicasag Island) – grassy reef top with turtles, from 5-8 meters a steep drop off to beyond 40 meters, large tuna, bluefin jacks, triggerfish, turtles
Light House (Cabilao Island) – drops off to a plateau at 25-30 meters and drops off again from there with another wall, current can be strong, rich coral reef, pygmy seahorses, ghost pipefish, nudibranchs, hammerheads and whitetip reef sharks, barracuda, big eye jacks, good muck diving, and night diving
Cambaki's Point (Cabilao Island) – in front of a small village, wall to 30 meters with a small cave, a sandy area between coral reef areas, diverse sea life, ornate pipefish
South Point (Cabilao Island) – large table corals from 5-12 meters, then steep wall to 60 meters, rich with sponges, soft corals, and invertebrates, mild current
Pamilacan Island – good drift diving, currents can be strong, mantas and whale sharks possible, Spanish mackerel, Napoleon wrasse, a big coral garden at 20 meters, reef to 50 meters, suitable for experienced divers
Snake Island – also known as "Sunken Island" or "Cervera Shoal," sunken plateau at 18 meters with a flat top of coral heads and barrel sponges, schools of fish start at 10 meters on the descent, current can be strong, black and white banded sea kraits, morays, giant frogfish, schools of big mouth mackerels, Spanish mackerels, surgeonfish, reef slopes from 18 meters to very deep, possibility of thresher sharks
Arco Point – aka "The Hole in the Wall," tunnel from 8 to 18 meters, many snakes, steep wall from 8-20 meters, rich coral to 30 meters, moray and snake eels in the tunnel, great macro with frogfish, Pegasus, flounders, scorpionfish, beginner to advanced level diving, some stronger current possible at the drop-offs
BBC (Bohol Beach Club) – reef starts at 6-10 meters with two jeepneys, one at 8 meters and one at 10 meters, covered with soft corals, steep slopes with sea fans holding pygmy seahorses, rich macro site with dart gobies, spiny devilfish, frogfish, whiskered pipefish and more, reef continues to 25 meters, small cave with flatworms, moray and snake eels, sandy bottom at the base
Cristal Coast – reef drops off to 25 meters, hard and soft corals, rich macro life, eels, scorpionfish, and nudibranchs, suitable for beginners and training
Alona Beach – wall to 25 meters, many fissures, rich coral reef with anemones and small reef fish, good macro with scorpionfish, frogfish, nudibranchs, sea kraits, good night dive area
Kalipayan Wreck – the reef drops off at 5 meters into a vertical wall to 22 meters, scuttled Filipino pumpboat in 33 meters on a sandy bottom below the wall, greatly disintegrated, seahorses, wonderpus octopus, and flamboyant cuttlefish are all sometimes sighted
Habagat Wreck – scuttled in 2000, engine room sits at 28 meters, bow at 35 meters in the sand, interesting macro life, large lionfish, pipefish, morays, yellow trevallies, from 28 meters is a slope ascending to a wall to 5 meters, can be suitable for intermediate to advanced divers
Puntod Wall – at 3-5 meters is a coral garden, 5-40 meters is a steep wall, gorgonians, coral and invertebrates, scorpionfish, ribbon eels, giant frogfish, clown frogfish, tuna, Spanish mackerel
Doljo Point – from 5-6 meters wall descends to 60 meters, leather corals, sea fans, barrel sponges with giant frogfish, reef fish, angelfish, butterflyfish, Spanish mackerel, barracuda, eagle rays
Momo Beach – from 3-5 meters wall extends to 40 meters, table corals on top and wall covered with hard and soft corals, diverse life, leaf fish, nudibranchs, gobies
Napaling – from 3 meters wall goes down to 40 meters, fissures, holes, caverns, ledges, reef fish, anthias, Moorish idols, bannerfish, juvenile barracuda, frogfish
These are some of the most famous and popular dive sites.  Every dive shop has a number of others they can suggest.  In addition to these sites around Panglao, Cabilao, and Balicasag Islands, many shops will do trips further away up to Anda, in eastern Bohol and to Sumilon Island, Little Apo Island, Oslob or Siquijor to the west and southwest.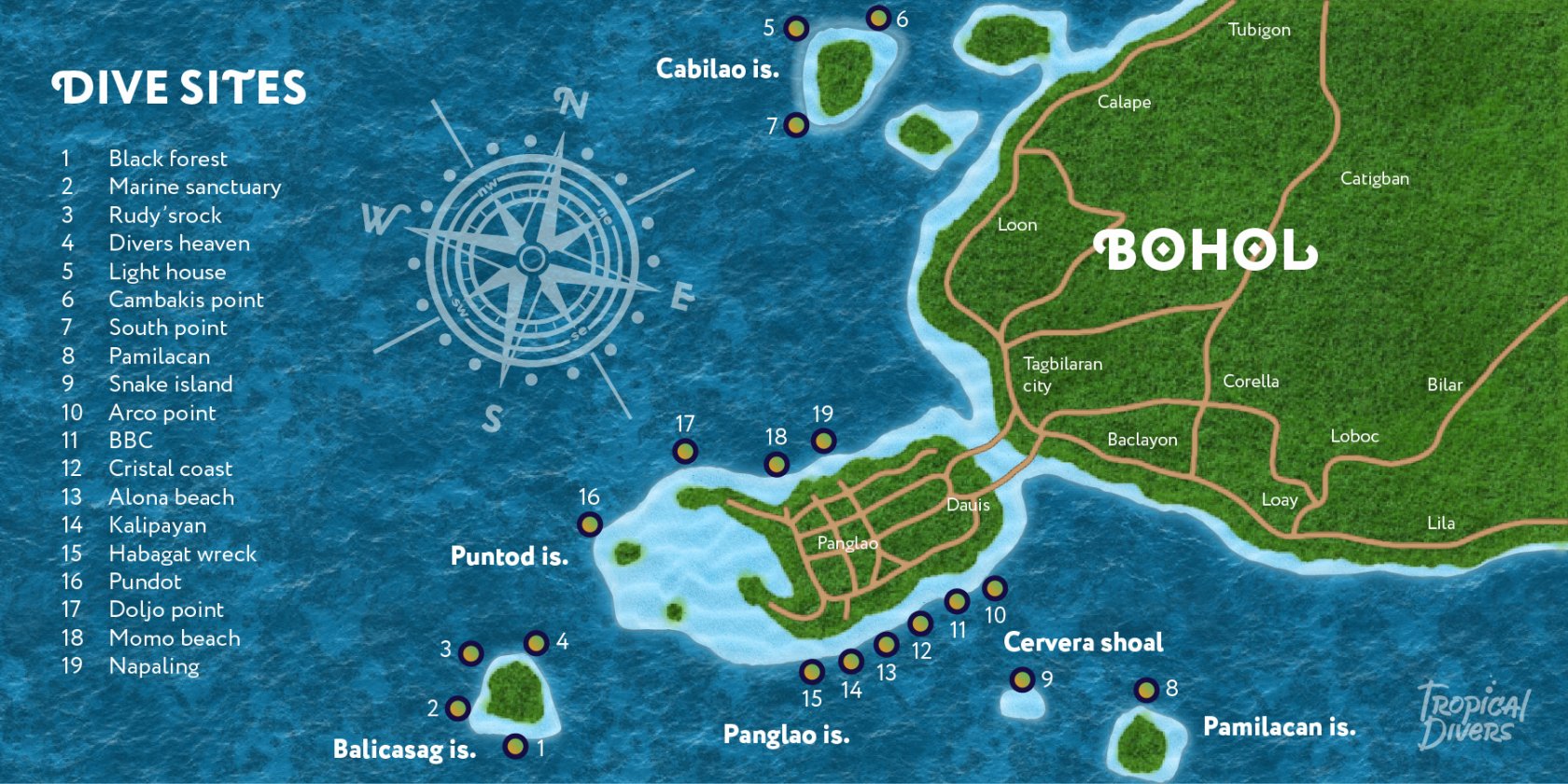 Panglao Island Photos
With the macro life, beautiful, diverse coral reef, megafauna, and lots of fish, there are many excellent photo opportunities.  For information and reviews of diving cameras, click here:
Panglao Island Accommodation
Panglao Island has many hotels and resorts from the lowest price backpacker hostel to luxurious full-service resorts.  From December to April, particularly around Christmas, Chinese New Year, and Easter, it can get very busy and the prices also get jacked up a bit.  Between May and November, it is more relaxed and at times pretty slow.  At such times, discounts can be arranged.  Generally, though, the pricing is very reasonable, especially for diving and diver training.
This website is a good source for the available options and can arrange a booking.  Their rates are the lowest and it is free to cancel or change dates:
Scuba Diving Trip Insurance
A cushion for emergencies provides peace of mind when on vacation.  I recommend this diving insurance as they have worldwide coverage and provide scuba divers a quality insurance and medical assistance service.
Feedback and Comments
I hope you found this post on Panglao Island scuba diving interesting and useful. If you have any questions or ideas, please feel free to share them in the comments section.  I'd love to know of any experience you have diving there.  If there is no comments section directly below, click here:  >>comments<<