We may earn money or products from the companies mentioned in this post.

This is the twelfth in a series of reviews of the best dive resort locations around the world.  In this post, the focus is Mactan Island, Cebu, Philippines.
In addition to this series on dive resort locations, the best worldwide liveaboard dive locations and services are reviewed in their own series.  To check them out, or others in this series, click on Liveaboards / Resorts on the menu at the top and choose a title from the list.
Have you ever been diving on Mactan Island before?  If so, I'd love to know about your experience.  What dive shop or liveaboard did you use?  Which dive spots are the best and what are the conditions there regarding the visibility, current, water temperature, sealife attractions, etc.?  Please post your response in the comments section at the bottom and we'll all learn something we can use.
Mactan Island Scuba Diving
Located just a short bridge's span from Cebu Island, Mactan Island is the site of the main international airport in the southern Philippines.  It is about a 15-minute drive from the airport to the eastern seaside of the island where the scuba diving can be accessed and the many dive resorts are located.
There is a surprisingly rich coral reef that has been aided considerably by the creation of several marine sanctuaries and a general awareness by the local population of the importance and economic benefits of environmental protection.  Twenty years ago there was a fair bit of fishing from small boats and by freedivers, and occasional fresh evidence of dynamite fishing.  This definitely is not happening in the sanctuaries and would be hard to find at the other non-sanctuary dive sites, especially the dynamiting is far out of bounds.
A full range of underwater terrain is available to enjoy.  Shallow grass beds, coral mounts, slopes, plateaus, steep walls, and caverns are all there.  There are lots of schooling fish like sardines, mackerel, fusiliers,  barracuda, bigeye trevallies and rainbow runners, occasional turtles and whale sharks, loads of macro attractions including frogfish, snakes, squid, puffer fish, mandarin fish, morays, pipefish and octopus and other reef fish like groupers, drummers, butterflyfish, stingrays, snappers, cardinalfish, and many more.
Substantial current is possible, especially on the Olango Island sites.  There are walls that descend to depths greater than 40 meters and some sites are divable to around 60 meters.  When the depth and current are on the high end, those dives are suitable for more advanced divers.  Otherwise, though, much of the diving is suitable for beginners.  Lots of people do their initial training on Mactan and nitrox and technical level courses are attainable, as well.
Visibility is usually quite good, sometimes well above 30 meters.  Water temperature runs from 27-29°C (80-84°F) and air temps from 24-33°C (75-91°F). From May to December is the wet season with the greatest rainfall from June to September.  Diving is rarely interrupted by storms or rain and diving is good year round.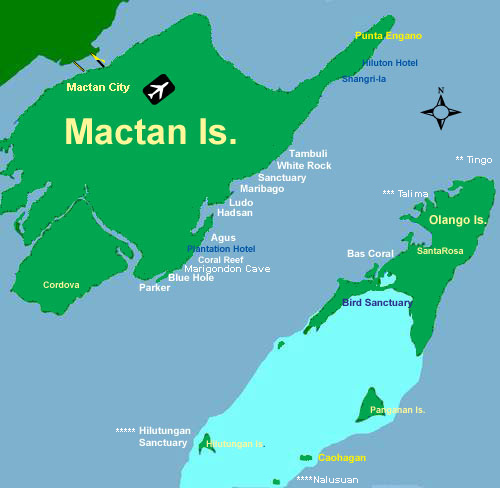 Mactan Area Dive Sites
Shangri-La Marine Sanctuary
Created in 2007 jointly by the Shangri-La Mactan Island Resort, Scotty's Dive Centre and the Lapu Lapu City government, the site has developed from an area strewn with garbage suitable for muck diving only in the 1990s, to a very beautiful and popular coral reef.  It has a gentle slope starting with a seagrass bed, gradually descending to 30 meters (100 feet).  Along the way, there are hard coral formations with a lot of soft and elephant ear corals, lots of small reef fish, lionfish, parrotfish, batfish, schooling jacks, and macro critters.  From 30 meters (100 feet) the descent continues to 48 meters (160 feet).  It is a good site for beginners, photographers and night dives.
Kontiki
Situated right in front of Kontiki Divers/Seven Seas Dive Center in Maribago, the Kontiki site has a gently sloping grass bed to about 10 meters (33 feet) that have coral heads and a giant clamp tool that was placed there in the 90s. It is fully encrusted now and this shallow section is an often used training site for beginners and technical divers.  At 10 meters (33 feet) the terrain breaks off sharply into a wall down to 30 meters (100 feet).  There are lots of crevices, nooks, and crannies providing homes for the diverse macro life including crabs, shrimp, seahorses, and octopus.  The corals, sponges, gorgonians and black corals are rich.  Lots of schooling mackerel and sardines swim there.  From 30 meters (100 feet) the slope continues to depths of more than 100 meters (325 feet).
Tambuli Reef and Airplane Wreck
Just north of Maribago right offshore from the Tambuli Beach Resort is Tambuli Reef.  From shore is a shallow slope with a seagrass bed which by the time it reaches 8 meters (25 feet) has coral mounts and lots of small fish.  Since the 90s this has been used as a fish feeding station for discover scuba diving.  The corals get denser as the bottom slopes to 30 meters (100 feet).  At 22 meters (75 feet) is a small private plane that was placed there in the late 90s which has become a rich artificial reef.  There are lots of schooling fish, and macro life including pipefish, crabs, sea snakes and other delights for the photographer.
Marine Station Sanctuary
Located between Kontiki and Tambuli, this is the location where San Carlos University did their field research in the past. It has a similar shallow grassy area that drops off starting at 8 meters (25 feet) to 50 meters (165 feet).  There is a wall with lots of fissures, crevices and small caverns with a lot of sea fans and black coral and all the accompanying macro life and schooling fish from the other two sites.
Talima Marine Sanctuary, Olango Island
Across the strait on Olango Island, this site has a bright look, compared to the Mactan side reefs, and is more prone to stronger currents.  From 10-15 meters (33-50 feet) the white sandy bottom has a seagrass cover with coral mounts and a lot of fish.  From 15 meters (50 feet) it descends to 50 meters (165 feet) in a very steep slope complete with swim throughs, small caverns and lots of nooks and crannies.  Probably due to the current, there are not as many big sea fans and corals, but it is very rich in marine life.  Schools of batfish and jacks and a variety of other fish often predominate.
San Juan Wreck
Sunk by bad weather and an explosion in the year 2000, this 60 meter (200 foot) ferry lies in 50 meters (165 feet) of water in Liloan Bay on the north end of Mactan Island.  Everyone got out alive.  It lies on its starboard side and is in near pristine condition. Not many divers go there and it is only suitable for technical divers.
Hilutungan Island Marine Sanctuary
Another Marine Sanctuary that is getting busier and richer as time goes on, is the home to turtles, big schools of batfish and jacks, and has many other large reef fish in great numbers including drummers, black and midnight snappers, surgeonfish and many others.  The reef drifts down quite deep, but it is probably best to about 21 meters (70 feet).  It is suitable for all levels and with rich macro life is popular with photographers.
Nalusuan Island Marine Sanctuary
Yet another Marine Sanctuary, the earliest one, Nalusuan is notable for its large number of big groupers and many blue-spotted stingrays.  There are many other fish, as well, and macro life to suit photographers.  There are lots of hard corals and this, too, is a good shallow dive for beginners.
Marigondon Cave
From shore, the reef descends only to 5 meters (15 feet) when a wall begins and drops off to around 55 meters (180 feet).  At a little less than 30 meters (100 feet) is the top of the entrance.  The cavern has a 10 meter (33 foot) wide opening and extends about 70 meters (235 feet) into the wall.  There is one main passageway with several shallow offshoots.  About 25 meters (80+ feet) in a torch is necessary.  With your light turned off, you can see flashlight fish glowing in the dark.  There are some corals and sea fans and lionfish near the mouth but not much else in the way of wildlife on the inside, but it can be pretty exciting for intermediate divers.  At times there is current outside, so the guide needs to take care to avoid bypassing the mouth.
Tingo Point
On the north end of Olango Island, you can follow a long sandy slope, without much to see, until you get to a steep drop off beginning at 25 meters (80+ feet). From there is a rocky wall with lots of nooks, crannies, and caverns on down to 40 meters (130 feet).  If you are lucky a hammerhead might pass by or a thresher shark may come up the sand from 60-70 meters (200-235 feet) to get a look at you.  Some technical divers cruise on down deeper than the 40 meters to try for a better look. Sightings are not as frequent as they were a few years ago.  Most divers looking for threshers make the trip up to Malapascua at the northern end of Cebu for that.  To see my review of dive sites and Malapascua liveaboards, please click here:   Best Liveaboard Scuba Diving Philippines
Cabilao and Balicasag Islands
The dive operations on Mactan often make day trips to these two premier sites to the south.  For information about them, please take a look at these two posts:
For other posts about Philippines diving, please click on these:
Currently one of the major liveaboard yachts cruising the Philippines, the SY Philippine Siren, make trips to Mactan and Olango Islands.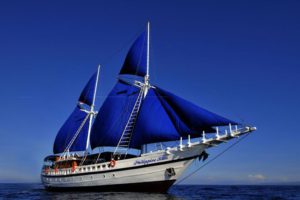 SY Philippine Siren, Philippines Liveaboard Diving – Check the Price
Mactan Island Hotels
Fortunately, there are a number of resorts and hotels on Mactan Island, with the largest number around the Maribago barangay, ranging from budget to luxury.  The ones on the beach are almost all equipped with dive shops.  This website is a good source for the available options and can arrange a booking:
Mactan Island Photo Opportunities
With the macro life, beautiful, diverse coral reef and lots of fish, there are many excellent photo opportunities.  For information and reviews of diving cameras, click here:
Scuba Diving Trip Insurance
A cushion for emergencies provides peace of mind when on vacation.  I recommend this diving insurance as they have worldwide coverage and provide scuba divers a quality insurance and medical assistance service.
Feedback and Comments
I hope you found this post on Mactan Island scuba diving interesting and useful. If you have any questions or ideas, please feel free to share them in the comments section.  I'd love to know of any experience you have diving there.  If there is no comments section directly below, click here:  >>comments<<