We may earn money or products from the companies mentioned in this post.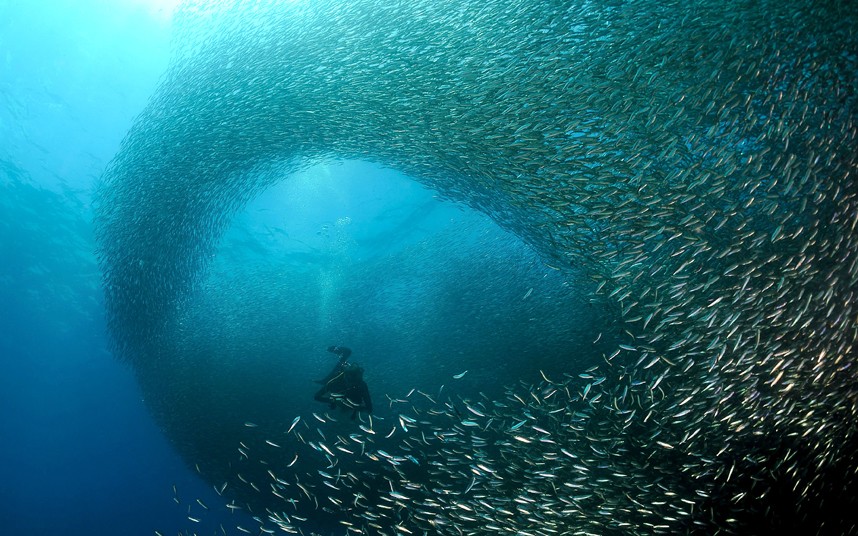 This is the forty-seventh in a series of reviews of the best dive resort locations around the world.  In this post, the focus is Moalboal, Cebu, Philippines.
In addition to this series on dive resort locations, the best worldwide liveaboard dive locations and services are reviewed in their own series.  To check them out, or others in this series, click on Liveaboards/Resorts on the menu at the top and choose a title from the list.
Have you ever been diving in Moaloal before?  If so, I'd love to know about your experience.  What dive shop or liveaboard did you use?  Which dive spots are the best and what are the conditions there regarding the visibility, current, water temperature, sealife attractions, etc.?  Please post your response in the comments section at the bottom and we'll all learn something we can use.
Moalboal Diving
Background – Situated on the southwestern coast of the Province of Cebu, 89 kilometers (55 miles) from Cebu City, Moalboal is a fourth class municipality of 32,000 people.  It includes Copton Peninsula and Pescador Island three kilometers (<2 miles)  offshore.  Traditionally people on the east side of town living on the hills and mountains have relied on agriculture for their livelihood.  Those in the flatlands near the shoreline were fishermen.  Since the 1970s the beaches and scuba diving have been the economic drivers in the growth of the increasingly important tourist industry with most visitors staying at Panagsama Beach or White Beach.  As scuba diving and eco-tourism has developed, fishing in the local diving areas has all but stopped.
Undersea World – The underwater terrain along the peninsula, around Pescador Island and at the few other dive sites of Moalboal can be characterized by steep rocky slopes and sharp drop-offs with caves and caverns.  At most sites, the rich coral reef starts at 3-5 meters (10-15 feet) and continues to a depth of 40-45 meters (130-145 feet).  Moalboal is world famous for the sardine balls of up to 7,000,000 fish that originally came seasonally to Pescador Island but now appear to almost always be around and are regularly seen on the Panagsama side.  They provide a strong dietary foundation for a number of the other local inhabitants and visitors like big schools of jacks and barracuda, tuna, and the occasional whale or thresher shark.  Other larger wildlife attractions include Napoleon wrasses, bumphead parrotfish, sweetlips, snappers, titan triggerfish (watch out when they are nesting), turtles seen on practically every dive, and reef sharks.  Several of the dive sites are protected Marine Parks which has helped to maintain an extremely rich and biodiverse reef of soft and hard corals, sponges and other invertebrates that has provided excellent habitat for a large number of macro critters.  Top examples are leaf fish, frogfish, scorpionfish, mandarin fish, ghost pipefish, moray and ribbon eels, electric clams, many species of crustaceans and a large variety of smaller tropicals. In addition, one of the dive shops, Savedra, created an interesting artificial habitat by placing a small aircraft in 20 meters (68 feet) of water.
For liveaboard cruises to Moalboal please click here:
For my reviews of Philippines liveaboards, please check out these posts:
For my reviews of other Philippines resort diving locations, please check the menu at the top under Liveaboards/Resorts and scroll down to Philippines.
Seasons and Conditions – Diving is possible year round.  Air temperatures are always warm with water temps in a range of 27°C (81°F) from December through February to a high of 30°C (86°F) in May.  It rains all year with the heaviest coming from June to November.  The best time to dive is from December to June.  Visibility runs from 10-40 meters (35-130 feet).  Currents can be strong based on tidal circumstances, but there is diving for all levels.  There are more than 20 dive shops providing equipment rental, guiding, boat tours and coursework from beginner to high technical levels. A couple of freediving specialty shops are also in operation.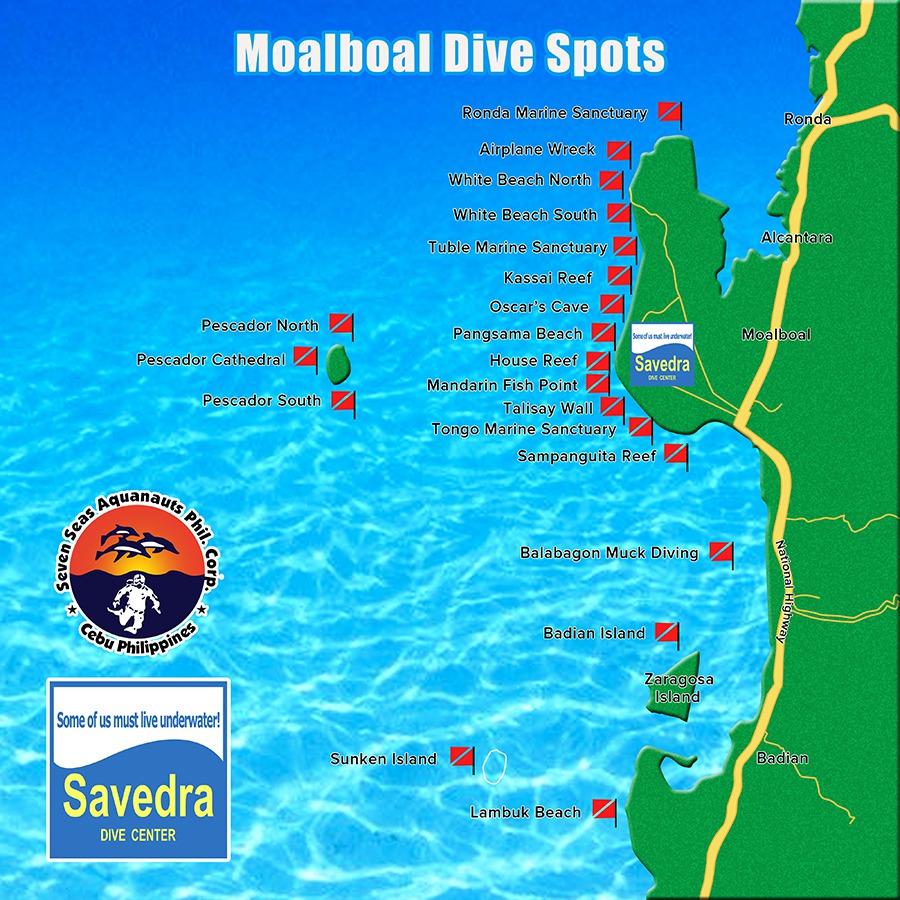 Sampling of the Best Moalboal Dive Sites
Pescador Island: walls or steep slope on all sides, tunnels, caverns, swim-throughs, rich coral reef, abundant and diverse macro critters and fish, nudibranchs, snake eels, frogfish, butterflyfish, turtles, schooling jacks, tuna, barracuda, whitetip reef sharks, occasional thresher and whale sharks, can be done in several dives, all levels
Panagsama Reef: from 5-55 meters (15-185 feet), steep slope and wall, sea fans, soft and hard corals, sea whips, good macro with frogfish, decorator crabs, snake eels, sea snakes and cuttlefish, schools of jacks and tuna, sardine balls, turtles, occasional whale sharks, right in front of most of the dive shops, all levels
Sunken Island: shoal topping at 22 meters (73 feet), descends to more than 250 meters (810 feet), big schools of fusiliers, jacks, tuna, bannerfish, redtooth triggerfish, Spanish dancers, moral eels, frogfish, large lionfish, occasional whale sharks, experienced level
Talisay Wall: slope starting at 5 meters (15 feet) then a wall from 13 meters (43 feet) down, good macro, nice coral reef, mandarin fish, frogfish, batfish, mackerel, barracudas, yellow margin fish, triggerfish, turtles, all levels
Tongo Point: wall starting at 2 meters (6 feet) descending to very deep, caves, crevices, mollusks, nudibranchs, fusiliers, razorfish, leaf fish, mandarin fish, harlequin ghost pipefish, barracudas, turtles, occasional whale sharks, all levels
Ronda Bay: sloping reef to 20 meters (68 feet) then a drop-off, many gorgonians, black corals, sea pens, rich hard corals, nudibranchs, big groupers and sweetlips, batfish, spotted eagle rays, blacktip reef sharks, all levels
Airplane Wreck: small airplane placed by Savedra Divers at 22 meters (73 feet) on a plateau, the terrain starts with a slope, then the plateau, then a steep drop off, a healthy artificial reef with good macro critters including ornate ghost pipefish, nudibranchs, frogfish, various crustaceans, experienced level
Moalboal Photos
With the interesting underwater terrain, steep walls, sardine balls, the airplane wreck, sea fans, coral, macro life, rays, sharks, turtles, colorful reef fish, and fascinating mountains and waterfalls, there are many excellent photo opportunities.  For information and reviews of dive cameras, click here:
The international airport in Cebu on Mactan Island has multiple daily flights from Manila and from many international locations as well.  The 89 kilometers (55 miles) from the airport to Moalboal can be transited by bus or taxi.  I suggest getting advice from your hotel at booking.  They can offer a pick-up or other advice for a convenient transport method.  From Moalboal town to the beach motorized tricycles (motorbikes with a sidecar) are the primary mode available.
There are at least 20 dive shops operating on Panagsama Beach and White Beach providing a full range of services including equipment rental, dive courses, guiding and boat dive cruises.  Almost all of them are foreign owned and operated.  A number of them are associated with accommodation.  More than three dozen hostels, guesthouses, hotels, and resorts are available with pricing in a range from $6 to $154 per night.  The website linked below is a good source for the available options and can arrange the booking.  Their rates are the lowest and it is free to cancel or change dates.
Moalboal Things to Do (aside from scuba diving)
Scuba diving is the reason that Moalboal exists as a tourist destination.  Other activities take a back seat.  Besides scuba diving, other water and beach activities dominate.  Boating tours including whale and dolphin spotting are options.  Hiking, camping, trekking into the mountains, canyoneering, rappelling or cliff jumping are adventures for the robust tourist (check out the video below) or a leisurely walk to Kawasan Falls might be a more relaxed way to take in the scenic natural beauty.  Motorbikes are available to rent for climbing into the mountains or touring the countryside.  A range of western and Filipino food awaits at the many bars, restaurants, and hotels.  Moalboal is known as a friendly and relaxing place after a day of diving.
A cushion for emergencies provides peace of mind when on vacation.  I recommend this diving insurance as they have worldwide coverage and provide scuba divers a quality insurance and medical assistance service.
Feedback and Comments
I hope you found this post on Moalboal scuba diving interesting and useful. If you have any questions or ideas, please feel free to share them in the comments section.  I'd love to know of any experience you have diving there.  If there is no comments section directly below, click here:  >>comments<<