We may earn money or products from the companies mentioned in this post.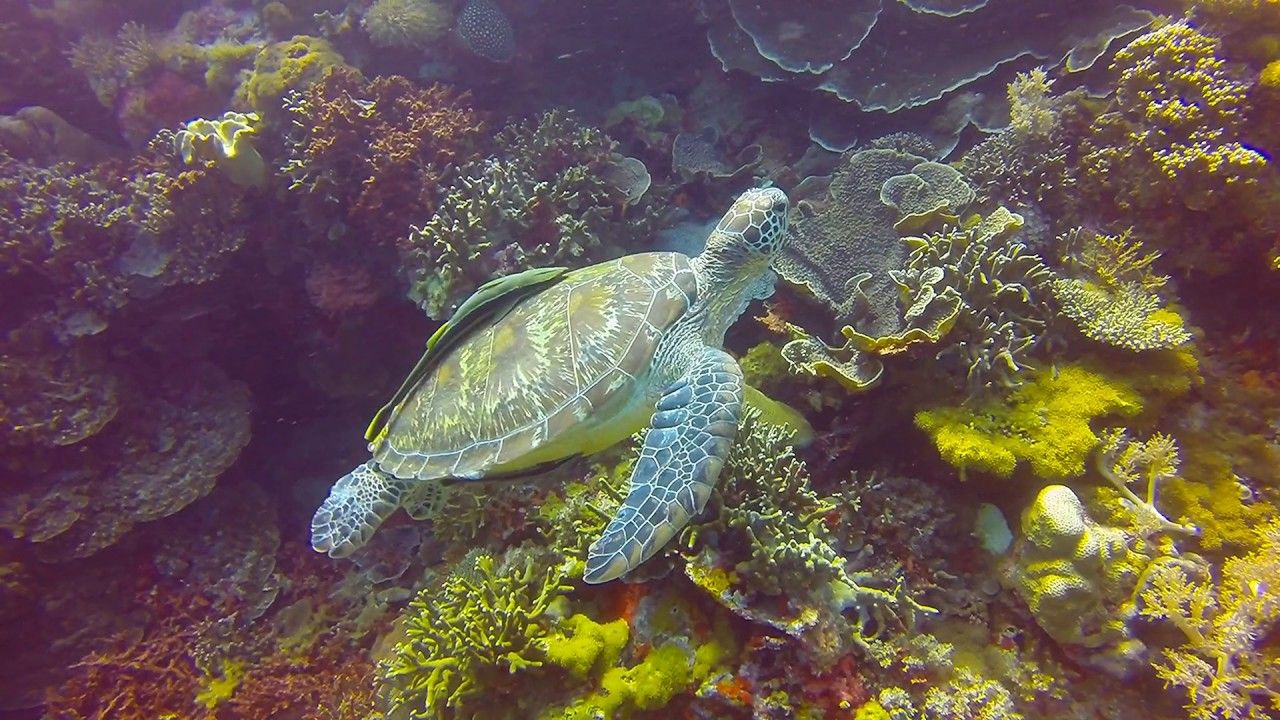 This is the sixtieth in a series of reviews of the best dive resort locations around the world.  In this post, the focus is Dumaguete, Negros, Philippines.
In addition to this series on dive resort locations, the best worldwide liveaboard dive locations and services are reviewed in their own series.  To check them out, or others in this series, click on Liveaboards/Resorts on the menu at the top and choose a title from the list.
Have you ever been diving in Dumaguete before?  If so, I'd love to know about your experience.  What dive shop or liveaboard did you use?  Which dive spots are the best and what are the conditions there regarding the visibility, current, water temperature, sealife attractions, etc.?  Please post your response in the comments section at the bottom and we'll all learn something we can use.
Scuba Diving Dumaguete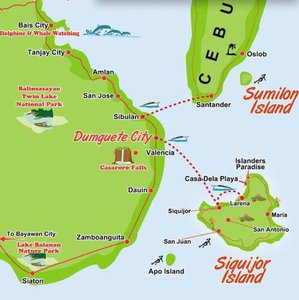 Background – Dumaguete is the capital and with a population of 132,000 the largest city in Negros Oriental Province in the Visayas region of the Philippines.  It has easy access to Cebu and is known for education, with four universities, and for having a large number of foreign tourists.  Dauin, with 28,000 residents is 19 kilometers (12 miles) to the south along the highway, includes Apo Island and is where most of the best dive sites and resorts are located.
Undersea World – The dive sites of Dauin and Apo Island are quite distinct from each other.  The Dauin sites mostly run from shore on long sandy slopes and are not classically rich coral reefs.  There are examples of the normal Visayas reef fish including surgeonfish, triggerfish, parrotfish, morays, blennies, gobies, lionfish, trumpet fish, puffer fish, filefish, wrasses, snapper, grouper, and jacks.  What Dauin is known for is muck diving in the sand and debris and among the many artificial reefs.  Divers are interested to find critters like seahorses, ghost pipefish, flamboyant cuttlefish, nudibranchs, crustaceans and the like, that are not often seen in other areas.  Apo Island, which is about an hour away by boat, is known for pristine healthy coral reefs rich in hard and soft corals, sponges and other encrusting invertebrates on a diverse terrain that changes as you go around the island, with steep walls, rocks, and sandy areas.  You can expect to see the same reef fish listed for Dauin, but with a lot more of them.  There are big schools of anthias, fusiliers, jacks, and barracuda, to go along with turtles, reef sharks, the occasional manta ray and a number of critters finding habitat in the nooks and crannies including big morays, ribbon eels, sea kraits and nudibranchs.
These liveaboard yachts also cruise to Dauin and Apo Island.  Check them out here: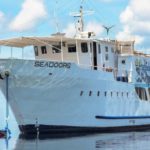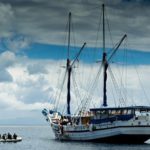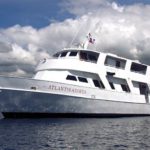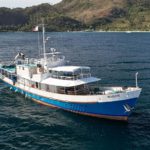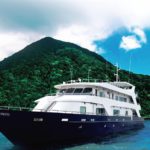 For other posts about Philippines diving, please click on these:
Seasons and Conditions – It is always warm with good diving year round.  Air temperature ranges from 23-35°C (73-95°F). Water temperatures may hit lows of 25°C (77°F) during the coolest weather in January and February and highs of 30°C (86°F) in the summer.  Most people won't need any thicker than a 3 mm wetsuit.  The rainiest time is from July to September, but it doesn't often interrupt diving significantly.  Visibility is usually from 9-12 meters (30-40 feet) in Dauin and 18-30 meters (60-100 feet) around Apo Island. When it rains, visibility decreases some.  Current generally is mild at many sites but can get strong on some.  Diving is available that is suitable for all levels.  There are a number of dive shops providing equipment rental, guiding, boat tours and coursework for beginners and the already technically proficient. Most dive shops along the Dauin seaside are part of a resort.  Aside from the liveaboards mentioned above. Several shops also arrange day trips to locations a little further away like Sumilon, Balicasag, and Siquijor.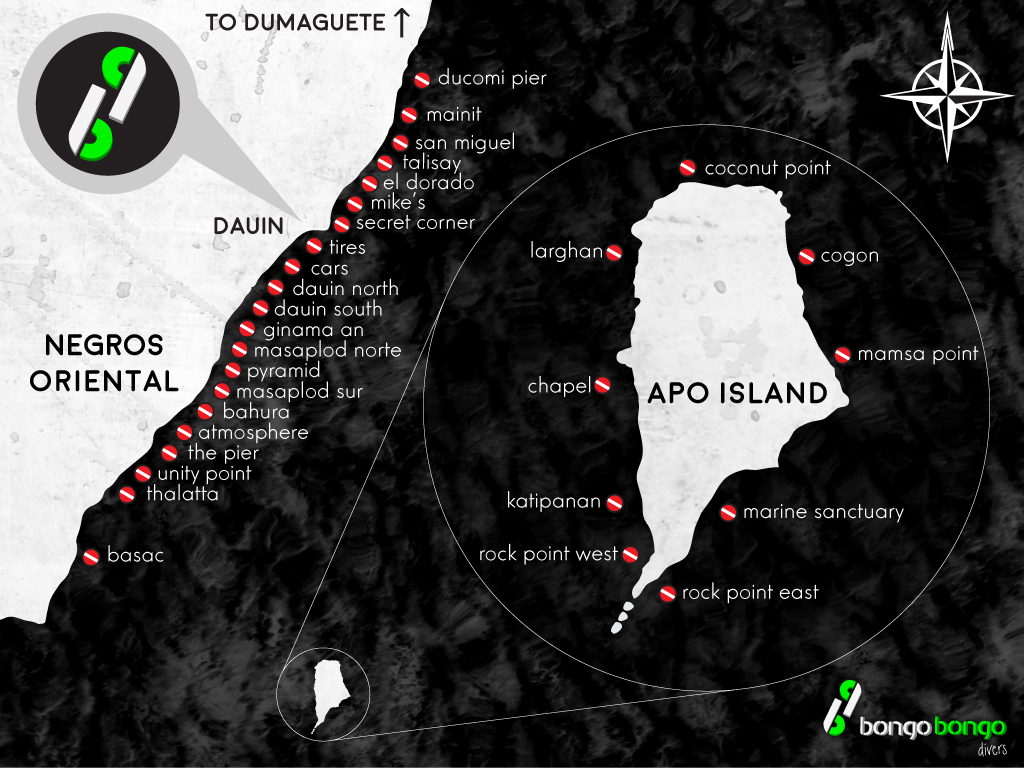 A Sampling of Dumaguete Dive Sites
Mainit: 20 meters (65 feet), mainit means hot, a description of the sandy areas too hot to walk on, boulders with coral, anemones, sea stars, schools of fusiliers, surgeonfish, snappers and barracuda, Moorish idols, porcupinefish, scorpion fish, snake eels, stingrays, whitetip reef sharks, dogtooth tuna, strong current possible, all levels
San Miguel Tires: 18 meters (60 feet), a pile of tires placed to create an artificial reef, great macro site, lots of fish, scorpion fish, moray eels, lionfish, pygmy squid, shrimps, crabs, stargazers, nudibranchs, anemones and clownfish, striated frogfish, all levels
El Dorado Deep: 30 meters (100 feet), shipwrecks and car parts placed to create an artificial reef, muck diving site, frogfish, flamboyant cuttlefish, ghost pipefish, pygmy seahorses, garden eels, emperor angelfish, also coral reef area with peacock razorfish, soft coral crabs, porcelain crabs, experienced level
Dauin North: 24 meters (80 feet), gentle slope has many macro critters like frogfish, crabs, shrimp and ghost pipefish, descending to a rich coral reef with barrel sponges, squat lobsters, golden gobies,  anthias, damselfish, blue-ringed octopus, leaf scorpion fish, snappers, barracuda, hawksbill and green turtles, all levels
Masaplod Norte: 24 meters (80 feet), coral reef site with a variety of reef fish, trumpetfish, snappers, garden eels, batfish, flasher wrasse, barracuda, bluefin trevally, green turtles, all levels
Pyramids: 25 meters (81 feet), metal materials placed in a pyramid-like shape to form an artificial reef from 5-24 meters (16-80 feet), grassy area at 5 meters (16 feet), sponges, black corals, many macro critters, variety of shrimps and crabs, thorny seahorses, nudibranchs, experienced level
Apo Island Marine Sanctuary: 25 meters (81 feet), a sloping reef with rich, colorful hard and soft corals and sponges, giant clams, lots of reef fish, angelfish, flounder, black and white snappers, juvenile big eye jacks, turtles, manta rays, all levels
Mamsa Point: mamsa means jack in the local language, reef fish, lionfish, scorpion fish, blacktip and whitetip reef sharks, grouper, schools of jacks, tuna and other pelagics possible, possible strong currents, experienced level
Coconut Point: 25 meters (81 feet), large slope with many soft corals, schooling anthias, snappers, jacks and barracuda, bumphead parrotfish, unicornfish, whitetip reef sharks, turtles, called the "washing machine" due to normally strong current, experienced level
Largahan: 20 meters (65 feet), a good macro site with flatworms, nudibranchs, frogfish, scorpionfish and eels hiding in the coral bommies, geothermal bubbles stream from the black sand, all levels
Chapel: 30 meters (100 feet), gentle slope with coral bommies and a variety of corals, sponges, and sea fans, the slope becomes steeper with overhangs and caverns, butterflyfish, wrasses, damselfish, snappers, barracuda  and tuna, experienced level
Rock Point West: 20 meters (65 feet), slope from 5 meters (16 feet), lots of soft corals in the shallow areas with flatworms and nudibranchs, more hard corals and sponges deeper, groupers, snappers, big schools of jacks, hawksbill turtles, manta and devil rays possible, current possible, all levels
Dumaguete Photos
With the interesting underwater terrain, colorful anemones, sponges, corals and encrusting invertebrates, nudibranchs, crabs, octopus, cuttlefish, seahorses and other macro critters, colorful reef fish, schools of jacks and barracuda, turtles, sharks  and fascinating scenery and historical sites on land, as well, there are many excellent photo opportunities.  For information and reviews of dive cameras, click here:
Dumaguete domestic airport (Sibulan Airport) has daily flights from Manila and Cebu.  Ferries also connect to the nearby islands daily.  Around town very affordable, if not necessarily comfortable tricycles, jeepneys and buses are the primary means of transportation.  Most of the diving is done from the resorts in Dauin about 19 kilometers (12 miles) to the west along the coast out of town.  Your most convenient bet is to arrange a pick-up with your hotel. Rental cars booked online are also an option.
A number of dive shops operate in the Dumaguete area, particularly in or associated with resorts in Dauin.  They are in operation year round and offer a full range of services including equipment rental, dive courses, guiding and boat dive cruises.  There are at least 97 accommodations of every level available in Dumaguete and Dauin from $6 to $281 with a number having in-house dive services.  Those that don't will know who to contact to get you set up.  The website linked below is a good source for the available options and can arrange a booking.  Their rates are the lowest and it is free to cancel or change dates.
Things to Do in Dumaguete (aside from scuba diving)
Tourists to Dumaguete for scuba diving will likely spend most if not all day around the seaside in Dauin.  If you find the time you can enjoy a walk around Dumaguete to meet some people, do some shopping or tour Silliman University.  There are scenic locations to visit on day trips that include a volcano, a couple of attractive forest lakes, two scenic waterfalls and a cave suitable for beginning spelunkers. . . . . . .  Check out the video below for a glimpse.
A cushion for emergencies provides peace of mind when on vacation.  I recommend this diving insurance as they have worldwide coverage and provide scuba divers a quality insurance and medical assistance service.
Feedback and Comments
I hope you found this post on Dumaguete scuba diving interesting and useful. If you have any questions or ideas, please feel free to share them in the comments section.  I'd love to know of any experience you have diving there.  If there is no comments section directly below, click here:  >>comments<<