We may earn money or products from the companies mentioned in this post.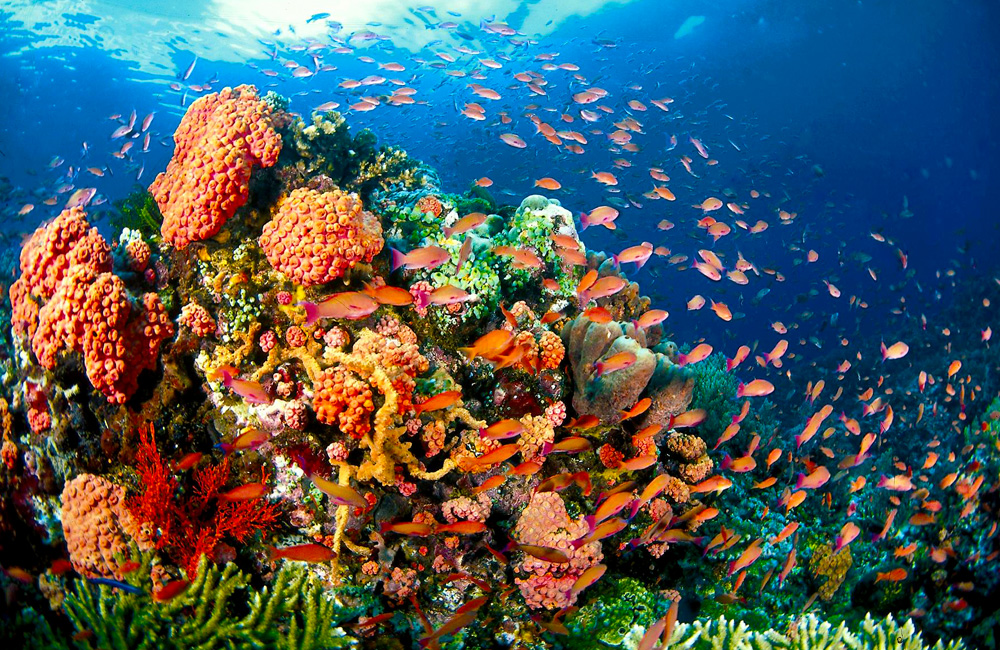 Are you looking for your dream dive vacation? This is the ninth in a series of reviews of the best dive resort locations around the world.  In this post, the focus will be Puerto Galera in Mindoro, Philippines.
In addition to this series on dive resort locations, the best worldwide liveaboard dive locations and services are reviewed in their own series.  To check them out, or others in this series, click on Liveaboards / Resorts on the menu at the top and choose a title from the list.
Have you ever been diving in Puerto Galera before?  If so, I'd love to know about your experience.  What dive shop or liveaboard did you use?  Which dive spots are the best and what are the conditions there regarding the visibility, current, water temperature, sealife attractions, etc.?  Please post your response in the comments section at the bottom and we'll all learn something we can use.
Puerto Galera Diving
My Story
Back in 1992, I found myself sitting in the second-floor window in Captain Gregg's Bar and Restaurant on Del Pilar Street in Ermita (Manila) shooting the bull with my old Hong Kong friend, John Amos, now passed.  I had just spent six years in Taibei, Shanghai and Hong Kong exporting goods to America and Europe and decided it was time for a big change.  The PADI open water course I took in Hong Kong gave me a chance to get out of the factories, offices and smoky conference rooms and back to my more physical side enabling me to embrace nature a bit.  Sitting with John, there, we talked about where to go to continue my diver education up to instructor level, as I had decided that would be the focus of my new life. He was an old hand in the Philippines, but had only done a little bit of diving and couldn't offer much advice.  What had really sparked my decision to make this move was a trip a few months earlier to Boracay.  What struck me there, aside from the natural beauty onshore and underwater when freediving, was that it was ripe with opportunities in dive instructing, had very friendly people and would be a great place to live.  While sitting on my stool with John for a couple of hours, I noticed the curly blonde haired guy who sat inches away from me back to back.  I took several opportunities to take a look at him more carefully and finally struck up a conversation, realizing that he was Larry Wolfe, one of my best friends from the swim team in college.  Not only was it a huge coincidence that he was there, but I'm amazed that it took so long to recognize him.  He was an international development worker with an outfit called "The Plan."  It was great to renew our friendship and to find out that he was part of the diving scene in the Philippines.  Sitting in Captain Gregg's there Larry said why not go to Puerto Galera, where the bar had one of the founding dive shops.  Previously he had been based in Calapan and made trips to his small branch office in Puerto Galera weekly for a period of years.  He indicated that the diving was excellent and the lifestyle the instructors had was satisfying if Spartan.
With that, I moved to Puerto and found out that what Larry said was true.  I did all the rest of my coursework there up through PADI Open Water Instructor including the Divemaster training during which I made several hundred dives on the Puerto Galera sites.  The diving was good then and it has only improved with restrictions on fishing and the local population becoming increasingly involved in environmental protection.  In addition, many boats have been scuttled in the last 25 years creating even more habitat for wildlife.
The Puerto Scene
The whole scene has changed a lot from those days.  In that era, transportation and communication were extremely limited and there were only seven dive shops.  A lot of the time there was no reliable phone line and an inconsistent TV signal.  That TV part was okay because the $4 guest room I lived in didn't have one, but transportation and communication aids in business development and are essential in emergencies.  Getting customers relied on repeat business, walk-ins and buying drinks for people until late in the night in the bars and discos.  Being an alcoholic was practically a prerequisite for instructing.  I suppose there is always that risk when there are customers to be entertained.  Several instructors I know ended up becoming problem drinkers and a number gave it up entirely.
Puerto Today
Today there are more than 30 dive shops, the hotels are more numerous and expensive (though still reasonable), transportation is much more frequent and easy to arrange, not to mention comfortable and safe, and all the diving services are state of the art.  The underwater environment is massively enlarged with the development of tech diving, which is well represented by Dave Ross and his company, Tech Asia, which is leading the way in training and exciting exploration like the Karst Project (caves) and the scouting and development of new wreck sites.  All the old deep sites have been made safer and extended even deeper.
Puerto Diving
Most of the top dive sites are only 5-10 minutes away from the 3 main side by side beaches, Sabang and Small and Big LaLaguna.  There are a few to the west closer to White Beach, and then, of course, there is Verde Island about 30-40 minutes away across the Verdi Island Passage.  Excellent training spots are available right off the beach.  Today Puerto is a marine sanctuary with an ever richer reef and a fantastic variety of hard and soft corals, sponges and invertebrates, along with reef sharks, eagle and manta rays, turtles and occasional pelagics.  Macro life is fabulous with a variety of nudibranchs, frogfish, ghost pipefish, seahorses, scorpionfish, stonefish, snakes, octopus, cuttlefish and Pegasus fish, as well as reef fish like fusiliers, surgeonfish, butterfly fish, angelfish, and a big range of others.
Significant Current
Dive guides need to have a good command of the tide tables as there is significant drift based on tidal water movement.  The horsehead reef drift dive along West Escarcio on down below the Canyons and the Kilima drift dive coming from the other side of the lighthouse past shark cave and ending up at the Canyons are two of the most fantastic fast drift dives in my experience. Watching what wildlife appears and how it behaves under such conditions is remarkable and you have to be a strong experienced diver on top of your game to stay safe.  A lot of the bigger fish will be out feeding including schools of barracuda and jacks and the reef sharks may also be cruising.
Season, Water Temperature, Visibility
Diving is good year-round in Puerto. April to September is the best time for warm water and the best visibility.  The water temp ranges from  26-29°C  with 15-30 meter visibility. During the rest of the year, it might be cooler, down to about 23°C in December.  It is rainier from June through October with the wettest month being August.  It is quite dry in January and February and relatively so in March and April.
Liveaboard cruises only touch on the Puerto Galera area.  The MV Dolphin, Flying Dolphin 3 and PY Atlantis Azores liveaboards all begin and end their Coron Wrecks/Apo Reef cruises in Puerto Galera.  Catching the opportunity to wrap some Puerto Galera diving around the safari would be well worth it, in my opinion.  To take a look at my review of that cruise click here:
For other posts about Philippine diving, check these:
Puerto Galera Dive Sites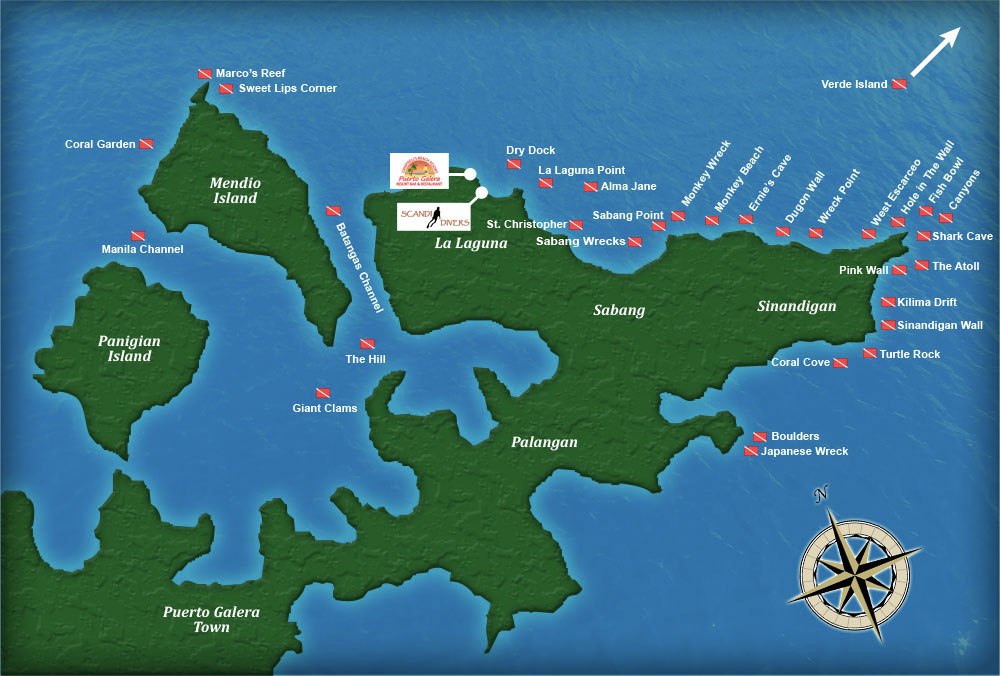 There are at least 30 dive sites in Puerto Galera in the Sabang area, represented by the map above, and at White Beach just to the west, and Verde Island to the northeast.  Here is a website with a thumbnail sketch of most of them: Puerto Galera Dive Site Descriptions
Puerto Galera Photos
With the macro life, beautiful, diverse coral reef, megafauna, and lots of fish, there are many excellent photo opportunities.  For information and reviews of diving cameras, click here:
Puerto Galera Accommodation
The many Puerto Galera resorts and hotels range from budget to luxury in service and facilities.  This website is a good source for the available options and can arrange a booking:
Scuba Diving Trip Insurance
A cushion for emergencies provides peace of mind when on vacation.  I recommend this diving insurance as they have worldwide coverage and provide scuba divers a quality insurance and medical assistance service.
Feedback and Comments
I hope you found this post on Puerto Galera scuba diving interesting and useful. If you have any questions or ideas, please feel free to share them in the comments section.  I'd love to know of any experience you have diving there.  If there is no comments section directly below, click here:  >>comments<<