We may earn money or products from the companies mentioned in this post.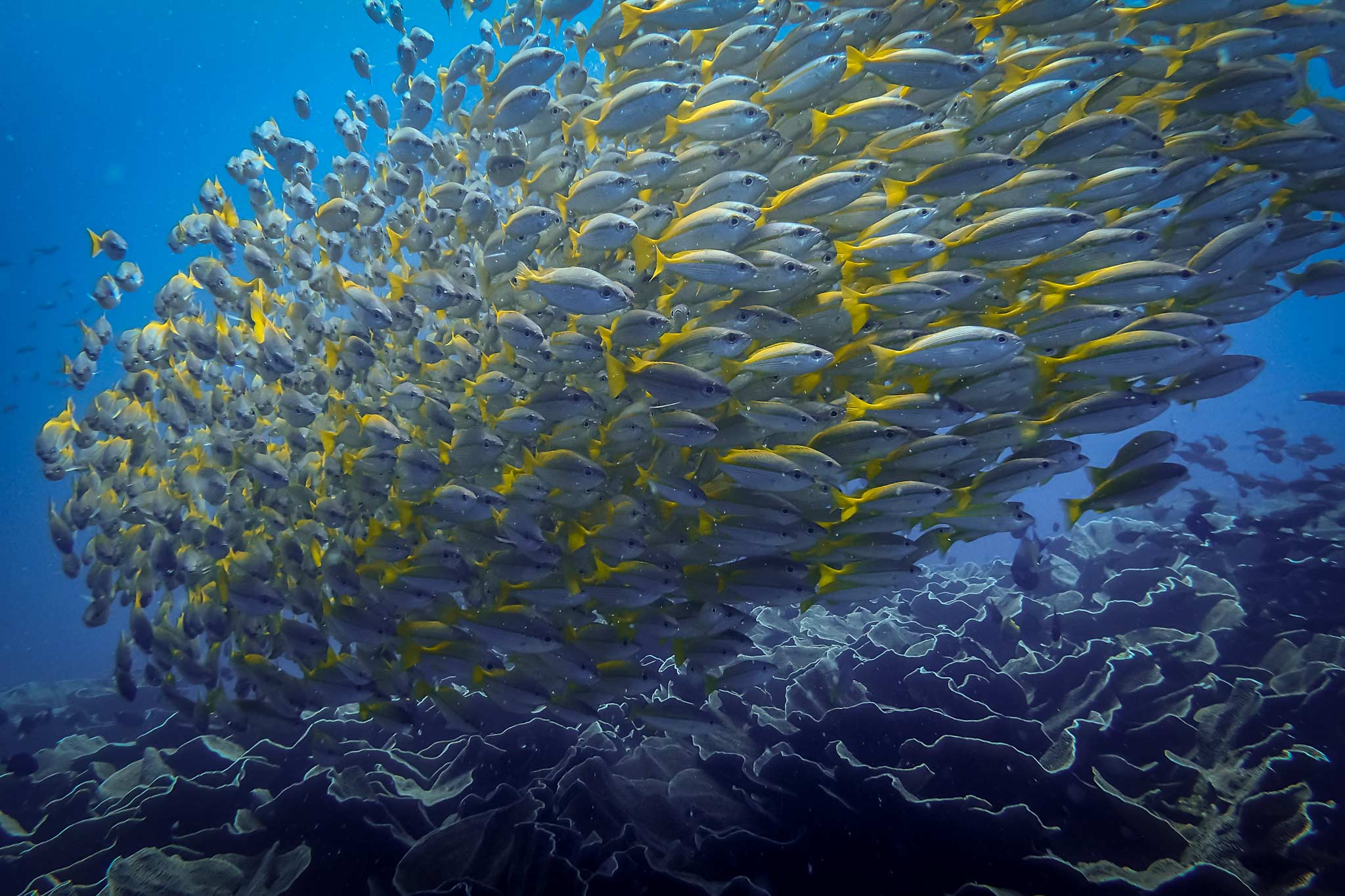 This is the thirteenth in a series of reviews of the best dive resort locations around the world.  In this post, the focus is El Nido, Palawan, Philippines.
In addition to this series on dive resort locations, the best worldwide liveaboard dive locations and services are reviewed in their own series.  To check them out, or others in this series, click on Liveaboards / Resorts on the menu at the top and choose a title from the list.
Have you ever been diving in El Nido before?  If so, I'd love to know about your experience.  What dive shop or liveaboard did you use?  Which dive spots are the best and what are the conditions there regarding the visibility, current, water temperature, sealife attractions, etc.?  Please post your response in the comments section at the bottom and we'll all learn something we can use.
El Nido Scuba Diving
El Nido referred to by many as the most naturally beautiful island beach vacation area in the country, is situated on Bacuit Bay in northern Palawan Province.  The jurisdiction of the township includes the 45 islands of the Bacuit Archipelago.  It is known as a more or less laid back place to relax and take in the scenery, beach activities, island hopping and enjoy the many restaurants and bars, the friendly townspeople and the service of one of the many resorts or hotels.
Air Travel – El Nido is served by Lio Airport, 4 kilometers (2.5 miles) away, with daily flights from Manila, Cebu, and Boracay, or Puerto Princessa Airport, also with daily flights from Manila and Cebu.  Unfortunately, the bus or van available covering the 238 km (149 miles) from Puerto takes 5-6 hours.  From Lio Airport a trike will get you to El Nido town in about 20 minutes.
Environmental Protection – Since 1983 the area including the Bacuit Archipelago has been protected, allowing the marine environment to flourish.  There is a biodiverse-rich coral reef system with a lot of schooling fish, pelagics, invertebrates, and macro life.  Around a dozen dive shops provide services around the bay.  Most of the best sites take 30 minutes to an hour to reach by boat.
Weather – Unlike most of the Philippines, El Nido does not have a monsoon season, making scuba diving more comfortably possible year round.  From December to May is the dry season and June to November the wet but without major wind.   From March to May the ocean surface is smoothest.
Temperature – Annually the average daily high air temperature is in a narrow range from 27-31°C (80-87°F). From December to March the range for water temperature is 24-26°C (75-79°F).  From April to November it is 26-29°C (79-84°F).  Probably the most thermal protection you would need would be a 3 mm wetsuit.
Visibility is variable.  From March to May it runs from 10-30 meters (35-100 feet), June to November from 10-15 meters (35-50 feet) and is at its worst from December to February at 3-10 meters (10-35 feet).  Unfortunately, the bad visibility corresponds with the major tourist season.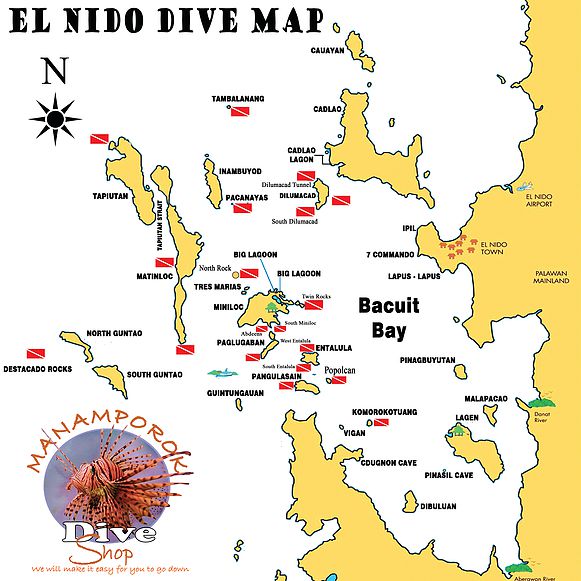 Selected Popular El Nido Dive Sites
South Miniloc Island – also known as Biet Point, triangular reef that descends into a channel between two islands with a sandy bottom and rocks, 5-43 meters (15-140 feet), big field of cabbage coral, pufferfish, schools of yellow snappers, chevron barracuda, occasional bonito, manta and eagle rays, calm, sheltered area good for open water training dives and snorkeling
Tagbao Island – also known as Tres Marias, off the northwestern point of Miniloc Island, 3 reefs between two islands, lots of reef fish and corals, an endemic species of angelfish, shallow for snorkeling and beginners
North Rock – single rock with sloping reef from 12-30 meters (40-100 feet), pristine coral fans, batfish, barracuda, pelagics, two species of jacks, glassfish covered pinnacle, a small swim-through to a mini-gully, hard and soft corals including table corals, blacktip reef sharks deeper, advanced level
South to West Entalula – drift often runs south to west, south side a shallow slope from 4-21 meters (13-70 feet), turtles, schooling fish, west side a wall to 35 meters (116 feet), electric clams, frogfish, scorpionfish, flamboyant cuttlefish, Pegasus fish, ghost pipefish, turtles, marble rays, reef sharks, all levels
Dilumacad Reef and Tunnel – sloping reef of four to five healthy reef sections separated by sandy areas, from 5-43 meters (16 – 140 feet), at 10-15 meters (35-50 feet) is a 35 meter (115 feet) long L-shaped tunnel leading to a central cavern, several ceiling holes, small fish, crabs, lobster and pipefish within, something for all levels
Nat Nat Beach (Cadlao Island) – shallow coral reef with sandy patches, good macro with seahorses, nudibranchs, Spanish dancers, hermit crabs, for beginners, good night dive
For other posts about Philippines diving, please click on these:
Currently, none of the major liveaboard yachts cruising the Philippines make trips to Bacuit Bay.  Fortunately, there are a number of resorts and hotels in El Nido ranging from budget to luxury.  Several of them are equipped with dive shops.  Otherwise, there are a dozen or more quality diving operations nearby.  This website is a good source for the available options and can arrange a booking:
El Nido Photos
With the macro life, beautiful, diverse coral reef and lots of fish, there are many excellent photo opportunities.  For information and reviews of diving cameras, click here:  Best Underwater Cameras Compared and Reviewed
A cushion for emergencies provides peace of mind when on vacation.  I recommend this diving insurance as they have worldwide coverage and provide scuba divers a quality insurance and medical assistance service.
Feedback and Comments
I hope you found this post on El Nido scuba diving interesting and useful. If you have any questions or ideas, please feel free to share them in the comments section.  I'd love to know of any experience you have diving there.  If there is no comments section directly below, click here:  >>comments<<