We may earn money or products from the companies mentioned in this post.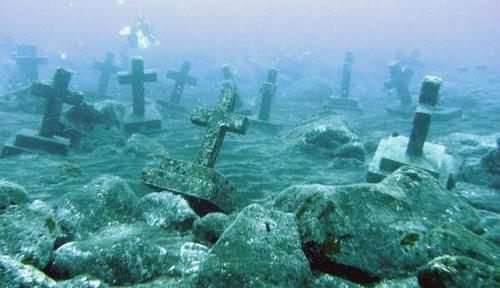 This is the sixty-second in a series of reviews of the best dive resort locations around the world.  In this post, the focus is Camiguin, Philippines.
In addition to this series on dive resort locations, the best worldwide liveaboard dive locations and services are reviewed in their own series.  To check them out, or others in this series, click on Liveaboards/Resorts on the menu at the top and choose a title from the list.
Have you ever been diving in Camiguin before?  If so, I'd love to know about your experience.  What dive shop or liveaboard did you use?  Which dive spots are the best and what are the conditions there regarding the visibility, current, water temperature, sealife attractions, etc.?  Please post your response in the comments section at the bottom and we'll all learn something we can use.
Scuba Diving Camiguin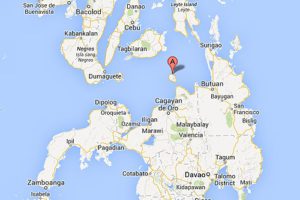 Background – Located 10 kilometers (6.2 miles) off the coast of Mindanao, Camiguin is the second smallest Philippine Province with an area of 238 square kilometers (92 square miles) and a population of 89,000.  First settled by the Spanish in 1598, Camiguin has put up with additional foreign intrusion by the Americans and Japanese.  There are a number of heritage sites around the island worth visiting.  The island is volcanic in origin with major eruptions of Mount Hibok Hibok from 1948-1951 that killed over 3,000 and caused massed outward migration of half the population at that time.  There is also a sunken cemetery now off the northern coast that resulted from the volcanic activity of Mount Vulcan in 1871.  Today the volcanoes are at rest and covered in greenery with remnants of their activity in place for exploration in the form of waterfalls, hot springs, and fascinating underwater terrain.  Fishing and farming are the major economic drivers with lanzones the most important crop followed by copra, abaca, rice, and mangoes.  The infrastructure has improved with regular ferries from Mindanao and flights daily from Cebu that are making tourism easier.  Cebuano is the primary language, but most can speak English.
Undersea World – Without mass tourism and up until fairly recently some relatively large logistical inconvenience in getting there, Camiguin has been a bit of a secret to the scuba diving world.  There is pretty good diversity of life with a rich coral reef, lots of unusual macro or muck diving critters, a big volume and variety of fish, large and small, and some spectacular pelagics, as well.  Remote diving locations in the Philippines have the reputation of being pretty beat up by destructive fishing practices.  Fortunately, a number of marine protected areas are in place and the population is becoming increasingly aware of the economic value of rich coral reefs.  With volcanic origins and fairly recent eruptions, the seascape has an interesting variety of features from black sandy slopes, to coral gardens, a sand bar island, volcanic boulders and lava flows, to walls, pinnacles, and caverns.  In addition, there is a small wreck, a sunken cemetery, and a giant clam nursery.  The reef has a good variety of hard and soft corals, colorful sponges, hydroids and other encrusting invertebrates, as well.  World class macro critters include pygmy seahorses, flamboyant cuttlefish, a variety of scorpion fish and stonefish, mandarin fish, wonderpus, ghost pipefish, flatworms, nudibranchs, giant frogfish, various shrimp, crinoids, sea cucumbers, cowries, and many others.  Other reef wildlife on hand is sweetlips, snapper, trumpetfish, porcupine puffers, banded sea kraits, regal angelfish, rabbitfish, filefish, batfish, triggerfish, surgeonfish, unicornfish, schooling jacks and barracuda, green and hawksbill turtles, black and whitetip reef sharks and blue-spotted stingrays. Mackerel, eagle, marble and manta rays, and whale sharks are also known to come around.  Occasional strong currents provide a highway for incoming nutrients and for divers to ride during exciting drift dives.
None of the major liveaboard yachts make cruises to Camiguin.  However there a quite a few that cruise sites around Dumaguete, Apo Island, Cebu, Balicasag Island, Southern Leyte and almost all the best locations around the country.  Please click here for details:
For my other posts about Philippines diving, please click on these:
Seasons and Conditions – Diving conditions in Camiguin are good year-round.  Air temperatures range from 20-32°C (68-90°F) with average daily highs from 29-32°C (84-90°F).  The water temperature stays in a range of 26-30°C (80-86°F).  Most divers will not need more than a 3 mm wetsuit.  It rains a fair bit all year, but it doesn't often interfere with the diving.  Camiguin lies south of the main typhoon belt.  From June through January it rains an average of 16-18 days a month.  From February to May that figure drops to 10-13 days per month.  Visibility is also good staying in a range from 10-25 meters (35-81 feet).  Currents are often mild but can be strong on occasion in certain locations.  Most of the dive sites are suitable for all levels of diver with a standard depth range of 5-30 meters (16-100 feet).  There are a number of dive shops providing equipment rental, guiding, boat tours and coursework through divemaster and Nitrox certifications.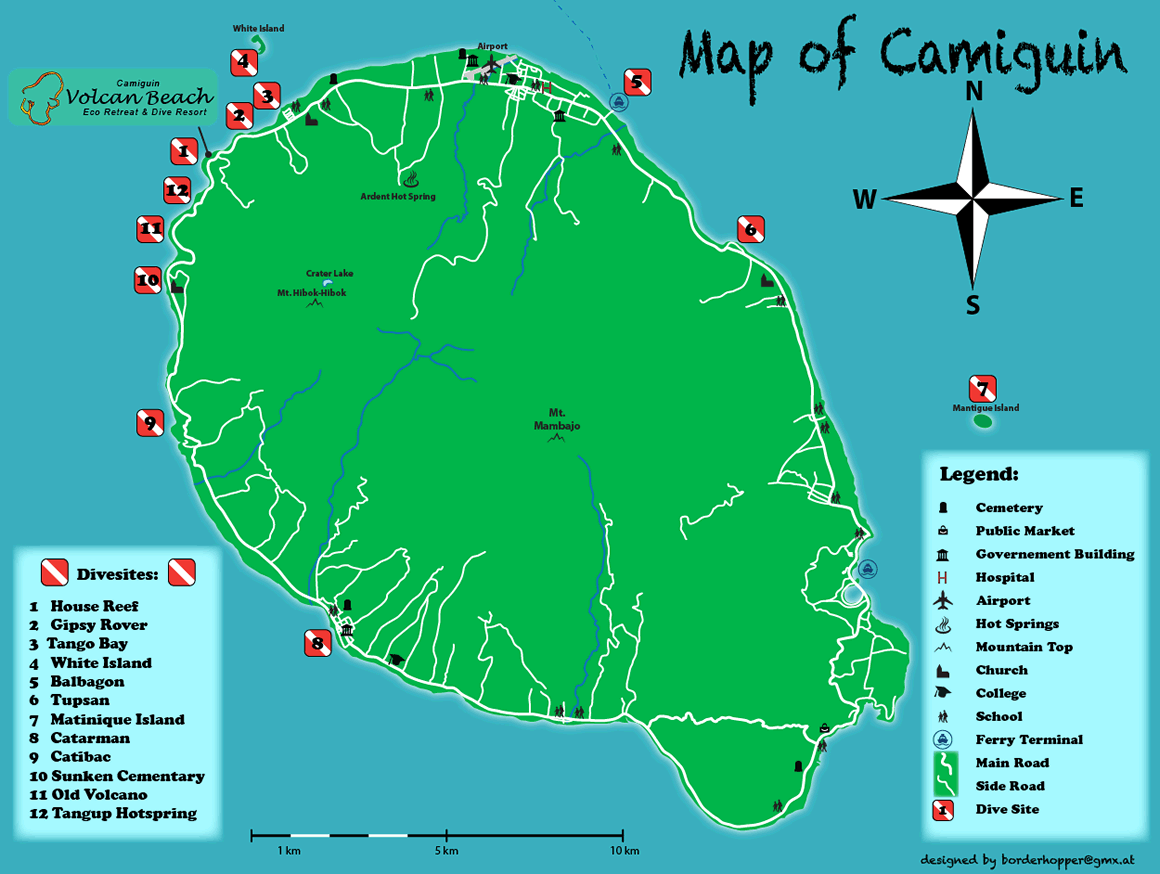 A sampling of Camiguin Island Dive Sites
Gipsy Rover: 30 meters (100 feet) maximum depth, small sailboat wreck in the sand at 16 meters (52 feet), seagrass, many macro critters, scorpion fish, ghost pipefish, ribbon eels, lionfish, frogfish, leaf fish, garden eels, clams, moray eels, schools of fusiliers, batfish, all levels
Tango Bay: 30 meters (100 feet) maximum depth, steep slope, many macro critters, frogfish, leaf fish, ghost pipefish, various crustaceans, garden eels, anemones and clownfish, parrotfish, little current in the bay, all levels
White Island: 30 meters (100 feet) maximum depth, sloping sandy bottom, black coral garden, butterflyfish, Moorish idols, mantis shrimp, scorpion fish, frogfish, cowries, ribbon eels, morays, hawksbill turtles, strong current possible, experienced level
Tupsan Pinnacle: 24 meters (80 feet) maximum depth, big, steep sloping pinnacle, lionfish, blue-spotted stingrays, morays, grouper, scorpion fish, cowries, strong current, experience level
Mantigue Island: 5-40 meters (16-130 feet), sandy shallows dropping off, short walls and small caverns, protected area, pristine coral reef, lots of fish, unicorn fish, parrotfish, small barracuda, rabbitfish, batfish, sweetlips, big schools of jacks, mackerel, blacktip reef sharks, occasional eagle and marble rays, turtles, all levels
Catarman: 24 meters (maximum depth), sloping reef, rich soft and hard corals, pufferfish, garden eels, frogfish, scorpionfish, stonefish, barracuda, turtles, occasional manta rays and whale sharks, all levels
Catabac: 30 meters (100 feet) maximum depth, rich corals, rocky slope and canyons, lots of reef tropicals, garden eels, pipefish, Moorish idols, sweetlips, batfish, occasional pelagics including big mouth mackerel, turtles, all levels
Sunken Cemetery: 30 meters (100 meters) maximum depth, a marine sanctuary, the eruption of Mt. Vulcan in 1871 caused the sinking of this cemetery, white cross set above the surface, rich encrustations, soft corals, cuttlefish, blue-spotted stingrays, frogfish, triggerfish, ribbon eels, morays, turtles, all levels
Old Volcano: 30 meters (100 feet) maximum depth, steep decline, rich hard and soft corals, lots of reef tropicals, volcanic lava flows and boulders, overhangs, pinnacles, giant clams, oysters, ghost pipefish, nudibranchs, scorpion fish, snappers, jacks, sweetlips, all levels
Tangub Hot Springs: 30 meters (100 feet) maximum depth, hot spring underwater at around 15 meters (50 feet), dark sandy slopes and rocky terraces, nice soft corals, nudibranchs, shrimp, orangutan crabs, lionfish, batfish, surgeonfish, schools of fusiliers, green turtles, all levels
Camiguin Island Photos
With the interesting coral gardens and walls, colorful anemones, sponges, corals and encrusting invertebrates, nudibranchs, crabs, cuttlefish, seahorses and other macro critters, reef fish, schools of jacks and barracuda, turtles, rays and fascinating scenery and historical sites on land, as well, there are many excellent photo opportunities.  For information and reviews of dive cameras, click here:
Philippines Airlines and Cebu Pacific both have daily direct flights to Mambajao on the north coast of Camiguin from Cebu.  Previously there was ferry service from Jagna in Bohol, which appears to have been discontinued.  There is ferry service from Macabalan Port in Cagayan de Oro City to Benoni Port in Camiguin that takes 90 minutes to two hours.  Once on Camiguin typical Filipino transport is available:  motorcycle (habal-habal), motorela (10 person trike), multi-cab, jeepney, van.  These can be arranged by the ride or commissioned for longer periods or trips.
There are a number of dive shops, several of which are affiliated with resorts, that operate on Camiguin.  Most are situated on the coastline.  They are in operation year round and offer a full range of services including equipment rental, dive courses, guiding and boat dive cruises.  There are at least 27 accommodations of every level available around the island from $11 to $67 per night.  The website linked below is a good source for the available options and can arrange a booking.  You can easily find the locations on the map provided on this site and identify those with dive shops.  Their rates are the lowest and it is free to cancel or change dates.
Camiguin Island Attractions (aside from scuba diving)
Tourist services are not highly developed, so you won't find a bunch of western restaurants, bars, and nightclubs.  Most of the tourist activities aside from those related to the beach and seaside activities relate to the beautiful scenery in the forests of this volcanic island.  There are also some historic buildings and churches, as well.  White and Matinique Islands are worth a visit.  There are numerous hot and cold water springs, lakes and waterfalls to explore. Hiking through the forest up Mount Vulcan and Mount Hibok Hibok should prove exhilarating.  The sunken cemetery and giant clam nursery are additional sub-sea sights.  The major cultural event of the year is probably the Lanzones Festival in October.  Check out the video below for a glimpse of a few of these and have a look at the island.
A cushion for emergencies provides peace of mind when on vacation.  I recommend this diving insurance as they have worldwide coverage and provide scuba divers a quality insurance and medical assistance service.
Feedback and Comments
I hope you found this post on Camiguin scuba diving interesting and useful. If you have any questions or ideas, please feel free to share them in the comments section.  I'd love to know of any experience you have diving there.  If there is no comments section directly below, click here:  >>comments<<