We may earn money or products from the companies mentioned in this post.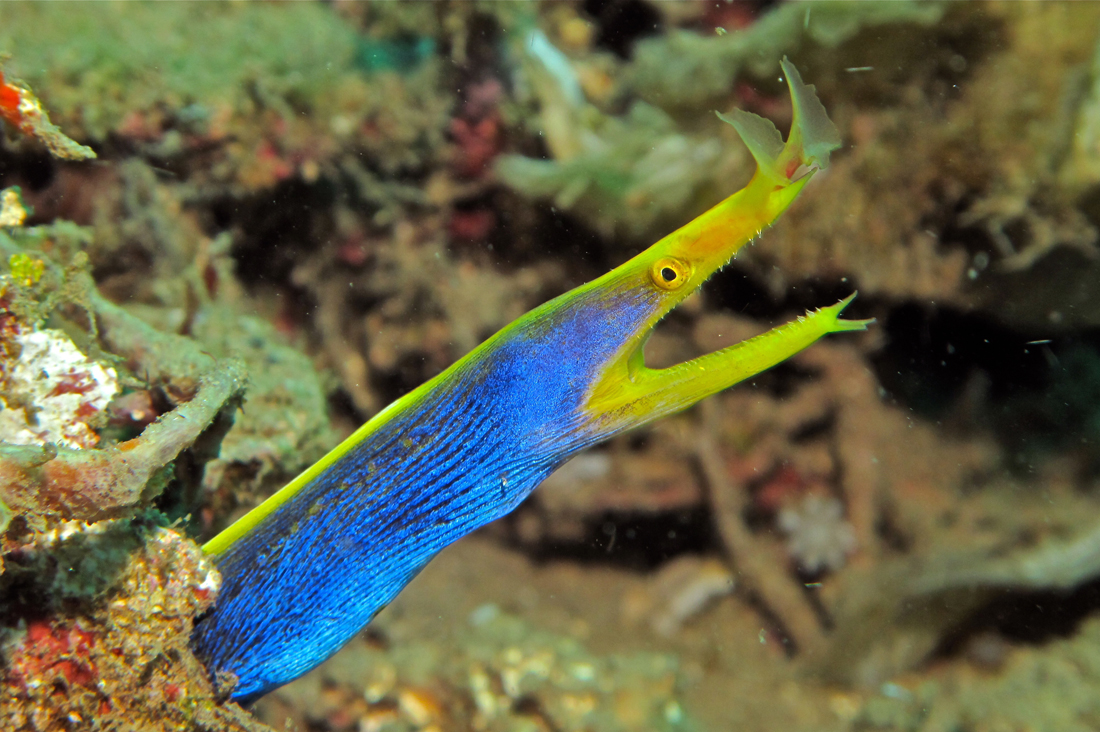 This is the sixty-first in a series of reviews of the best dive resort locations around the world.  In this post, the focus is Siquijor, Philippines.
In addition to this series on dive resort locations, the best worldwide liveaboard dive locations and services are reviewed in their own series.  To check them out, or others in this series, click on Liveaboards/Resorts on the menu at the top and choose a title from the list.
Have you ever been diving in Siquijor before?  If so, I'd love to know about your experience.  What dive shop or liveaboard did you use?  Which dive spots are the best and what are the conditions there regarding the visibility, current, water temperature, sealife attractions, etc.?  Please post your response in the comments section at the bottom and we'll all learn something we can use.
Scuba Diving Siquijor Island
Background – Siquijor is the third smallest province in the Philippines situated only 19 kilometers (12 miles) east of Negros at the nearest point, not much farther away from Cebu and Bohol and 45 kilometers (28 miles) from Mindanao.  The total population of the island is 96,000 and it has an area of 327 square kilometers (126 square miles). It has a reputation for witchcraft and sorcery which many Filipinos find frightening but is nonetheless a draw for a certain amount of tourism.  Otherwise, the tourists come for scuba diving and beach life, beautiful forests, waterfalls, caves, scenic landscapes, and historic buildings and churches.  This tourism, along with traditional fishing and agriculture, is the major driver of the economy.  Cebuano (not Tagalog) is the major language of the people in this part of the Visayas, with English also commonly used.

Undersea World – With 25 or more dive sites, Siquijor is known for healthy reefs with a variety of soft and hard corals, sponges, gorgonians and hydroids that are home to a good variety of reef fish, intriguing macro critters, turtles, rays and pelagics.  The terrain is varied ranging from shallow coral gardens to rocky slopes to steep walls with crevices and caverns.  Several locations are protected sanctuaries one of which is an artificial reef.  Macro highlights are nudibranchs, giant clams, crinoids, flatworms, orangutan crabs, mantis shrimps, ribbon eels, frogfish, porcelain crabs, anemone shrimp, ghost pipefish, cowries, sea cucumbers, and many others.  Reef fish include trumpetfish, sweetlips, damselfish, lionfish, grouper, batfish, fusiliers, triggerfish, blue-spotted stingrays and snappers. Big schools of jacks and barracuda are common.  Pelagics that pass through include mackerel and tuna.  Hawksbill and green turtles appear frequently and it is not unusual to see eagle, devil and manta rays.  To add to the excitement current at times is strong, which is good for providing outside nutrients for the inhabitants and visitors.
None of the major liveaboard yachts make cruises to Siquijor.  However there a quite a few that dive nearby sites around Dumaguete, Apo Island, Cebu, and Balicasag Island and almost all the best locations around the country.  Please click here for details:
For my other posts about Philippines diving, please click on these:
Seasons and Conditions – The climate is warm and diving is good year round.  Air temperature ranges from 24-33°C (75-91°F). Water temperatures may hit lows of 26°C (79°F) during the coolest weather in January through March and highs of 30°C (86°F) in the summer.  Most people won't need a wetsuit any thicker than 3 mm.  The rainiest time is from July to October, but it doesn't often interrupt diving significantly.  Visibility is usually quite good ranging from 12-30 meters (40-100 feet). When it rains, visibility decreases a bit.  Current generally is mild most of the time but can be strong on occasion.  Diving is available that is suitable for all levels.  There are a number of dive shops providing equipment rental, guiding, boat tours and coursework.  Most are part of a resort.  The shops often arrange day trips to Apo Island.  Dauin, Sumilon and Balicasag are also in range.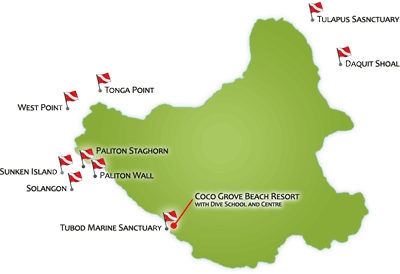 A Sampling of Siquijor Dive Sites
Tubod Sanctuary: 40 meters (130 feet) maximum depth, sanctuary site with no fishing allowed, shallow slope getting gradually steeper, a rich reef with a variety of hard and soft corals and sponges, lots of reef fish, good macro life, cuttlefish, sea snakes, barracuda, all levels
Paliton Wall: 5-50 meters (22-160 feet), steep wall starting at 5 meters (16 feet) descending to 45 meters (146 feet) before flattening into a sandy slope, lots of soft corals, sea fans and coral whips on the wall, overhang at 35 meters (111 feet) with a big school of glassfish, lionfish, possible pelagics, mantis shrimp and nudibranchs in the sandy areas,  experienced level
Paliton Staghorn: 33 meters (110 feet), the continuation of Paliton Wall as it becomes a sandy slope from 10 meters (33 feet) descending, nice staghorn corals in two sections, barrel sponges, variety of reef fish, snappers, snubnose drummers, blue ribbon eels, all levels
Solangon: 15 meters (50 feet), gently sloping rich coral garden, moray eels, anemones with clownfish, lionfish,  schooling reef fish, barracuda and jacks, blue-spotted stingrays, turtles, little to no current, all levels
Sunken Island: 12-40 meters (40-130 feet), shoal beginning at 12 meters (40 feet) which is about 80 meters (260 feet) wide, rich encrusting cover with hard and soft corals, sponges and sea whips, reef fish, parrotfish, spotted eagle rays, mackerel, sardines, possible devil and manta rays, strong currents possible, need to plan location on the shoal to avoid the strongest, experienced level
West Point: 24 meters (80 feet), wall with small caverns, orange spotted groupers within, to the south the wall is less steep, sandy ledges at 20-24 meters (68-80 feet), currents can be strong requiring good planning of entry and exit points, all levels
Tonga Point: wall from 7-25 meters (22-83 feet), becomes gentle slope after that, corals not rich on the wall, some sea whips, Napoleon wrasses, bumphead parrotfish, soft and leather corals, sponges on the slope, possible pelagics deep, strong current possible, all levels
Tulapus Sanctuary: 18 meters (60 feet), a protected area with artificial reef created in 1989 by placing concrete x-shapes, well encrusted, daisy corals in the sand, many macro critters, big groupers, barracuda, all levels
Daquit Shoal: 5-30 meters (16-100 feet), shoal top at 5 meters (16 feet), gentle slope to 15 meters (50 feet), two overhangs at 20-24 meters (68-80 feet), beautiful corals, barrel sponges, anemones, anthias, damselfish, blue side wrasses, nudibranchs, frogfish, fusiliers, strong current possible, all levels
Siquijor Island Photos
With the interesting coral gardens and walls, colorful anemones, sponges, corals and encrusting invertebrates, nudibranchs, crabs, cuttlefish, seahorses and other macro critters, reef fish, schools of jacks and barracuda, turtles, rays and fascinating scenery and historical sites on land, as well, there are many excellent photo opportunities.  For information and reviews of dive cameras, click here:
There is an airport on Siquijor Island, but it is very small and handles no commercial traffic.  The best way to get there is by ferry from Dumaguete which takes about an hour.  Fast and slow ferries also depart from Cebu directly to Siquijor.  International airlines land in Manila and Cebu and domestic flights proceed from there to Dumaguete.  When you land at one of the ports on Siquijor, your most convenient bet would be to have your hotel arrange pick-up.  Otherwise, traditional Filipino transportation is available which includes motorcycles (ride on the back), tricycles (ride in a sidecar), EZ rides (small multi-vans), jeepneys or busses.  Motorcycles are for rent and some shop owners will rent out a van with driver.
More than a dozen dive shops, mostly affiliated with resorts, operate on Siquijor.  The bulk is situated on the southwest coastline with a few on the northern shore.  They are in operation year round and offer a full range of services including equipment rental, dive courses, guiding and boat dive cruises.  There are at least 38 accommodations of every level available around the island from $5 to $212 per night.  The website linked below is a good source for the available options and can arrange a booking.  You can easily find the locations on the map provided on this site and identify those with dive shops.  Their rates are the lowest and it is free to cancel or change dates.
Things to Do in Siquijor Island (aside from scuba diving)
Tourists to Siquijor have some interesting outdoor options when there is time away from scuba diving.  Renting a motorbike would be recommended to move efficiently from place to place.  There are several beautiful waterfalls with rope swing and diving options, forests to trek and a mountain to climb.  Spelunkers have a few caves to explore, there is a natural park and butterfly sanctuary, the famous old Balete tree, historic churches, and colonial buildings and beautiful beaches around the island.  Check out the video below for a glimpse of a few of these and a look at the scenery.
A cushion for emergencies provides peace of mind when on vacation.  I recommend this diving insurance as they have worldwide coverage and provide scuba divers a quality insurance and medical assistance service.
Feedback and Comments
I hope you found this post on Siquijor scuba diving interesting and useful. If you have any questions or ideas, please feel free to share them in the comments section.  I'd love to know of any experience you have diving there.  If there is no comments section directly below, click here:  >>comments<<