We may earn money or products from the companies mentioned in this post.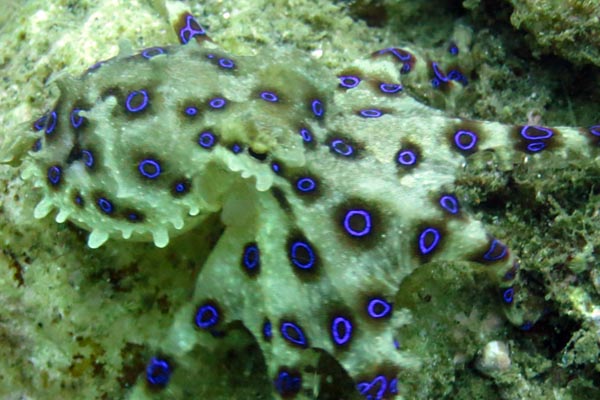 This is the seventy-seventh in a series of reviews of the best dive resort locations around the world.  In this post, the focus is Romblon, Philippines.
In addition to this series on dive resort locations, the best worldwide liveaboard diving locations and services are reviewed in their own series.  To check them out, or others in this series, click on Liveaboards/Resorts on the menu at the top and choose a title from the list.
Have you ever been diving on Romblon before?  If so, I'd love to know about your experience.  What dive shop or liveaboard did you use?  Which dive spots are the best and what are the conditions there regarding the visibility, current, water temperature, sealife attractions, etc.?  Please post your response in the comments section at the bottom and we'll all learn something we can use.
Romblon Diving
Background – With seven major islands situated south of Marinduque and Quezon, east of Mindoro, north of Aklan (Boracay) and west of Masbate, Romblon is a province with a population of 293,000.  Originally it was inhabited by aboriginal Negritos and Mangyans, who still have small remnant settlements today.  The Spanish arrived in 1569 and in the 1800s came other Filipino ethnic groups.  The islands are mountainous with well-preserved rainforests, waterfalls, remarkably clean inland water and a number of endemic species.  This relatively pristine natural environment has spawned eco-tourism along with scuba diving.  Other economic drivers are traditional farming of rice and copra, fishing, and a marble industry featuring Italian quality stone.  The local population today speaks three different languages based on location.  Those that have attended school can also speak some Tagalog and English.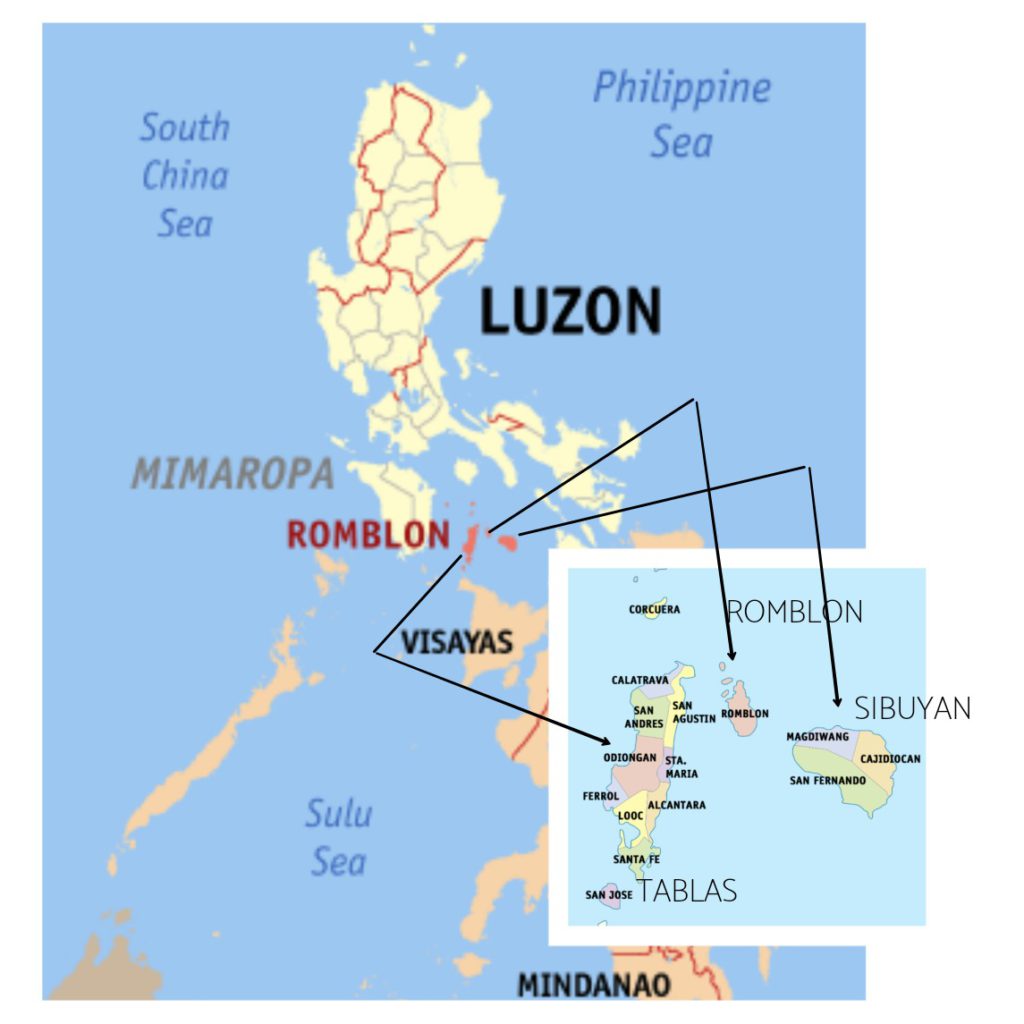 Undersea World – Romblon is becoming increasingly recognized as a top-level muck and macro critter location surpassing perhaps Anilao and Anda in the Philippines and rivaling Lembeh Strait on the world stage.  The islands of Romblon Province cover a broad geographical area and have great variety in underwater terrain and habitat.  There are steep drop-offs, canyons, beautiful hard and soft corals, big sea fans, and rich diversity in reef fish to go along with muck and macro heroes including mandarin fish, Spanish dancers, tiger and marble shrimps, Severnsi and Pontohi pygmy seahorses, mimic and wunderpuss octopus, sea snakes, and Melibe Colemani and Cyerce among the many resident varieties of nudibranch.  Some sites have massive schools of fish like bannerfish, fusiliers, rainbow runners, jacks, surgeonfish and tuna, and blue-spotted stingrays.  White and blacktip reef sharks, eagle and manta rays, and green and hawksbill turtles are common.  Whale sharks, dolphins, and whales are also known to make an appearance.  Most of the islands have dozens of sites and several marine sanctuaries are in place to provide some protection.
There is one major liveaboard yacht that cruises to Rombon from July through September.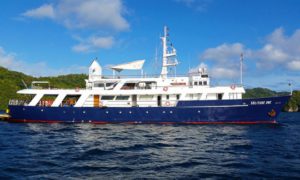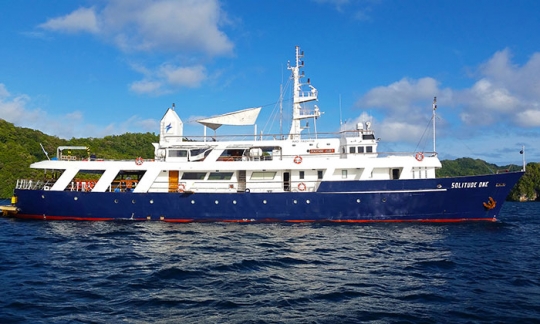 MV Solitude I – Romblon Liveaboard Diving – Check the Price
For my other posts about Philippines diving, please click on these:
Seasons and Conditions – Diving is good all year in Romblon.  Average daily high air temperature runs from 28-32°C (82-90°F) with a water temp range at 26-30°C (79-86°F).  Most divers won't need thicker than 3 mm of wetsuit insulation when the water is at its coolest.  There is a rainy season from roughly June to November which doesn't normally interfere much with diving.  The driest months are from January to May.  Visibility is typically great at better than 20 meters (68 feet).  With the exceptional muck diving and macro life forms, conditions are great for photography.  There are times when some sites experience a strong current.  Generally, though, there are conditions suitable for all levels of diver.  At last count there are 7 or 8 dive shops on Romblon and Tablas Islands which are equipped to provide a range of training, equipment rental, guiding and boat tours.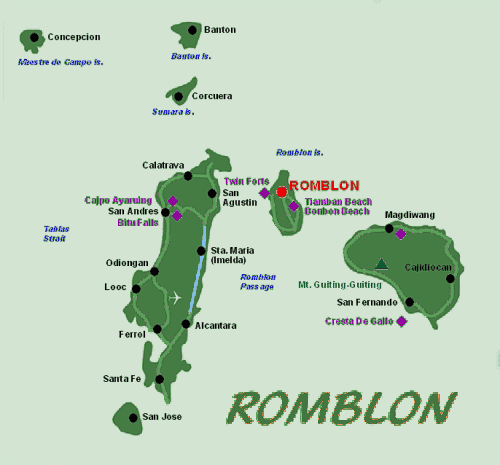 Selected Romblon Dive Sites
Blue Hole, Tablas Island: vertical chimney with an 8 meter (25 foot) in diameter opening at 18 meters (60 feet) descending to 32 meters (105 feet), crevices along the wall, sandy slope at the base, lobster and shrimps, reef sharks possible, current inside the chimney is possible pushing toward the surface, experienced level
Gorda Wall, Tablas Island: 5-70 meters (16-235 feet), near the Blue Hole, sea fans, sponges, whip and soft corals, schooling jacks, rainbow runners, tuna, fusiliers, surgeonfish and bannerfish, blue-spotted stingrays, sea snakes, white and blacktip reef sharks, green and hawksbill turtles, experienced level
Bangug Island: 5-20 meters (16-68 feet), a 10-minute boat ride from Romblon town, a small island, rich soft and hard corals along a rocky slope, lots of reef tropicals, sea cucumbers, sea urchins, starfish, hairy shrimp, algae shrimp, Severnsi Pontohi pygmy seahorses, all levels
Agnay Lawis, Romblon Island: 5-30 meters (16-100 feet), a 10-minute boat ride from Romblon town, variety of hard corals including table, staghorn, and brain coral, porites, montipora, sloping bottom with pinnacles, parrotfish, sweetlips, schooling bannerfish snappers, batfish and surgeonfish, turtles, all levels
Takot Reef, Naguso Island: 5-30 meters (16-100 feet), near Turtle Cove 35 minutes boat ride from Romblon town, slope on one side and steeper wall on the other, massive schools of surgeonfish, bannerfish, yellowtail barracuda, yellowtail snapper, fusiliers and jacks, pufferfish, moray eels, blue-spotted stingrays, grouper, blacktip and whitetip reef sharks, eagle rays
Alad Marine Sanctuary, Alad Island: 12 meters (40 feet), fields of leather and soft corals, hydroids, barrel sponges, sea moths, frogfish, dragon shrimp, Durban shrimp, marble snake eels, snorkeling, and all levels
Dogo Maru, Logbon Island: 30-40 meters (100-130 feet), Japanese ship sunk in 1944, historic artifacts remain, big school of batfish, advanced level
Dayundon Pinnacles, Tablas Island: 13-30 meters (42-100 feet), pinnacles topping at 13 meters (42 feet), sea fans, whip coral, crinoids, schooling fusiliers, snappers, bannerfish, bluetooth triggerfish, snappers, surgeonfish, and tuna, reef sharks, eagle rays, turtles, strong current possible, experienced level
Mactan Ferry, Maestre de Campo Island: 20-48 meters (68-155 feet), sunk in 1973 fully loaded and breached by a freak wave, lots of penetration possibilities, bow at 20 meters (68 feet), stern rests at 48 meters (155 feet), lots of fish and macro critters, pelagics, advanced and technical levels
Romblon Photos
With the interesting undersea terrain, wrecks, colorful coral reefs, macro critters, a variety of fish, sharks, rays, groupers, pelagics, and turtles, and scenic beach vistas and waterfalls as well, there are many excellent photo opportunities.  For information and reviews of dive cameras, click here: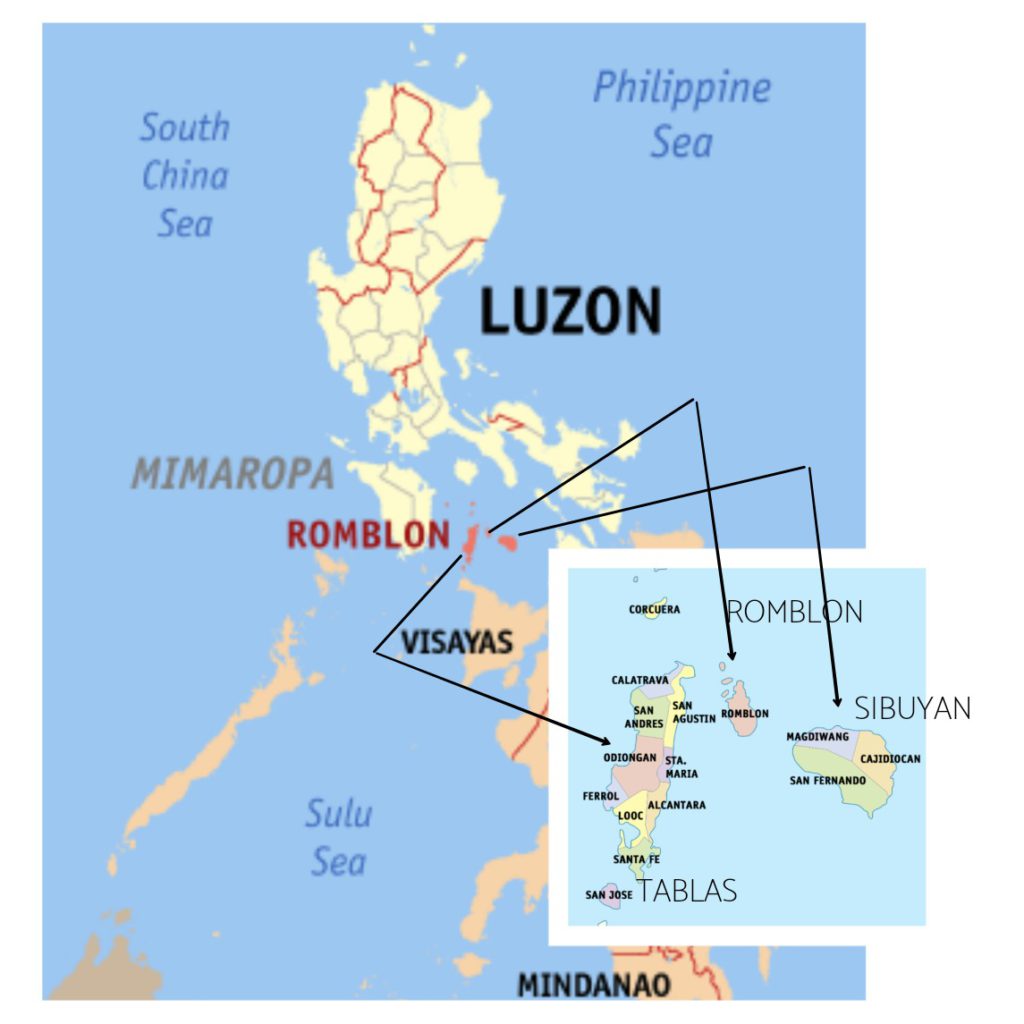 Cebu Pacific flies to Tugdan Airport in Tablas daily.  From the airport jeepneys, minibusses or motor tricycles can take you to the Odiongan or San Agustin ports where ferries and pumpboats have regular trips between Tablas and Romblon Island.  Several major shipping and ferry lines go from Batangas to Romblon daily, including the ports at Odiongan, Romblon, San Agustin, and Sibuyan.  There is also a ferry from Manila and another from Roxas in Mindoro.  For local transport, rental scooters are available in addition to jeepneys, minibusses and motor tricycles.
There are at least 19 resorts and lodges from $7-$139 per night to choose from in Romblon, several of which have a dive shop or are associated with one.  At last count 7-8 dive shops are in operation offering a range of services including equipment rental, dive courses, guiding and boat dive cruises.  The website linked below is a good source for the available options and can arrange a booking.  The first on the list is Romblon Fun Divers and Inn.  You can easily find the locations on the map provided on this site.  Their rates are the lowest and it is free to cancel or change dates.
Things to Do in Romblon (aside from scuba diving)
There are a number of historical and cultural sites and outdoor activities to round out your trip to Romblon.  Here is a list of places to visit and things to do:  Tiamban Beach, Bonbon Beach, San Pedro Beach, Agpanabat Turtle Sanctuary, Sunbird Ridge, Calvario del Romblon, Ati-Atihan Festival, Anchorbay Watersports, Romblon Yacht Club, Mount Guiting-Guiting, Sibuyan National Park, Sibuyan Island Motorbike or Tricycle Tour, Island Hopping to Logbon, Alad and Cobrador, Hiking, Night Hiking (to see insects), Romblon Marble Works Tour, St. Joseph Church, Fort San Andres.  This video can give you an idea of how it looks.
A cushion for emergencies provides peace of mind when on vacation.  I recommend this diving insurance as they have worldwide coverage and provide scuba divers a quality insurance and medical assistance service.
Feedback and Comments
I hope you found this post on Romblon scuba diving interesting and useful. If you have any questions or ideas, please feel free to share them in the comments section.  I'd love to know of any experience you have diving on Romblon.  If there is no comments section directly below, click here:   >>comments<<