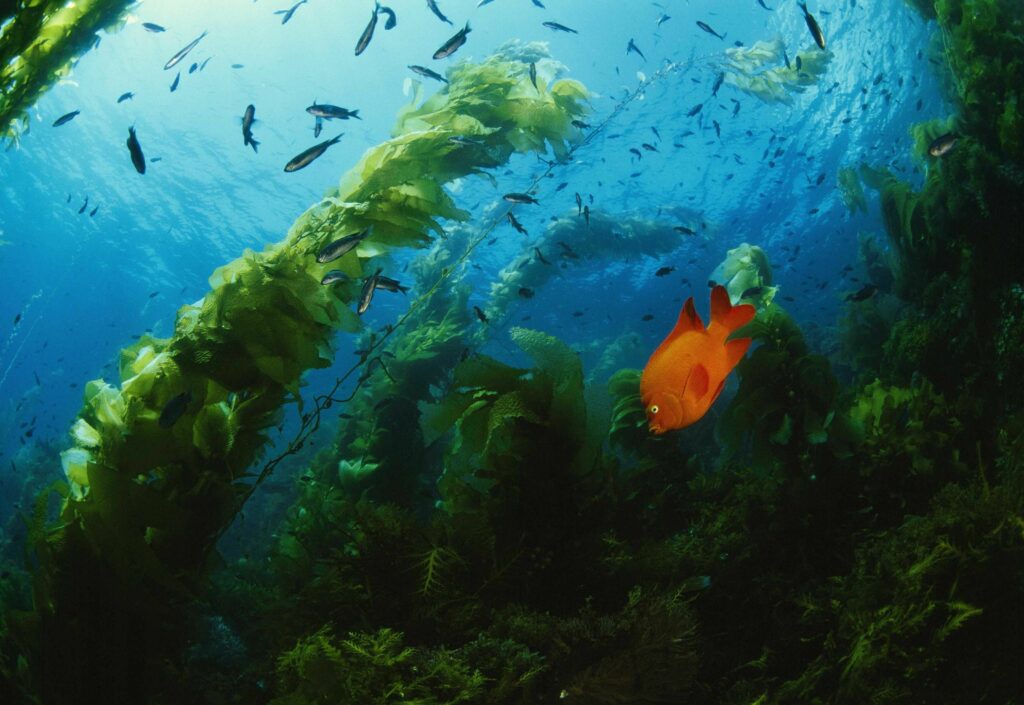 Updated June 11, 2021
This is the one hundred and seventy-sixth in a series of reviews of the best diving destinations around the world.  In this post, the focus is on the Channel Islands National Park, California.  In addition to this series on diving destinations, the best worldwide liveaboard diving locations and services are reviewed in their own series.  To check them out, or others in this series, click on Liveaboards/Resorts on the menu at the top and choose a title from the list.
Have you been diving in Channel Islands National Park before?  If so, I'd love to know about your experience.  What dive shop or liveaboard did you use?  Which dive spots are the best and what are the conditions there regarding the visibility, current, water temperature, sealife attractions, etc.?  Please post your response in the comments section at the bottom and we'll all learn something we can use.
Channel Islands National Park Diving
Background
The Channel Islands National Park, designated such in 1980, is off the coast of Ventura and Santa Barbara Counties north of Los Angeles, California.  It consists of five of the eight Channel Islands and includes Anacapa, Santa Barbara, Santa Cruz, San Miguel, and Santa Rosa Islands.
When the islands were first observed by Juan Rodriguez Cabrillo in 1542 there were 2,000-3,000 indigenous Chumash people living on Santa Cruz, Santa Rosa, and San Miguel Islands but evidence of human habitation dates back to 37,000 years ago.
Animal habitation on the islands is not as rich as on the mainland with mostly birds and bats and 3 endemic mammals, the deer mouse, spotted skunk, and the Channel Island fox.  Otherwise, scrub jays, barn owls, American kestrels, horned larks, meadowlarks, harbor seals, sea lions, and sea otters can be seen on land, along with gray and blue whales that seasonally pass through the waters which in all have over 2,000 species of plants and animals.
While in recent years around 370,000 visit the Park's tourist center in Ventura annually, only 30,000 touch shore on the islands, with another 60,000 cruising by boat while staying onboard.  Limited camping and hiking are allowed onshore with kayaking through sea caves, snorkeling, spearfishing, and scuba diving popular tourist activities.
The islands have no stores, food, or medical services, and not all have drinking water.
For additional information on the park islands, please go to Wikipedia-Channel Islands National Park.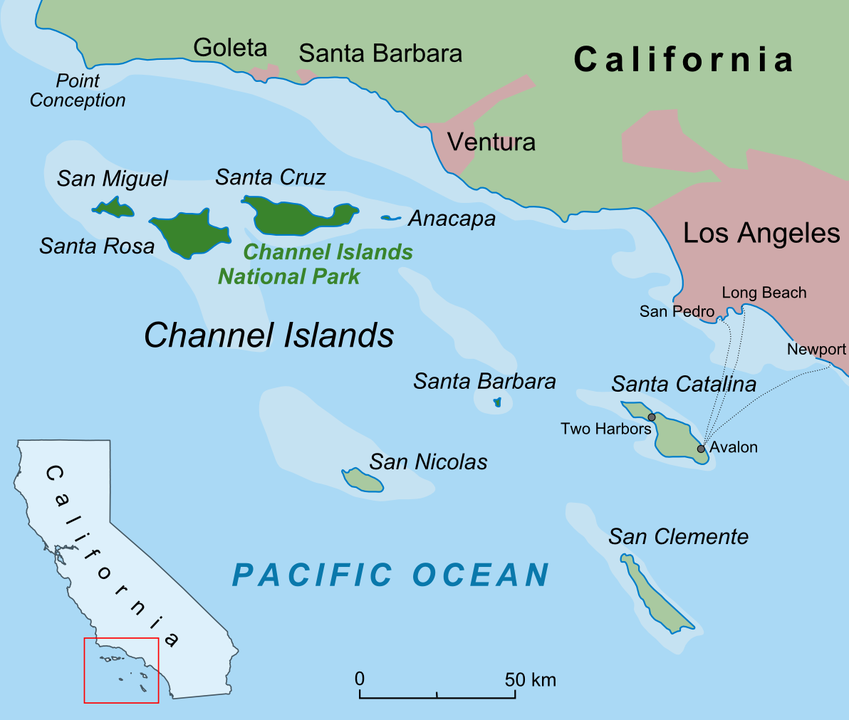 Undersea World
The Channel Islands are situated from 11-60 miles (18-96 kilometers) offshore.  Conditions and subsea terrain vary from island to island with sandy plains, rocky reefs, pinnacles, arches, and deep-sea canyons, to go with cold and warm currents and upwelling which influence the development of different marine life from island to island.
San Miguel and Santa Rosa Islands receive cold water from the California Current coming south from the Gulf of Alaska.  This has influenced the development of cooler water species more like what you would expect to see off the coastline of Oregon and Washington State.  The Southern California Counter-Current brings warm water along the coastline from Baja California to Santa Barbara, Anacapa, and Santa Cruz Islands that encourages more tropical species like moray eels, spiny lobsters, and Garibaldi fish.  In addition, upwelling around San Miguel and Santa Rosa Island in Spring and Summer brings cold nutrient-rich water which serves as a base for a complex food web that is available to nourish pelagics and megafauna like blue whales.
The encrusting and attached marine life is rich with giant kelp and a variety of plants, sea anemones, hydrocorals, sponges, and sea fans.  Macro critters to delight photographers include sea stars, giant sea snails, Spanish shawl nudibranchs, sea hares, abalone, brittlestars, California spiny lobsters, warty sea cucumbers, two spot octopuses, and rock scallops.  There is also a rich selection of fishes to look for like calico bass, giant sea bass, blue rockfish, California sheepshead, horn sharks, blacksmith perch, bat rays, big schools of sardines and anchovies, and mackerel to go with resident sea otters, California sea lions, harbor seals, and elephant seals.  Pods of dolphins are common and seasonally gray and blue whales make an appearance.
In addition, there are a number of wrecks to explore like the deep plane wreck and the shallow paddlewheel wreck near Anacapa Island, and many others.  Quite a few are older, historic wrecks and fairly well deteriorated.
Seasons and Conditions
Diving is possible all year in the Channel Islands National Park.  Conditions are considered best in the summer and fall.
The islands have a Mediterranean climate characterized by cool, wet winters and hot, dry summers with average air temperature highs of 65-75°F (18-24°C).  The warmest months are July through October and the coolest December through March.
The water temperature annual range is 52-76°F (11-24.5°C) on the surface.  Thermoclines are possible which can take the temperature at depth 11-13°F (6-7°C) lower.  The warmest time is from July through October and the coolest from February through June.  San Miguel Island tends to have cooler temperatures than the other islands dipping below 50°F (10°C) at times.  A 5mm wetsuit will be adequate for some divers when the water is at its warmest.  At its coolest, a 7mm wetsuit or drysuit with hood and gloves is advised.
Currents are variable and can be strong at times on some sites.  Surge and swell can also be significant.
Visibility is variable from season to season and island to island.  Generally, it is in the range of 30-50 feet (9-15 meters).   The best visibility is best from July to December with increases to 60 feet (18 meters) possible in September and October.
There are sites suitable for all levels of diver from beginner to advanced levels.  Several dive shops are in operation in Ventura and Santa Barbara conducting 1-3 day guided boat diving trips to the islands.  They also offer a range of scuba diving classes, equipment rental, sales, and service.
For my reviews and information about cold water gear please click on the following post:
Other California Dive Sites
There is great diving at some other nearby California areas.  Here are my reviews:
Selected Channel Islands National Park Dive Sites
Santa Barbara Island
Sutil Island: 20-90 feet (6-27 meters), just southwest of Santa Barbara Island, undulating terrain of channels, canyons, plateaus, and walls, pristine reef with kelp forests, purple hydrocorals, schools of white bass, and bat rays, site of a sea lion rookery in the southeast, elephant seals rest onshore near Webster Point, surge is possible in the shallows, suitable for experienced levels
Anacapa Islands
Winfield Scott Wreck: 5-35 feet (1.5-10 meters), north of middle Anacapa Island, a gold rush steamer sunk in 1853, much deteriorated wooden wreck, artifacts like coins and pieces of brass still remain and may not be removed, suitable for all levels
Cat Rock: 30-90 feet (9-27 meters), south of Anacapa, can be dived shallow or deep, lots of kelp and undulating topography, marine life has rebounded greatly from the old days of overfishing and gill nets, look for a variety and abundance of fish including huge giant sea bass to 500 pounds (227 kilograms), current is possible, suitable for all levels
Landing Cove: 60 feet (18 meters) maximum depth, dock and landing area for Anacapa Island, historically well protected, very rich marine life around the dock and wall opposite the dock, huge red urchins, fat abalone, lobster, kelp bass, sea stars, gorgonians, sandy areas have sea pansies, sand stars, sea pens, and halibut, beware of boat traffic, suitable for all levels
Santa Cruz Island
Gull Island: 15-120 feet (5-37 meters), three small islands a half-mile south of Santa Cruz Island, several sites with shallow reefs surrounded by kelp and deep slopes to 120 feet (37 meters) and then dropping off to the ocean depths, there are boulders and canyons, look for a wide variety of marine life including purple hydrocorals, octopus, lobsters, and playful juvenile sea lions, conditions are variable with winds, currents, surge, and poor visibility possible (though visibility is usually good), suitable for experienced levels
Santa Rosa Island
Johnson's Lee: shallow slopes to the depths, a cove on the north lee side of Santa Rosa Island, undulating terrain with sandy channels, dense marine life with many plant species, limpets, orange puffball sponges, tunicates, scallops, bryozoa, lobster, crabs, urchins, abalones, and a variety of fish, some schooling, interesting for the macro photographer and night diving, strong currents are possible offshore and swell closer in, suitable for all levels depending on conditions
Aggi Wreck/Talcott Shoals: 10-70 feet (3-21 meters, to the northwest of Santa Rose Island, the shoal is traversed by the 265-foot (81-meter) three-mast Aggi, a steel cargo ship that sunk in 1915 with a cargo of beans and barley, broken apart and scattered, parts of the structure are in place and have joined with the reef, suitable for all levels
San Miguel Island
Wilson Rock:  20-70 feet (6-21 meters), two miles (3.2 kilometers) from San Miguel Island, Wilson Rock breaks through the surface to a height of 20 feet (6 meters), from the rock it slopes to a plateau with canyons, lots of small orange and pink club-tip anemones, purple and pink hydrocorals, a three-foot algae called the southern sea palm, plate-sized scallops, and lots of fish, suitable for all levels
Wyckoff Ledge: 10-100 feet (3-30 meters), on the south or lee side of San Miguel Island, small seamount topping at 10-15 feet (3-5 meters), rocky top with white-spotted rose anemones, palm kelp, and many nudibranchs, drop-off on one side to 100 feet (30 meters) to  a sand bottom with a thick forest of kelp, look for sea urchins, abalones, and vermillion rockfish, take care not to get entangled in the kelp, suitable for experienced levels
Things to Do in Ventura California (aside from scuba diving)
Ventura is a friendly, slower-paced, modern seaside city with a long historical tradition.  As the main gateway to the Channel Islands National Park, it is an excellent choice as your base when not diving.  Here is a shortlist of activities and sights to consider during your time away from diving:
Ventura Pier & Promenade, Serra Cross Park, Mission San Buenaventura, Surfers Point Beach, Grant Park Views, Ventura to Ojai Paved Bike Path, Ventura City Hall Architecture, Island Packers Tour of the Islands, Ventura Botanical Gardens, Ventura Food Tours, Rubicon Theatre Company, Ventura Harbor Village, Four Brix Winery, Surf Brewery, Emma Wood State Beach, Lure Fish House, Lake Casitas Recreation Area, Ventura County Museum of History & Art.
This video is a nice overview of what awaits.
Channel Islands Transportation, Hotels, and Diving Services
Transportation
Air – The closest airports to Ventura include Los Angeles International Airport (LAX) and Bob Hope Airport (BUR) in LA and Santa Barbara Airport (SBA) in Santa Barbara.
Train – Amtrak serves Ventura and points between Los Angeles and San Francisco on the west coast.  From LA to Ventura a commuter service, Metrolink is available.
Bus – The Vista bus systems connect cities within Ventura County and there are also municipal bus services within Ventura.  These services are limited.
Car Rental is available at the airports and online and is the best option for convenient travel around the region if you don't have your own car.
Dive shops arrange boat trips from Santa Barbara and Ventura to dive sites on single-day and multi-day dive cruises.
Island Packers provides half-day to multi-day cruises from Ventura to Channel Islands Harbors on all the islands in the park.
Truth Aquatics offers one-day and multi-day trips to the islands from Santa Barbara.
Channel Islands Aviation has one-day and multi-day round-trip voyages for hiking and camping from Camarillo Airport in Ventura County to Santa Rosa Island.
For more complete details on transportation options and tourist information, please go to Wikivoyage-Ventura and Wikitravel-Channel Islands National Park.
Hotels and Diving
Lodging options in the two main access areas of Santa Barbara and Ventura run from $93-$771 per night.  Ventura is the closest of the two cities to the islands and has more dive shops than Santa Barbara that organize 1-3 day dive trips to the dive sites in the islands.  They also offer equipment sales and rental, and a range of scuba diving courses.
The website linked below has the details and can arrange a booking for the lodging.  You can easily find the location on the map provided on this site.  Their rates are guaranteed to be the lowest and it is free to cancel or change dates.
Photography in the Channel Islands National Park
With the interesting underwater terrain, encrusting reef life, a variety of fish, macro critters, seals, sea lions, dolphins, whales, and beautiful shoreside targets, there are many excellent photo opportunities.  For information and reviews of dive cameras, click here:
Scuba Diving Trip Insurance
A cushion for emergencies provides peace of mind when on vacation.  I recommend this diving insurance as they have worldwide coverage and give scuba divers quality insurance and medical assistance service.
Feedback and Comments
I hope you found this post on scuba diving in the Channel Islands National Park interesting and useful. If you have any questions or ideas, please feel free to share them in the comments section.  I'd love to know of any experience you have.  If there is no comments section directly below, click here:  >>comments<<