We may earn money or products from the companies mentioned in this post.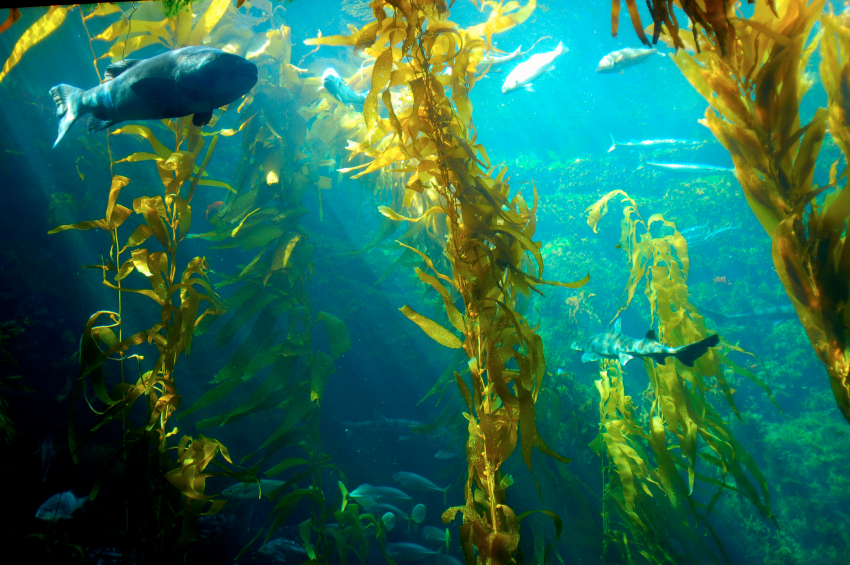 This is the nineteenth in a series of reviews of the best dive resort locations around the world.  In this post, the focus is on Catalina Island, California.
In addition to this series on dive resort locations, the best worldwide liveaboard dive locations and services are reviewed in their own series.  To check them out, or others in this series, click on Liveaboards / Resorts on the menu at the top and choose a title from the list.
Have you ever been diving in Catalina Island before?  If so, I'd love to know about your experience.  What dive shop or liveaboard did you use?  Which dive spots are the best and what are the conditions there regarding the visibility, current, water temperature, sealife attractions, etc.?  Please post your response in the comments section at the bottom and we'll all learn something we can use.
Catalina Island Scuba Diving
Santa Catalina Island (usually shortened to Catalina Island) is one of the eight Channel Islands and situated off the coast of Southern California about 22 miles (35 kilometers) from San Pedro or one hour by Catalina Express ferry service.  This 21 by 8-mile island has a permanent population of 3,000 friendly people.
Diving is possible year-round with over 70 dive sites and something suitable for all skill levels and snorkelers.  There are quite a few dive shops available around the island providing services, equipment, training, and guides.  It is possible to access many of the sites from shore, but boat tours are available for offshore sites.  Even when the sea is raging on the California mainland shoreline, the leeward side of Catalina is calm.
The underwater world off Catalina Island is characterized by kelp, a rich reef, and diverse, spectacular animal life.  This list will give you an idea of what you have to look forward to:  sea lions, harbor seals, shortfin mako, leopard, horn, soupfin, angel and blue sharks, mola mola, garibaldis (the state fish), kelpfish, black sea bass, yellowtail barracudas, electric torpedo rays, shovelnose guitarfish, skates, halibut, blue-banded and zebra gobies, octopus, lobsters, nudibranchs, various eels including moray eels, sheep crabs, mantis shrimp, sea fans, anemones, purple hydrocorals and wrecks.
This part of California has a Mediterranean climate with average highs of 65-75°F (18-24°C) and 250 days of sunshine annually.  The warmest months are August and September.
Water temperature has a range of 52-76°F (11-24.5°C).  The average is 60-70°F (15.5-21°C).  Thermoclines are a consideration.  For example, in September the water temperature is usually around 75°F (24°C) on the surface, but at around 100 feet (30 meters) is a thermocline with temperatures below it 11-13°F (6-7°C) lower.  A 5 mm wetsuit may be suitable for some in the warmer season, but at depth, most divers would want a 7 mm wetsuit or a drysuit with a hood and gloves.  If you would like reviews and information about thermal protection, please click on these posts:
Visibility varies some from site to site and season to season.  Generally speaking, visibility is usually in the range of 30-50 feet (9-15 meters).  July to December visibility is better with the best months being September and October where it may be as good as 60 feet (18 meters).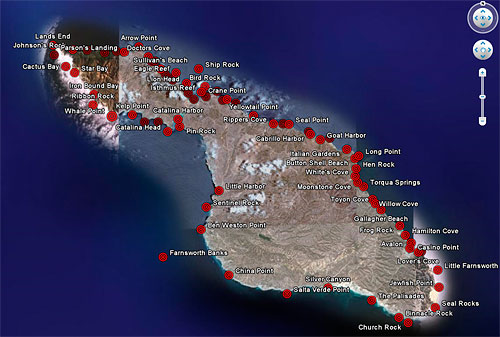 Popular Catalina Island Dive Sites
Farnsworth Banks: seamount that peaks at 55 feet (16.5 meters), torpedo rays, lots of fish, hydrocorals, boat ride, and conditions challenging, experienced level
Ship Rock: 20-135 feet (6-40 meters) large white rock rising from the deep sand to above the surface, kelp forests, with schools of senoritas, blacksmiths, kelpfish, yellowtail and pacific barracuda in the summer, a small wreck remnants, deeper are lingcod, cabezons, blue-banded gobies, lobsters, nudibranchs, zoanthid anemones, bat rays, horn and angel sharks, beginner to experienced level
Two Harbors area: sandy beach entry, giant kelp forest, 30-50 foot (9-15 meter) range, good macro critters in nooks and crannies, lots of fish for wide-angle photography, beginner level
West End Cove: to 100 feet (30 meters), good visibility, harbor seals, yellowtails, mola mola, good macro, the possibility of a strong current, experienced level
Italian Gardens: shore entry, to 130 feet (39 meters), kelp beds from 30-100 feet (9-30 meters), kelpfish, garibaldis, giant black sea bass July to October at 40-70 feet (12-21 meters), mild to moderate current, experienced level, good for advanced training
Rock Quarry: shore entry, shallow kelp, rocky wall and deep sand areas, great variety of marine life, garibaldis, opaleyes, blacksmiths, senoritas, perch, kelpfish, scythe butterflyfish, zebra gobies, moray eels, rose nudibranchs, rainbow scorpionfish, angel, horn and leopard sharks, rockfish, treefish, black sea bass, sea fans, good visibility, beginner to experienced level
Long Point: shore entry, a wall from 60-110 feet (18-33 meters), sea fans on wall, kelp forest to the west with schooling fish, good visibility, experienced level
Eagle Rock: west end, shore entry, huge sea fans around the rock from 40-80 feet (12-24 meters), wide-angle photo area, experienced level
Blue Cavern Point: to 130 feet (39 meters), east of Two Harbors, wall dive with sea fans, caves and caverns in shallow water, good visibility, drift dive, experienced level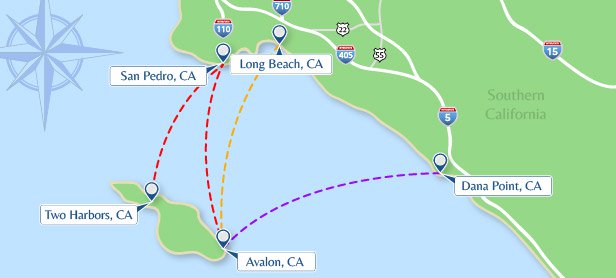 On Catalina Island, there are a limited number of rooms.  It is advised to book early.  Pricing runs from around $100/night on up.  As for the diving, there are several dive shops, most of which are located in Two Harbors or Avalon.  This website is a good source for the available housing options and can arrange a booking:
For Catalina Express Ferry Service, click here: Catalina Express
Catalina Island Things To Do (aside from scuba diving)
There are a great many interesting activities, events and facilities available on Catalina Island to round out a vacation there: music, restaurants, galleries, a museum, shops, parasailing, other watersports, biking, island tours, camping, fishing, boat charters, zip line eco-tours, golf, a spa and more.
Catalina Island Photo Opportunities
With the macro life, beautiful, diverse coral reef and lots of fish, there are many excellent photo opportunities.  For information and reviews of diving cameras, click here:
A cushion for emergencies provides peace of mind when on vacation.  I recommend this diving insurance as they have worldwide coverage and provide scuba divers a quality insurance and medical assistance service.
Feedback and Comments
I hope you found this post on Catalina Island scuba diving interesting and useful. If you have any questions or ideas, please feel free to share them in the comments section.  I'd love to know of any experience you have diving there.  If there is no comments section directly below, click here:  >>comments<<