We may earn money or products from the companies mentioned in this post.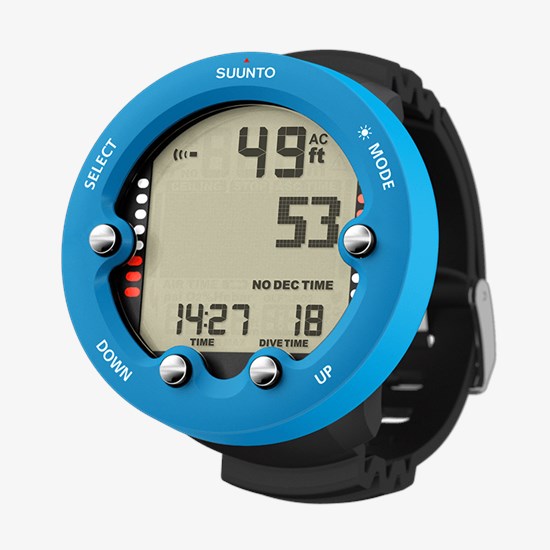 A dive computer is almost an essential piece of gear which helps assure your safety and convenience.  It eliminates the need for dive tables calculating your dive profile throughout the dive to alert you to your depth, bottom time, ascent rate, and no decompression limits.  As a beginner, it is perhaps a daunting task to consider which model is suitable for your needs. Here I will try to help make it easier by first providing a simple buying guide breaking down the key considerations.  After that are reviews of the most suitable models for beginners.  At the end is a table comparing important features.
Best Dive Computers for Beginners Buying Guide
Level of Experience – There are dive computers that are very sophisticated on the market that serve the most advanced, technical, and professional diving that can carry a very hefty price tag matching the level of sophistication.  As a beginner, many of the features offered are not necessary and there is no need to purchase what you have no foreseeable need for.  What's important is to choose a model that has an easy to navigate menu and operating system.  If you develop your skills and interest to the point of wanting an advanced model, this first beginner's version will make a good back-up.
Budget – How much you have available to spend is an important factor.  Fortunately, the computers suitable for beginners are on the low end of the range of pricing.  Dive computers are such an important safety device it is recommended that you have some flexibility and don't skimp.  You should evaluate how you want to use it, under what conditions, and how often, and make sure to get one that is durable enough.  The warranty offered is worth examining closely.
Screen Size and Brightness – A display that is easy to see is paramount.  Some are larger than others.  Most have some sort of enhancement to make the screen easy to see in the dark, low light, or poor visibility.  Many computers have an LCD display or are backlit to solve this.  Otherwise, you will need a flashlight.
Style – Dive computers are designed to be carried on your wrist or in the console.  The smallest models are watch sized, often stylish, and suitable to be worn outside the water.  Wrist style models are larger and heavier and generally easier to see during your dive.  A number of these can also be mounted in your console.  There are also other models designed to be carried in the console which may have advanced features.
Batteries – Some dive computers require a technician to change the batteries, which can be very inconvenient when you are in a remote location.  A replaceable battery system or rechargeable batteries that you can handle by yourself are strongly recommended to make sure you can complete the dives you planned.
Digital Compass – A digital compass is more ergonomic than having a dedicated analog setup and will allow you to see which direction you are going without having to carry an additional device.  Some beginner level compasses will have this.
Air Integration – This allows you to monitor air consumption on your dive computer.  There are two styles, wrist and hose mounted.  A hose mounted computer attaches to your high-pressure hose and directly measures gas levels in the tank.  These generally will be a little heavier and bigger than wrist mounted models.  Wrist mounted models access wirelessly using a transmitter screwed onto your first stage.  Keep in mind that this style is not as flawless as your SPG, so it is still wise to continue the use of that.  For my review on air integrated computers, please click here:
Modes (Air, Nitrox, Gauge, Freediving) – Air mode is for when standard air with 21% oxygen is used on the dive.  Nitrox mode will calculate different no decompression limits based on the blend of the nitrox used, usually having between 32 and 36% oxygen.  The gauge mode keeps track of depth, bottom time, ascent rate, and surface interval only.  Freediving mode is designed for the needs of breath-hold diving.
Gas Switching can be done by technical divers when they use different mixes of gas for different depths and decompression stops.  This is far advanced for what you are doing as a beginner diving within the recreational limits and generally won't be possible on beginner level computers.
Best Dive Computers for Beginners Reviews
Modes: air, nitrox, gauge, free dive, and watch
User Changeable Battery: yes, CR2430
Memory: 24 scuba dives
Features:  2 algorithms, 2 nitrox mixes up to 100% oxygen, firmware auto-updates, audible alarms, gauge mode with run timer, last dive display for maximum depth and dive time, backlit
Pros: PC compatible, durable, stylish, easy navigation through the menus
Cons: many complaints about the poor users manual, suggest checking out the Oceanic tutorial below
Modes: air, nitrox
User Changeable Battery: yes, user replaceable CR 2450
Memory:  36 hours or 50 dives
Features: stopwatch, fresh and saltwater settings, altitude adjustment, calendar, bright LCD display,
Pros: out of water "auto-off" saves battery life, large and easy to read face, affordable
Cons: single button interface, no depth alarm
Modes: air, nitrox, free dive, and gauge
User Changeable Battery: no
Memory:  140 hours
Features: easy four-button navigation, gauge mode, altitude and personal conservatism adjustments, integrated apnea timer, bright LCD display
Pros: can be used on the wrist or in a modular console, large easy to read display, great performance considering the relatively low price
Cons: computer interface not included, the large size is uncomfortable outside of the water, small buttons harder to use with gloves
Modes: air, nitrox, and gauge
User Changeable Battery: yes, CR2430
Memory:  60 hours or 70 dives
Features: oxygen toxicity indicator, user adjustable conservatism levels, easy to program single button navigation with large digits, imperial or metric
Pros: high-definition screen, has a battery save mode, ability to reset, low price
Cons: computer interface not included
Modes: air, nitrox, and free dive
User Changeable Battery: yes, CR2430
Memory: 36 hours or 200 dives
Features: ergonomic design, attractive styling, 7 color combinations, calendar, dual time zones, alarms
Pros: easy to read display
Cons: watch straps a little short to fit over some cold water wetsuits
Modes: air, nitrox, free dive, and off
User Changeable Battery: yes, Cr2450
Memory: 140 hours
Features: has apnea, air, and nitrox timers, optional wireless air integration, compact styling, 9 colors available, has scratch guards, includes a USB cable, audible, visual, depth, and time alarms
Pros:  versatile, quality construction and features
Cons:  if you find a problem, please let me know
Modes: air, nitrox, free dive, and gauge
User Changeable Battery: yes
Features: backlit, switch between scuba and free diving on the same day, gauge mode when using it for a timer, audible alarms and additional high-visibility LED warning light for additional safety
Pros: simple, user-friendly, very affordable
Cons:  very large, computer interface not included
| Picture | Computer | Display Size | Modes | Rating | Price |
| --- | --- | --- | --- | --- | --- |
| Picture | Computer | Display Size | Modes | Rating | Price |
| | Oceanic Geo 2.0 | Small | Watch, Air, Nitrox, Gauge, & Free Dive | 4.4 | $$ |
| | Mares Puck Pro | Large | Air, Nitrox | 4.3 | $ |
| | Suunto Zoop Novo | Large | Air, Nitrox, Free Dive, & Gauge | 4.5 | $$ |
| | Cressi Leonardo | Medium | Air, Nitrox, & Gauge | 4.2 | $ |
| | Mares Smart | Small | Air, Nitrox, & Free Dive | 4.3 | $$ |
| | Suunto D4i Novo | Small | Air, Nitrox, Free Dive, & Off | 4.9 | $$$$ |
| | Aqua Lung i300 | Large | Air, Nitrox, Free Dive, & Gauge | 4.2 | $ |
For other reviews regarding dive computers and compasses, please check these three:
Comments and Feedback
I hope you found this post on the best dive computers for beginners interesting and useful. If you have any questions or ideas, please feel free to share them in the comments section.  If there is no comments section directly below, click here:  >>comments<<