We may earn money or products from the companies mentioned in this post.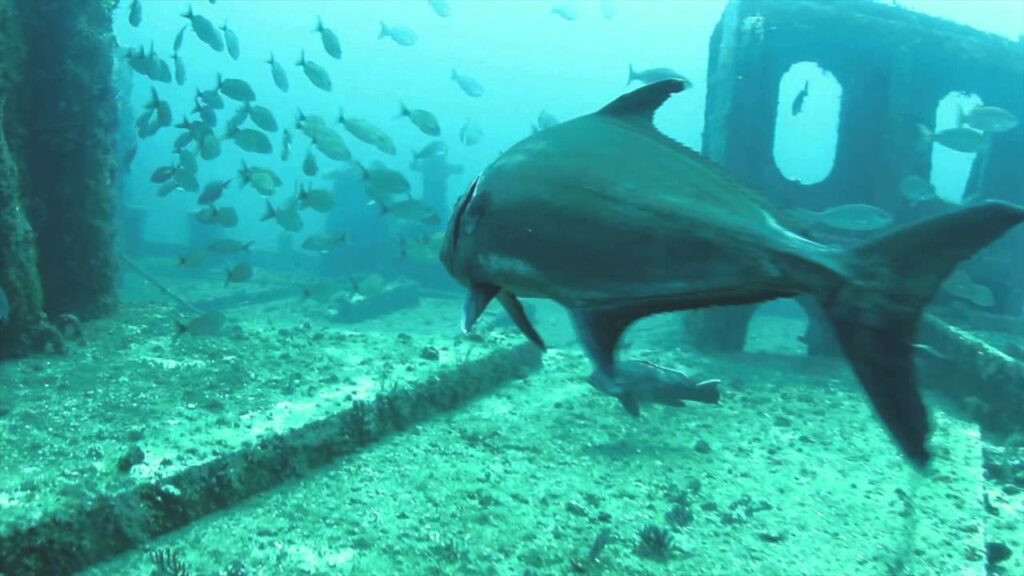 This is the one hundred and sixty-sixth in a series of reviews of the best dive resort locations around the world.  In this post, the focus is on Myrtle Beach, South Carolina, USA. In addition to this series on dive resort locations, the best worldwide liveaboard diving locations and services are reviewed in their own series.  To check them out, or others in this series, click on Liveaboards/Resorts on the menu at the top and choose a title from the list.
Have you been diving in Myrtle Beach before?  If so, I'd love to know about your experience.  What dive shop or liveaboard did you use?  Which dive spots are the best and what are the conditions there regarding the visibility, current, water temperature, sealife attractions, etc.?  Please post your response in the comments section at the bottom and we'll all learn something we can use.
Scuba Diving Myrtle Beach (SC)
Background – Myrtle Beach, South Carolina is the center of a 60-mile (96-kilometer) stretch of beach called "The Grand Strand" along the Atlantic coast set between Charleston, South Carolina 94 miles (151 kilometers) along the coastline to the southwest and Wilmington, North Carolina, 67 miles (107 kilometers) to the northeast.  The city itself only has a population of 33,000 but the entire metropolitan area census includes over 450,000.
There was minimal human interest in the area until the development of a railway at the end of the 19th century to transport wood inland.  The first tourists to the Strand were railway and lumber employees going for a little R and R.  In 1937 an airport was built that became an Army Air Corps base in WWII which further opened up the area.
The humid subtropical climate and other natural features of the seashore have continued to grow in attractiveness over the years.  Today there are 14 million visitors annually, 100,000 of whom are international, making Myrtle Beach a major tourist destination and the second-fastest-growing metro area in the country.
For detailed demographic, cultural, historical, and geographic information, check Wikipedia-Myrtle Beach.
Undersea World – As you move offshore from the sandy beach of The Strand there are shallow ledges and limestone formations where there is intriguing marine life even in depths of 10-30 feet (3-9 meters) that includes snappers, groupers, stingrays, and occasionally loggerhead turtles.  Many such sites are available for beginners and training activities.  From this shallow water to depths within the normal recreational diving limit, the main attraction is wreck diving.  There are remnants from as early as the Civil War that are remarkably intact for the age, early 20th century and World War II-era wrecks, and a number of ships scuttled to become artificial reefs along with other materials orchestrated by the South Carolina Department of Natural Resources.  The 45 artificial reefs created by this group were deposited in depths from 10-120 feet (3-37 meters), range along 211 miles (337 kilometers) of coastline, and include ships, tugboats, aircraft, trawlers, personnel carriers, specially designed concrete and steel structures, and even several dozen New York subway cars.
The natural forces have established lots of plants and invertebrate encrustations of algae, hard and soft corals, sponges, and barnacles, along with lobsters, crabs, macro critters, schooling fish and reef tropicals, and a nice array of bigger attractions, as well.  A list of highlights includes grunts, snappers, sea bass, triggerfish, ringtails, cobia, scamp, southern stingrays, barracuda, Atlantic spadefish, Spanish mackerel, amberjacks, flounder, sheepshead, tarpon, nurse and sand tiger sharks, loggerhead turtles, big schools of baitfish, and even manatees in shallow grass beds.  Many of the wrecks are swarming with life.
There are sites suitable for all levels of diver.  Several dive centers in the Strand area can provide training and boat tours.  Some dive sites are relatively close to shore but most of the wrecks will take an hour or two to reach by boat.  There are a few that are on regular tours that take three hours to get to.  The scuba diving operators are also involved in a number of watersports, fishing charters, and spearfishing.
Seasons and Conditions – Diving is possible all year but there is a significant difference in water temperature from Summer to Winter.
Air temperature average daily highs range from 56-87°F (13-31°C) with the high in August and low in January.
The water temperature annual range is 60-84°F (20-29°C).  Highs are in August and lows in February.  At the coolest divers will want a 7mm wetsuit or drysuit, hood, and gloves.
It rains throughout the year with the heaviest from July through September.
Currents are usually mild but contingent on the tide, weather, and distance from shore.
Visibility runs from around 25-150 feet (8-46 meters) with the worst during the summer months.  The further offshore and closer to the Gulf Stream the site is, the better the visibility is likely to be.
None of the major liveaboard yachts travel to Myrtle Beach.  However, there are quite a few that cruise the relatively nearby Bahamas and other Caribbean dive sites.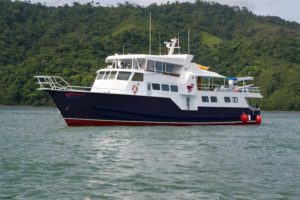 Bahamas Master, Bahamas Liveaboard Diving – Check the Price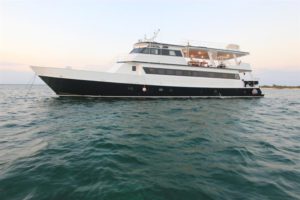 MV Avalon I, Jardines de la Reina, Cuba Liveaboard Diving – Check the Price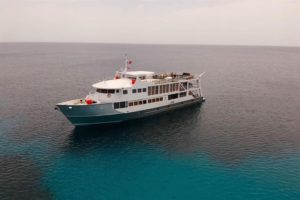 Cayman Aggressor V, Cayman Islands Liveaboard Diving – Check the Price
For reviews of diving in eastern Florida, the Bahamas, and other Caribbean locations, please check out these posts:
Selected Myrtle Beach Dive Sites
Joe Perry: 50-60 feet (15-18 meters), site of multiple wrecks placed by the SC Artificial Reef Program in the 1990s including a tugboat, a shrimp trawler, and several Navy landing craft, good exploration spots are the landing craft deck and crew quarters, and decks, lots of fish with reef tropicals, queen angelfish, snappers, groupers, and turtles, suitable for all levels (Video)
Tugboat/Navy A-6 Aircraft: 30-45 feet (9-12 meters), 90-foot (27-meter) tugboat with a Navy A-6 nearby, tug has a nice swim-through, marine life highlights are barracuda, Atlantic spadefish, and occasional dolphins, suitable for all levels
City of Richmond: 35-65 feet (10-20 meters), 260-foot (79-meter) 5-deck passenger liner sunk in a hurricane 15 miles (24 kilometers) off Georgetown while being towed to the Bahamas in 1964, was prepared to become a casino, goods on board, lots of fish including snappers, groupers, and triggerfish, suitable for all levels
The Governor: 80 feet (24 meters): located 22 miles (35 kilometers) offshore, 200-foot (61-meter) Civil War paddle wheeler, specific identity unknown, many brass artifacts in place, look for southern stingrays, experienced level
The Hebe and St. Cathan (aka Twin Cities Wreck):  90-110 feet (27-34 meters), during a WWII blackout in 1942 the two ships collided and sank, The Hebe, a Dutch merchant vessel and the St. Cathan, a British sub chaser, located a quarter-mile (400 meters) apart, lots of artifacts, reef tropicals, and gamefish, possibility of sand tiger sharks in the fall and spring, suitable for experienced levels
USS Vermilion: 90-140 feet (27-42 meters), 470-foot (143-meter) WWII troop transport vessel, lots of marine life, many deep penetration possibilities, suitable for advanced and technical levels, (check out the video above)
Anchor Wreck: 90-105 feet (27-32 meters), identity not clear, perhaps it is the 275-foot (84-meter) Leif Eriksson sunk in 1905, 3 big anchors near the bow, expansion engine and boilers are there to explore, lots of fish, suitable for advanced levels (Video)
Composite Wreck: 125-130 feet (38-40 meters), 175-foot (53-meter) vessel sunk in the 1800s, near the Gulf Stream, identity not clear, known as the RIB Wreck for the ribs sticking out of the bottom, some artifacts still remain, lots of fish, suitable for advanced levels 
BP-25 & New York Subway Cars: 70-90 feet (21-27 meters), 160-foot (49-meter) British Petroleum tanker and 40 New York subway cars sunk by the SC Artificial Reef Program, spread around creating a large reef area, lots of coral encrustation, rich marine life includes lots of fish, groupers, and loggerhead turtles, lots of penetration possibilities, suitable for experienced levels (Video)
Things to Do in Myrtle Beach (aside from scuba diving)
Myrtle Beach is a great place for a family vacation or romantic getaway.  It is well organized for tourists with many activities and attractions for people of all ages.  Here is a sample of sights and activities to consider:
Myrtle Beach State Park, Ripley's Aquarium, Huntington Beach State Park, Brookgreen Gardens, Alabama Theatre, Carolina Opry, Broadway Grand Prix, Family Kingdom Amusement Park, WonderWorks Myrtle Beach, Wild Water and Wheels, Pirates Voyage, Many Golf Courses, Miniature Golf, Jet Skiing, Dolphin Cruise, Parasailing, Zip Lining, Shopping, Nightlife, Restaurants, Historic Sites.
This video gives a glimpse of some of the popular activities to consider.
Air – Myrtle Beach International Airport (MYR) is under expansion but currently links to major hubs including Atlanta, Charlotte, New York, Dallas, and Newark.
Bus service connects a number of cities along the Strand with 22 regular routes.
Several taxi services are in operation that can provide transport all along the Strand.
Car rental is available all across the area.  There can be a lot of traffic when you are not on an interstate road.
For more details on transportation and other tourist information, check Wikitravel-Myrtle Beach.
Hotels and Diving – In Myrtle Beach there are more than 70 lodging options from $30 to $125 per night.  Several dive shops in operation offer a range of services that includes equipment rental, diving certification classes, dive guides, and boat tours.  The website linked below has the details for the lodging and can arrange a booking.  You can easily find the location on the map provided on their site.  The rates are guaranteed to be the lowest and it is free to cancel or change dates.
Photography in Myrtle Beach
With the colorful coral reefs, a variety of fish, marine life, sharks, turtles, historic shipwrecks, and beautiful onshore targets, as well, there are many excellent photo opportunities.  For information and reviews of dive cameras, click here:
A cushion for emergencies provides peace of mind when on vacation.  I recommend this diving insurance as they have worldwide coverage and give scuba divers a quality insurance and medical assistance service.
Feedback and Comments
I hope you found this post on Myrtle Beach scuba diving interesting and useful. If you have any questions or ideas, please feel free to share them in the comments section.  I'd love to know of any experience you have.  If there is no comments section directly below, click here:  >>comments<<