We may earn money or products from the companies mentioned in this post.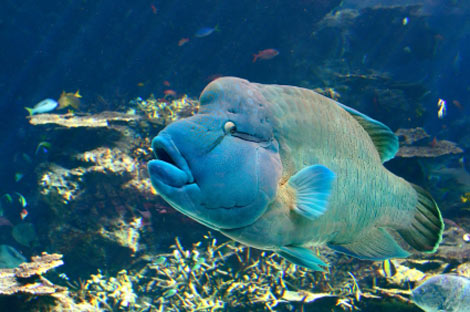 This is the eighty-seventh in a series of reviews of the best dive resort locations around the world.  In this post, the focus is on the Cook Islands. In addition to this series on dive resort locations, the best worldwide liveaboard diving locations and services are reviewed in their own series.  To check them out, or others in this series, click on Liveaboards/Resorts on the menu at the top and choose a title from the list.
Have you ever been diving in the Cook Islands before?  If so, I'd love to know about your experience.  What dive shop or liveaboard did you use?  Which dive spots are the best and what are the conditions there regarding the visibility, current, water temperature, sealife attractions, etc.?  Please post your response in the comments section at the bottom and we'll all learn something we can use.
Scuba Diving Cook Islands
Background – The 15 inhabited islands of the Cook Islands are located between French Polynesia to the east and Tonga to the west, occupying 240 square kilometers (92.7 square miles) in land mass and an area of the ocean covering 2.2 million square kilometers (843,000 square miles).  They are divided into northern and southern groups with the northern group sparsely populated and made up of low coral atolls.  The southern group is mostly volcanic in origin and hilly with a few atolls.  Rarotonga and Aitutaki are the two most populous and tourist-oriented in the southern group.  The total population is less than 15,000 with between 60,000 and 80,000 Cook Islanders living in New Zealand and Australia.  The Spanish explorers stopped in the Cook Islands in the 16th century.  They were followed by two arrivals by Captain James Cook in 1773 and 1777.  The British missionaries got there in 1821 planting the seed of Christianity which is the dominant religion today.  A British Protectorate was set up in 1888 and administration transferred to New Zealand in 1900.  In 1965 the islands chose self-government while maintaining "free association" with New Zealand.  With 100,000 visitors a year, tourism is an economic driver along with offshore banking, and to a lesser extent the export of pearls and marine and fruit products.  Geographic isolation is a major discouraging factor for exports.  Cook Islands Maori and English are the national languages.  A number of Maori dialects are used as is another language more closely related to Somoan, as well.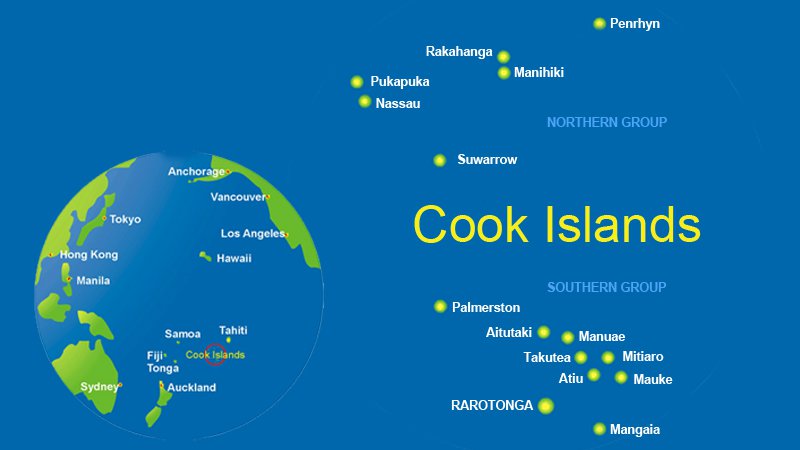 Undersea World – Rarotonga and Aitutaki Islands are the two with the most developed diving opportunities.  Both were formed from volcanic activity and have a similar structure of lagoons surrounded by barrier reefs.  Generally, the reef slopes to 30 meters (100 feet) in depth and then drops off to the abyss of 4500 meters.  Within the reef structure, there is a nice variety of canyons, caves, swim-throughs, and drop-offs with excellent hard coral cover including plate, mushroom, shelf, and brain corals, among many others.  The soft coral is not known to be very rich or diverse.  In addition, there are a number of older, broken up wrecks to explore.  Because the islands are volcanic, there is little silt run-off helping to create very clear water with visibility at times as great as 60 meters (200 feet).  There is nice variety in the number of marine species, however, they don't occupy the reefs here in as great a volume as in other relatively nearby areas like Tonga.  Frequently seen highlights include eagle rays, whitetip reef sharks, turtles, which nest on the beaches of a number of the atolls, barracuda, jacks, and pelagics like tuna and mahi-mahi, pufferfish, surgeon and unicornfish, triggerfish, parrotfish, Maoris wrasse, moray eels, trumpetfish, and lionfish.  In addition, there is a collection of macro critters like nudibranchs including Spanish dancers and lobster.  Another attraction is the humpback whales that come from Antarctica from July to November for breeding and giving birth in some of the lagoons of the Cook Islands.  They do not come in the same number that they do to Tonga to the west, but some are still sited regularly during the season.
Seasons and Conditions – Diving is good all year in Tonga.  The average daily air temperatures are 25-27°C (77-81°F). The water temperature stays in a range of 24-28°C (75-83°F) with the highs in February and lows in August and September. At the coolest, some divers will consider a 3-5 mm wetsuit.  Visibility is typically excellent at better than 30 meters (100 feet) and sometimes as great as 60 meters (200 feet).  It rains throughout the year with the drier months from June through October.  Current is variable from location to location with all levels possible.  The humpback whales arrive from July through November for mating and giving birth.  There are a number of dive shops on Raratonga and a few on Aitutaki.  Most offer a full range of diver training, equipment rental, guiding and boat cruises to local and more distant sites.
There is not a liveaboard available that directly cruises the Cook Island dive sites, but there are boats that go to French Polynesia, the Solomon Islands, Fiji, and Papua New Guinea.  Here are my reviews and links to some of those liveaboard vessels: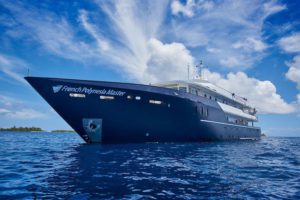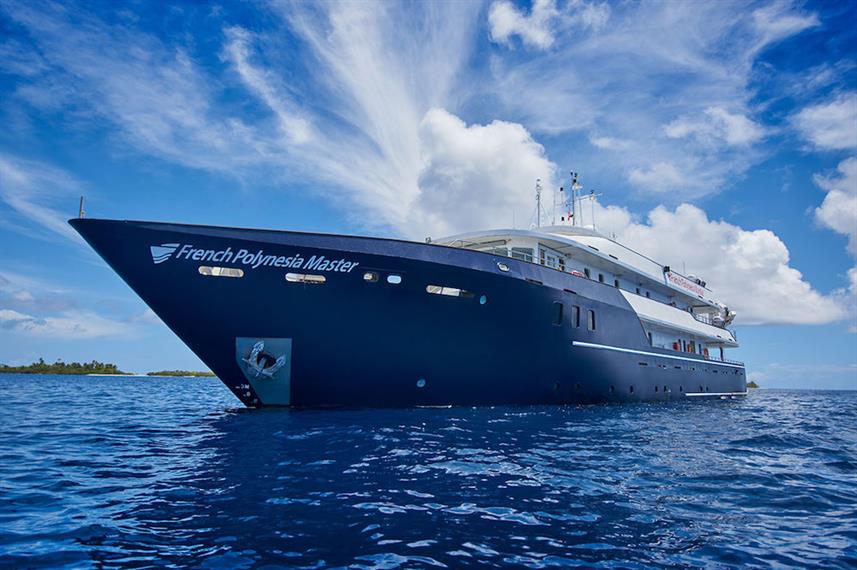 French Polynesia Master, French Polynesia Liveaboard – Check the Price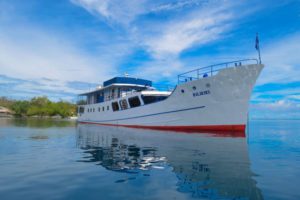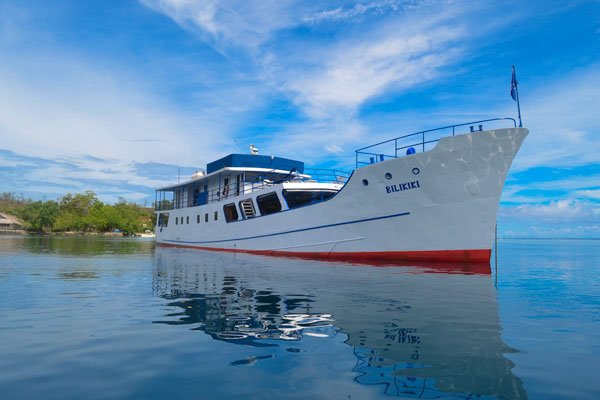 Bilikiki, Solomon Islands Liveaboard – Check the Price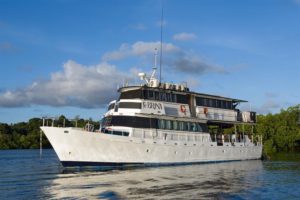 MV Febrina, Papua New Guinea Liveaboard – Check the Price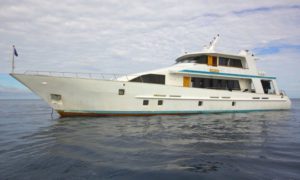 Fiji Aggressor, Fiji Liveaboard – Check the Price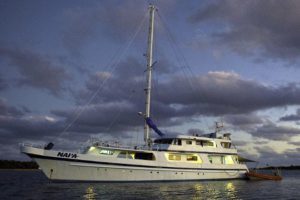 Nai'a, Fiji & Tonga Liveaboard – Check the Price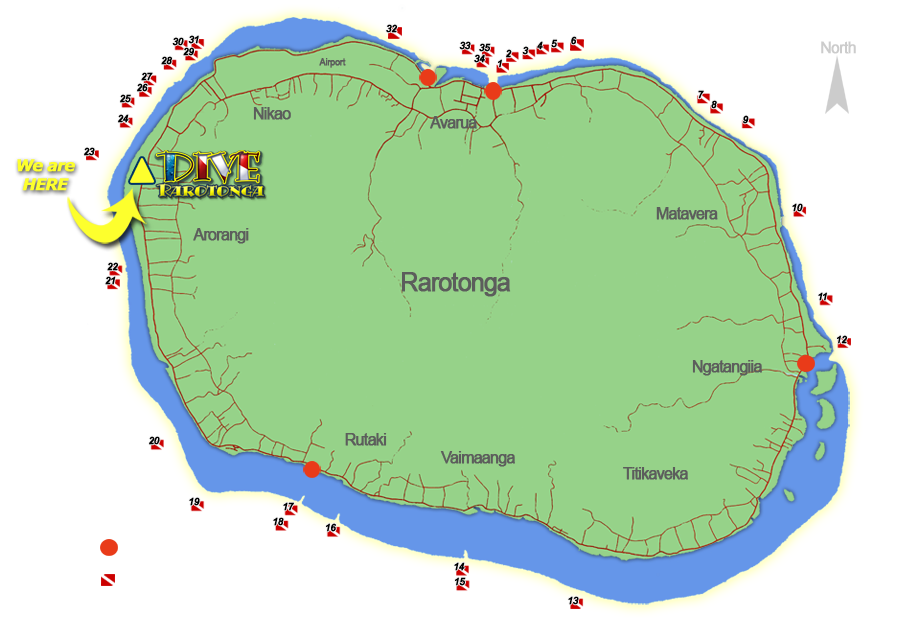 Selected Cook Islands Dive Sites
Blue Water Diving is an interesting method that is done around the Cook Islands.  This is a technique where a fish aggregating device (FAD) which consists of floats of some kind that are installed on the reef bed at 100 or more meters.  They become a sort of artificial reef which develops and is attractive to pelagics.  Divers descend into the blue water and hopefully fish like tuna, mahi-mahi, or other predators will come into view.  FADs are installed off the north, west, and east of the island.
2 Edna's Anchor: 8-45 meters (25-146 feet), a sandy-bottomed channel in the reef descends to 22 meters (72 feet) where there is an anchor and chain, 2 other anchors are nearby, the channel is bordered with corals and descends to 28 meters (93 feet) and then steeply drops off to 70 meters (230 feet), triggerfish, parrotfish, angelfish and other reef tropicals, little current, all levels
5 Mataora Wreck: 10-18 meters (35-60 feet), 45-meter (146-foot) Tongan cargo vessel scuttled in 1990 to become an artificial reef, broken apart by storms, bow, and stern relatively intact, many lionfish, rich surrounding reefs, all levels
7 Tupapa Sandriver: 10-30 meters (35-100 feet), sandy slope running down to a steep drop off, coral with cracks and crevices on each side, reef fish, caverns along the drop-off with whitetip reef sharks, turtles, eagle rays, Napoleon wrasse, experienced level
10 Matavera Point: 20-40 meters (68-130 feet), reef plateau at 20 meters (68 feet), then a drop off a vertical wall on a corner, fast currents possible, rich reef tropicals like schools of fusiliers and damselfish, schools of chevron barracuda and jacks, pelagics possible, experienced level
14 Avaaroa Passage: 12-30 meters (40-100 feet), strong currents possible, especially April through August, whitetip reef sharks, grey reef sharks in numbers along with a resident school of up to 40 eagle rays, turtles, moray eels, experienced level
19 Rarotongan: 20-40 meters (68-130 feet), on the southwest point of the Rarotongan Resort, currents from two directions that can be strong, bigger pelagics, sharks, including the occasional oceanic whitetip, experienced level
31 Runway: 10-26 meters (35-87 feet), hard coral reef with big bommies, cavern, and canyons, strong currents possible, Spanish dancers, eagle rays, turtles, moray eels, experienced level
Cook Island Photos
With the interesting undersea terrain, wrecks, walls, lagoons, beautiful hard corals, a variety of fish, sharks, humpback whales, turtles, and eagle rays, scenic beaches, forests and mountains, and historical and cultural sites as well, there are many excellent photo opportunities.  For information and reviews of dive cameras, click here:
Cook Islands Resorts, Transportation, and Dive Shops
Air – Operating out of Raratonga, Air New Zealand and/or Virgin Australia have daily Aukland service and trips weekly to Sydney and Los Angeles.  Some Star Alliance members also have stops in the Cook Islands on around the world flights.  Domestic service is only provided on Air Rarotonga.
Boat – Cruises from Tahiti stop regularly at Rarotonga and Aitutaki.  Private yachts can stop at any of the several designated ports of entry.  There is no ferry service between the islands.  Freighters make those trips and can provide some passage opportunities.  The research vessel, Bounty Bay, also makes some eco-tour trips to uninhabited islands.
Land – On Raratonga a bus service is available that circles the island.  There are also scooters for rent.
Lodging and Dive Shops – Most of the dive shops are located on Rarotonga and Aitutaki.  Several are associated with resorts.  They offer full services including equipment rental, dive courses, guiding and boat dive cruises.  There are lodging options starting at $43 per night in Rarotonga and Aitutaki.  The website linked below has the details and can arrange the booking.  You can easily find the location on the map provided on this site.  Their rates are guaranteed to be the lowest and it is free to cancel or change dates.
Things to do on the Cook Islands (aside from scuba diving)
The natural beauty and culture of the islands are the main attractions.  Take a land or boat tour and enjoy the local food, exotic fruits, coffee, beer, music, and handicrafts in addition to relaxing on the beach, swimming, snorkeling, kitesurfing, or other watersports.
This video is an excellent introduction to the life, culture, activities, and attractions of the Cook Islands.
A cushion for emergencies provides peace of mind when on vacation.  I recommend this diving insurance as they have worldwide coverage and provide scuba divers a quality insurance and medical assistance service.
Feedback and Comments
I hope you found this post on Cook Islands scuba diving interesting and useful. If you have any questions or ideas, please feel free to share them in the comments section.  I'd love to know of any experience you have diving in the Cook Islands.  If there is no comments section directly below, click here:  >>comments<<