We may earn money or products from the companies mentioned in this post.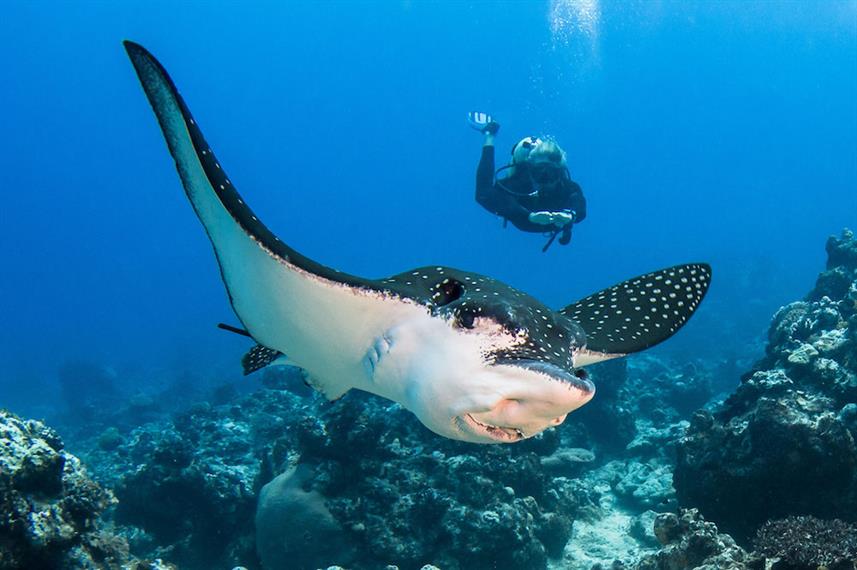 This is the twenty-sixth in a series which introduces and describes the various dive services and sites for worldwide liveaboard dive safaris.  The focus in this one is on French Polynesia liveaboards.
In addition to this series on liveaboards, the best worldwide dive resort locations and services are reviewed in their own series.  To check them out, or other liveaboards, click on Liveaboards/Resorts on the menu at the top and choose a title.
Have you ever been diving in French Polynesia before?  If so, I'd love to know about your experience.  What dive shop or liveaboard did you use?  Which dive spots are the best and what are the conditions there regarding the visibility, current, water temperature, sealife attractions, etc.?  Please post your response in the comments section at the bottom and we'll all learn something we can use.
Best Scuba Diving in French Polynesia
Tahiti and French Polynesia first came into my awareness in any detail with the reading of Somerset Maugham's The Moon and Sixpence, the fictionalized account of the life of Paul Gauguin, the impressionist artist, who made his escape from the humdrum to be truly inspired by the colors and beauty of Pacific island life.  It struck me then, as now, as perhaps the most remote location in the world.  In fact, the location about halfway between South America and Australia makes it that.  Today its 118 islands spread over 1,200 miles (2,000 km) have a population of 276,000 who are located in a few cities and small villages, with 67 islands uninhabited.
There are less than a dozen local dive shops and only two liveaboards servicing the area.  The lack of traffic and low population has left the undersea world in great condition, with pristine reefs, great biodiversity and a fantastic array of big fish and mammals.  Major attractions include grey, whitetip and blacktip reef sharks, tiger and silky sharks, manta, eagle and stingrays, tuna, barracuda, big-eye jacks, dolphins, humpback whales, and green and hawksbill turtles.  Macro life is great and there are several outstanding wrecks like Les Trois Epaves off of Tahiti.  Take a look at the videos to get a concrete demonstration of the richness of the wildlife.
There is a full range of undersea terrain:  shallow coral gardens, steep walls, caverns and swim-throughs, channels and wrecks. In addition, there can be significant drift.  For this reason, the diving is suitable for experienced divers.
In addition, French Polynesia enforces regulations regarding diving depth, which operators follow.  Maximum depth for Open Water Divers is 18m (60ft).  For Advanced Open Water and Rescue Divers, the limit is 29m (97ft).  If you are a Master Scuba Diver, or the equivalent, 40m (130ft) is acceptable.  The two liveaboards offer the Advanced Open Water course and some others, on request.
Diving is possible year-round and cyclones and typhoons don't pose a threat.  There is a wet season from November through April.  Plankton is more prevalent during this time, which does attract feeders.  November is the best time for whale sightings. The peak season for diving is when it is dry from May through October.
It is warm all the time with a narrow range in water temperature from 26-28°C (79-82.5°F) and visibility is great.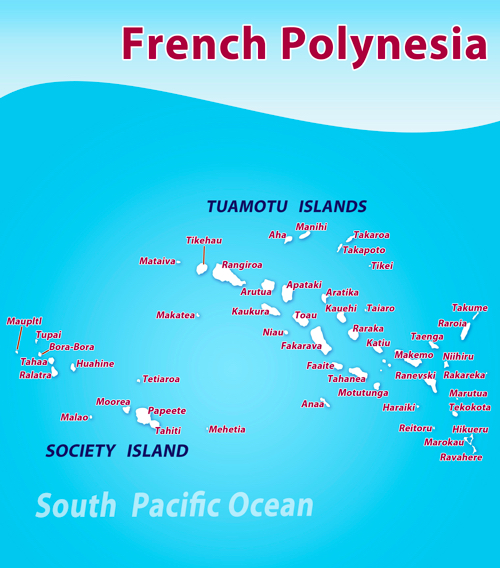 French Polynesia Liveaboard Dive Boats
There are only the two liveaboard dive boats offering safaris in French Polynesia.
The French Polynesia Master is more of a classic, mid-size liveaboard yacht.  It has a large range, traveling to three relatively distant islands covering many sites along the way.  The facilities are extensive, modern and roomy at a luxury level, with quality French cuisine.
The Aqua Tiki II is a fantastic catamaran catering to small groups.  There is an economy of space and less range than the FPM, focusing on dive sites around Fakarava.  They do offer more personalized service and potential camaraderie and the excitement of cruising on such a craft.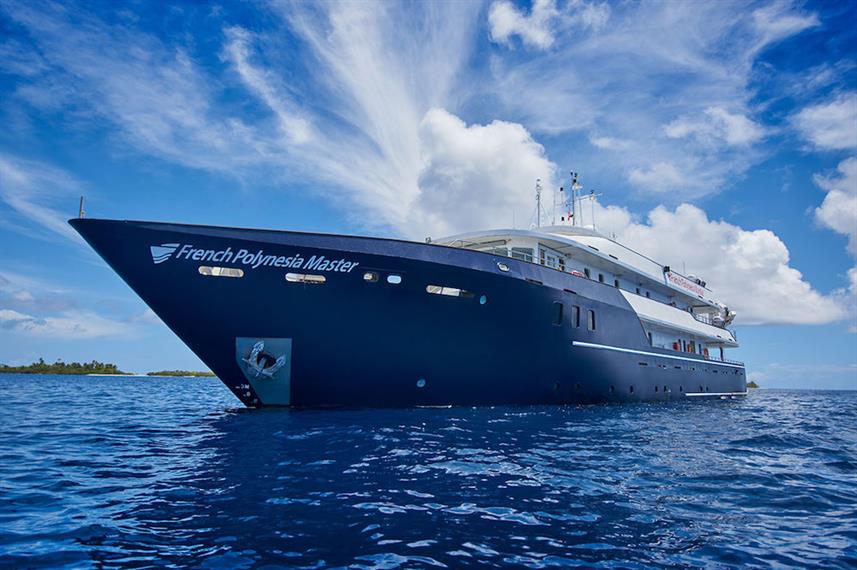 8-11 day cruises between Papeete, Rangiroa, and Fakarava
Laundry service, daily housekeeping, TV in cabins, en-suite bathrooms, air-conditioned saloon, aircon cabins, warm water showers, indoor saloon
Single cabin available
Leisure deck, sun deck
Audio & video entertainment, library
Photography station, separate rinse for u/w camera, camera room with table and charging point
Charging stations
Western, local and vegetarian cuisine, outdoor dining
English speaking crew
Shaded diving deck
Non-diver (snorkeler) friendly
Advanced Open Water Diver course offered
Nitrox and rental equipment available
3 tenders for diving
Emergency rafts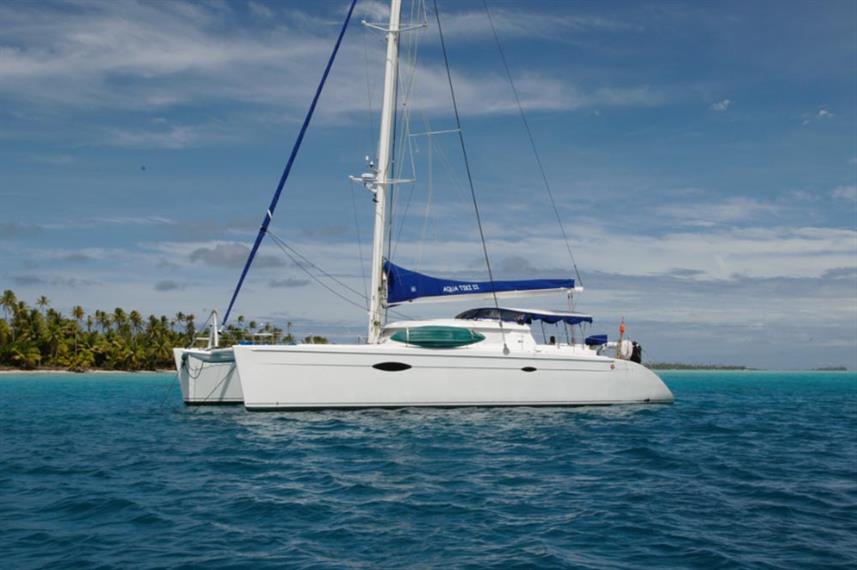 5-18 day cruises originating and ending in Fakarava
Aircon cabins, indoor saloon, warm water showers
Audio & video entertainment, library
Local food, outdoor dining
Camera room with table and charging point
Charging stations
Paid Internet
The crew speaks English and French
Onboard kayaks
Non-diver (snorkeler) friendly
Advanced Open Water Diver course offered
Nitrox and equipment available
Tenders for diving
French Polynesia Master
Aqua Tiki II
Length

42.6 m
18 m
Guests

25
9
Equipment

Price to be arranged
Price to be arranged
Nitrox

$100/7 days
$150/10 days
Price to be arranged
Snorkeling
Yes
Yes
Dive Courses On Board
Yes
Yes
Price/Day
$564
$351
If you would like to consider going to French Polynesia and operating from shore, there are many dozens of lodging options starting at $22 per night and around 30 dive shops in operation on 8-9 of the islands, some of which are associated with lodging.  They offer a full range of services that include equipment rental, diving certification classes, dive guides, and boat tours.  The website linked below has the details for the lodging and can arrange a booking.  You can easily find the location on the map provided on their site.  The rates are guaranteed to be the lowest and it is free to cancel or change dates.
French Polynesia Photos
With the macro life, beautiful, diverse coral reef, megafauna, and lots of fish, there are many excellent photo opportunities.  For information and reviews of diving cameras, click here:
A cushion for emergencies provides peace of mind when on vacation.  I recommend this diving insurance as they have worldwide coverage and provide scuba divers a quality insurance and medical assistance service.
Feedback and Comments
I hope you found this post on French Polynesia scuba diving interesting and useful. If you have any questions or ideas, please feel free to share them in the comments section.  I'd love to know of any experience you have diving there.  If there is no comments section directly below, click here:  >>comments<<