We may earn money or products from the companies mentioned in this post.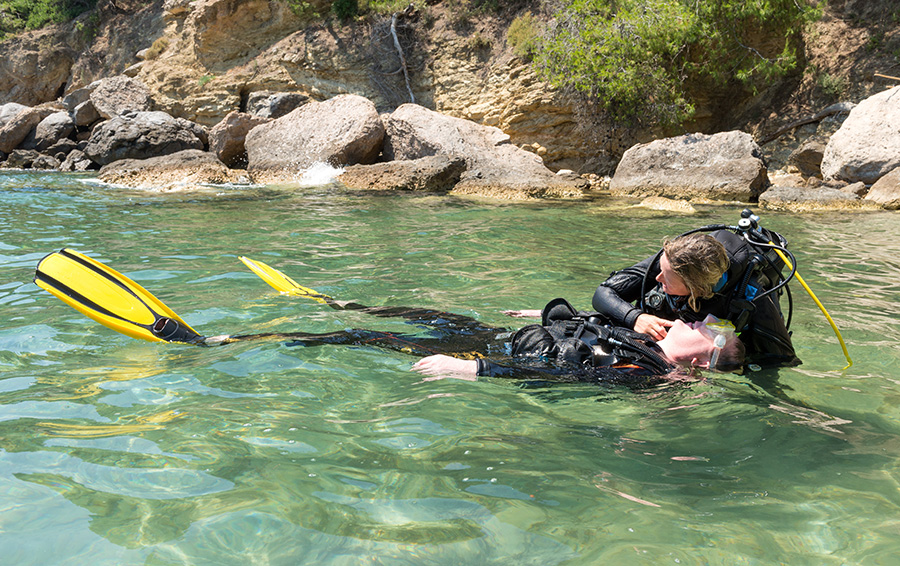 You've completed the PADI Open Water Diver and Advanced Open Water Diver certifications.  In the course of them and afterward you have learned and practiced the basic skills of diving in a variety of situations and environments over a number of dives.  There is a certain level of confidence that comes with the competence you have attained.  Now you are ready to take it to the next level where you can learn to avoid risks and develop a skill set strong enough to deal effectively with emergencies.  This article describes how you can do through the PADI Rescue Diver course.
Level 3: PADI Rescue Diver Requirements & Course Description
Prerequisites – To get started in the PADI Rescue Diver course you need to have completed the PADI Advanced Open Water certification.  PADI also requires that the applicant has completed coursework in first aid and CPR within the last 24 months.  Emergency First Response is a course which can accomplish this that most PADI instructors are also certified to teach.
While being an Olympic swimmer or decathlete isn't necessary, you would be well advised to have a fair degree of fitness.  There are physical demands in the training exercises and rescue scenario where you will execute compass guided searches, assist divers in situations of panic and distress, and surface, assess, and transport a diver while performing rescue breaths.  All of this will require sustained exertion that is best performed by someone who is not overly stressed physically.  As indicated, it is not commando boot camp but does require a degree of toughness and endurance.
What You'll Learn in the Rescue Diver Course – From the academic study and in-water practice and scenarios you will learn to assess major and minor stressful and panic situations.  You will develop confidence in your skills by performing in simulated emergencies to a criterion level with your instructor and fellow students.
Structure of the Course – The course starts with an academic portion focusing on theory.  It includes a range of matters from the psychology of rescue to the management of accidents.  There is a student manual and knowledge development exercises that are also available online in an eLearning program.  The knowledge development online is interactive and can be accomplished at your own pace.  The online manual is available for use during study and after the course.  You can get started with that anytime by going here so that you could complete it all prior to arriving at the site of the class.
The second portion of the course consists of rescue exercises in simulated realistic emergencies in a swimming pool or shallow water.  These include self-rescue and a total of 10 exercises such as assisting a panicked diver on the surface, techniques to assist a diver from shore or a boat, searching for a missing diver, bringing an unresponsive diver to the surface, and helping the unresponsive diver on the surface.
The final section of the course places you in simulated rescue scenarios in which you get a chance to improvise using the skills you've learned and practiced.  This is a chance to test yourself and is the most fun part of the course for many students.
Time Required – A minimum of 2 to 3 days is normally required to complete the Rescue Diver Course.  If you are planning to be on site for longer, many shops will be happy to have a more relaxed schedule.  The Emergency First Response course for the required first aid/CPR component is a 1-day time commitment.  So in all, you can complete the certification on site in 3-4 days.
Cost of the Rescue Diver and Emergency First Response Courses – The cost is variable depending on the location, competition, and cost of living.  In many places, the PADI Rescue Diver course price tag is $350-$400.  The PADI Emergency First Response course runs from $150-$225.  Many shops in Southeast Asia and Central America will offer them both cheaper.  You might be able to negotiate it down as part of a group or combined with lodging.  It doesn't hurt to bargain and do a little research.
Location of the Course – When you go for some adventure diving or the Advanced Open Water course, where you do it is significant.  If you are doing a wreck dive, you need wrecks.  If you are studying the underwater naturalist component, you need a reef rich in marine life.  For the PADI Rescue Diver course, you don't really need more than some relatively nondescript body of water and acceptable weather.  Spending the big bucks to fly to a world-class destination isn't necessary.  Save a few bucks and time and do it close to home if it suits you.
The Course Instructor – There is a certain amount of leeway an instructor has in the way the skills practice and rescue scenarios are executed.  Creativity and enthusiasm go a long way toward making the course fun and interesting.  If you have a chance to correspond with or interview your proposed instructor ask a few questions to determine his motivation and experience levels.  If the levels seem low, find another instructor.  Most of them are dying to teach a Rescue Diver course.
Feedback and Comments
I hope you found this post on the PADI Rescue Diver course interesting and useful. If you have any questions or ideas, please feel free to share them in the comments section.  I'd love to know of any experience or thoughts you have.  If there is no comments section directly below, click here:  >>comments<<