We may earn money or products from the companies mentioned in this post.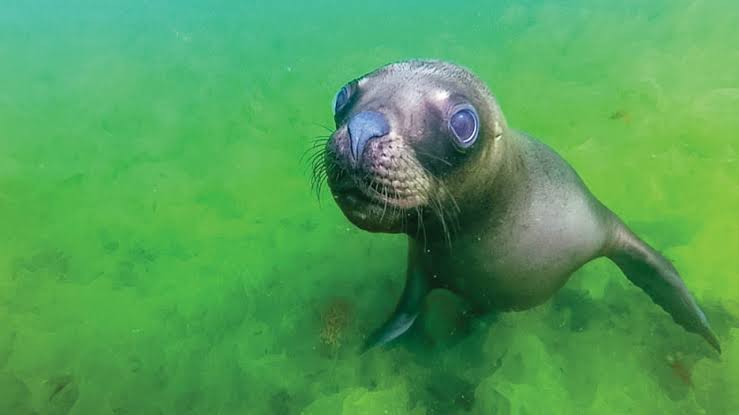 This is the one hundred and eighty-eighth in a series of reviews of the best diving destinations around the world.  In this post, the focus is on Peninsula Valdes, Argentina. In addition to this series on diving destinations, the best worldwide liveaboard diving locations and services are reviewed in their own series.  To check them out, or others in this series, click on Liveaboards/Resorts on the menu at the top and choose a title from the list.
Have you ever been scuba diving in Peninsula Valdes before?  If so, I'd love to know about your experience.  What dive shop or liveaboard did you use?  Which dive spots are the best and what are the conditions there regarding the visibility, current, water temperature, sealife attractions, etc.?  Please post your response in the comments section at the bottom and we'll all learn something we can use.
Scuba Diving in Argentina – Peninsula Valdes
Background – Peninsula Valdes is situated in Chubut Province on the northeast coast of Patagonia.  Connected to the mainland only by the 5-kilometer (3.15-mile) wide Isthmus of Carlos Ameghino, the peninsula has an area of 3,625 km2 (1,400 square miles).  Barren with several salt lakes below sea level, the semi-arid landmass is part of a UNESCO World Heritage Site created in 1999.  The only settlement is a small one at Puerto Piramedes with a number of sheep ranches (estancias) filling out the population of the peninsula.  The big attraction is the wildlife which includes dolphins, southern sea lions, elephant seals, and 181 species of birds of which 66 are migratory.  Other major migratory creatures are southern right whales, Magellanic penguins, and orcas.
The major gateway to Peninsula Valdes is the 95,000 strong metropolis of Puerto Madryn on the mainland.  Eco-tourism and the seaside have created a major tourist business for the city to go along with fishing and the Aluar aluminum refinery as economic drivers.  First settled by the Welsh in 1865, there are still Welsh-flavored towns nearby in Trelew and Gaiman.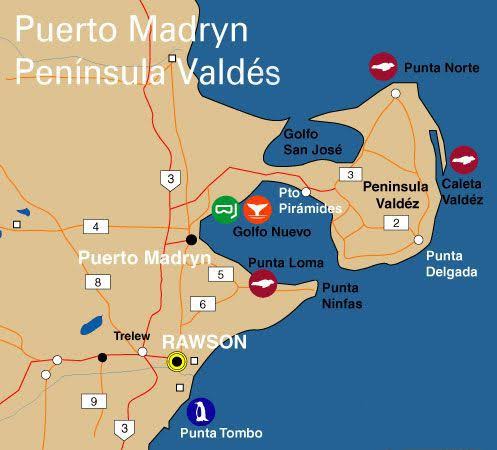 Undersea World – There are shallow reefs along the beaches of Peninsula Valdes inside and outside the gulfs, with a variety of plants, marine life, rock formations, caves, caverns, and even a few wrecks.  Most diving is aimed, however, at getting close to some of the megafauna and migratory marine life outlined above.  The easiest to target is the sea lions at Punta Loma and Punta Ameghino within easy range of the dive shops in Puerto Madryn.  There is a no-touch rule but the sea lions often approach divers and make contact, especially juveniles, who are curious and playful.  Boat tours are available which often include snorkeling and shore opportunities to get close to Magellanic penguins.  Seasonally the tours adjust to which of the animals are most prevalent.
Seasons and Conditions – Diving is possible all year in the Peninsula Valdes area.  From June to December southern right whales migrate to the region peaking in October.  Magellanic penguins are most prominent from October to March with 500,000 to be seen.  Sea lions birth in December and January and elephant seals in October.  Orcas are often seen in March to take advantage of the sea lion pups near the shoreline at that time.
Air temperature average daily highs range from 27°C (81°F) in January to 13°C (55°F) in June and July.
The water temperature hits highs of 18°C (64°F) in February and lows of 13°C (55°F) in August.  Most divers will want a drysuit with hood and gloves all year.  Some operators offer two layers of wetsuits to do the job.
It rains only 172.8 mm (6.8 inches) per year, so precipitation is not often a factor.
Currents are minimal inside the gulf.
Visibility is considered pretty good generally, with a decrease during plankton blooms in summer.
There are sites suitable for all levels of diver with most of the dives shallow.  Around a dozen dive shops operate in the Puerto Madryn area.  Diving classes, equipment rental, guiding, and boat cruises are available.
For information on cold water scuba gear, please check my post:
Argentina Liveaboards
No liveaboard yachts currently cruise Peninsula Valdes dive sites.  There are two excellent vessels doing scuba diving safaris to relatively nearby Antarctica.  Please check out my review and links to the boats below: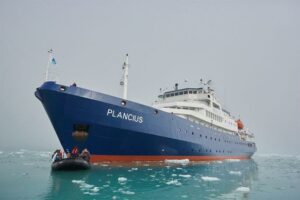 MV Plancius, Antarctica Liveaboard Diving – Check the Price & Details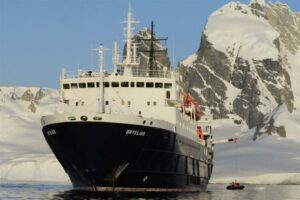 Ortelius, Antarctica Liveaboard Diving – Check the Price & Details
Puerto Madryn Lodging, Transportation, and Dive Shops
Air – Located 10 minutes northwest of the city center, El Tehuelche Airport connects several times a week with Buenos Aires on Andes Airlines and to several other domestic airports.  No shuttle or public bus services are currently in place for transport to town.  Reasonably priced taxis are available.
Bus – There is a long-distance bus service connecting to Buenos Aires, Rio Gallegos, and Mar del Plata.
City bus service and numerous taxis are available in Puerto Madryn.
Rental cars are reasonably priced.
Tours are available to many of the popular sights.
For further details on transportation and tourist information, please check Wikitravel-Puerto Madryn.
Lodging and Dive Shops – There are a dozen or more dive shops in Puerto Madryn in operation that offer full services including equipment rental, dive courses, guiding and boat dive cruises.  Lodging options in Puerto Madryn start at $85 per night.  The website linked below has the details and can arrange the booking for accommodations.  You can easily find the location on the map provided on this site.  Their rates are guaranteed to be the lowest and it is free to cancel or change dates.
Things to do in Puerto Madryn and Peninsula Valdes (aside from scuba diving)
The unique array of natural scenery, animals, and activities are the main attractions, but there are also many interesting cultural and civilizational features to enjoy, as well.  Here is a shortlist of some of the highlights to look into:
Whale Watching, Diving and Snorkeling with Sea Lions, Ecocentro Madryn (maritime museum), Penguins, Visit an Estancia (ranch), Dolphins, Peninsula Valdes and Puerto Pyramides, Loberia de Punta Loma Nature Reserve, Restaurants, Bars, & Clubs. Elephant Seals, Trelew and Gaiman (small Welsh towns), Kayaking, Horseback Riding, Mountain Biking, Museum of Paleontology Egidio Feruglio, National Science and Oceanographic Museum, Playa Parana, El Doradillo Beach, Monument Al Indio Tehuelche.
This short video displays many of the top attractions in and around Puerto Madryn and Peninsula Valdes.
Photography in Puerto Madryn and Peninsula Valdes, Argentina
With the interesting undersea terrain, plants, variety of fish, sea lions, elephant seals, penguins, whales, dolphins, scenic beaches, and city sights, there are many excellent photo opportunities.  For information and reviews of dive cameras, click here:
Scuba Diving Trip Insurance
A cushion for emergencies provides peace of mind when on vacation.  I recommend this diving insurance as they have worldwide coverage and provide scuba divers a quality insurance and medical assistance service.
Feedback and Comments
I hope you found this post on scuba diving in Peninsula Valdes, Argentina interesting and useful. If you have any questions or ideas, please feel free to share them in the comments section.  I'd love to know of any experience you have.  If there is no comments section directly below, click here:  >>comments<<