We may earn money or products from the companies mentioned in this post.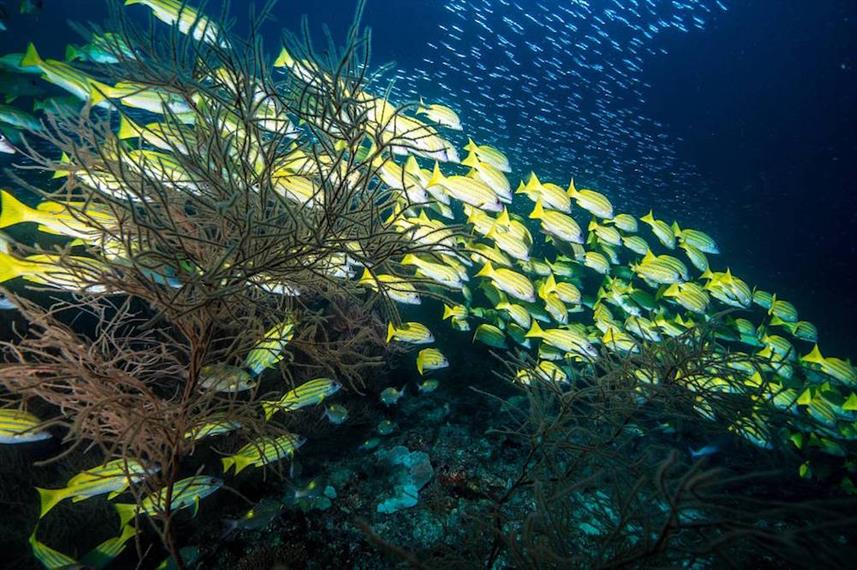 This is the one hundredth in a series of reviews of the best dive resort locations around the world.  In this post, the focus is on the Maldives. In addition to this series on dive resort locations, the best worldwide liveaboard diving locations and services are reviewed in their own series.  To check them out, or others in this series, click on Liveaboards/Resorts on the menu at the top and choose a title from the list.
Have you been diving in the Maldives before?  If so, I'd love to know about your experience.  What liveaboard or dive shop did you use?  What are the best dive spots and the conditions there like the visibility, current, water temperature, sealife attractions, etc.?  Please post your response in the comments section at the bottom and we'll all learn something we can use.
Scuba Diving the Maldives
Situated southwest of Sri Lanka 1,000 kilometers (625 miles) from the Indian sub-continent is the nation of the Maldives.  The 26 atolls that make up the country consist of 1,192 islands, 200 of which are inhabited, and 80 of which have resorts.  It is a Sunni Muslim country of 428,000 citizens with South Indian, Sinhalese, and Arabic influence which relies on tourism for 28% of the GDP and 90% of government tax revenue.  While pork, alcohol, drugs, and public observance of non-Muslim religion is banned, there appears to be a blind eye toward such activities on the resorts.
Please refer to my earlier post for background information about the undersea environment, seasons and conditions, current, visibility, and a general discussion of the central and outer atolls.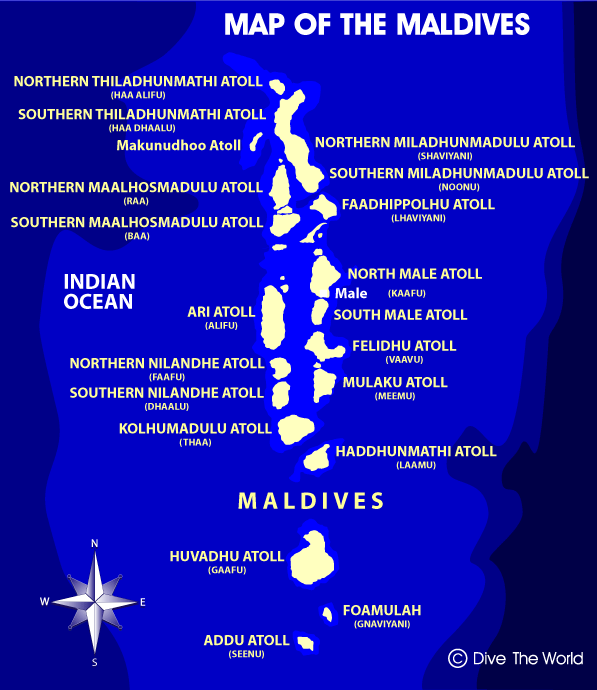 Best Maldives Dive Sites
Broken Rock, South Ari Atoll: 12-25 meters (40-83 feet), a pinnacle split in two by a 50-meter (165-foot) long canyon, the pinnacles top out at 12 meters (40 feet) and extend to a depth of 25 meters (83 feet), you can execute a dive through the canyon or around the outside of the pinnacle, lots of soft coral, gorgonian fans, and sponges, there is another rock formation to the east that peaks at 17 meters (57 feet), highlights include schools of blue-lined snappers and barracuda, moray eels, Napoleon wrasse, and whale sharks during their peak time from December through May, currents can be strong, experienced level
Five Rocks, South Ari Atoll: 12-40 meters (40-130 feet), 5 rocky formations roughly in a circle peaking at 12 meters (40 feet) and extending down to a sandy bottom at 40 meters (130 feet), channels between the rocks have numerous crevices, overhangs, and caverns featuring gorgonian fans, tube sponges, anemones, and encrusting algae, nooks and crannies harbor great macro critters like mantis shrimp, and honeycomb moray eels, orange damselfish can be found upside down in the caverns, other highlights are stingrays, whitetip reef sharks, schools of grunts and jacks and Napoleon wrasse, at the end of the dive you can fin 21 meters (70 feet) across the channel to rocks that rise to 7 meters (23 feet) for further exploration as you move to your safety stop, this area often has huge schools of red-tooth triggerfish and bannerfish, experienced level
Fish Head, North Ari Atoll: 10-35 meters (35-120 feet), this top shark spot is a pinnacle from 10-35 meters (35-120 feet), numerous overhangs and caves, lots of black coral and large gorgonian fans, big schools of blue-lined snappers, other highlights are schools of fusiliers and batfish, Napoleon wrasse, and around 16 resident grey reef sharks, pelagics and spotted eagle rays are a possibility, currents can be strong, experienced level
Fesdu Wreck, North Ari Atoll: 30 meters (100 feet), 30-meter (100-foot) fishing trawler scuttled to become an artificial reef,  on a sandy bottom, stern is at 27 meters (90 feet), bow at 30 meters (100 feet), the shallowest section is at 12 meters (40 feet), well encrusted with soft and hard corals, sponges, tube coral, and crinoids, schools of anthias and glassfish visible in the wheelhouse, lionfish, butterflyfish, nudibranchs on sponges, morays, red-mouthed grouper, and bluefin jacks are all commonly spotted, passageways are narrow, advanced divers only are advised to penetrate, experienced level
Banana Reef, North Male Atoll: 10-30 meters (35-100 feet), curving reef reminiscent of a banana that is a marine protected area close to the resort areas in the south of North Male Atoll, very rich corals, on terrain with overhangs, caves, and caverns, many gorgonian fans, highlights include  lobsters, moray eels, huge schools of bannerfish, Napoleon wrasse, jacks, grouper, and reef sharks, currents can be strong, one section of the site is known as the "washing machine," all levels
Maldives Victory Wreck, North Male Atoll: 35 meters (120 feet) maximum depth, 100-meter (350-foot) Singaporean cargo ship that ran aground in 1981 with no life lost, you can reach the main deck at 12 meters (40 feet), strong current is possible, making your way along the deck to 25 meters (83 feet) you can shelter from the current, well encrusted with coral and sea fans, penetration of the wheelhouse there is possible, highlights are batfish, big pufferfish and grouper, schools of fusiliers, and turtles, other residents include soldierfish, hawkfish, lionfish, pipefish, and nudibranchs, experienced level
Kandooma Thila, South Male Atoll: 13-40 meters (43-130 feet), teardrop-shaped formation with a pinnacle topping out at 13 meters (43 feet) descending to a sandy bottom at 40 meters (130 feet), the formation is about 300 meters (1000 feet) long requiring more than one dive to explore it all, on the west and north sides is a cave at 23 meters (75 feet) called Jack's Corner with lots of soft coral and big schools of jacks and red bass, and barracuda in that section, many green turtles, singular grey and whitetip reef sharks, numerous hard coral blocks all around the pinnacle, often there is strong current running west to east, experienced level
Alimatha Jetty, Vaavu Atoll, Southern Atolls: jetty in front of the resort was historically used as a feeding station, a practice supposedly discontinued, today there are many 3-meter (10-foot) nurse sharks, black-blotched and cow-tail stingrays, giant trevally, and lots of fascinating macro critters that live in the shallow water under the jetty, excellent night dive, all levels
Dhonfanu Thila, Baa Atoll, Northern Atolls: Dhonfanu Thila is a submerged pinnacle known for massive amounts of fish, manta rays, and pelagics, strong currents possible, there is a swim-through with an entrance at 18 meters (60 feet) descending to 25 meters (83 feet), parrotfish, several species of butterflyfish, red-toothed triggerfish, angelfish, unicornfish, cleaner wrasse, and starry rabbitfish are all prominent along with many others, experienced level
A number of liveaboard yachts cruise the Maldives for scuba diving.  Here is a review and links to a few of the best boats: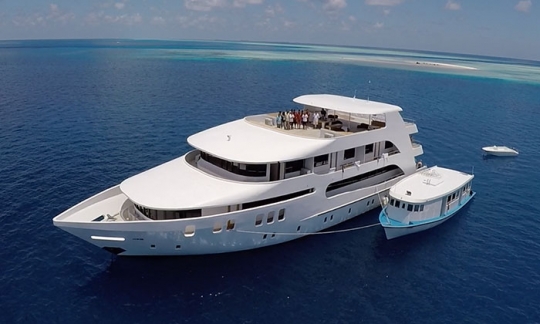 Most Popular – MV Adora – Check the Price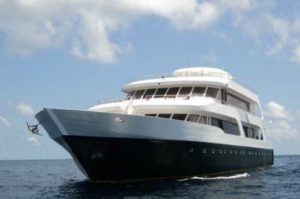 Staff Choice – MV Emperor Leo – Check the Price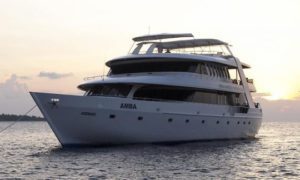 Great Value – MV Amba – Check the Price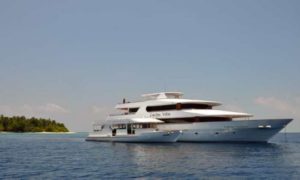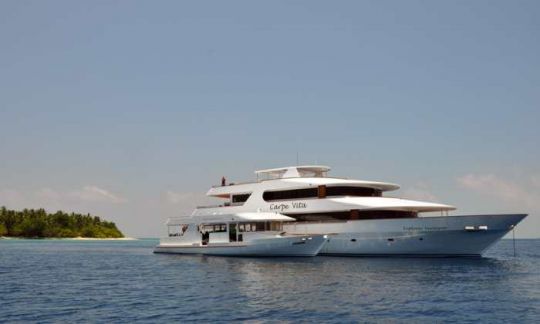 Top-Rated – MV Carpe Vita – Check the Price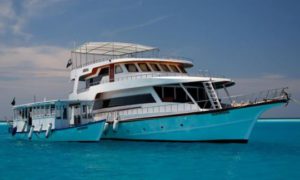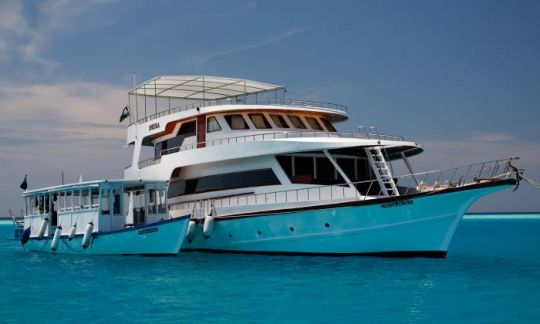 Small Group – MY Sheena – Check the Price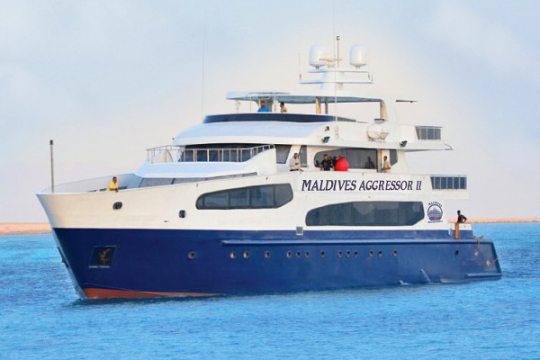 Photographers' Favorite – Maldives Aggressor II
Here are reviews of a couple of relatively nearby Indian Ocean dive sites:
Maldives Hotels, Transportation, and Diving Services
Air – Velana International Airport is the primary port of entry for the country located in Male, the capital.  Regularly scheduled flights from China, Sri Lanka, Dubai, and several Southeast Asian countries land there as well as charters from Europe, and British Airways flights from October through March departing from London Gatwick.  Trans Maldivian Airways provides air taxi service to domestic airports around the country using 15 passenger seaplanes.  No airport is more than 90 minutes away. 
Boat – There are no regularly scheduled passenger boats from outside the Maldives that land there.  Taxi boats travel between the atolls of North and South Male.  Public dhoni ferries and cargo boats provide a more rugged service at low prices to a number of island destinations.  Private yachts provide service by special arrangement.
For more complete details of tourist information, please go here:  Maldives – Wikivoyage
Hotels and Diving – There are nearly 400 resorts and accommodation ranging from $19-$1,863 with the majority on the central atolls.  There are many dozens of dive shops mostly located in resorts that can provide a full range of services which include equipment rental, dive classes, dive guiding, and boat tours.  The liveaboards are so popular that they are at times fully booked, in which case these resorts are an excellent alternative.  This website is a good source for the available options and can arrange a booking.  You can easily find the location on the map provided on the site.  Their rates are guaranteed to be the lowest and it is free to cancel or change dates.
Maldives Photos
With the pristine coral reef, a variety of sharks, rays, grouper, reef fish, wrecks, and other underwater attractions, and scenic shoreside targets, as well, there are many excellent photo opportunities.  For information and reviews of dive cameras, click here:
A cushion for emergencies provides peace of mind when on vacation.  I recommend this diving insurance as they have worldwide coverage and provide scuba divers a quality insurance and medical assistance service.

Feedback and Comments
I hope you found this post on Maldives scuba diving interesting and useful. If you have any questions or ideas, please feel free to share them in the comments section.  I'd love to know of any experience you have diving in the Maldives.  If there is no comments section directly below, click here:  >>comments<<